This easy Meatball Sandwich Recipe is filled with baked meatballs that are made with two kinds of meat!  They are filling, tasty and will please the whole family!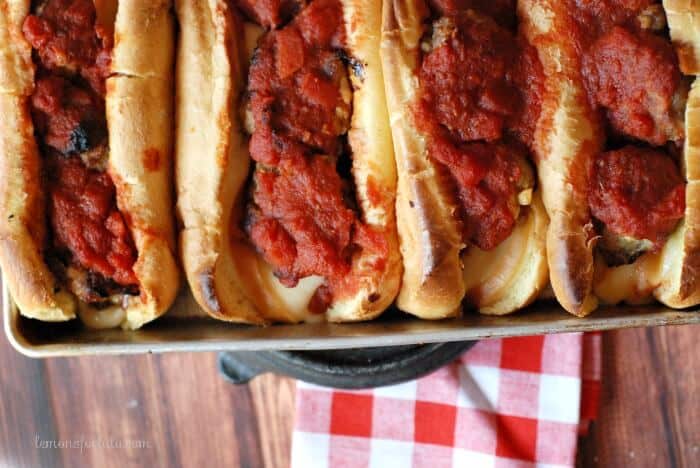 In high school I worked at a sandwich shop.  It was the local hangout for all us teenagers.  I'd go to work from 4-8 pm.  I'd then go home to change and go right back to socialize.  It was a great place to work.  The management was lax to an incredible fault.  We certainly ate into their profits with all our late night snacking.
Man, that snacking was the best!  We'd munch on chips, cookies (and cookie dough), bread, and my personal favorite: one little meatball enveloped by a piece of cheese.  Those meatballs were so good!
I admit, the meatballs (and all the other snackies) were maybe a little too good.  I literally gained at least 10 pounds that year!  My homecoming dress felt a little tighter.  I had to run a few extra miles to get back to my healthy weight.  At the time, the extra snacking was totally worth it!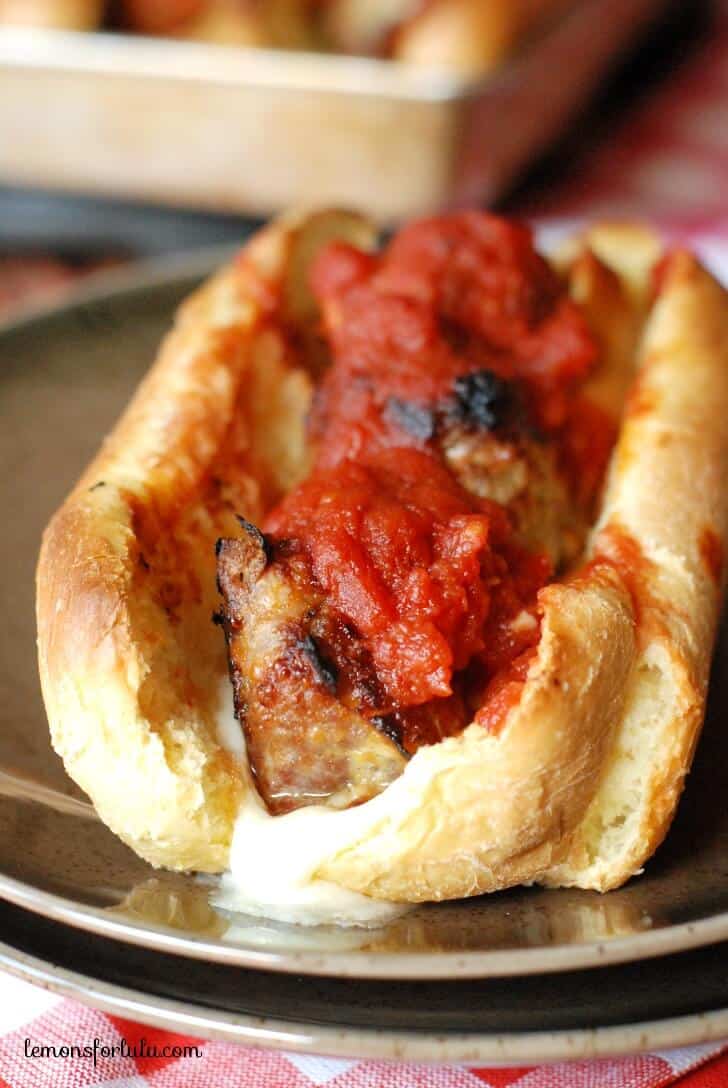 I still love meatballs covered in cheese, but I'm more mindful of how I eat them.  They are comforting, fun and filling.  Now I prefer lean turkey and I prefer baked meatballs to meatballs browned in oil.   I have had some trouble with baked meatballs in the past, I must confess.  They tasted dry and flavorless.  That is until today.  These baked meatballs have broken my streak of meatball bad luck!  They are so juicy and tender, they are like buttah.  I added Italian sausage to the mix for some spice and for more flavor.  Aside from the turkey and the sausage, there are only a handful of ingredients.  The most important ingredient being white bread soaked in milk.  It really keeps the meatballs tender and moist.  The other important tip is to NOT over mix your meat mixture!  That will make your taste buds unhappy.
These baked meatballs are simple and delicious!  They would make any pasta dish proud!  I haven't had a good Italian meatball sandwich in ages and recently found myself craving one.  These meatballs make for one incredible sandwich.  Especially with the gooey smoked mozzarella and the homemade marinara.    I'm totally reliving my youth with this sandwich.  Makes for a tasty trip down memory lane!
Get the kids to help!  Small hands love digging their hands in the meat mixture to help you shape the meatballs.
Feel free to use meat that suits your taste.  Same for the sauce, store-bought sauce will work just fine.
I left the cheese off the top and instead placed it under the meat, you can switch it if you like, just be sure to watch this under the broiler.