Pineapple Bacon Sausage Pizza – this pizza recipe may look and sound gourmet, but it is easy to prepare and made with fresh ingredients your family and guests will love!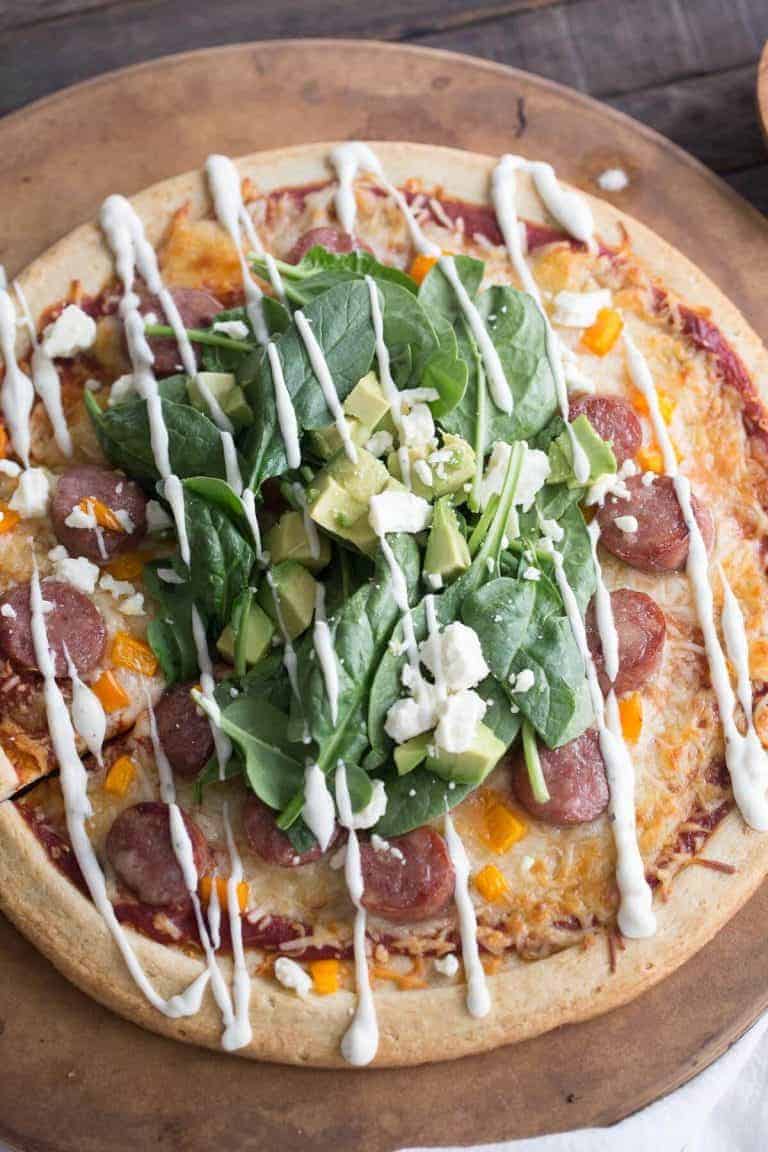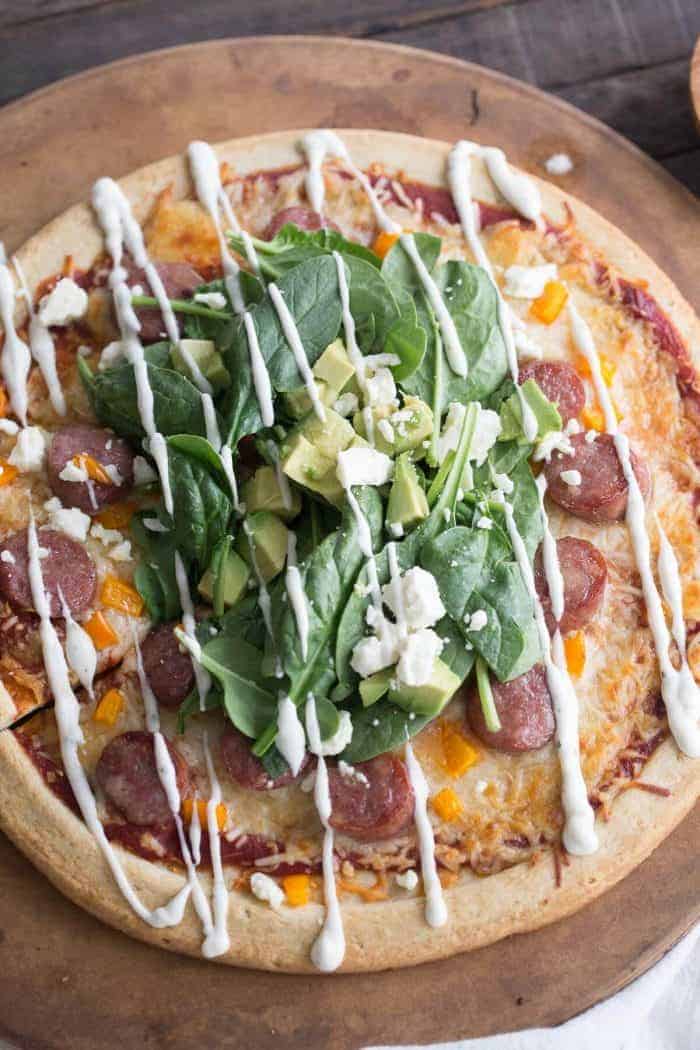 I am happy to have partnered with Aidells® to bring you this original recipe.
The first time I discovered that people ate pizza with ham and pineapple together I was a bit mortified. It never crossed my simple mind that sweet and savory tastes could compliment one another. Adding both pineapple and salty ham to pizza seemed so weird to me. While I reluctantly gave it a taste, it never really "took" with me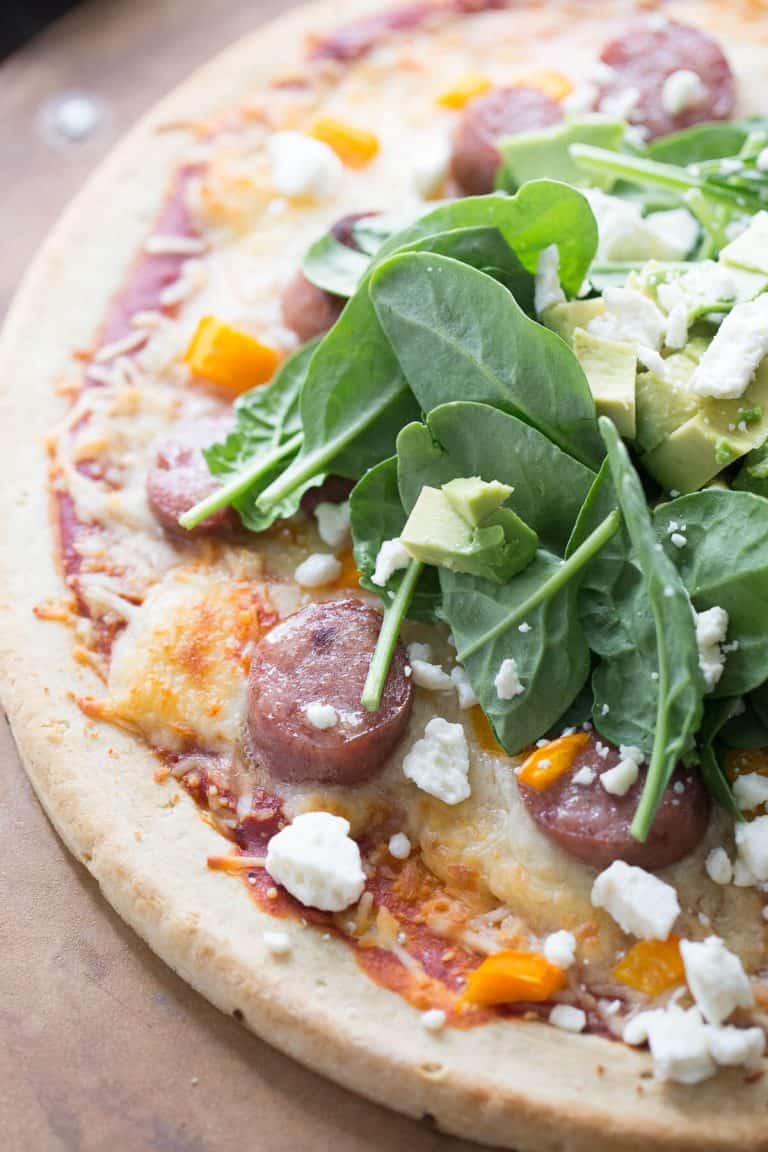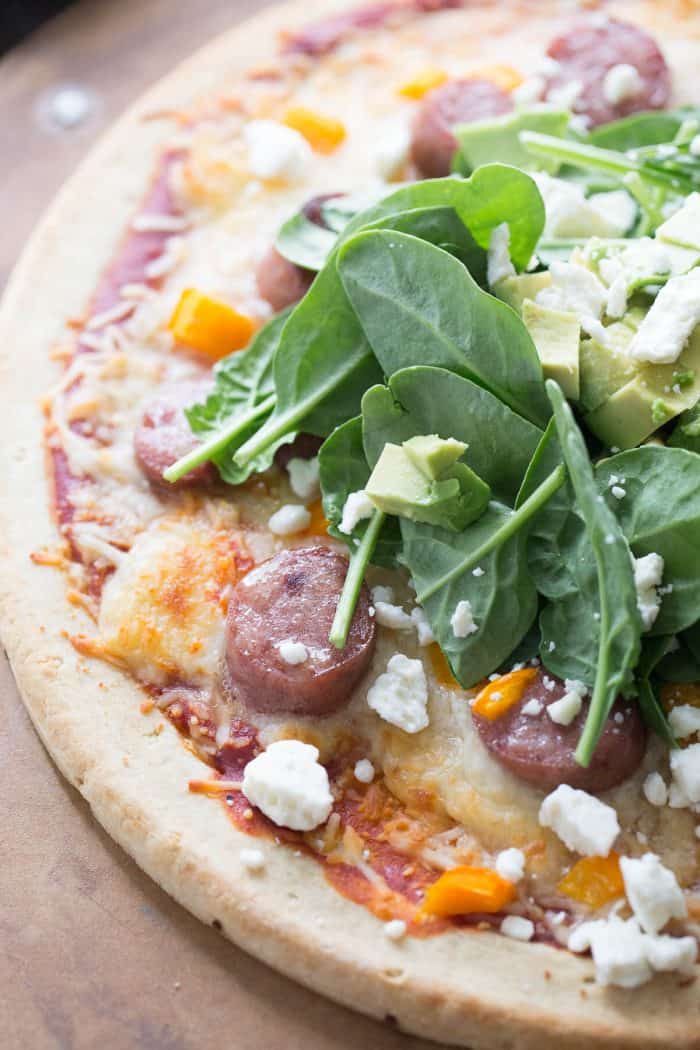 Never might be too strong a word. It did take, it was just several years in the making. Now I am a huge lover of sweet and savory dishes. I love when you bite into food and your mouth is accosted by multiple tastes at once. This Smoky Pork Loin recipe is the perfect example. Spicy pork and a sweet fruit salsa come together in an unexpected, yet harmonious way. The same can is true for this Cherry Kahlua BBQ Sauce. Sweet and savory foods work well together.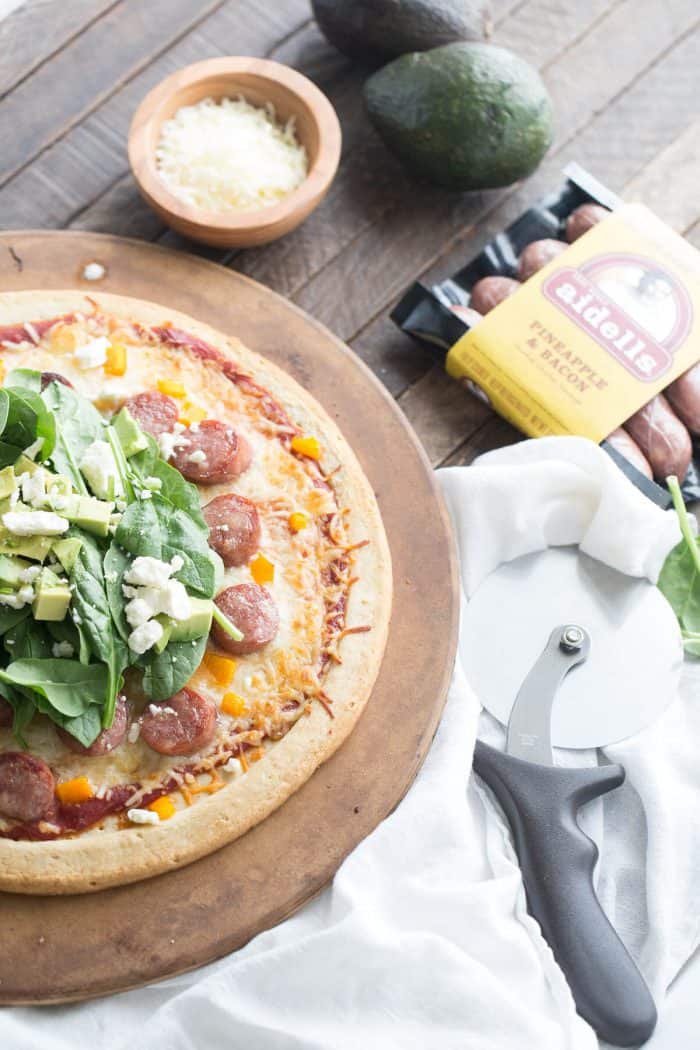 Here I am with another way to enjoy a combination of flavors, this time; the combination comes from one ingredient; Aidells® Sausage links. I found this package of pineapple bacon flavored sausage links at my local Meijer store and knew that the bold flavor sausage would fit nicely with my food style and tastes. The first recipe I thought to try with this pineapple bacon sausage was a twist on that ham and pineapple pizza.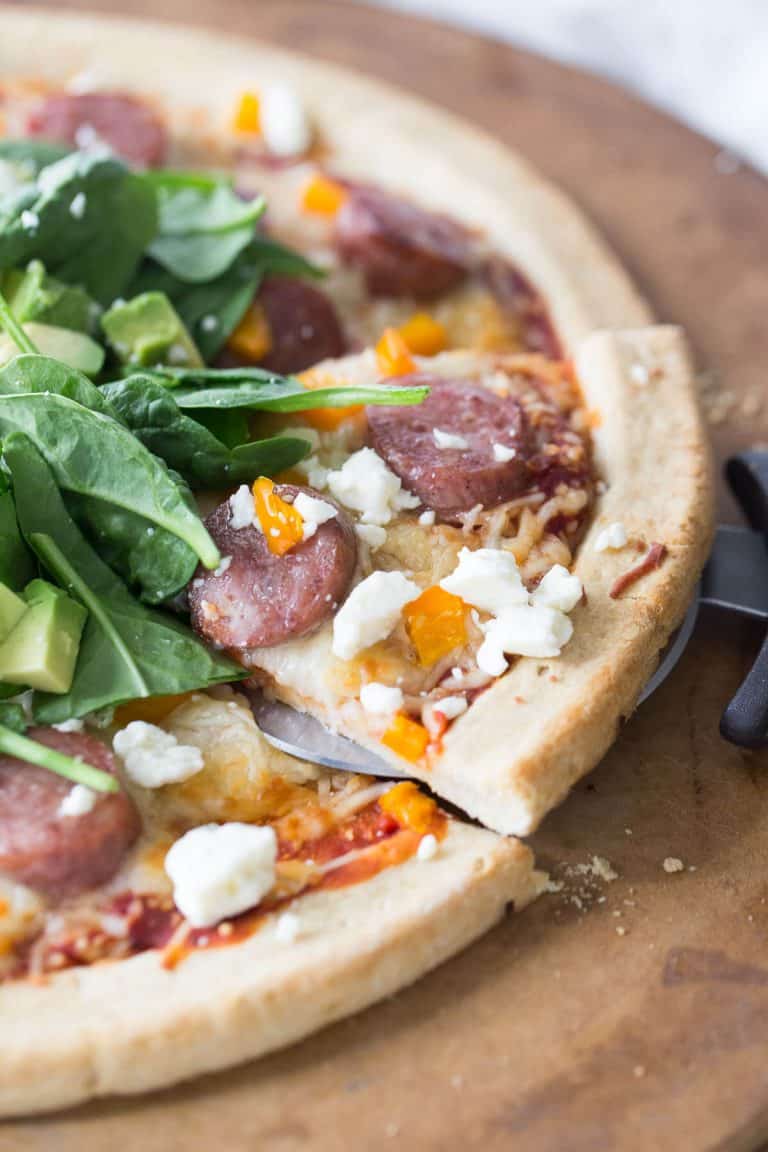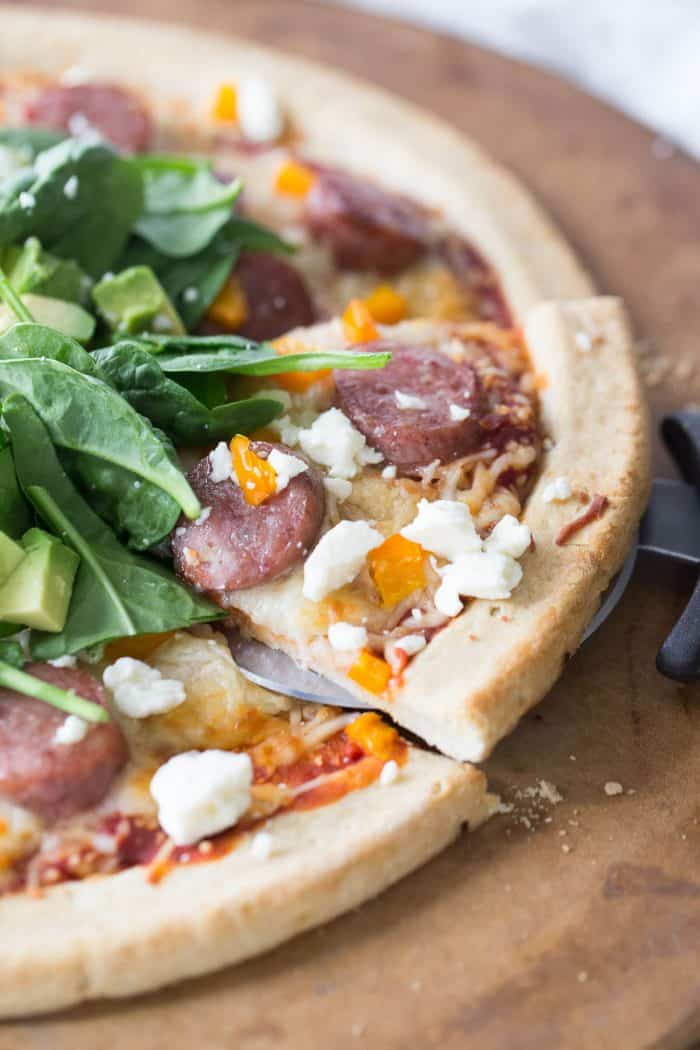 Pineapple Bacon Sausage Pizza-Your New Favorite
This easy recipe comes together in a snap. I used packaged pizza shells and covered them in a spiced up pizza sauce. Creamy mozzarella cheese, crisp orange peppers, and flavorful sausage rounds make a delicious yet modern twist on a classic pizza. I upped the ante by adding fresh spinach, avocados, and feta cheese to the center of my sausage pizza (we know how important it is to eat our greens right?). A drizzle of ranch dressing is the final touch. The pineapple bacon sausage makes this pizza. The flavor is bold and unique, but the quality of ingredients is undeniable. Hungry yet? I thought so. I won't keep you any longer. I think you should run up to Meijer and pick up your own package of Aidells® Meatballs or Aidells® Links and then try this pizza; you won't regret it! And right now with mPerks, you can get yourself a $1 off coupon!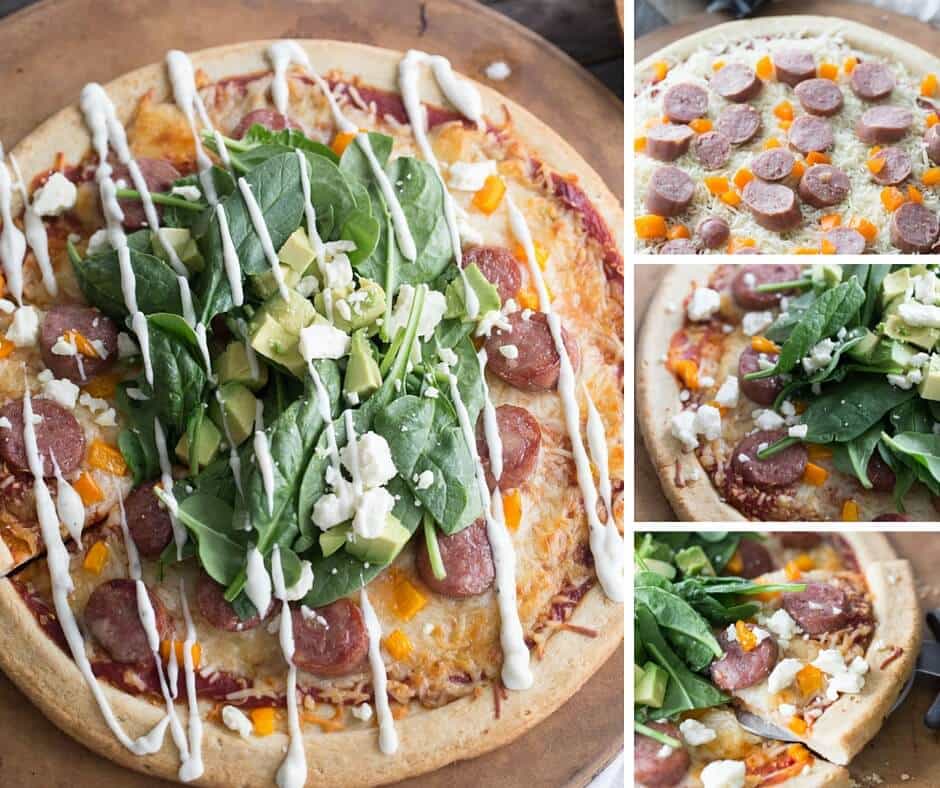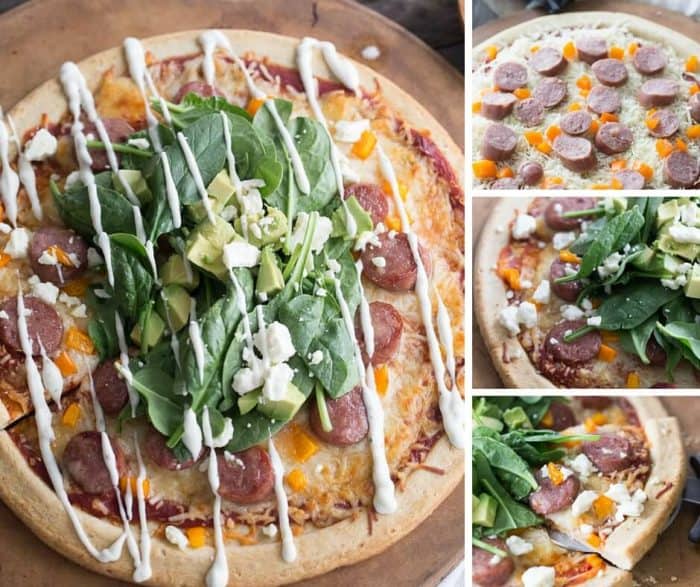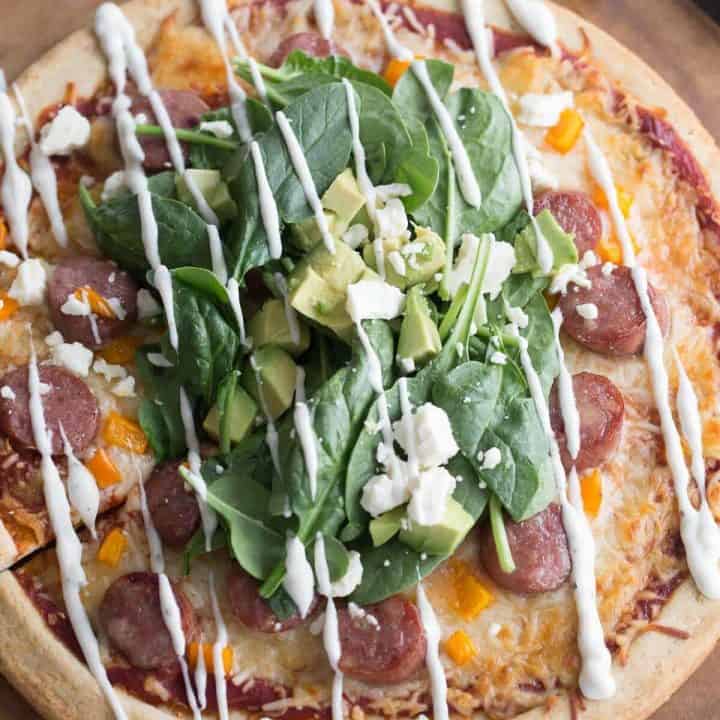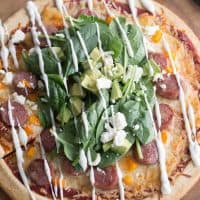 Pineapple Bacon Sausage Pizza
This pizza recipe may look and sound gourmet, but it is easy to prepare and made with fresh ingredients your family and guests will love!
Ingredients
2 prebaked pizza crusts
1 cup pizza sauce
2 tablespoons Sambal Oelek (chili sauce)
3 cups shredded mozzarella cheese
1 package Aidells Pineapple Bacon Sausage, sliced into round
1/2 cup diced orange peppers
1 1/2 cups spinach leaves
1 avocado, diced
4 tablespoons feta cheese
1/4 cup ranch dressing
Instructions
Preheat your oven to 450 degrees. In a bowl, combine pizza sauce and Sambal Oelek. Divide sauce between the two pizza crusts. Place 1 1/2 cups of mozzarella cheese on each crust followed by bell peppers and sausage.
Bake pizza for 10-12 minutes or until cheese has melted and is bubbly. Allow pizza to rest for 1 minute. Place 3/4 cup of spinach in the center of each pizza. Divide avocado between the two pizza. Place 2 tablespoons of feta over each pizza and drizzle each pizza with 2 tablespoons of ranch dressing if desired.
Nutrition Information
Yield

16
Serving Size

1
Amount Per Serving
Calories

304
Total Fat

13g
Saturated Fat

4g
Trans Fat

0g
Unsaturated Fat

8g
Cholesterol

18mg
Sodium

640mg
Carbohydrates

37g
Fiber

3g
Sugar

3g
Protein

11g

This is a sponsored conversation written by me on behalf of Tyson. The opinions and text are all mine.