If you enjoy sitting down at the end of the day with a nice glass of wine, you have probably thought about what it would be like to try some of the most expensive wine bottles in the world.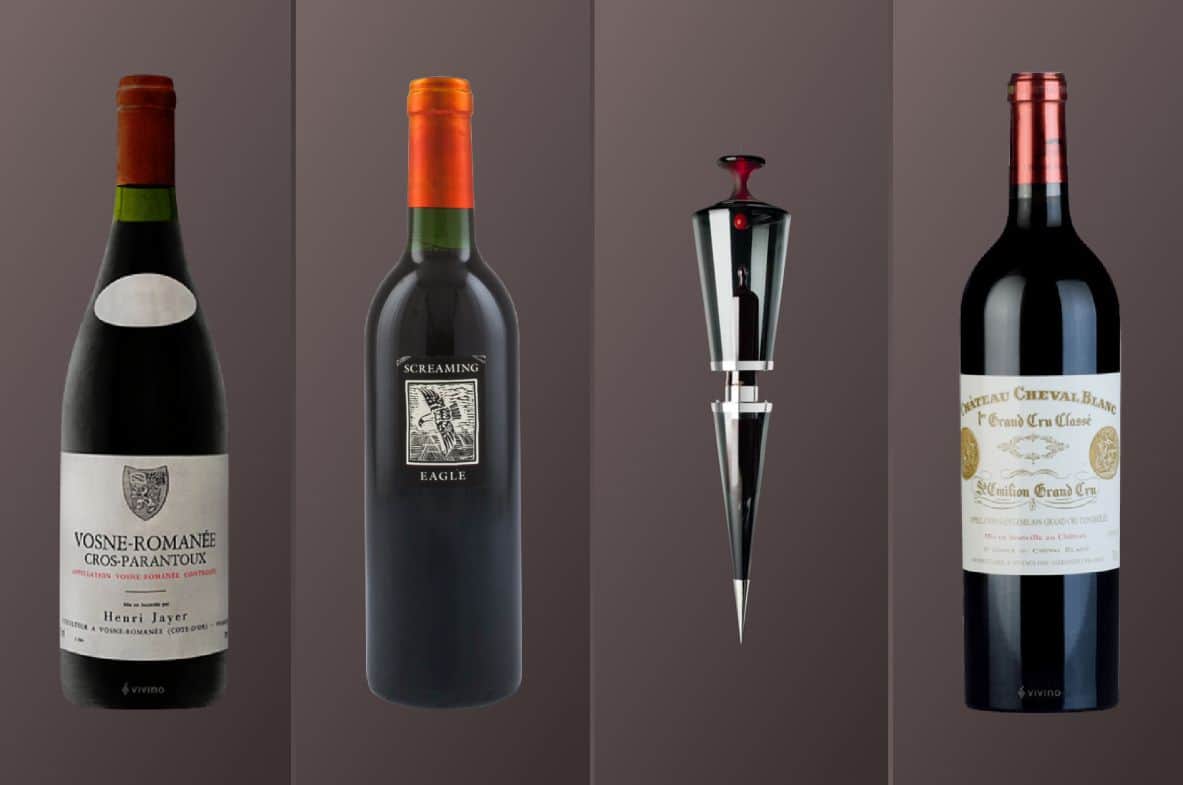 However, what would surprise you is just how expensive some bottles of wine are. Some of these bottles don't just cost a couple of thousand dollars, they cost a couple hundred thousand dollars.
None of the bottles that we are looking at today are options that you would find at your local liquor store. Instead, you can only buy them from specific sellers.
Fortunately, we are bringing all the information you need to your fingertips. Below, you will be able to read about all the most expensive wine bottles in the world.
The 15 Most Expensive Wine Bottles In The World
We scoured the internet to find records of expensive bottles of wine. We were able to find quite a few costly options. We'll start with the least expensive wines on our list and work our way down to number one.
---
15. Pensfolds Grange Hermitage 1951 – $38,000
The first wine on our list is much cheaper than the other options. There is a distinct top 14, but there are quite a few options for number 15. We found that this wine is a fantastic option for the final spot on our list. Only 20 bottles are known to exist, and as a result, it is one of the rarest wines in the world. So, do not be surprised if a bottle sells for much more in the future.
---
14. Domaine de la Romanee-Conti Romanee-Conti Grand Cru – $105,265
The second wine on our list comes from Cote de Nuits, France. While the most expensive bottle of wine was bought for $105,265, you do not need to shell out that much money to buy it.
However, it is still far too expensive for most people to purchase. The average bottle goes for around $25,000. So, while it might be too expensive for most of us, there are a few other people that could purchase it at a reduced price.
---
13. Chateau D'YQUEM – $117,000
The next bottle of expensive wine that we will look at is Chateau D'YQUEM. It holds the exciting distinction of being the most expensive white wine ever sold. That might confuse some of you because we are only at number 13.
However, red wines are usually more costly than white wines, and as a result, this is the only white wine on the list. It is so pricy because it was harvested in 1811 in Chateau d'Yquem.
---
12. Cheval Blanc St-Emilion 1947 – $135,125
This wine was sold for a tremendous amount back in 2006. It is one of the very few wines that have Class A status. Records show that 110,000 bottles of this wine were produced, but only a few have survived over the years. As a result, it is one of the most sought-after bottles of wine.
---
11. Henri Jayer, Vosne-Romanee Cros Parantoux 1999 – $136,955
This wine has a bit of an asterisk because it was not sold by the bottle. Instead, the person that spent $136,955 got an entire case of wine. Still, it deserves a spot on this list as a bottle of tremendously expensive wine.
---
10. Domaine Leroy Musigny Grand Cru – $147,519
This bottle is another expensive wine that sold for a tremendous amount but is cheaper on average. It sold for $147,519 once, but most bottles sell for around $41,000. That is still an expensive price tag, but it is more affordable to some people.
---
9. Chateau Lafite 1787 – $156,450
The Chateau Lafite is known as the most expensive standard bottle of wine. If wine historians are to be believed, this bottle was taken directly from Thomas Jefferson's cellar. As a result, it makes sense that someone with a historical background would be interested in this souvenir.
---
8. Ampoule from Penfolds – $168,000
Every one of these bottles of wine was released by a famous winery in South Australia. While this wine does not have the history that other expensive wines offer, it has an excellent presentation and reputation.
---
7. Chateau Margaux 1787 – $225,000
This wine is the only bottle of wine on this list that can no longer be bought. No one ever purchased this wine. The original owner valued it at $500,000, but its value was eventually lowered to $225,000.
Unfortunately, none of that matters anymore because it was knocked over by a waiter during a dinner in a Four Season Hotel. I can't imagine how terrible he must have felt!
---
6. Chateau Lafite 1869 – $230,000
This wine stirred up quite a bit of drama when it went up for sale in Hong Kong. The people at the auction expected it to go for around $8000, but things quickly got out of control. An anonymous bidder from Asia bought the wine for $230,000.
The reason for this is that it is an extremely rare bottle, and as a result, rich bidders are willing to shell out more money for it.
---
5. Shipwrecked 1907 Heidsieck – $275,000
Perhaps the most exciting story attached to a bottle of wine is this one.
When this bottle of wine was produced, nothing was interesting about it. However, the ship carrying it got sunk by a German submarine in 1916 in World War 1. It sat at the bottom of the ocean for over 80 years until the wreckage was discovered in 1997. 2000 bottles were recovered from the wreckage, and now they are extremely valuable.
---
4. Chateau Cheval Blanc 1947 – $304,374
The first of the wines to break $300,000 is Chateau Cheval Blanc 1947. Many consider it to be the best Bordeaux ever made, and as a result, it sold for a high price.
---
3. Jeroboam of Chateau Mouton-Rothschild 1945 – $310,000
This wine originates from a vineyard of one of the richest families on the planet. As a result, it should be no surprise that it is so expensive. The bottle comes with a label on it that symbolizes the victory of Allied forces in World War 2. If you want to give it a taste, a glass "only" costs $8,631.
---
2. Screaming Eagle Cabernet 1992 – $500,000
At $500,000, you would expect this wine to be the most expensive option, but one other bottle beat it. The Screaming Eagle Cabernet costs more than the average home, and it eventually sold at a charity auction back in 2000. It is aged in 60% new oak, and it has an aroma of blackcurrants.
---
1. Romanee-Conti 1945 – $558,000
If you are a wine connoisseur, it should be no surprise to see that a Romanee-Conti was the most expensive wine ever sold. This wine sold for a record-setting $558,000 at an auction in 2018. It is an incredibly rare brew as only 600 bottles were ever produced.
---
Most Expensive Wine: Conclusion
We hope that you got all the information that you were looking for in this article!
It might sound crazy that some bottles of wine are sold for more than the average house, but there are some people out there with very deep pockets.
If you have the money, why not buy some expensive wine?
FAQs
Here we will try to answer some of the questions you might have about the most expensive red wines and wines in general.
Why Is Red Wine More Expensive?
As you would have noticed above, there was only one white wine on our list of the 15 most expensive wines. This fact is not a coincidence; red wine is more expensive on average than white wine.
The reason for the extra cost is that they require more costly oak, and the land used to grow more grapes is very expensive. Additionally, red wine needs to age for longer, and as a result, less of it can be produced.
Is Wine Gluten-Free?
Wine is naturally gluten-free, so if you have celiac disease, you do not need to worry about drinking it. However, there are some exceptions because there are practices that use gluten in the fining and aging processes. As a result, if you are sensitive to trace amounts of gluten, you need to be careful with what wine you drink.
How Many Calories Are in Wine?
Your caloric intake will vary from wine to wine, but there is a range that you can expect it to fall. The average 5-ounce glass of wine contains 120 to 130 calories. There are also low-calorie options that you can purchase, and they do not sacrifice alcohol percentage.
Is There a Right Way to Drink Wine?
There are many people out there that will say that you need to drink wine a certain way. They will say that white wine can only be drunk with certain foods, and the same with red wine.
However, there is no reason to limit yourself to what you eat with your wine. As long as you enjoy it, that should be enough. Maybe if you buy a $500,000 bottle of wine you need to be more conscious of what you eat, but in most cases, it does not matter.