Are you a drinks connoisseur? Then you have, no doubt, tried your fair share of alcoholic beverages. Perhaps you've sampled all the top liquors and moved on to the more unusual ones–the insanely costly.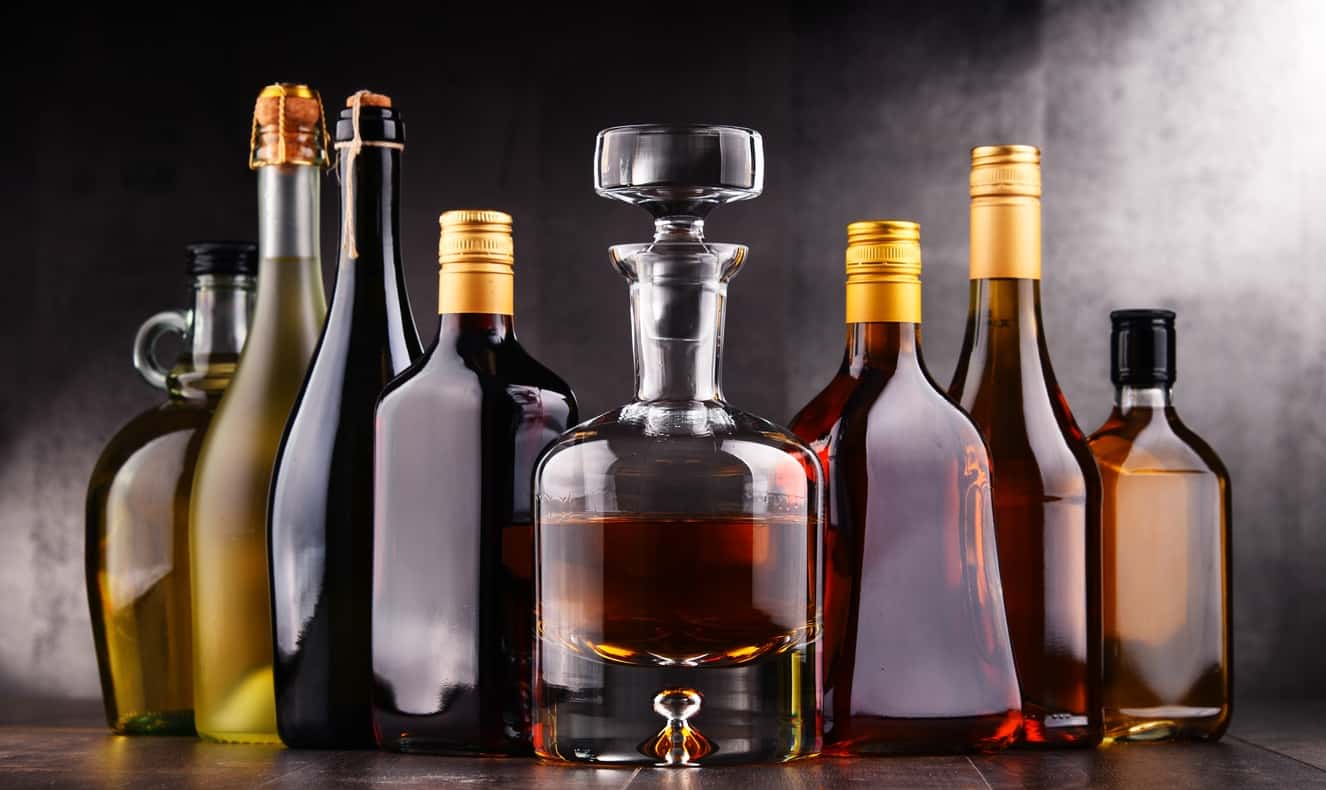 Well, the most expensive liquor in the world has something special about it. Some bottles are just as high in value due to their rarity. Other times, it has to do with the brand.
Here we'll explore 10 bottles of booze worth more than some cars and houses.
One even costs $44 million!
In a nutshell, here is a list of the most expensive liquors in the world:
Keep reading to discover our list of the most expensive liquors in the world.
The 10 Most Expensive Liquor in the World Ever Sold
Not all liquor is equal. Some of the finest liquors are worth hundreds of dollars, and some are worth thousands.
Then some others are worth millions. These brands are so rare and luxurious that they are only available to the wealthiest consumers on the planet.
Let's take a look at the most expensive liquors in the world.
10. Diva Vodka – $1 Million
This world's expensive vodka comes from Sweden. It features 100% wheat grain and water filtered through sand, activated charcoal, limestone, and quartz sand.
The water used in the vodka comes from an artesian well that is 150 years old. The distillation process takes more than three weeks. It is then hand-finished in a glass bottle with 3,000 Swarovski crystals.
The cap features platinum and white gold, and each bottle comes with a certificate of authenticity signed by master diamond cutter Andy Moquin. You can find this most expensive bottle of liquor at select liquor stores worldwide for about $1 million per bottle.
But this particular bottle isn't just any ordinary bottle of vodka; it's encrusted with diamonds, platinum, and gold. And yes, you can drink it or keep it on display as one of your most prized possessions.
9. Mendis Coconut Brandy VS – $1 Million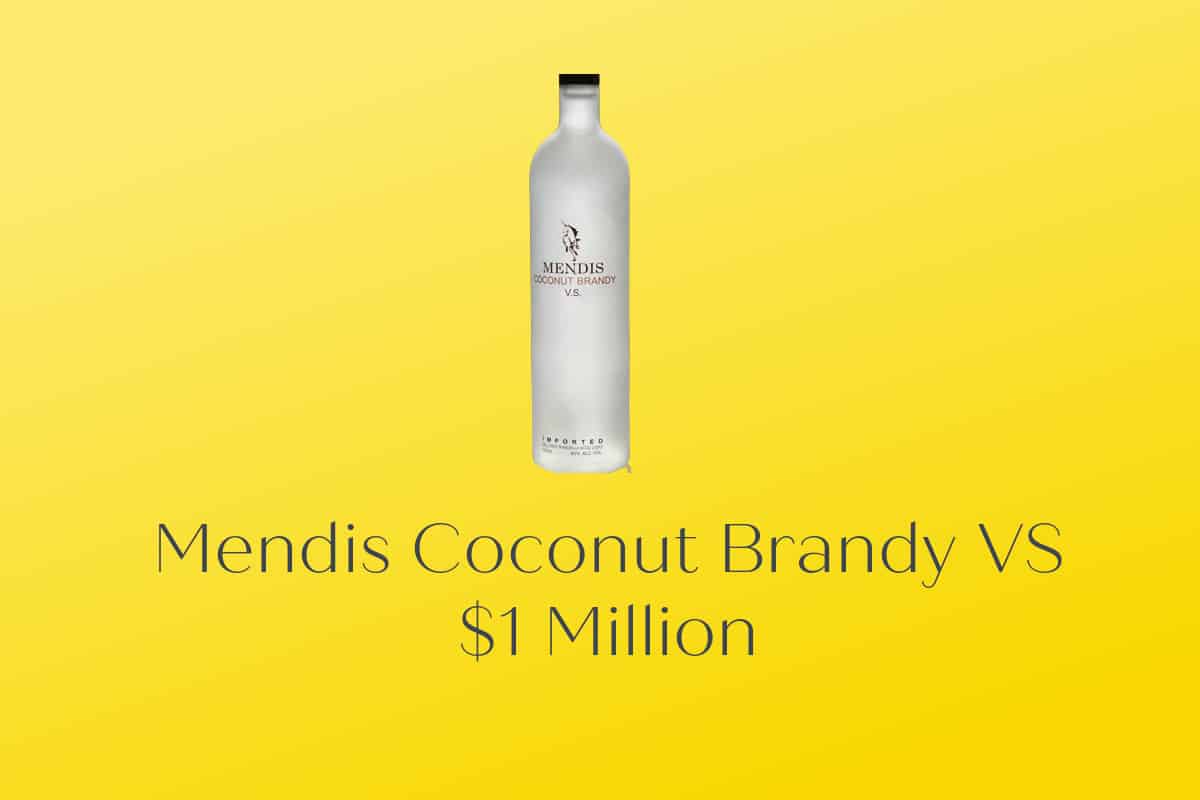 The Mendis Company is one of Sri Lanka's oldest and most respected liquor producers. Their flagship product is a triple distilled brandy made from coconut flowers, which gives it its distinctive flavor and aroma.
This brandy took more than three years before bottling. It took another year again before shipping out to customers across the globe.
The price tag comes from its rarity: only ten bottles were ever created, with one sold at auction for $1 million (over £780k).
8. Russo-Baltique Vodka – $1.35 Million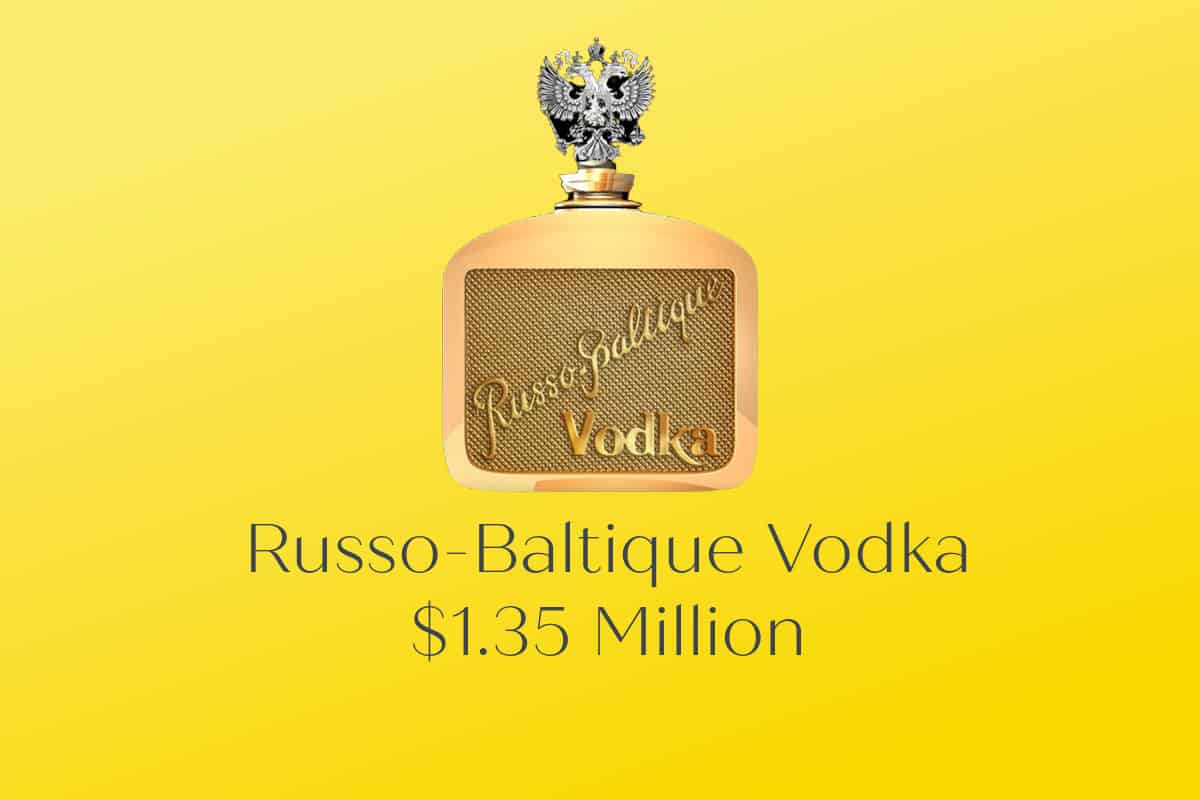 If you love vodka, you will probably love the Russo-Baltique Vodka. It's of the most expensive liquors in the world.
Vodka is pretty simple on its own. But add gold and diamonds to it, and you've got a million-dollar drink! Created by Dartz Motor Company, this vodka comes in a bottle encrusted with white and yellow diamonds and gold. The price tag makes sense when you consider that it took more than four years to create the bottle alone!
7. The Macallan Michael Dillon – $1.53 Million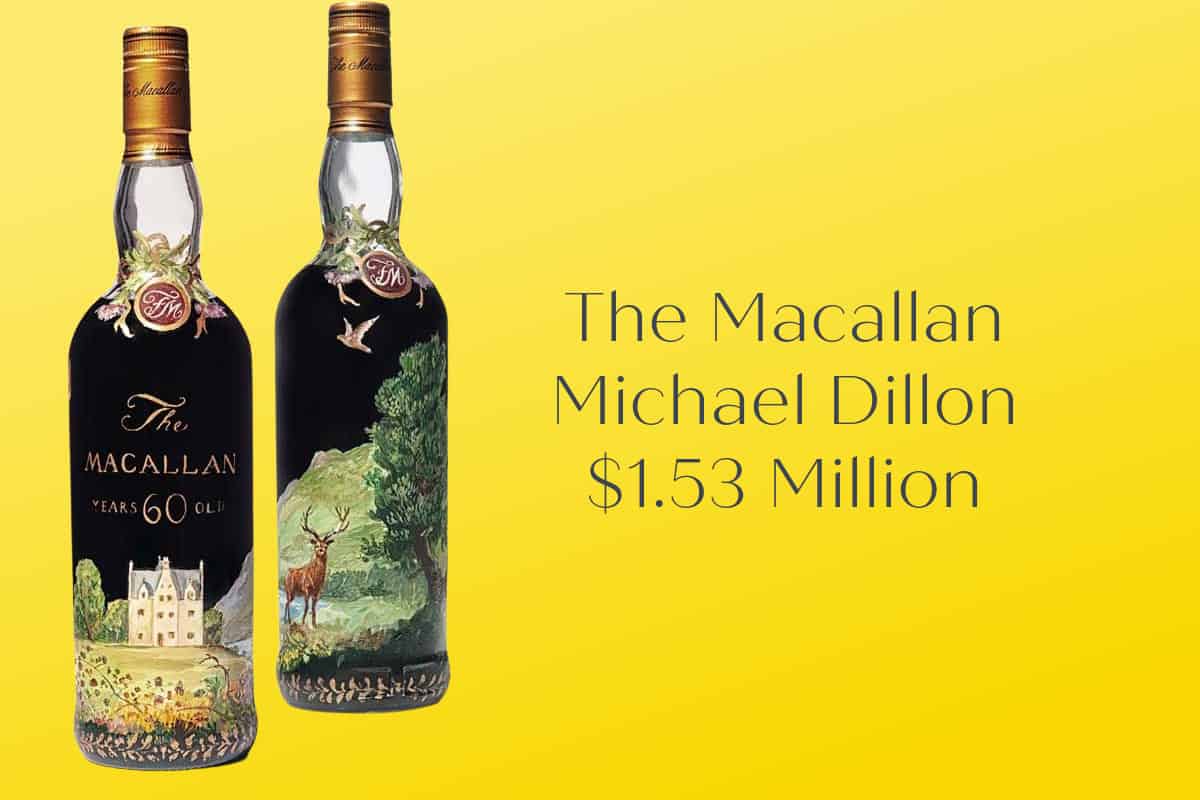 The Macallan Michael Dillon is one of the most expensive bottles of whisky ever sold. It sold for $1.53 million to an anonymous bidder at Bonhams Hong Kong in May 2014.
The bottle was hand-painted by Scottish artist Michael Dillon, and it took three months to complete. He earned the privilege to buy any Macallan's range at cost price for life.
6. Goût de Diamants – $2.07 Million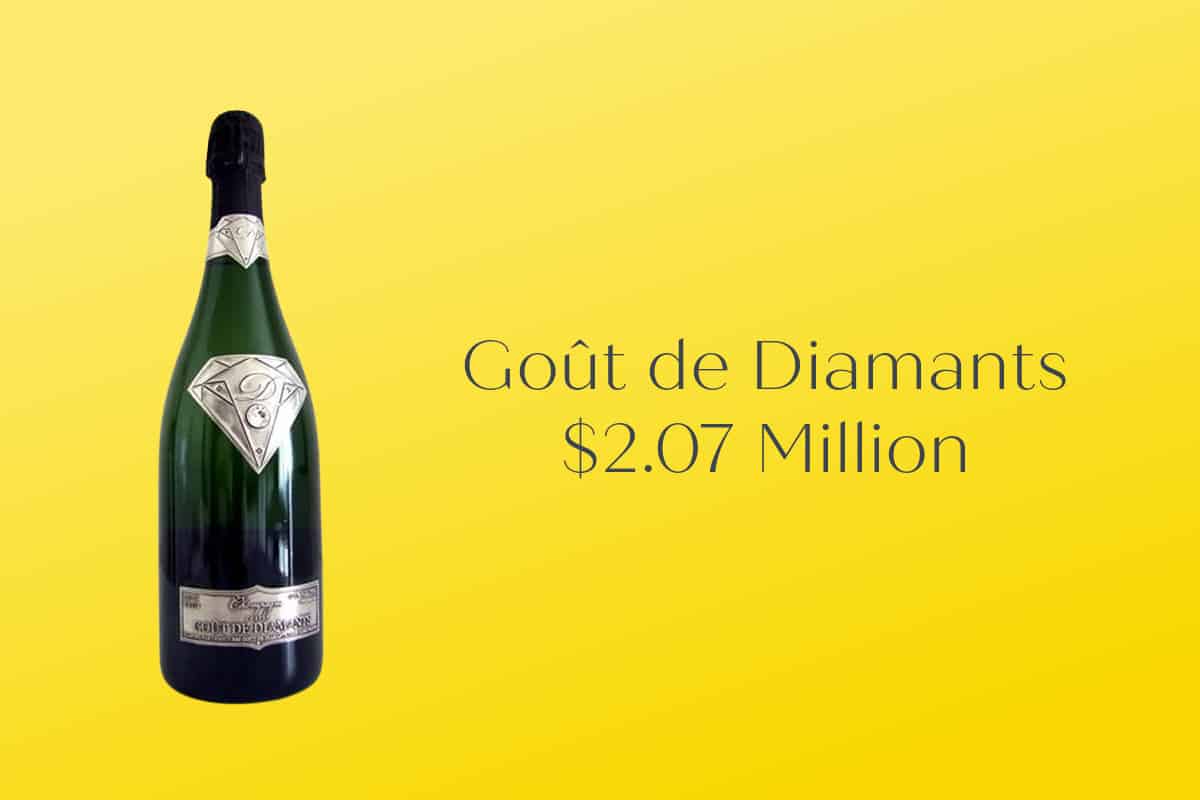 This rare liquor is another insanely expensive in the world. A bottle of this auctioned off at only $4000. But its price shot up after master mixologist Joe McCanta added some luxury by blending it with 18-carat gold flakes.
He then encrusted it with diamonds on a sterling silver base. It has since skyrocketed to over $2 million.
5. The Macallan Fine & Rare– $2 Million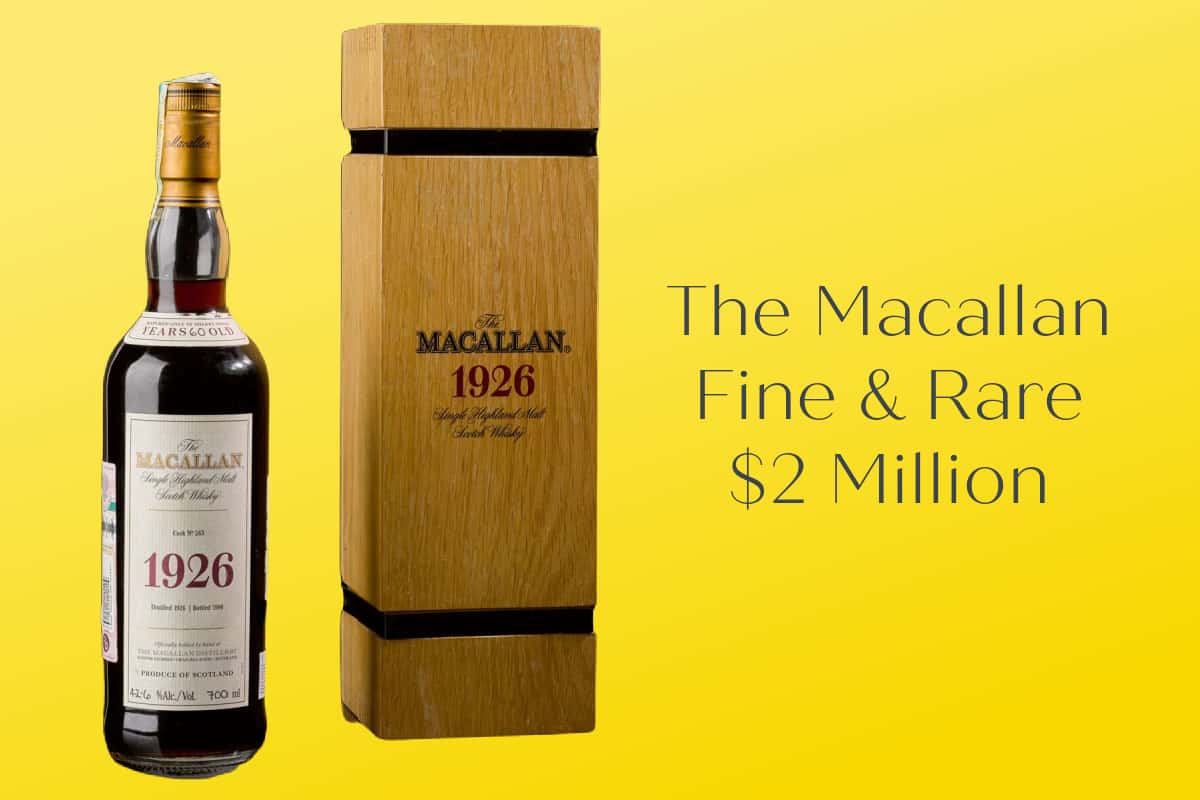 The Macallan is a single malt Scotch Whiskey distilled in Scotland by The Macallan Distillers Ltd. Since 1824. The Macallan is popular for its fine whiskey.
The Fine & Rare series features single malt scotch whiskeys ranging from 1926 to 1991. They are popular as one of the world's finest vintage whiskeys.
This particular bottle of Scotch dates back to 1926, making it one of the oldest bottles of whiskey that anyone has ever consumed. It fetched over 2 million dollars at a Sotheby's auction, making it one of the most expensive liquors in the world.
4. Tequila Ley .925 – 3.5 Million Dollars
This tequila contains 92.5% pure gold by Tequila Ley to celebrate his 75th anniversary. The bottle alone costs $150,000. Alejandro Gomez OropezaIt, who holds a Guinness World Record handcrafted it.
As a bonus, it comes with a diamond necklace containing 1,600 diamonds which weigh about 15 carats altogether. Several celebrities, including Beyonce, have used this liquor.
3. Billionaire Vodka – $3.7 Million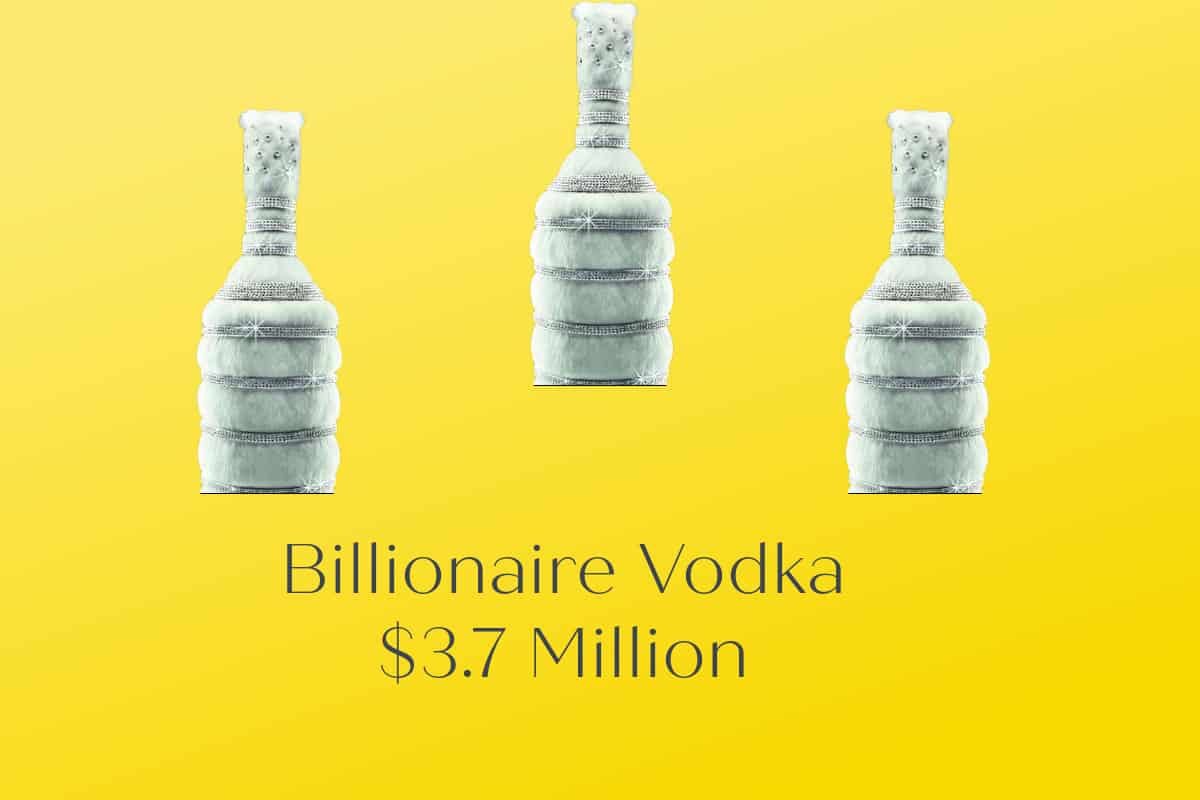 Billionaire Vodka comes as one of the most expensive bottles of vodka in the world. Blackwood distillers produce Billionaire Vodka from premium ingredients. The bottle features over 2,000 diamonds in gold settings.
This bottle listing appeared for sale on Dan Murphy's website for about $3 million, but it sold for an even higher price through auction.
It comes from organic winter wheat and goes through a filtration process of diamonds and other precious gems. The bottle, designed by Leon Verres features platinum and gold. It goes along with a special edition ice bucket, also encrusted with diamonds and rare white gems.
2. Isabella Islay Whisky – $6.2 Million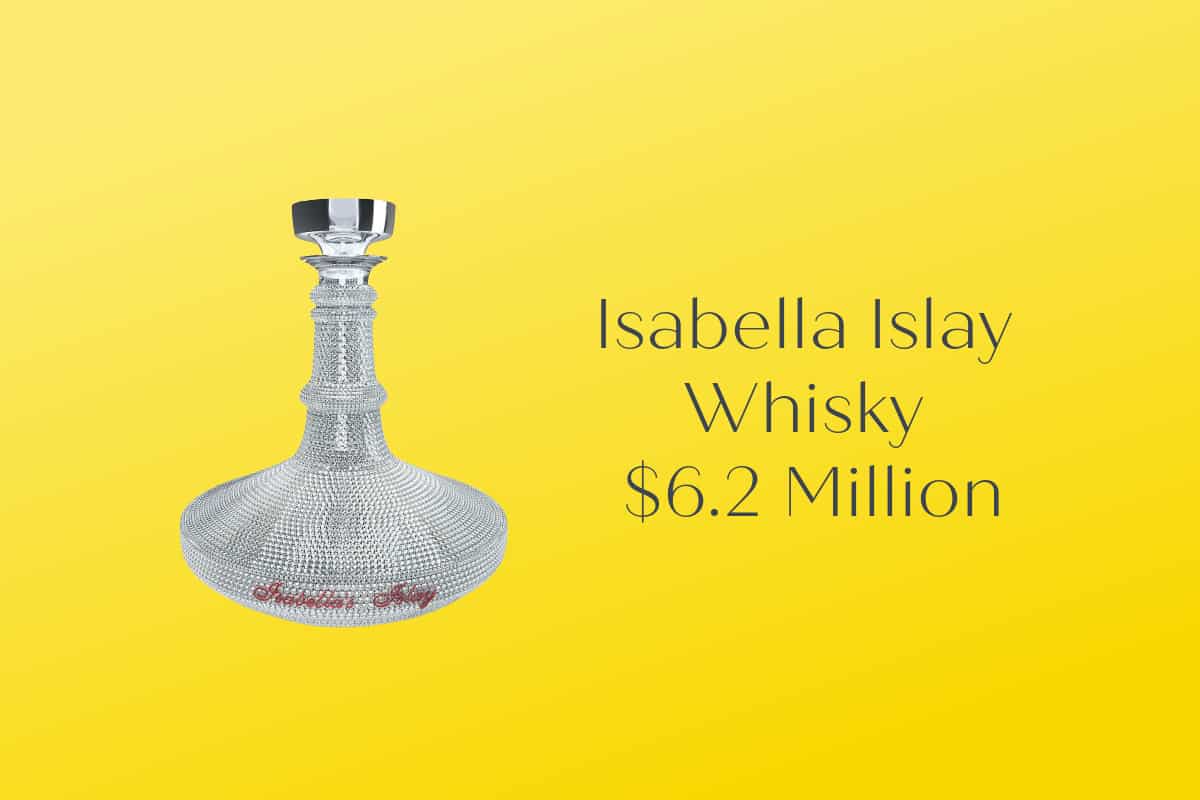 Isabella Islay is among the most expensive bottle of liquor globally due to its extremely rare nature. Luxury Beverage Company, UK owns the whiskey. The single malt Scotch whisky is 30 years old.
It is no surprise that the world's most expensive whiskey is also one of its rarest. The Isabella Islay whisky comes in a luxurious bottle with a white gold label. The bottle boasts 8500 diamonds and nearly 300 rubies.
It also comes in its own solid oak box with 18-carat gold detailing and a silver plaque. This special bottle of whiskey was on display at the Ritz-Carlton hotel, selling for $6.2 million to wealthy quests.
1.D'Amalfi Limoncello Supreme – $44 Milion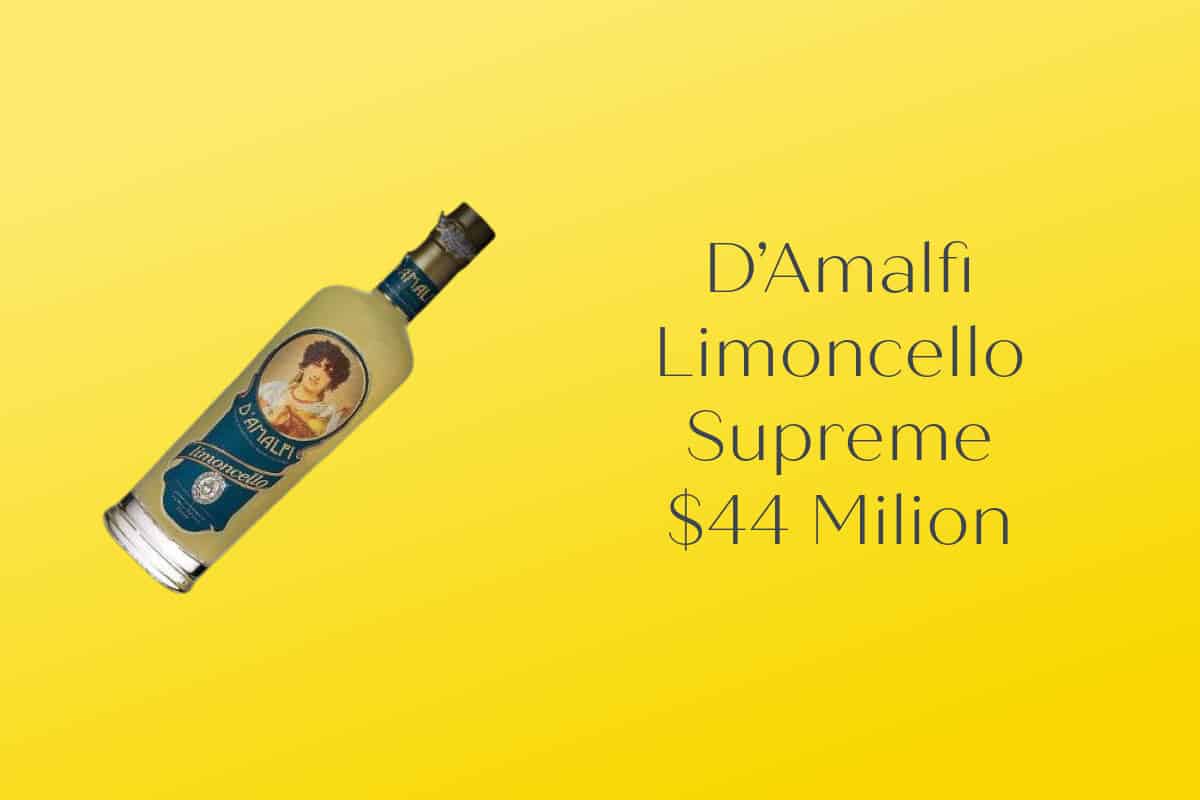 This bottle of limoncello was commissioned for a customer of the Antica Distilleria in Italy. Only one bottle remains so far. The bottle has three-carat diamonds on its neck and a rare 18.5-carat diamond on the front.
Produced in Amalfi, it's a bit pricey given its generously adorned bottle and exceptionally high-quality ingredients.
Frequently Asked Questions
Here are some answers to some of your most pressing liquor inquiries.
What is malt liquor?
is an alcoholic beverage made by brewing barley malt with hops.
in United States law means any malt beverage with an alcohol content above 4.75% alcohol by volume (abv).
differentiates higher-alcohol beers from weaker brews.
Does liquor go bad?
Alcohol does not expire. But if you leave an unopened bottle of liquor in a hot closet for five years, it's likely to have lost some flavor and aroma. A sealed bottle of liquor doesn't go bad on its own.
However, plenty of other factors affect its quality over time. For example, light and heat are two of the most common enemies of liquor. Exposure to either one leads to oxidation, which causes the flavors to change over time.
How many ounces in a shot of liquor?
The average shot glass can hold 1.5 ounces of alcohol. So when you ask for a shot of your favorite liquor, you will get 1.5 ounces.
How much is a shot of liquor?
A shot of liquor, or 1.5 ounces of "hard" alcohol, is pretty standard across the board. However, there are exceptions. Some very strong drinks and bars may pour a little extra.
There are 128 ounces in a gallon of liquor, so if you take 128/1.5 (the number of ounces in a shot), that equals 85 shots per gallon. So if you buy an $18 bottle of vodka and divide it by 85 shots, you get 21 cents per ounce or roughly 21 cents per shot!
Does liquor expire?
Liquor has an indefinite shelf life as long as you keep it corked and sealed and keep it away from direct sunlight. This is because ethanol alcohol has properties that prevent microorganisms from growing. As a result, your liquor will not spoil.
However, some factors can affect the taste and quality of your liquor after a few years. If you don't keep it away from heat, oxygen, and light, its color may change over time, and its flavor may get distorted slightly. The most expensive liquor in the world features several decades of shelf life.
What type of liquor is Hennessy?
Hennessy is a cognac, a type of brandy named after the French town where it was originally produced. While other liquors come from distilling grains and potatoes, brandy comes from distilling wine. Cognac is further differentiated from other types of brandies in that it contains specific types of grapes grown in the Cognac region.
Does liquor freeze?
Standard proof liquor (40%) will not freeze under normal conditions. However, it gets slushy when cold enough. But wine, liquors, and beer will certainly freeze with enough time.
Conclusion
You're probably not going to order any of these, but should you ever be lucky enough to come across one, you'll probably be willing to pay the price for a taste.
Many are ridiculously rare or limited editions that are no longer in production. This serves only to enhance the appeal.
So, if you had the means, which one would you purchase?