Entertaining is easy when you have a party punch recipe ready to go! This whiskey sour punch has lots of fresh citrus, lemonade, and plenty of bourbon, it is sure to be the life of the party!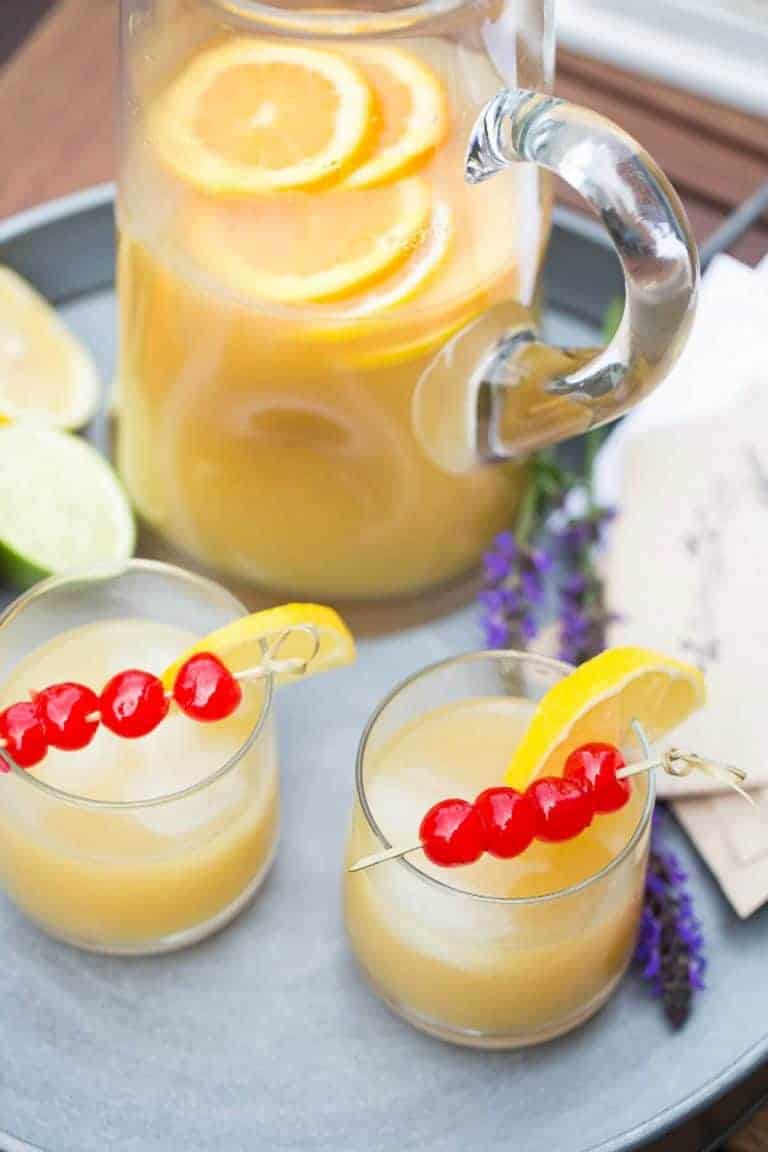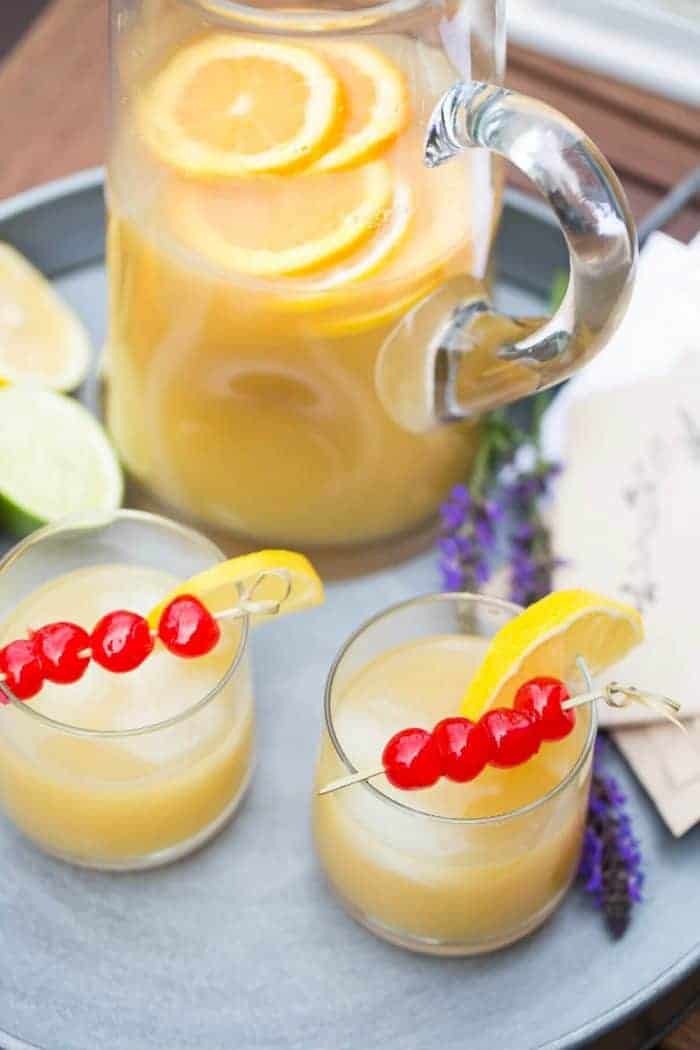 Cocktails intimidate me. I enjoy them, but I only know a handful by name. I have several cocktail recipes on the blog. I have a few mojitos, sangrias, and a vodka drink or two on the blog because these are the only ones in which I am most familiar.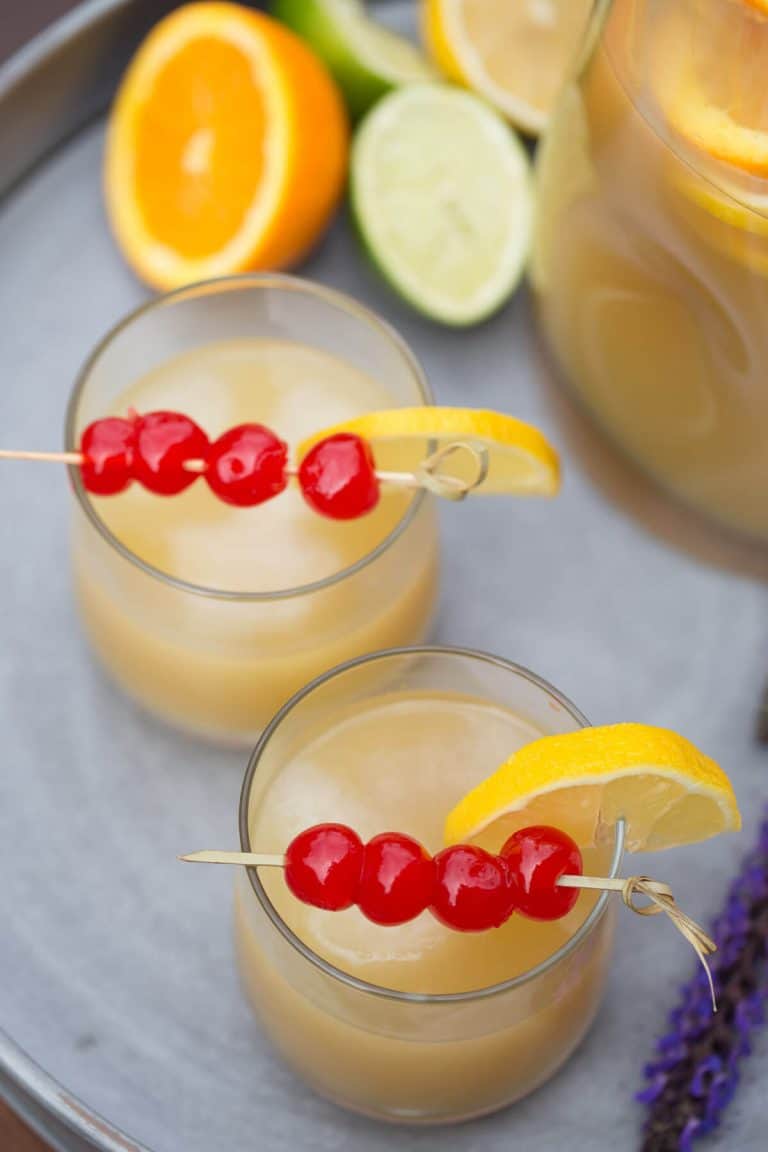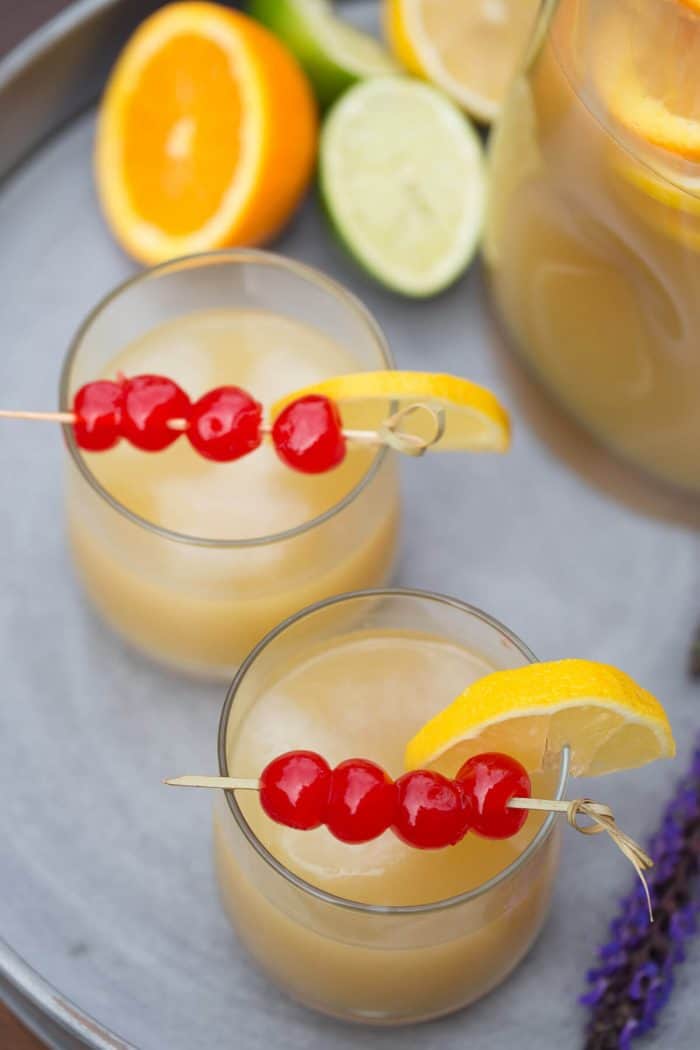 I admit, I get a little envious of people who can confidently order a variety of cocktails. I am forced to stick with my mojitos, bloody Mary's and margaritas because I am so ignorant when it comes to any alcoholic beverage that doesn't come from a brewery. But I want to change, darn it. After watching few seasons of Mad Men, I have been inspired to expand my horizons.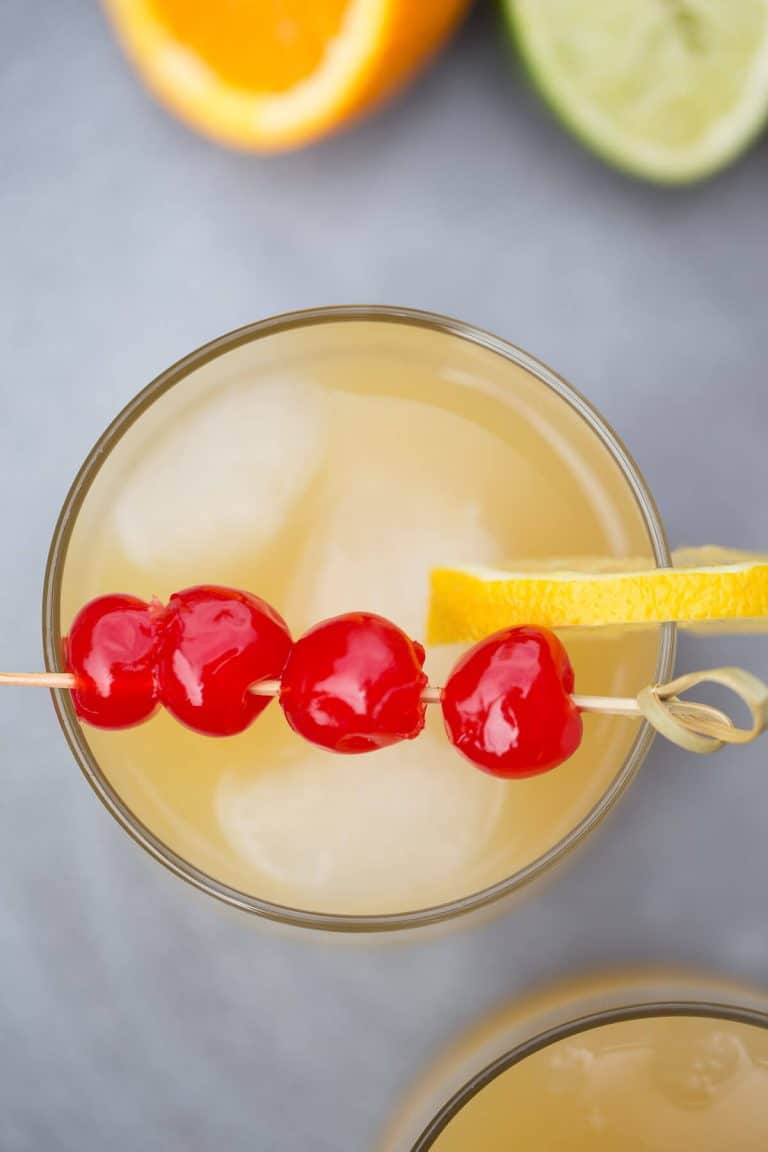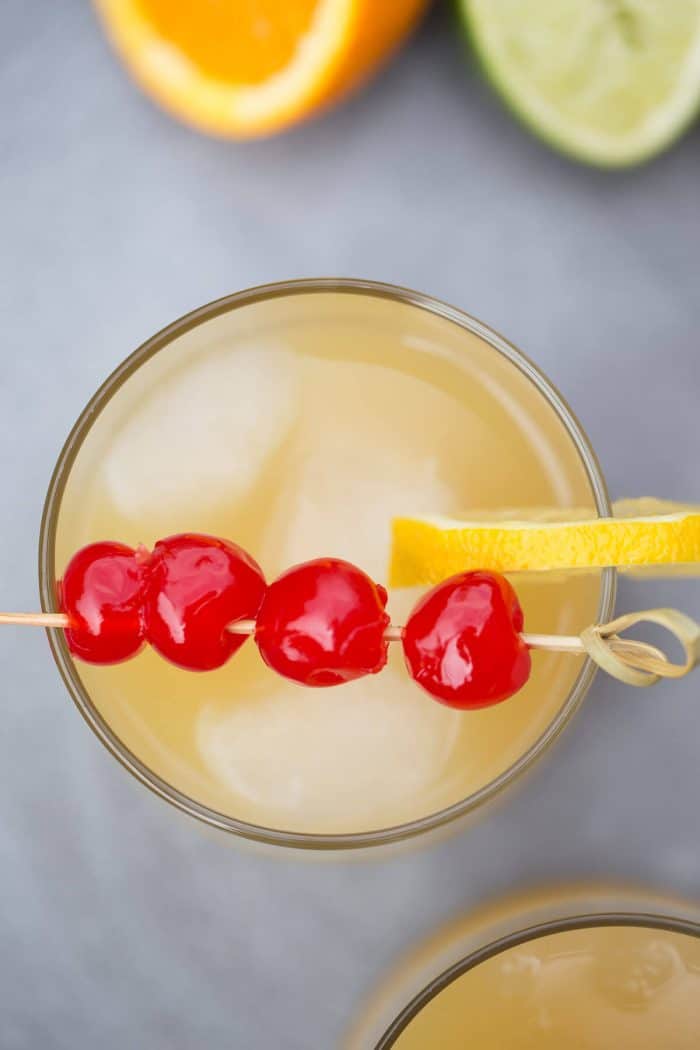 Whiskey sours are one of those classic yet timeless cocktails. Since bourbon is one spirit most cocktail connoisseurs possess, these cocktails are extremely simple to prepare. The best part is you can easily turn a simple whiskey sour into a party punch recipe that you can enjoy with all your friends as well!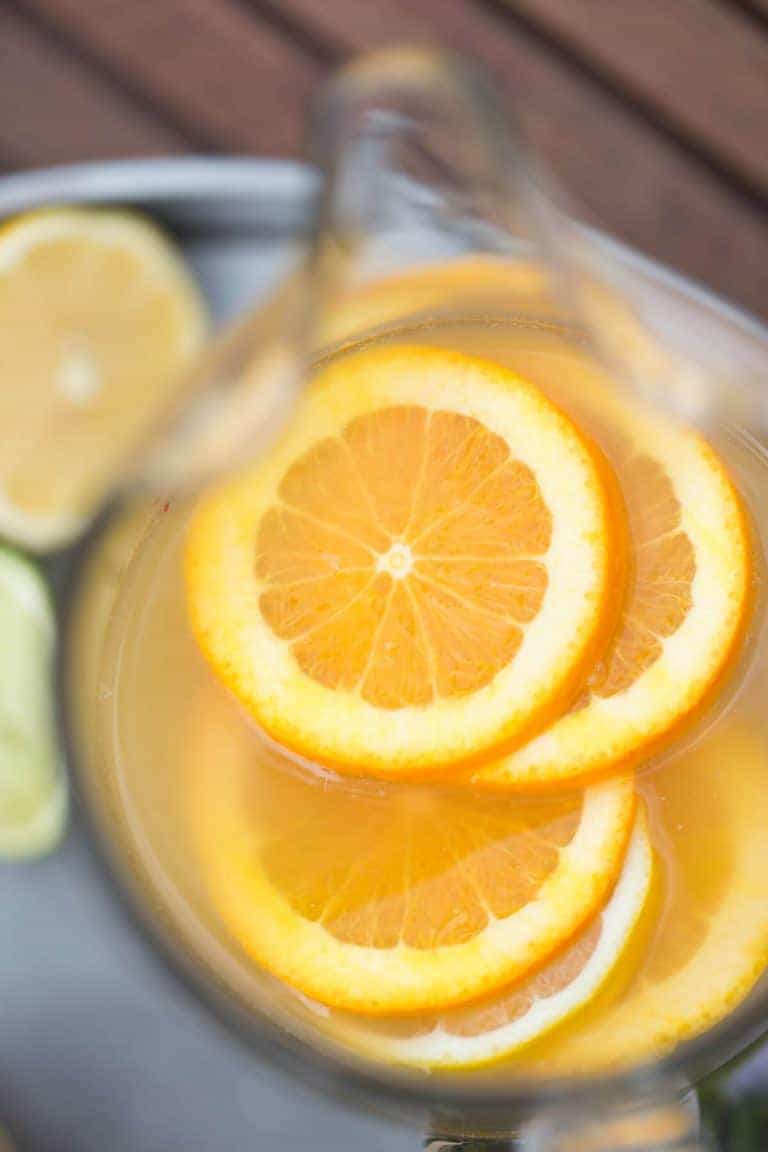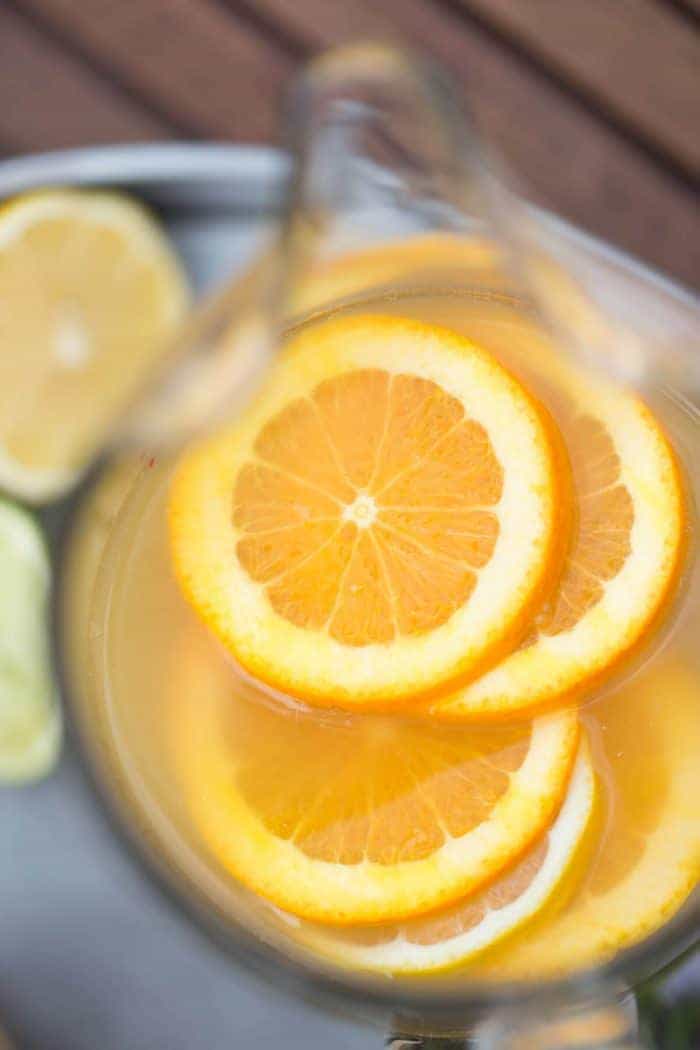 This party punch recipe starts with a simple syrup.
I brought water and sugar to a boil, and let it simmer until it thickened and reduced. I combined this simple syrup with orange juice, freshly squeezed lime juice and lots of bourbon. The longer these sit together, the more flavor your punch will have. To serve, place lemonade ice cubes into your glasses and fill each with your punch. Garnish with fresh citrus slices and as many maraschino cherries as your hearts desire! Then sit back and enjoy because this party punch recipe commands it!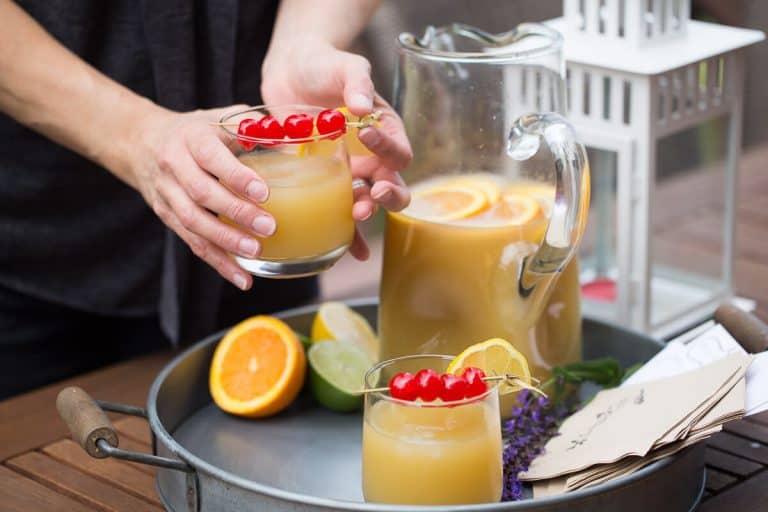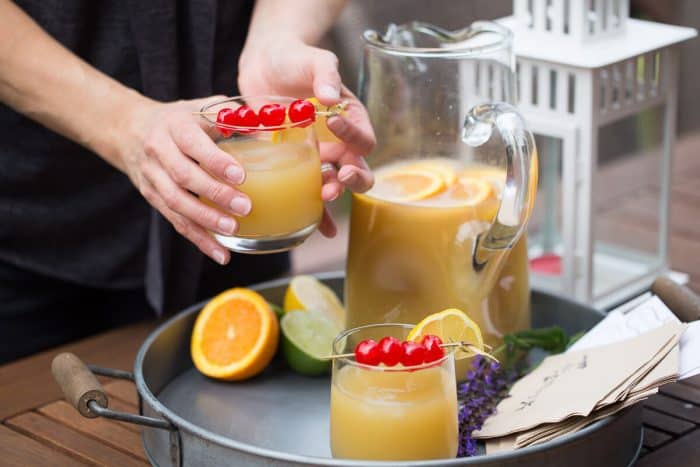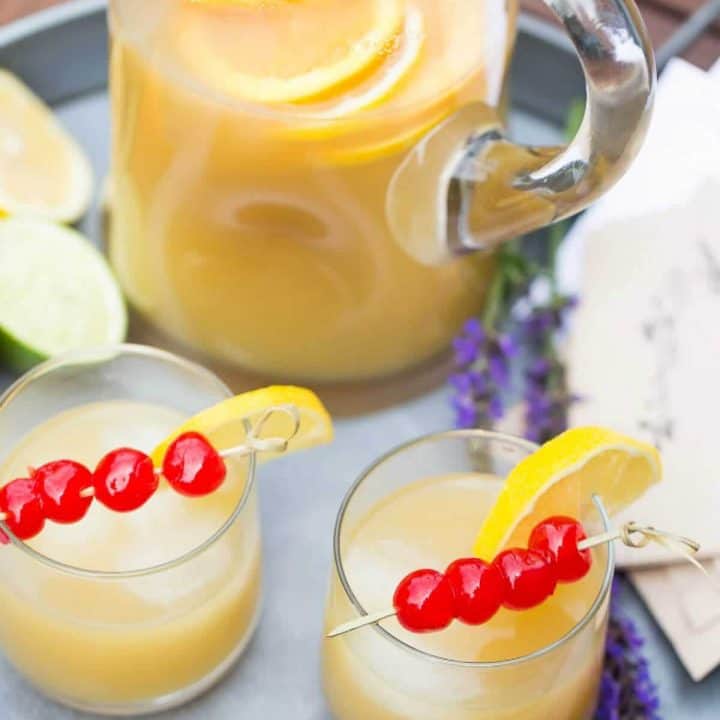 Whiskey Sour Party Punch
This whiskey sour punch has lots of fresh citrus, lemonade, and plenty of bourbon, it is sure to be the life of the party!
Ingredients
Lemonade (2 cups)
1/2 cup sugar
1/2 cup water
2 cups orange juice
1 cup water
The juice from 2 limes (about 1/4 cup)
2 cups whiskey or bourbon
2 cups club soda
Sliced lemons, oranges and maraschino cherries
Instructions
Place two cups of lemonade into two ice cube trays; freeze.
Prepare the simple syrup by placing the water and sugar in a saucepan over medium hight heat. Allow mixture to come to a boil, reduce heat and stir. Continue to heat mixture until the sugar has completely dissolved and mixture becomes thick. Remove from heat and cool.
Place simple syrup in a pitcher. Stir in orange juice, water, lime juice and bourbon. Stir. Refrigerate until ready to serve.
To serve, place lemonade ice cube in cocktail glasses. Top with punch and garnish with citrus slices and maraschino cherries.
Nutrition Information
Yield

10
Serving Size

1
Amount Per Serving
Calories

189
Total Fat

0g
Saturated Fat

0g
Trans Fat

0g
Unsaturated Fat

0g
Cholesterol

0mg
Sodium

19mg
Carbohydrates

25g
Fiber

1g
Sugar

21g
Protein

1g