Koularakia are sweet little cookies, just in time for Easter!
Rich, buttery Greek cookies with a hint of fresh lemon! Koularakia are perfect for dunking into your coffee or tea!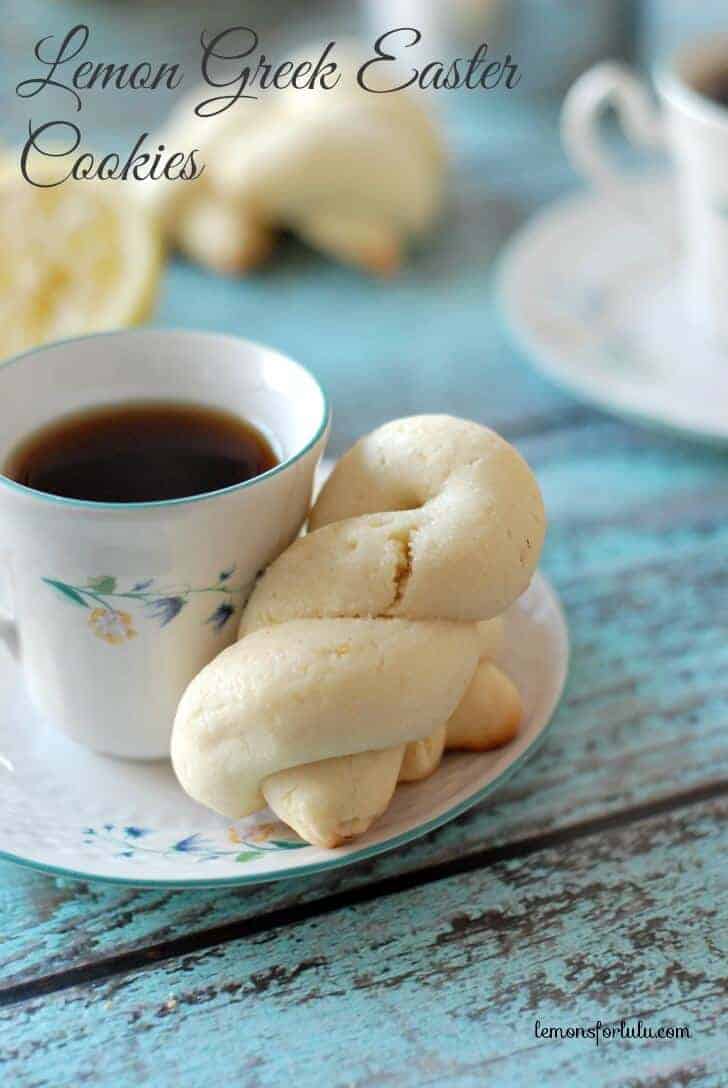 My Greek family does things a little differently for Easter.  No, we don't break plates and spray Windex over everything, but we do have traditions that are all our own.  It never occurred to me that my Easter was a bit odd until I got into school.  At that point, I decided it best just to embrace our uniqueness!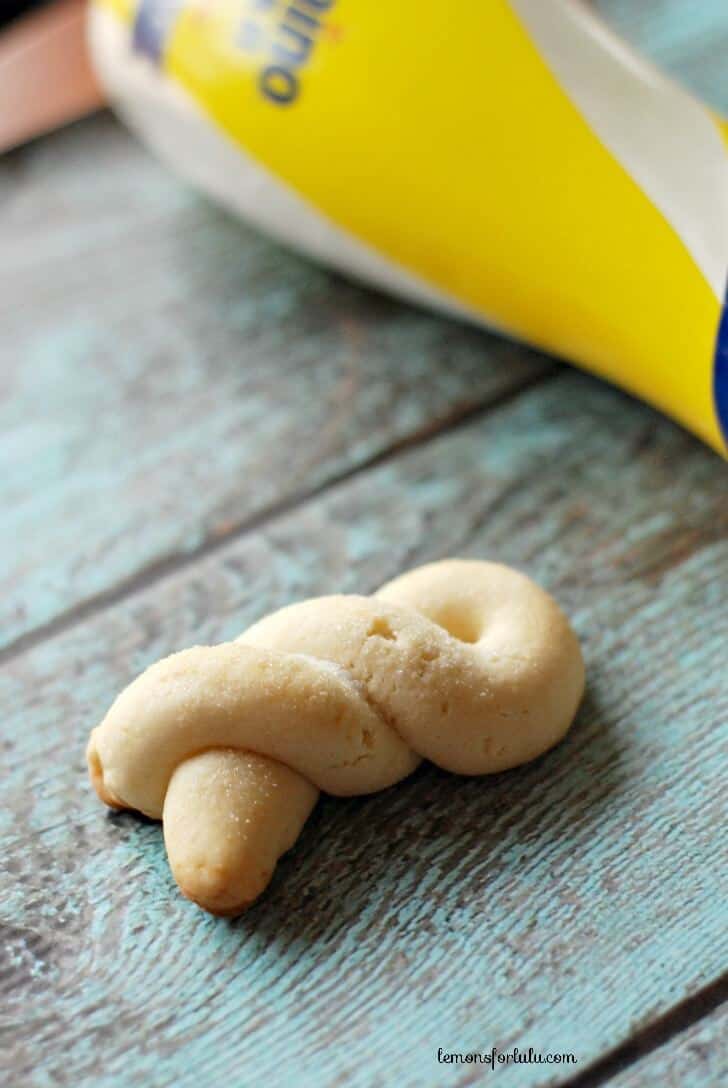 One thing to note about Greeks and Easter is we have our own date.  Yessirree.  There are three factors which decide which day Orthodox Easter will be held.
1. It is based on the Julian Calendar (confession: I don't know what the heck that even means-I just read it off of Wikipedia)
2. Orthodox Easter must always be after Passover
3. It is always held on the first Sunday after the first full moon after the spring equinox.  Don't ask why, apparently Greeks like things nice and complicated!
What this meant for me growing up was I got TWO Easter baskets!  That's all that matters isn't it?
The second thing about Greek Easter is my mom always makes about 4,982 loaves of braided Greek Easter bread (they taste quite similar to Challah) that she will stuff in her freezer (and now mine).  The first loaf is always devoured with enthusiasm!  By the time we get to the last loaf, sometime in November, it's just not as exciting, you know what I mean?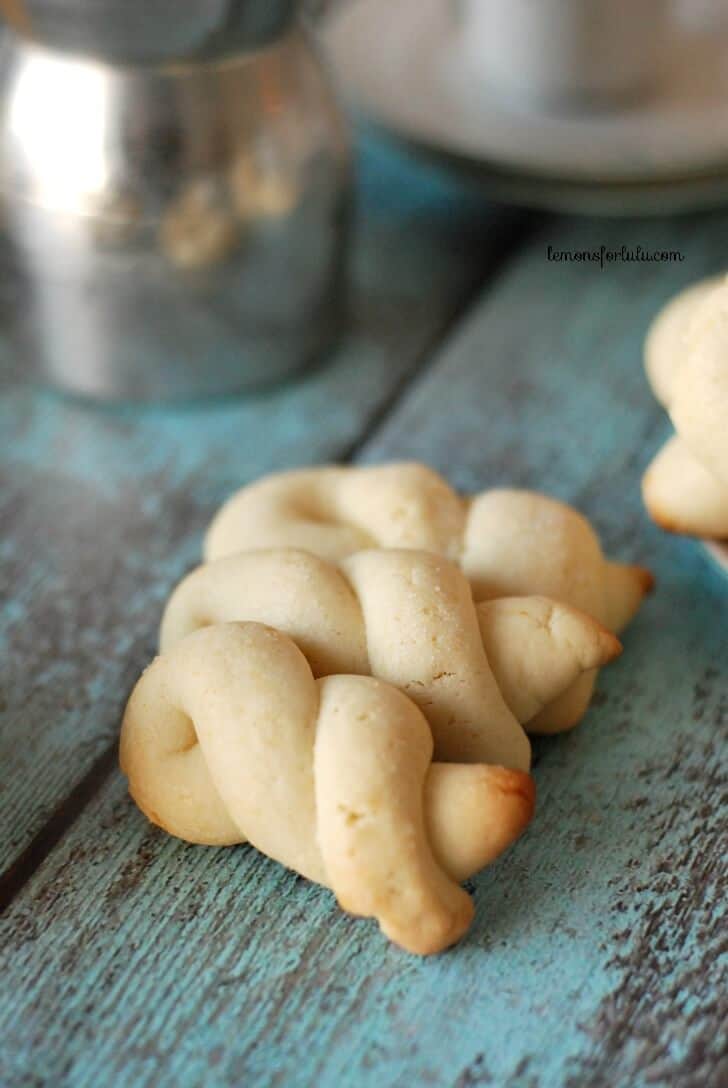 Finally, it would not be Easter without our RIT Dyed Red Easter Eggs!  Yes, you heard me.  RIT Dye, as in craft dye!  If my parents weren't the model of health I would fear these eggs!  Oh who am I kidding, I'm terrified of those eggs and always put mine back when no one is looking.  I tell my kids they are strictly for our egg cracking ceremony and are NOT to be consumed (I say this out of earshot of my mother of course)!  And this brings me to the egg cracking ceremony.  Doesn't every one have an egg cracking ceremony?  No?  Well, you will want one after you read this.
It goes a little something like this, each person holds an egg, small end down and you go around in a circle smashing your egg into another person's egg.  If your egg cracks, it is considered weak and is out of the game.  Then you repeat the process with the larger end of the egg.  The one without a crack on either side of their egg is supposed to have good luck.  It gets a little competitive and heated with egg shells raining down all over the place.  We all know no one really ends up having good luck as a result of an uncracked egg, but we all want the bragging rights just the same.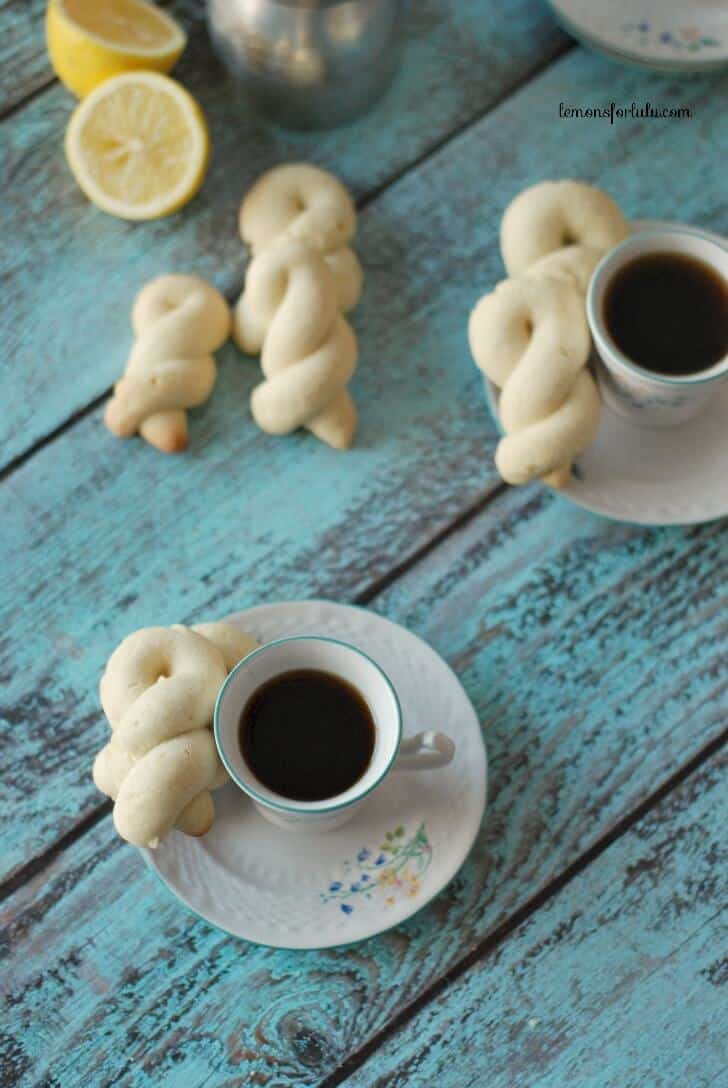 The last thing about Greek Easter in my house is my mom always makes Koularakia, or Greek Easter cookies!
They are hands down my favorite!  They are not a very sweet cookie.  Their flavor reminds me of a biscotti, but they are buttery and softer than a biscotti.  I added a lemon to mine to freshen them up.  Just a touch of citrus can take an ordinary cookie and make it taste out of this world!  I added a milk wash and sprinkled my cookies with the sugar.  The sugar crystals melt right into the milk; giving the cookie the right amount of sweetness in each bite.
I DID IT ALL FOR THE COOKIE: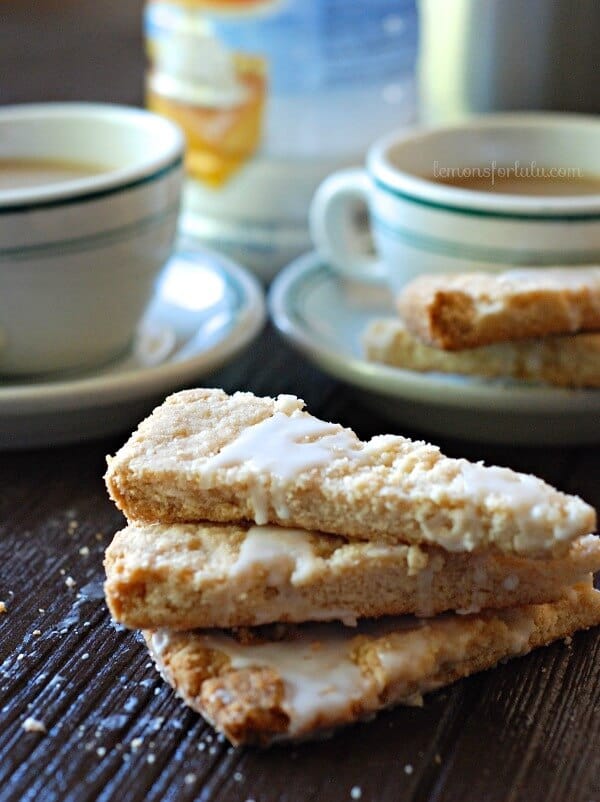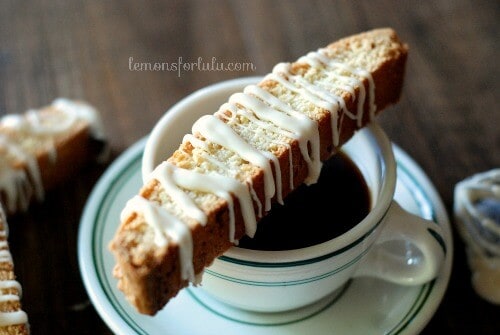 NEVER MISS A RECIPE! SUBSCRIBE TO MY EMAIL TODAY!
FOLLOW ME:
FACEBOOK | TWITTER| GOOGLE +| BLOGLOVIN | INSTAGRAM
Lemon Greek Easter Cookies { Koularakia }
Ingredients
4

eggs

1 1/2

cups sugar

1/2

cup butter, softened

1/2

cup shortening

2

whole lemons, zested,

Juice from two lemons

5

cups flour

2 1/2

teaspoons baking powder

1/2

teaspoon baking soda

3

tablespoon milk

1/4

cup Domino sugar for sprinkling
Instructions
Preheat oven to 350.
In a large mixing bowl, beat butter and shortening until creamy. Add eggs and sugar. Continue to beat on medium until mixture is light and fluffy, about 10 minutes. Add lemon zest and juice. Carefully add flour, baking powder and baking soda. Batter will be thick.
Work with small pieces of dough at a time; roll dough into strips about 5 inches long and ½ inch thick. Make a "u" with dough strip, cross one side over the other and twist into a twisted rope shape. Arrange cookies on a lined baking sheet. Brush cookies with milk and sprinkle each cookie with a pinch of sugar. Bake for 15 minutes or until slightly browned.
Makes 6 dozen