These vegetarian sandwiches have lots of Greek flavors and are so simple and delicious!
They are light on meat but definitely NOT light on taste!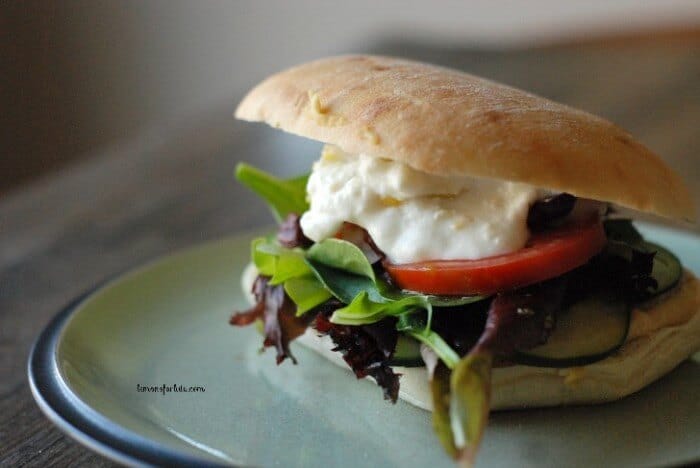 These cold Greek sandwiches are a delicious lunch option for any occasion. They feel fancy thanks to the toasted bread and hummus spread but they're actually super simple and easy to make. While most sandwiches are usually piled high in meats and cheeses I'm sure that once you try this Greek vegetarian sandwich that you will agree not every sandwich needs meat to be filling or taste good.
A Vegetarian Sandwich Recipe
I don't mean to brag but this was one incredible meatless sandwich recipe and one that I continue to find myself indulging in. With the hummus and the Greek yogurt acting as a "glue" to hold the sandwich together and the pile of veggies tucked between each slice of toasted ciabatta bread, there's nothing you won't like. Even the Feta Tzatziki Mayo is on point and fabulous.
Ingredients
For the Greens:
Mixed Salad Greens
Olive Oil
Vinegar
Salt
Oregano
For the Sandwich:
Toasted Ciabatta Rolls
Hummus
Tomato
Cucumber
Pepperoncini Pepper
Black Olives
For the Tzatziki Sauce:
Plain Greek Yogurt
Crumbled Feta Cheese
Minced Garlic Clove
Lemon Juice
Salt
For the exact amounts needed, please see the recipe card below.
Hot to Make Greek Vegetarian Sandwiches
Toss together the greens with olive oil, vinegar, salt, and oregano.
Slice your ciabatta rolls and then toast them slightly.
Slather two tablespoons of the hummus mixture onto the bottom of each toasted roll.
Top the hummus with some tomato slices and cucumbers.
Divide the greens over the top of the veggies and then top with some pepperoncini and olives.
In a small bowl, combine the yogurt with garlic, lemon juice, and salt.
Smear the undersides of the top rolls with the yogurt mixture.
Place the bread onto the sandwiches and serve.
Enjoy!
FAQs
How long is Tzatziki Sauce good for?
Your homemade Tzatziki sauce is going to be good for up to 4 days if kept stored in an airtight container in the fridge. this should give you plenty of time to use it up in new and creative ways or more time to enjoy more sandwiches.
Can I add meat to this sandwich?
Yes, if you truly wish to add meat to this sandwich I think that thinly sliced deli meats such as roast beef, black forest ham, or turkey could pair well with the flavors. Maybe even some salami.
What other breads work well with this sandwich?
I recommend making this sandwich with a harder and more firm bread such as ciabatta bread or even sour dough. This will help to hold up to the moisture of the spreads and give a nice textural change to the fillings inside.
Check out these other great vegetarian recipes you're sure to enjoy!
Greek Vegetarian Sandwiches
Ingredients
For the Greens:
2 cups Mixed Salad Greens
2 teaspoons Olive Oil
1 teaspoon Vinegar
1/4 teaspoon Salt
1/2 teaspoon Oregano
For the Sandwich:
4 Ciabatta Rolls, Toasted
8 tablespoons Hummus
8 slicess of Tomato
1/2 Cucumber, Thinly Sliced
1/2 cup Pepperoncini Pepper, Sliced
4 tablespoons Black Olives, Chopped
For the Tzatziki Sauce:
1/2 cup Plain Greek Yogurt
2 tablespoons Feta Cheese, Crumbled
1 clove Garlic, Minced
1/4 teaspoon Lemon Juice
Salt, To Taste
Instructions
In a bowl, toss greens with olive oil, vinegar, salt and oregano.
Slice Ciabatta rolls and toast them slightly.
Slather 2 tablespoons of hummus on the bottoms of each roll. Top hummus with tomato slices and cucumbers. Divide greens over veggies and top with pepperoncini and olives.
In a small bowl, combine yogurt, garlic, lemon juice and salt. Smear undersides of top roll with yogurt mixture.
Place on sandwiches and serve.