These vegetarian sandwiches have lots of Greek flavor and are so simple and delicious! They are light on meat but definitely NOT light on taste!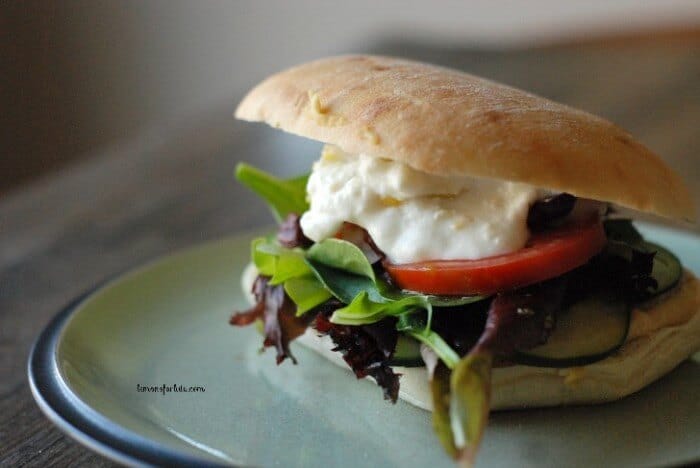 When I was in college there were three Greek restaurants on campus. All were seedy dives but in different ways. One was literally a hole in the wall, that was carry-out only. It had the best Gyro's in town. The second place was dine in and had a varied Mediterranean menu, but you didn't exactly what to sit and eat inside. It was, how shall I put it, grimy? The third restaurant was "higher end". The menu was also Mediterranean and was more expensive. The decor was gaudy and the dining room was dimly lit. It all had a certain Mafia quality to it, know what I mean? You had the feeling there was more going on behind the scenes, but you couldn't put your figure on it. Needless to say, I didn't frequent any of these restaurants. One meal at each place was enough.
Lucky for me, I could have Greek food any time I wanted by simply going to my mom's. It was clean, I could dine in and it was brightly lit. The food was amazing! My mom could throw together the best Greek salad you've ever tasted! She never measured dressing ingredients. The salad would feature whatever veggie needed to be used up, but it was always so satisfying. My mom's cooking was the inspiration behind my Mediterranean Dip as well as my Greek Chicken Salad. And now it's the inspiration behind these Greek Vegetraian Sandwiches. The "glue" is the Greek yogurt and the hummus. A huge pile of veggies is tucked in the middle! I'd be remiss if I didn't mention the Feta Tzatziki Mayo.
Often we think sandwiches have to be piled high with meats and cheese to be good, but these Greek vegetarian sandwiches break through that myth! I hate to toot my horn (who am I kidding right?), but this sandwich was incredible and one I'll been indulging in often!
THE VEGGIES HAVE IT