Dips are one of my favorite things to eat.  But I prefer easy dips!  Serving a healthy dip is even better!
I made this Green Goddess veggie dip with Chobani yogurt!  It's easy, healthy and delicious!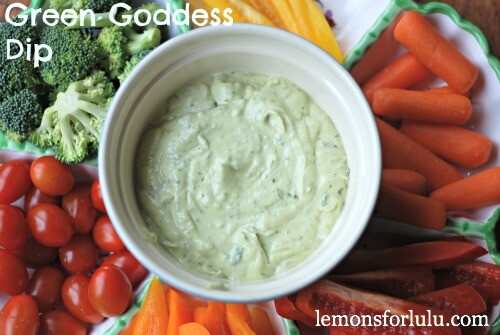 Going green can mean so many things.  It can mean being environmentally conscious, or bringing out our inner Irish.  For me it means eating green food.  A few weeks ago I made pistachio pudding cookies which were the perfect verdant green color!   Recently, I made Green Goddess Dip!   This dip lives up to its name!  I've always been totally upfront about how much I love snack foods!   I could seriously eat snack food and dessert for every meal.  And I if I didn't have kids, I probably would!
This Green Goddess Dip is a way for me to indulge my snack-craving taste buds without feeling guilty!  This dip is actually quite healthy.  Yep, you heard me right-healthy.  I used a ripe avocado (the green has to come from somewhere) and then I added light mayo and plain Chobani Greek yogurt.  The mayo makes this especially creamy, the yogurt keeps it light and tangy, the garlic and herbs load it up with fresh flavor.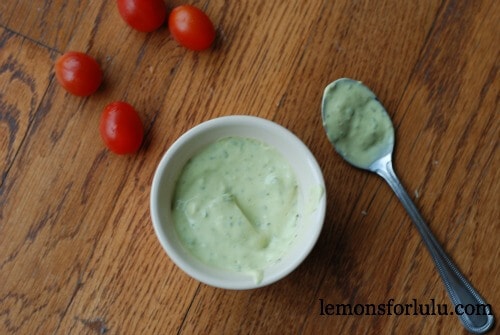 This Green Goddess Dip is perfect when you need a quick appetizer.   You just throw everything in the food processor, whirl and serve.  So simple, it's almost laughable.  I served this with lots of veggies, but it would be wonderful with crackers, pita chips or pretzels.  You could even thin it up and use it as a salad dressing (I'll be trying that soon!).
Kermit the Frog may have lamented that it wasn't easy being green.  I'm not really sure what he was talking about, but perhaps if he would have eaten more Green Goddess Dip, he'd have had a completely different perspective on life!  Seriously, it's that good!
You might like these too: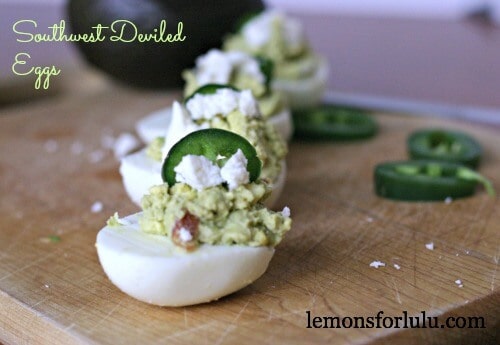 Ingredients
1

avocado diced

2

tablespoon lemon juice

2

tablespoons parsley

2

tablespoon basil

1

clove garlic

1/2

cup plain Chobani Greek Yogurt

1/2

cup mayonnaise

salt and pepper to taste
Instructions
In a food processor, combine avocado, lemon juice, parsley, basil and garlic. Pulse until smooth. Add yogurt and mayo and mix until dip is well blended and creamy. Add salt and pepper to taste.
Serve with veggies or crackers.
Serves 16