Southwest Deviled Eggs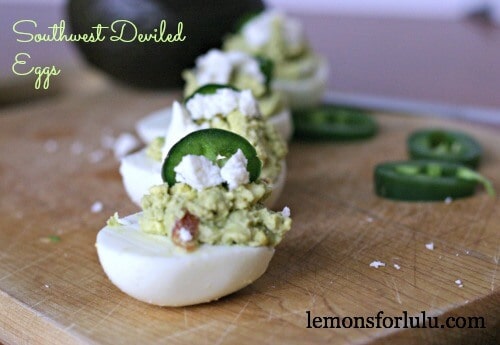 Deviled Eggs remind me of the 70's.  I just seem to remember these being THE appetizer at parties and cookouts that my family attended when I was a kid.   What I remember most is that Tupperware Deviled Egg Keeper.  It was a handy little thing.  The egg keeper came in various colors-yellow, orange, green, etc.  There was a sturdy hard plastic base.  The inside held two removable trays that would cradle your precious little deviled eggs whenever you were on the go.  And lets not forget about the trend setting opaque "burping" lid!
I ate lots of deviled eggs in the 70's and the 80's (my formative years).  I didn't eat them that much in the 90's.  Deviled eggs aren't big with the college crowd.  Thank heavens I have rediscovered these protein packed powerhouses in the new millennium.  I absolutely love eating them, but I've never made them.  I always assumed deviled eggs were lots of work.  I was wrong.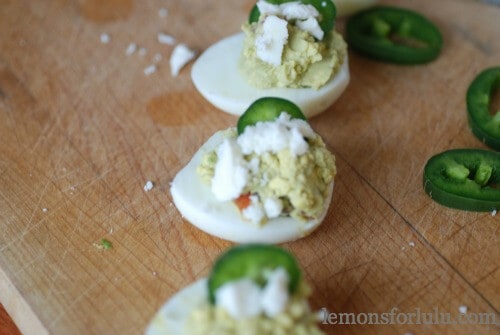 Deviled eggs are not only insanely easy to make, but they are incredibly versatile.   You can combine the yolks with almost anything and the end result will be delicious!  Take the eggs in these pictures.  I combined my yolks with guacamole.  Weird?  No, perfect!  The avocado replaces the mayonnaise you normally use for deviled eggs.  And contrary to what you might be thinking, the taste of the avocado does not overpower the egg-and the egg does NOT overpower the avocado either!   The cumin, lime juice, tomatoes, avocados and egg yolks blend together and sing to you in perfect unison!   The jalapeno slices add a spicy contrasting crunch and the Queso Fesco freshly pulls it all together.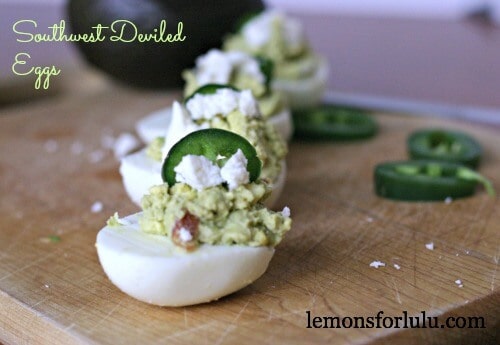 I tell you what, I'm going on Ebay to find myself one of those trusty dusty deviled egg keepers!  I'll be toting these little appetizers everywhere I go!
You might enjoy these too: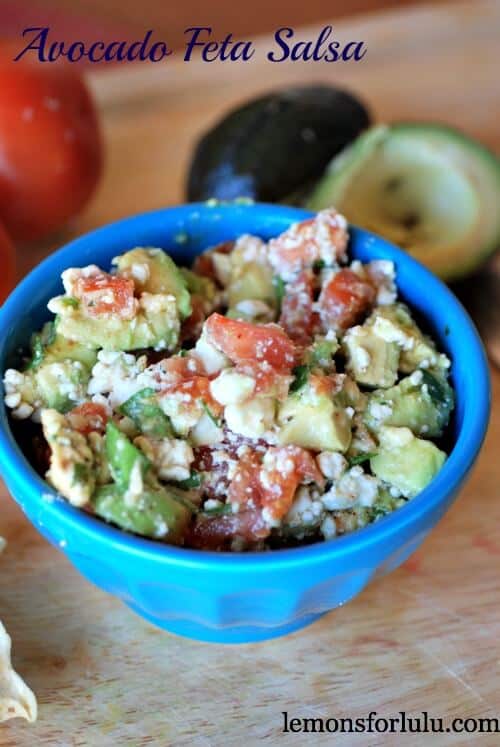 Be sure to check these recipes out on my

Pinterest

Boards!
If you'd like a little Lulu in your life please subscribe via email | RSS | Facebook | Google + | or Bloglovin.  I love keeping in touch with friends!
Ingredients
1

dozen large eggs

2

avocados, diced

1

roma tomato, chopped

1/2

teaspoon cumin

2

teaspoons lime juice

salt

1

jalapeno, sliced

1/3

cup Queso Fresco, crumbled
Instructions
Place eggs in a large saucepan and cover eggs with water (about 1 inch above tops of eggs). Set saucepan over medium heat and bring to a rolling boil. Remove from heat and cover. Let stand for 20 minutes. Drain and cover with cold water. Let eggs sit until cool to the touch. Peel the eggs.
Cut each egg in half and remove yolks to a separate bowl. Set egg whites aside.
To the egg yolks add your diced avocados. Mash with a fork or potato masher until well blended. Add chopped tomatoes, cumin, lime juice and salt to taste. Spoon filling into the cavity of each egg white.
Top eggs with crumbled Queso Fresco and sliced jalapenos. Serve immediately.
Makes 24