A big pot of pasta e Fagioli is just what you need when you are craving warm comfort food!
This hearty soup is easy, full of goodness and thoroughly delicious!
What is Pasta e Fagioli?
Pasta e Fagioli is a humble soup with Italian roots. Its literal meaning is "pasta and beans", so you know right away that this soup is going to have both those two ingredients. Beyond that, each recipe you will find will have slight variances. Some soups tend to have more liquid while some tend to favor a more stew-like consistency. How you choose to make this soup is going to be up to your tastes and preferences.
WHERE IS THE PASTA E FAGIOLI RECIPE?
If you'd rather skip cooking tips, suggestions, handy substitutions, related recipe ideas – and get straight to the Pasta e Fagioli Recipe– simply scroll to the bottom of the page where you can find the printable recipe card.
How To Make Pasta e Fagioli
As mentioned above, pasta e Fagioli can be made many different ways. While some contain cannellini beans, I used red beans. Some recipes use ditalini pasta or elbow macaroni, I used shells. Some recipes start with pancetta, but I use bacon. Instead of chicken broth, I used veggie broth. As you can see, this recipe is very pantry friendly!
Bacon and olive oil will be your starting point, a little garlic will flavor your "fat" and a mix of carrots, onion, and celery (I used frozen) will also add flavor and bulk up the nutrients and soup base. From there, it's a matter of layering. I add seasoning, followed by the beans, canned tomatoes, broth, pasta and a touch of balsamic vinegar. The vinegar adds a subtle depth of flavor to the broth without being overpowering.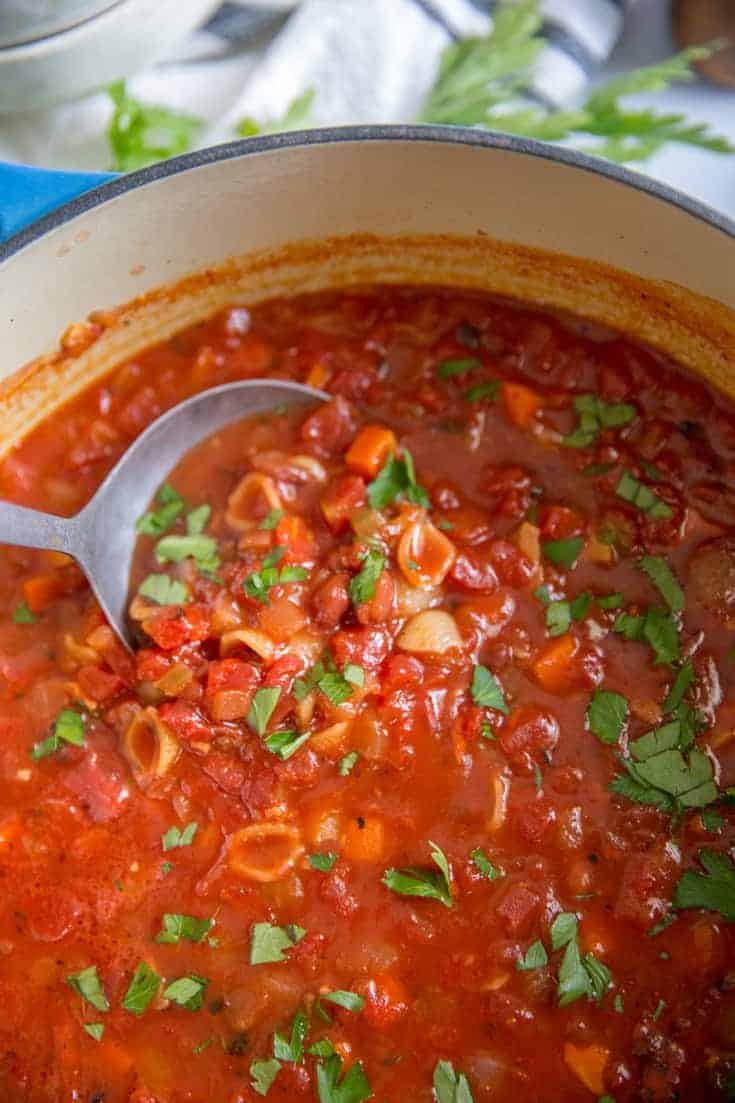 Can I Freeze Pasta e Fagioli?
Unfortunately, I would not freeze this soup. While it seems like a good hearty soup to store in your freezer, the pasta will turn mushy once reheated. If you really want to have this on hand for future consumption, I would prepare the soup without the pasta, and stir in freshly made pasta while you reheat your soup.
Want more cozy soup recipes? Try this Chicken Florentine Soup, Pizza Soup, Red Beans and Rice Soup, Beef and Bean Soup, Tuscan Bean Soup.
I received this lovely blue Dutch oven from Lodge Cast Iron.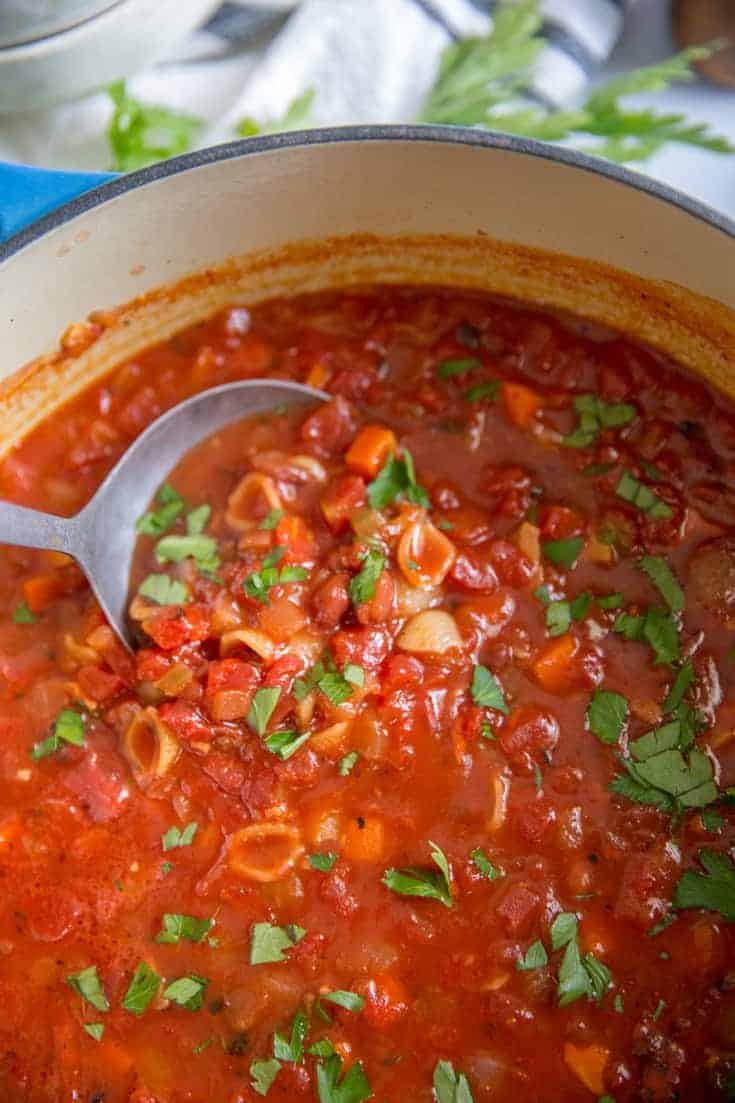 A big pot of pasta e Fagioli is just what you need when you are craving warm comfort food!
This hearty soup is easy, full of goodness and thoroughly delicious!
Ingredients
1 teaspoon olive oil
3 strips of bacon
3 cloves minced garlic
1 cup frozen onion, carrots, and celery
1 teaspoon dried Italian seasoning blend
¼ teaspoon red pepper flakes
¾ teaspoon salt
1 14 oz can red beans, rinsed and drained
2 14 oz cans fire roasted crushed tomatoes
1 32 oz container veggie broth
1 cup pasta shells
1 tablespoon balsamic vinegar
Parsley
Instructions
Heat a large dutch oven over medium heat. Cook the bacon until crisp. Remove from heat. Add olive oil to the hot pan. Add onions and cook until soft, about 3 minutes; add garlic, stir and cook for another minute.
Add vegetables to the pot and cook for about 5-7 minutes or just until tender. Season the vegetables with Italian seasoning, pepper flakes, and salt; stir. Crumble the bacon and add it to the vegetable mixture.
Stir in the beans, tomatoes and vegetable broth and bring to a boil.
Reduce heat and stir in pasta. Partially cover the soup and cook about 10 minutes or until pasta is al dente.
Stir in the vinegar. Garnish with parsley before serving.
Nutrition Information
Amount Per Serving
Calories

0
Total Fat

0g
Saturated Fat

0g
Cholesterol

0mg
Sodium

0mg
Fiber

0g
Sugar

0g
Protein

0g