It's time football!!! You are going to want to know how to host a nacho bar because we all know nachos, friends and football go hand in hand!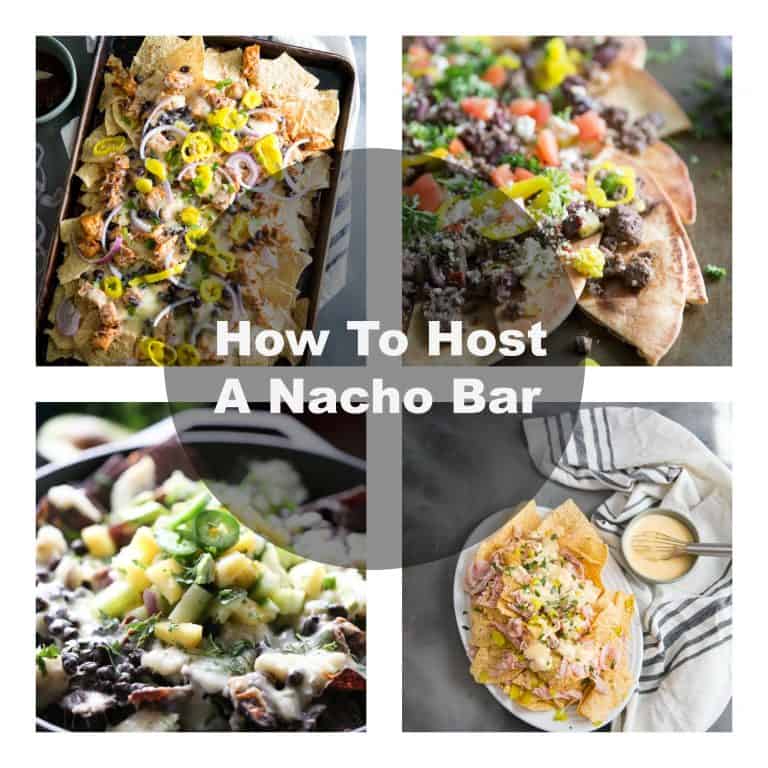 How To Host A Nacho Bar
I cannot think of any occasion where nachos are inappropriate. Think about it,  game days, parties, family get-togethers, movie night, BBQ's, card night, book club…you name the event and I'll give you a nachos recipe that will fit perfectly!
How To Plan A Nacho Bar?
The first thing I would figure out is what type of proteins you are willing to make or buy. Will you be hosting meat eaters; if yes, what type of meat is easiest to prepare and keep? Are there vegetarians or others with special diets? Chances are you will be able to please everyone. You decide what you are willing to make then go from there. Most people love ground beef, shredded chicken, chili and pulled pork on their nachos. You could ground beef and make the chili at home, and you can keep things simple and buy a rotisserie chicken and purchase premade pulled pork! This will save you time and money.
Next up, the chips!! I like to have a variety of chips for my nachos. I like tortilla chips, corn chips, and blue chips. Buy MORE than you think you'll need. Chips break and crumble…people like whole chips for their nachos so they scoop up as many topping as possible!
What Toppings For A Nacho Bar?
The next step is all about toppings. The possibilities are endless here! Keep bowls filled with chopped tomatoes, peppers, onions, jalapenos (pickled and fresh), banana peppers, black olives, corn, black beans, pinto beans, guacamole, sour cream, shredded jack cheese, and shredded cheddar cheese. These are all basic nacho toppings that should be easy to prepare, easy to keep fresh and will please everyone (especially your vegetarian friends)! Keep ranch dressing handy as well as a few different types of salsa. I like to have a fresh picadillo, a chipotle salsa, a salsa verde, a spicy salsa, and a picante salsa ready for my guests. You can add a corn salsa or a peach salsa as well, although the fruity salsas tend to be less popular.
A Different Kind of Nacho
Nachos don't have to have tortilla chips and they don't have to ordinary toppings!
Huevos Rancheros Sheet Pan Nachos
Cheesy BBQ Chicken Zucchini Nachos
Using paper plates and paper utensils keep you sane and make clean up a breeze. Keep your meat either in a crockpot or a food service tray covered in foil. Arrange your food table for optimum layering! Start with meats at one of the table, followed by beans, vegetables, cheeses, sour cream, guacamole, salsas, and dressing! Be sure to keep plenty of napkins and wet wipes handy!