A quick bread made from fresh cherries, with a hint of almond. A simple almond glaze covers it all!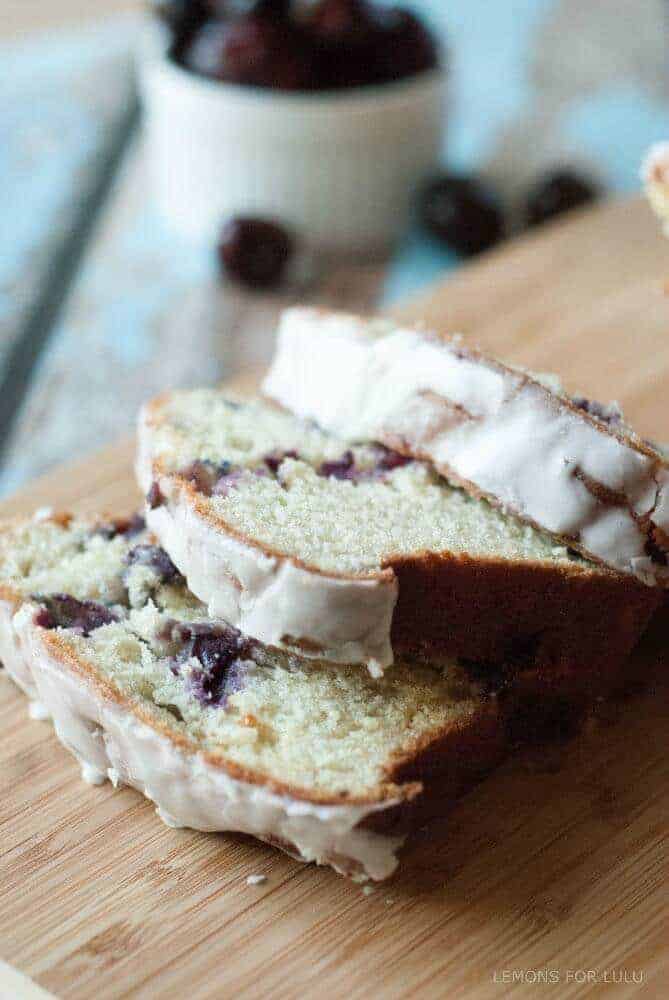 I bet you didn't know that cherries can make incredible-tasting bread. This cherry salmon quick bread recipe is super simple and easy to make from scratch that you're going to love all summer long.
I love the blend of cherry and almond together in this loaf. topped off with the simple glaze on top and we have a winning treat right here. Serve up this cherry almond sweet bread for breakfast, a dessert, or simply snack on it throughout the day too.
What is a quick bread?
Quick bread is what we call bread recipes that do not use yeast and instead use leavening agents like baking powder or baking soda. This means that instead of waiting hours for dough to proof and rise before baking, we can simply mix it up much like a cake batter, pour it into a prepare bread loaf pan and then bake to perfection.
This cherry quick bread is a prime example of an easy to assemble quick bread because everything is super fast and easy to come together. The only part of the process that might take a little more time is pitting and cutting the cherries (if you're using fresh).
Ingredients for the Cherry Almond Bread:
Cherries
Butter
Sugar
Eggs
Vanilla
Almond extract
All-purpose flour
Salt
Baking powder
Baking soda
Plain Greek Yogurt
For the glaze, you will need:
Powdered sugar
Milk
Almond extract
For the exact amounts needed, please see the recipe card below.
How to Make Cherry Almond Quick Bread
Preheat your oven to 350 degrees F and spray the inside of a 9×5 bread pan with nonstick cooking spray and then set it aside.
Cream together the butter, sugar, eggs, and extracts in a bowl.
In another bowl combine the flour, salt, baking powder, and baking soda.
Carefully add the flour mixture to the butter mixture until combined.
Stir in the yogurt until completely incorporated.
Fold in the cherries.
Pour the batter into the prepared bread pan.
Bake in the oven for 50 minutes or until a toothpick can be inserted and come out clean or with just a couple of loose crumbs.
Place on a cooling rack for 10-15 minutes before removing from the pan to cool completely.
To make the glaze, whisk together the powdered sugar, milk, and almond extract until smooth.
Drizzle over the top of the bread and allow to stand completely before slicing and serving.
FAQs
Can I make cherry bread with frozen cherries?
Yes, using frozen cherries will definitely help you to cut down on time and energy spent prepping this bread recipe. That said, this bread tastes so great with fresh cherries so if time isn't of the issue and cherries are in season, I'd recommend trying it with fresh instead of frozen.
How can I tone down the almond taste?
I love the blend of flavors in this cherry and almond loaf recipe, but if you find that the almond flavor is too overwhelming you can switch it out for vanilla extract and still get a great tasting bread. Simply swap out the almond for more vanilla in both the quick bread batter and the glaze and it's like you have an entirely new snack to enjoy!
How long is almond cherry bread good for?
This bread can be kept stored in an airtight container at room temperature for up to 3 or 4 days. I do not recommend keeping it stored in the fridge as the cold air can actually cause the bread to dry out more quickly.
If you love quick bread recipes then make sure to check out these ones as well.
Yield: 1 loaf
Cherry Almond Quick Bread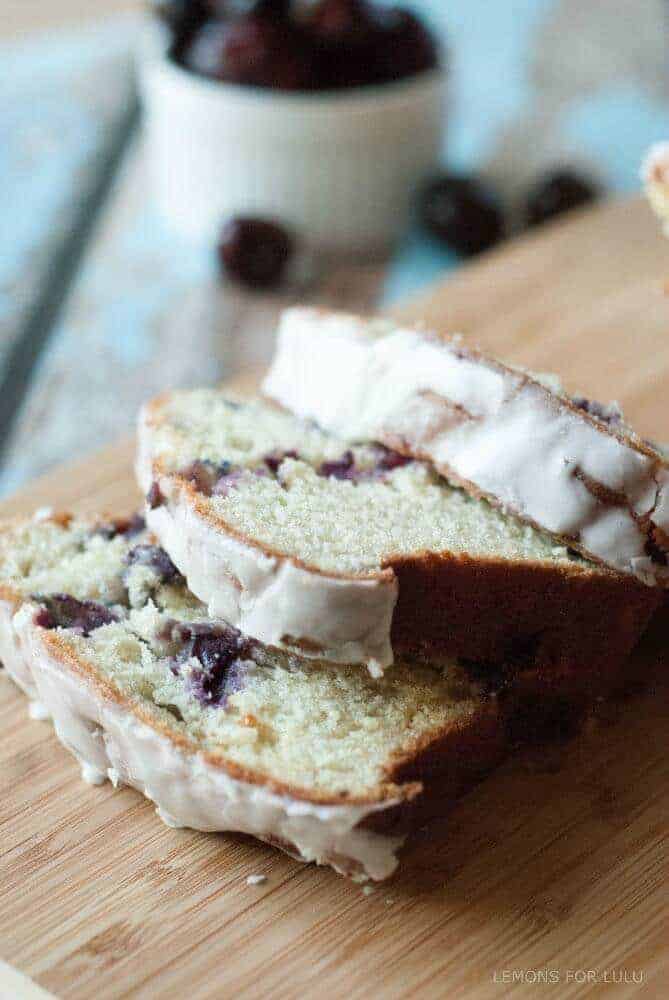 A quick bread made from fresh cherries, with a hint of almond. A simple almond glaze covers it all!
Additional Time
15 minutes
Total Time
1 hour
15 minutes
Ingredients
1 cup cherries, coarsely chopped
1/2 cup butter, softened
1 cup sugar
3 eggs
1 teaspoon vanilla
1 teaspoon almond extract
2 cups flour
1/2 teaspoon salt
1 teaspoon baking powder
1 teaspoon baking soda
1 cup plain Greek Yogurt
2 cups powdered sugar
1/4 cup milk
1 teaspoon almond extract
Instructions
Preheat oven to 350. Spray a 9 x 5 in pan with non-stick spray and set aside.
In a bowl, cream together butter, sugar, eggs and extracts.
In a separate bowl, combine flour, salt, baking powder and baking soda. Carefully add dry ingredients to wet ingredients. Stir in yogurt until completely incorporated. Fold in cherries. Pour batter into bread pan. Bake for 50 minutes or until a toothpick inserted in the center comes out with loose crumbs. Remove to a cooling rack for 10-15 minutes. Remove from pan and let cool completely.
For the glaze whisk together sugar, milk and extract. Pour over bread. Let stand before cutting.
Nutrition Information
Yield
12
Serving Size
1
Amount Per Serving
Calories

322
Total Fat

9g
Saturated Fat

5g
Trans Fat

0g
Unsaturated Fat

3g
Cholesterol

68mg
Sodium

323mg
Carbohydrates

54g
Fiber

1g
Sugar

37g
Protein

6g