The new year is here.  I can't believe it.  December flew past me.  It seems one minute I was throwing together Halloween costumes and the next minute I was toasting in the new year!  How does this happen?  I was so busy baking, prepping, planning, wrapping and posing Iggy our Elf on the shelf, that I didn't have time to stop and just enjoy the season.
I know my family and most of my friends have already taken down their Christmas decorations.  Trees have been packed away or thrown away.  Wreaths have been stowed, stockings have been tucked away until next year.   I have yet to do these things.  I'm just not ready.  I know that once I take down that first ornament, I will work feverishly until all traces of the holiday have vanished.
I baked banana bread today.  To be specific, I made maple cinnamon banana bread.  I had soft, ripe bananas to use up.   In my house ripe bananas=banana bread!  While the banana bread was baking, the richest aroma filled my kitchen!  The maple and cinnamon made my home smell so warm and cozy.  It reminded me of Christmas!  Maple and cinnamon is such a classic combination.  Combine them with moist banana bread and you have pure comfort.
When the banana bread was ready, I plugged in the Christmas tree, made myself some tea, put on my Vince Gauraldi Charlie Brown Christmas and snuggled up on the couch.  Lucy was playing with her Christmas toys and I was thinking of all the fun that was had over the past few weeks.  Lots of family, friends and food.
Today I reflected, tomorrow I will tear down.  It's all good.
If you'd like a little Lulu in your life, please subscribe, via email, RSS, Facebook or Google +.  I love keeping in touch with friends.
Want some more?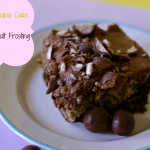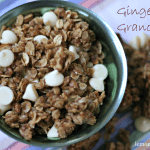 Maple Cinnamon Banana Bread
12
adjust servings
Soft, moist banana bread flavored with maple syrup and cinnamon.
Ingredients
1 1/4

cup flour

1/2

cup sugar

1/4

cup brown sugar

1-teaspoon

baking powder

1-teaspoon

salt

1/2

teaspoon baking soda

1-teaspoon

cinnamon

1/2

teaspoon nutmeg

1 10oz

package cinnamon flavored baking chips

1/2

cup vegetable oil

2

eggs

1/2

cup sour cream

1-tablespoon

maple syrup

2-3

ripe bananas mashed
For the glaze
1

cup powdered sugar

3

tablespoons milk

1-tablespoon

maple syrup
Instructions
Preheat oven to 350. Spray a 9x5 loaf pan, set aside.
In a large bowl, whisk together, flour, sugars, baking powder, salt, baking soda, cinnamon and nutmeg and cinnamon chips.
In a separate bowl, stir together oil, eggs, sour cream, and maple syrup. Stir in the mashed bananas. Fold the banana mixture into the flour mixture until just combined.
Pour batter into baking pan. Bake in over for 60-75 minutes until a toothpick inserted in center comes out clean. You may have to cover bread lightly with foil during the last 10 minutes to prevent too much browning.
Remove from oven and let cool in pan for about 30 minutes. Remove to a baking rack to cool completely before covering with glaze.
For the glaze:
Stir together sugar, milk and maple syrup until smooth and easily poured. Pour over cooled bread and let set 15-20 minutes.