Nothing beats eating a couple of scoops of cool and creamy homemade banana ice cream on a hot summers day. This recipe is simple and pure and is a great way to use up those ripe bananas!
Serve this luscious ice cream with homemade Banana Split Banana Bread or in a Banana Milkshake for the ultimate banana treat!
My husband and I will be celebrating our wedding anniversary in about a month. And after all this time, I still say the best wedding gift we received was an ice cream maker. Aside from a toaster and a coffee maker, that small appliance has seen the most use.
We've had to replace the original but we use the new maker just as much.
When it comes to using up overripe bananas, I gravitate towards banana bread, banana nut muffins, or even banana cream pie. But this banana ice cream is also perfect for those extra bananas!
What Is Banana Ice Cream
Banana ice cream is a custard based ice cream made with fresh bananas. The ingredients needed for this recipe:
Heavy Cream – You could use half and half or milk, but the full fat found heavy cream will help make the custard base for your ice cream very rich and creamy. You could use almond milk or coconut milk, but be aware that they just do not have enough fat to make thick and creamy ice cream.
Sugar – You will use both white granulated and brown sugar for this recipe. The white sugar will be whisked in with the cream. The brown sugar will be blended with the bananas before they are combined with the cream.
Eggs – I always use large eggs for baking and sweets.
Half and Half – The half and half will be whisked with the banana mixture. You already have fat from the heavy cream, this will keep things nice and smooth.
Bananas – I used 4 bananas for this recipe. If you have large bananas, then three might be sufficient.
How To Make Banana Ice Cream
To start, puree the ripe bananas, brown sugar, and a bit of lime juice in a blender until combined. Set aside,
In a saucepan, bring heavy cream, sugar and a touch of salt to a boil.
Whisk the eggs in a bowl, when the cream boils, slowly whisk a ladle full of the cream mixture into the eggs. Be sure to whisk the mixture constantly so that you do not end up with scrambled eggs!
Once the eggs and cream have combined, place eggs mixture into the saucepan with the remaining heavy cream. Remove the pan from the heat and stir in vanilla extract.
Strain the cream over a fine sieve. Stir the banana mixture and the half and half into the egg mixture. Cover with plastic wrap and refrigerate the ice cream for at least 2 hours, although overnight is better.
When ready, process the ice cream in an ice cream maker according to manufacturers directions.
How To Store Banana Ice Cream
Once my ice cream has churned, I like to pour it into a metal loaf pan. I find that it keeps my ice cream nice and cold. Make sure that you cover your ice cream to prevent ice crystals from forming.
Banana Ice Cream can be stored in the freezer from up to 2 weeks.
Banana Ice Cream Add-Ins:
Chocolate Chips
Dark Chocolate
Walnuts
Peanut Butter
Mini Reese Cups
Caramel Sauce
Marshmallow fluff
Coconut
Vanilla Wafer Cookies
Can You Refreeze Banana Ice Cream
As long as the ice cream has not melted completely and it has been properly stored, to begin with, then it is safe to refreeze ice cream.
If the ice cream has melted and kept outside of the fridge or freezer, then I would not risk refreezing the ice cream.
Tips For Making The Best Homemade Ice Cream
Freeze the freezing container or insert for a good 24 hours. It needs to be super cold to properly chill the ingredients.
The more cream you use the better. The cream will thicken and chill better than ordinary milk.
Use Sugar. Liquid sweeteners such as honey will increase iciness with its water content.
Always Let The Mixture Chill In The Fridge Before Churning. I try to let my cream mixture sit in the fridge overnight.
Do Not Over Fill The Ice Cream Container. The more filling you have, the more time it will take for the ice cream maker to churn your ice cream. The longer the insert sits out, the warmer it gets.
More Ice Cream Recipes:
Brown Sugar Strawberry Ice Cream
Chocolate Swirled Raspberry Ice Cream
This ice cream has a great banana flavor that goes great with cakes, cookies, brownies or all on its own! Top your ice cream with your favorite banana split toppings for ultimate ice cream treat!
Yield: 6
Banana Ice Cream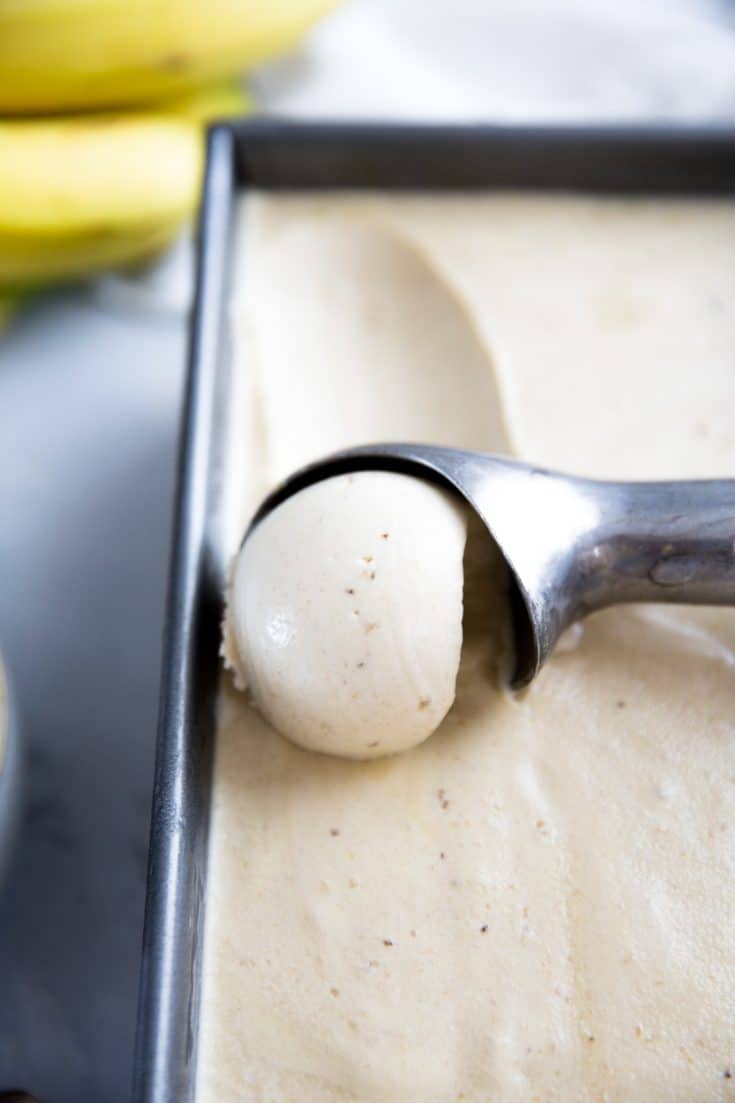 When warm weather comes around, you have to make homemade ice cream! This banana ice cream is AMAZING! It is creamy, smooth and deliciously rich!
Total Time
1 day
15 minutes
Ingredients
3 cups heavy cream
1 ½ cup sugar
½ teaspoon salt
6 egg yolks beaten
4 bananas
4 tablespoons brown sugar
1 teaspoon lemon juice
1 cup half and half
Instructions
1. In a saucepan over medium heat, stir together the heavy cream, sugar, and salt. Bring to a low boil.
Whisk the egg yolks in a bowl. When cream comes to a boil, add a ladle of cream mixture to the egg yolks whisking constantly to prevent eggs from scrambling.
Pour the egg mixture into the remaining heavy cream; remove from heat and stir in vanilla.
In a blender, combin the bananas, brown sugar and lemon juice. Process until combined.
Strain cream mixture through a fine sieve in a bowl. Stir in banana mixture and half and half.
Cover the bowl with plastic wrap and refrigerate for at least 4 hours, 24 hours is idea.
When ready, add mixture to an ice cream maker and process according to manufacturers instructions.
Nutrition Information
Yield
12
Serving Size
1
Amount Per Serving
Calories

5011
Total Fat

318g
Saturated Fat

194g
Trans Fat

10g
Unsaturated Fat

106g
Cholesterol

2189mg
Sodium

1550mg
Carbohydrates

515g
Fiber

15g
Sugar

447g
Protein

57g