Brown Sugar Strawberry Ice Cream – Creamy, homemade strawberry ice cream made with brown sugar has a subtle, yet deep tasting sweetness that makes this ice cream taste rich and satisfying!
You might remember the Breyer ice cream commercials that have kids reading the labels on the back of their ice cream containers as well as the ice cream containers of their competitors. The competition's ice cream labels are filled with words the kids cannot pronounce while the Breyer's label has a handful of all natural ingredients. This recipe is just like the Breyer's ice cream, except it's made by you.
Brown Sugar Strawberry Ice Cream
This recipe is a basic strawberry ice cream recipe, made with sweet strawberries, cream, and sugar. Of course, there is a little more to it, so I'll break it down for you. This wouldn't be a strawberry ice cream recipe if it didn't start with strawberries! I used frozen and thawed strawberries because I wanted all the juice that came with the thawed strawberries. The juicy strawberries will help in color and flavor.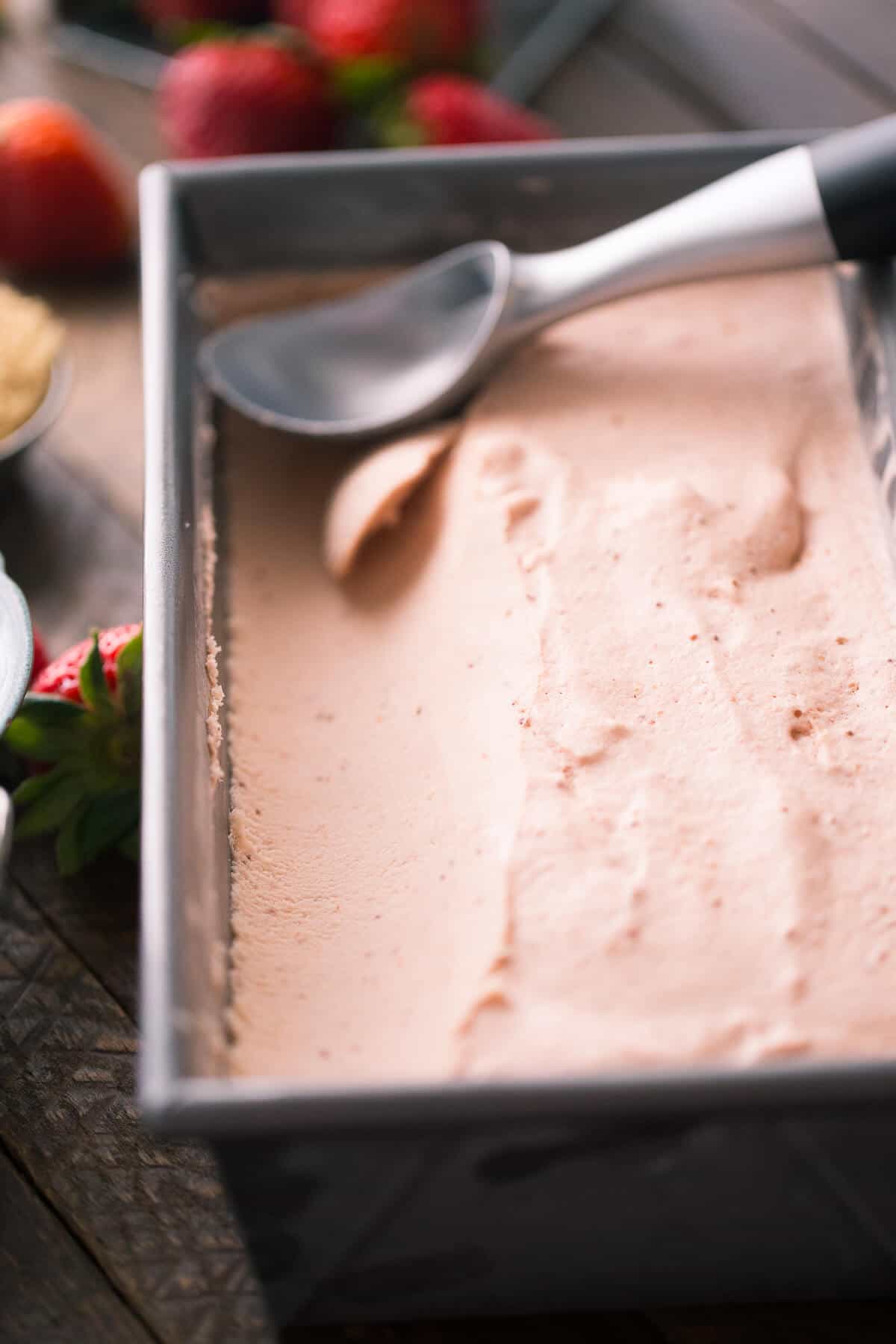 For your ice cream to achieve a custard like texture, you have to have eggs. I usually use an egg product like Egg Beaters because then I do not have to cook the eggs. But if you would rather use eggs, then you could work with this method from my Red Velvet Cheesecake Gelato Recipe. Otherwise, use the pasteurized egg product and proceed.
In a blender, I combine the egg product, brown sugar for that deep, rich taste, heavy cream, half and half, vanilla and strawberries (drained). Blend everything together until combined. Now here is the most important step, place your blender pitcher into the fridge and leave it there for at least 24 hours. But honestly, the longer it sits the creamier the ice cream will be. After the mixture has had time to chill, pour your ice cream into an ice cream maker.
I have added bourbon to this ice cream, but you could also melt chocolate and stream it into your ice cream during the last few minutes of churning like I did with this raspberry ice cream recipe. You could add almost anything to this ice cream. However, I must say that sometimes, strawberry ice cream is best when eaten as is.
More Ice Cream Recipes To Try:
Yield: 10
Brown Sugar Strawberry Ice Cream
Ingredients
1 16 oz package frozen strawberries, thawed
4 oz pasteurized egg product
3/4 cup brown sugar
2 cups heavy cream
1 cup half and half
1 teaspoon vanilla extract
Instructions
Pulse the strawberries in a blender until pureed. Pour strawberries through a mesh strainer to remove the juice.
Return strawberry pulp to the blender, add the egg product and the sugar, blend together. Add the cream, half and half and the vanilla to the blender and combine.
Refrigerate the ice cream mixture for at least 24 hours. When ready, pour ice cream into an ice cream maker and churn according to manufacturer's directions. Freeze until set.
Nutrition Information
Amount Per Serving
Calories

270
Total Fat

22g
Saturated Fat

13g
Cholesterol

116mg
Sodium

48mg
Fiber

1g
Sugar

15g
Protein

3g
SaveSaveSaveSave
SaveSave