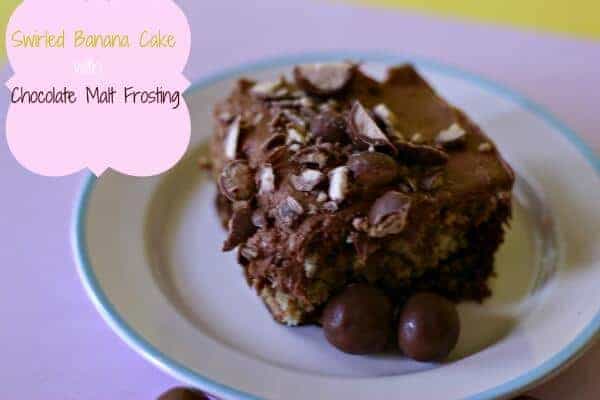 I made a swirled banana cake this weekend.   I found I had extra time this since my husband and I are childless.  Well, for 5 days anyway.  Let me explain, my 3 kids left yesterday to stay with my in-laws for five days.  My in-laws are saints aren't they?   We'll see how they feel by the end of the week!
Funny, how when you tell people  your kids will be gone for several days, they give you a funny smile and a wink.  I actually overheard someone ask my husband if he should expect baby number 4 after this!  What is wrong with people???  Is that all they think about???  What I think about is that I will have 5 days without a  chauffeur schedule-I won't be driving anyone anywhere!  That's 5 days without getting after someone to clean up.  5 days without convincing someone to finish their dinner.  That's 5 days with eating whatever we want to eat, when we want to eat it!  That's 5 days without constantly washing dishes!!!  5 days without breaking up fights and arguments!  Not too shabby.
But, that's also 5 days without, "mommy, I love you".  5 days without infectious screams and giggles.  5 days without little hugs and kisses.  5 days without peaking at peacefully sleeping faces.   5 days without lively chatter.  5 days without snuggling close to warm little bodies.  5 days missing  of my little ones.
Since there were fewer mouths here to munch on banana's,  I made this swirled  banana cake.  Since I love Whoppers, I thought a chocolate malt frosting would pair perfectly.  I was right!  Wonderful combination!  The cake was so moist. Loaded with sweet banana flavor!   As I said, it's a swirled cake, so part of the batter was combined with cocoa.  Mmm, mmm!  The frosting is very rich, you can certainly leave out the malt powder.  The chocolate frosting  would be fantastic atop a leather shoe, it's that good!  I am going to  give this banana cake to my sister to share with her office since there's only two of us here this week.  It suspect it goes very quickly there.   This banana cake is a wonderful way to use up banana's.  A great alternative to banana bread.  And the chocolate malt frosting makes it a complete package!
If you've enjoyed this post, please consider subscribing via email, RSS, Facebook or Pinterest.  I love staying in touch with friends!
Here are other recipes you may enjoy:
Strawberry Malted Ice Cream                            Lemons for Lulu
Malted White Chocolate Popcorn                      Lemons for Lulu
Nutella Swirled Pumpkin Bars                           Lemons for Lulu
Check out these tasty treats I found on Pinterest!
Banana Cake with Vanilla Bean Frosting          ButterYum
Banana Bars                                                            320 Sycamore
Whopper Brownies                                                My Baking Addiction

Swirled Banana Cake with Chocolate Malt Frosting
24
adjust servings
A banana cake, swirled with chocolate and frosted with a rich, malt flavored chocolate frosting.
Ingredients
For the cake
1/2

cup butter, softenend

1

cup sugar

1

egg

1

t vanilla

3

large ripe bananas, mashed.

1 1/2

cup flour

1

t baking soda

1

t baking powder

1/2

salt

1/4

cup unsweetened cocoa.

Chocolate Frosting

1

cup Whoppers, chopped

Chocolate Malt frosting

1/2

cup butter, softened

2 3/4

cup powdered sugar

1/4

cup cocoa powder

6

T milk

6

T malt powder

1

t vanilla
Instructions
Preheat oven to 350. Grease a 9x13 pan and set aside. Beat butter and sugar until fluffy. Add in egg and vanilla. Finally add in mashed banans. Stirring until just combine.
In a separate bowl, combine flour, baking soda, baking powder, and salt. Create a well in the center of your dry ingredients. Pour in your wet ingredients and mix until just combined. Scoop out half of your batter into a separate bowl and combine that with your cocoa. Spread cocoa mixture on the bottom of your pan. Spread remaining batter over cocoa layer. Swirl batter with a knife.
Bake for 25 minutes until or until edges begin to brown. Allow cake to cool before frosting. Sprinkle chopped candies over cake.
Frosting:
Beat butter in a mixer until creamy. Slowly add in powdered sugar. Gradually add in milk and cocoa, alternating between the two. Mix in vanilla and malt powder until frosting is creamy and easily to spread.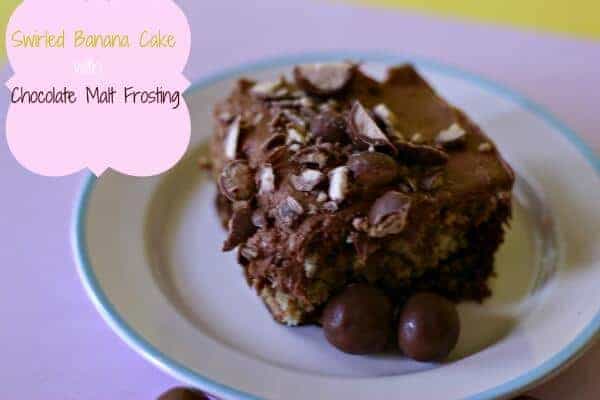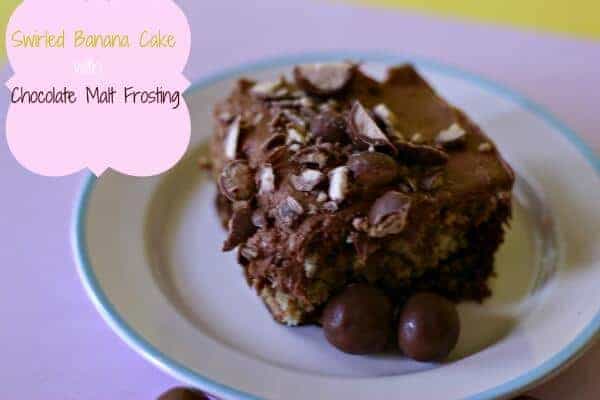 Recipe adapted from
All Recipes
I'm linking this recipe up here:  Link Parties  and here: