These easy banana nut muffins are a tasty treat for any occasion. Use up your ripe bananas in this easy-to-make banana muffin recipe and you're sure to have a good time.
Made with just a few simple ingredients and steps these healthy banana muffins are easy to make and simply fabulous to eat.
They're packed with so much delicious flavor in every bite and always a family favorite. Kids and adults always love these fluffy muffins and it's not hard to see why!
Easy Banana Muffins
These are basic banana muffins made with brown sugar for a nice depth of flavor, cinnamon, and nutmeg for warmth, and delicious crushed walnuts scattered on top of the batter for a nice chewy topping.
You're going to love these rich-tasting muffins to that last crumb. There's no beating a classic like banana walnut muffins.
Ingredients You'll Need For Banana Nut Muffins:
Bananas
All-purpose flour
Baking powder
Baking soda
Ground cinnamon
Salt
Butter
Brown sugar
Vanilla extract
Milk
Eggs
Nutmeg
Crushed walnuts
For the exact measurements needed, please see the recipe card below.
How to Make Banana Nut Muffins
Preheat your oven to 425 degrees F and line a muffin tray with paper liners to help make it easier to remove your muffins later without them sticking. You could also choose to spray the pan with nonstick cooking spray if desired.
In a bowl, crunch your bananas into a paste. This works well by simply using the backside of a fork.
In a mixing bowl sift together the flour, baking powder, baking soda, and cinnamon until combined.

Whisk in the salt.

In another bowl combine the mashed bananas with the melted butter, sugar, vanilla, milk, nutmeg, and eggs until blended.

Add your dry ingredients to the bananas and egg mixture and then stir together until you have a thick wet batter.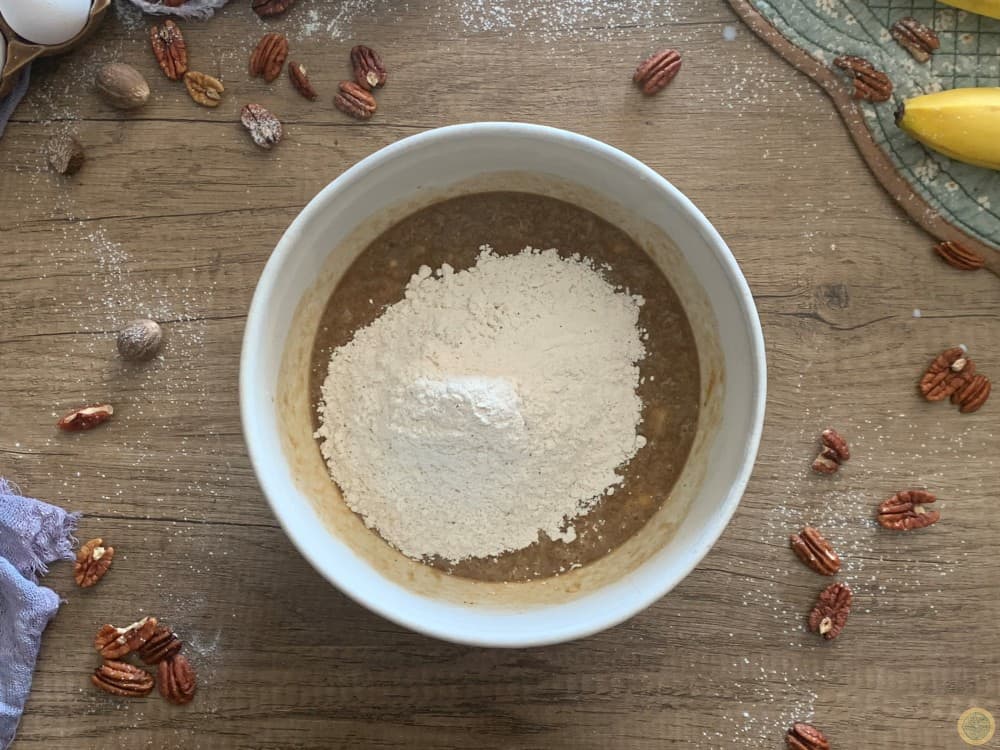 Fill your muffin cups with the banana batter until they are about ¾ of the way full.
Top your muffins with crushed walnuts.

Bake in the oven for 20-25 minutes or until you can insert a toothpick and have it come out clean.

Allow the muffins to cool for a few minutes before removing them from the tray.
Serve and enjoy!
Banana Nut Muffins Recipe Tips
Ripe bananas. You want your bananas to be nice and ripe before using. This means a nice deep yellow or spotted. Even waiting until the bananas are blackened is okay because the older the banana gets, the sweeter and deeper than banana flavor becomes. Green bananas are still underripe and will be more tart as well as being harder to mash.
Walnuts. If desired you can omit the walnuts entirely from this recipe. I like the simple crunch that they add to the top but omitting them will make them more allergen-friendly and still allow you to enjoy the tasty banana muffins.
Melted butter. Adding melted butter into the batter will allow it to taste incredible. It helps to add in a nice depth of flavor and richness that you can't get anywhere else. You can use salted or unsalted butter depending on what you have on hand but if desired you can use melted margarine or even vegetable oil.
FAQs
How long are banana nut muffins good for?
These muffins will keep for about 2-3 days in an airtight container t room temperature and still taste amazing. That said I think they taste best when they are still warm from the oven, especially when you spread a little butter on top. Yum!
Can I freeze banana muffins?
Absolutely! Go right on ahead and place your completely cooled banana muffins in an airtight container in the freezer for up to three months. I recommend wrapping the muffins in plastic wrap before storing them in an airtight container because then they can be great additions to the lunch bag or a grab-and-go style snack. Simply allow them to thaw for a few minutes and they're at room temperature so they'll definitely be thawed by lunchtime if you take one to work or school.
Delicious add-in ideas for your bananas muffins
You can add in up to a cup of chocolate chips, M&Ms, walnuts, or fresh berries like blueberries or raspberries if desired. All turn out fabulous and incredible. Simply stir them into the batter just before dividing them into your muffin cups. Bake as directed and enjoy!
If you loved these banana muffins then you are really going to enjoy these:
Banana Nut Muffins
Ingredients
3 Bananas
1 ½ Cup Flour
1 Tsp Baking Powder
1 Tsp Baking Soda
1 Tsp Ground Cinnamon
½ Tsp Salt
6 Tbsp Butter (melted)
⅔ Cup Brown Sugar
1 Tsp Vanilla Extract
4 Tsp Milk
4 Eggs
1 Tsp Nutmeg
½ Cup Crushed Walnuts
Instructions
Preheat oven to 425° F
Prepare a 12-count muffin pan with nonstick spray or cupcake liners
Crush the bananas into a paste
In a bowl, sift flour and baking powder, baking soda and cinnamon
Add salt and whisk
In a separate bowl, mix bananas, butter, sugar, vanilla, milk, nutmeg and eggs
Add dry ingredients to the wet mix until you have a thick mixture
Fill your cupcake molds to ¾ capacity
Top with crushed walnuts
Bake for 20-25 minutes or until an inserted toothpick comes out clean
Allow to cool for a few minutes and ENJOY!