This modern take on cabbage and noodles is a simple family meal.  Brussels sprouts replace traditional cabbage in the German-inspired hearty and satisfying recipe!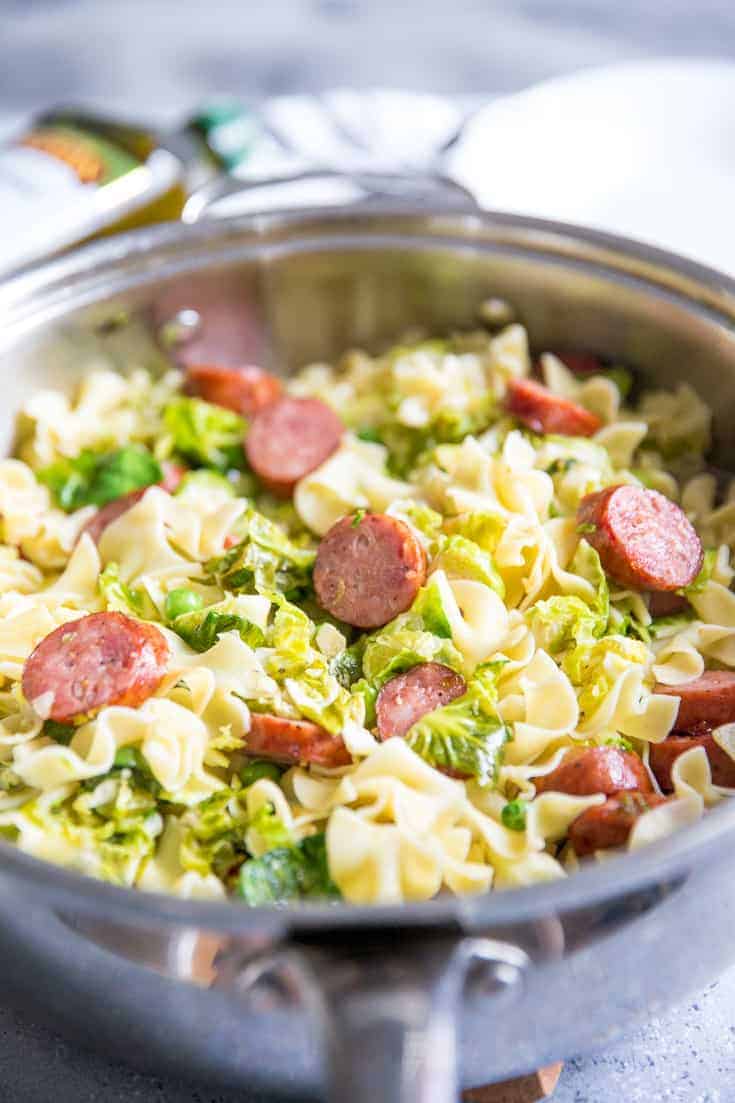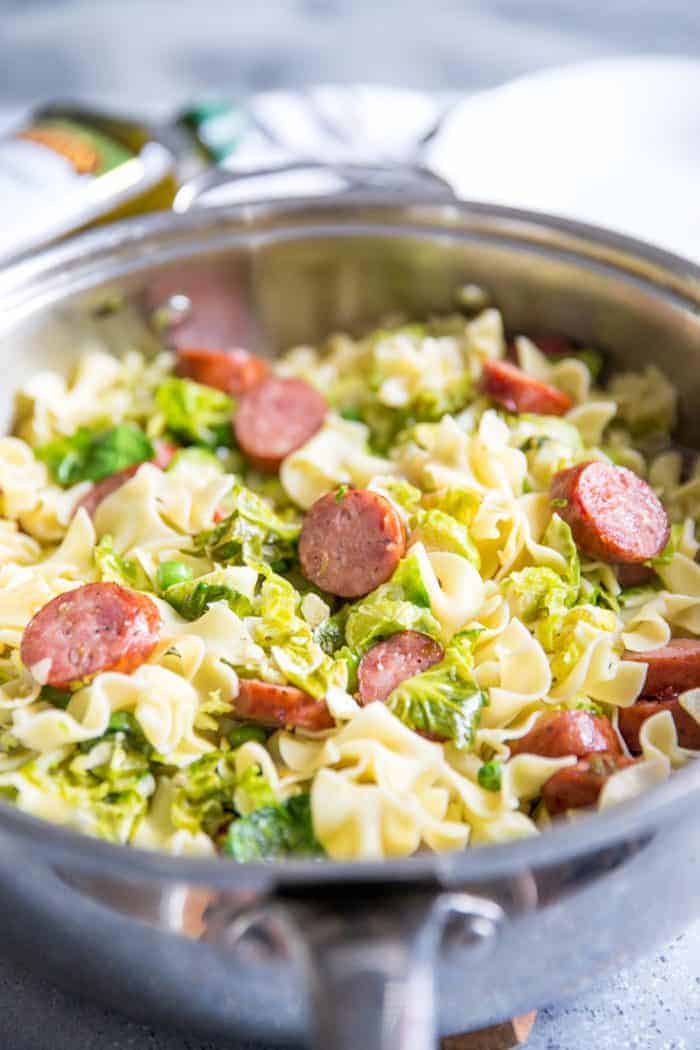 I'm proud to have partnered with Pompeian Olive Oil to bring you this #TrendingInTheKitchen recipe.
What Nationality is Cabbage and Noodles?
Cabbage and Noodles has roots in Central European countries like Hungary, Poland, and Germany.  If you were to look for a cabbage and noodles recipe from each of those countries you'd find they all consist of butter, onions, egg noodles, and cabbage.  The cabbage is pan-fried in the butter along with the onions and tossed with the noodles.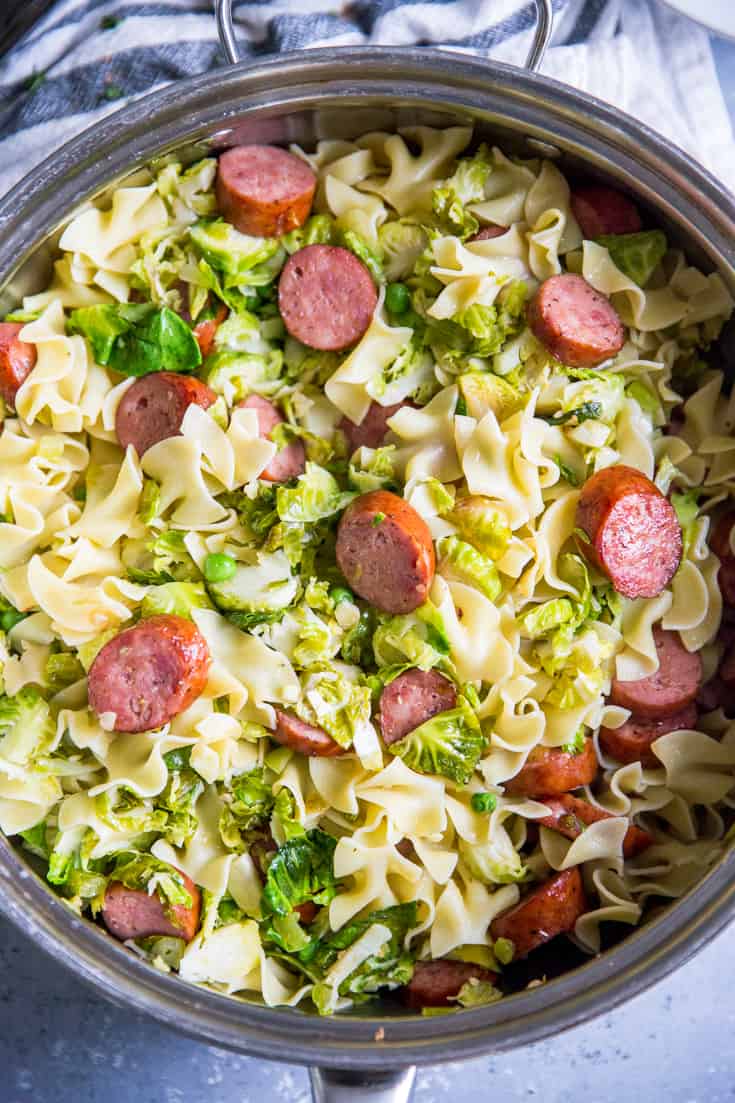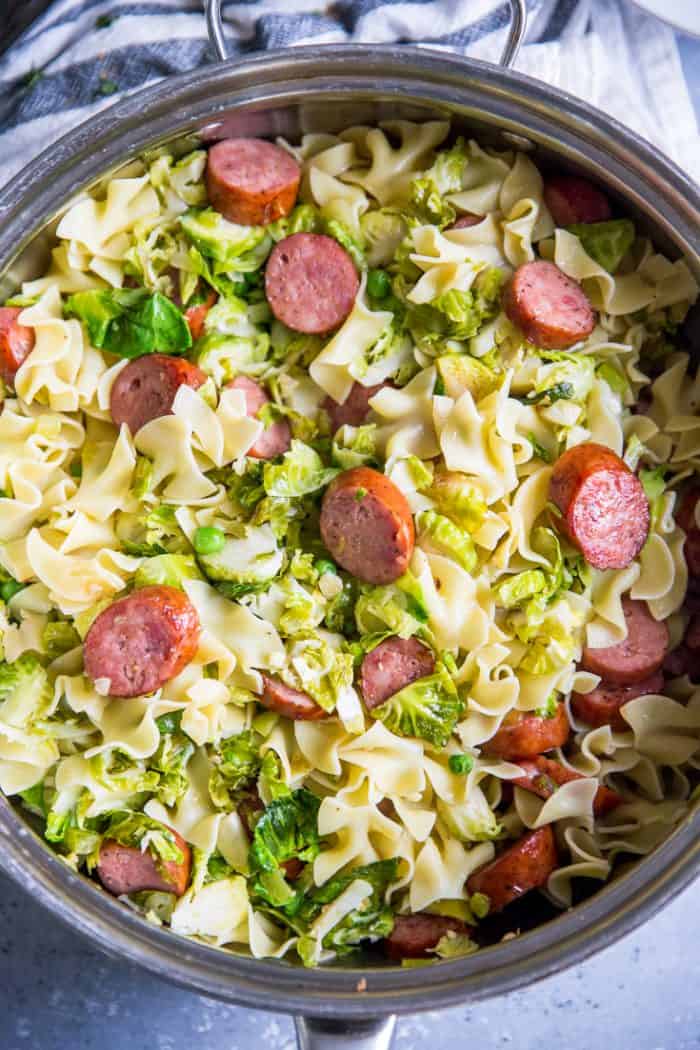 How To Make Cabbage and Noodles
Cincinnati has a strong German heritage and it proudly recognizes it's nationality every September during the annual Oktoberfest festival.  Cincinnati is known to have the largest Oktoberfest celebration in the United States.  Several city blocks are blocked off to house beer booths, lots of food booths, rides and supposedly the worlds largest chicken dance.  One thing you will find at Oktoberfest is authentic cabbage and noodles.  While hot buttered noodles is comfort food, I prefer to skip the excess butter and make a leaner version of this classic dish.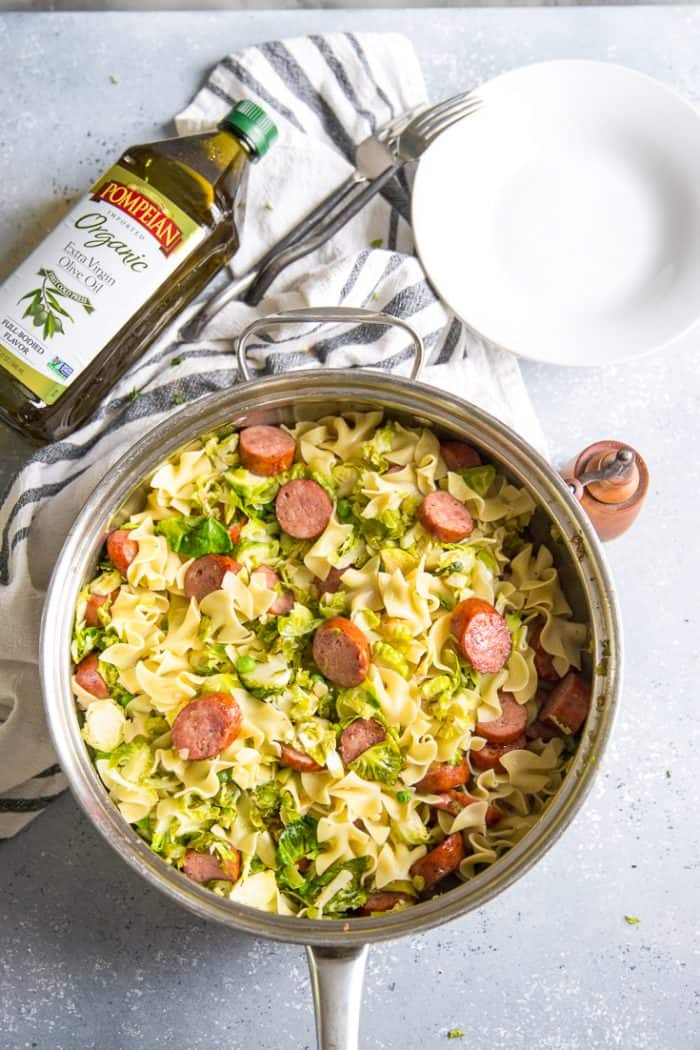 This dish starts with a mix of green peppers, onions, and celery sauteed with Pompeian's Organic Extra Virgin Olive Oil (the first olive oil to carry the USDA Quality Monitored seal).  Garlic and finely sliced Brussels sprouts are added to the mix and they are cooked down until soft.  The vegetables are seasoned only with a little salt, a swirl of Pompeian's White Wine Vinegar adds a tangy acidity and an extra level of flavor to the vegetables.  I prepared egg noodles while the vegetables were cooking, adding frozen peas at the very end.  I tossed the freshly cooked pasta with cooked kielbasa and the vegetables for a light tasting, full-bodied dish that is every bit as delicious and comforting as it's German counterpart!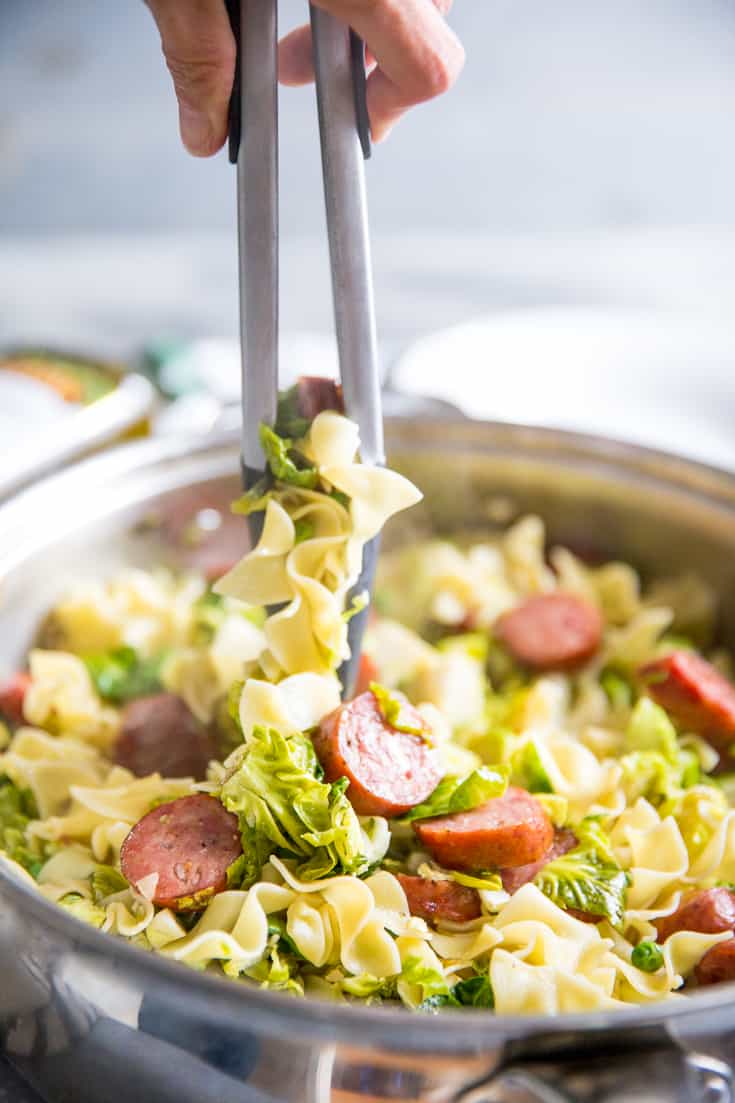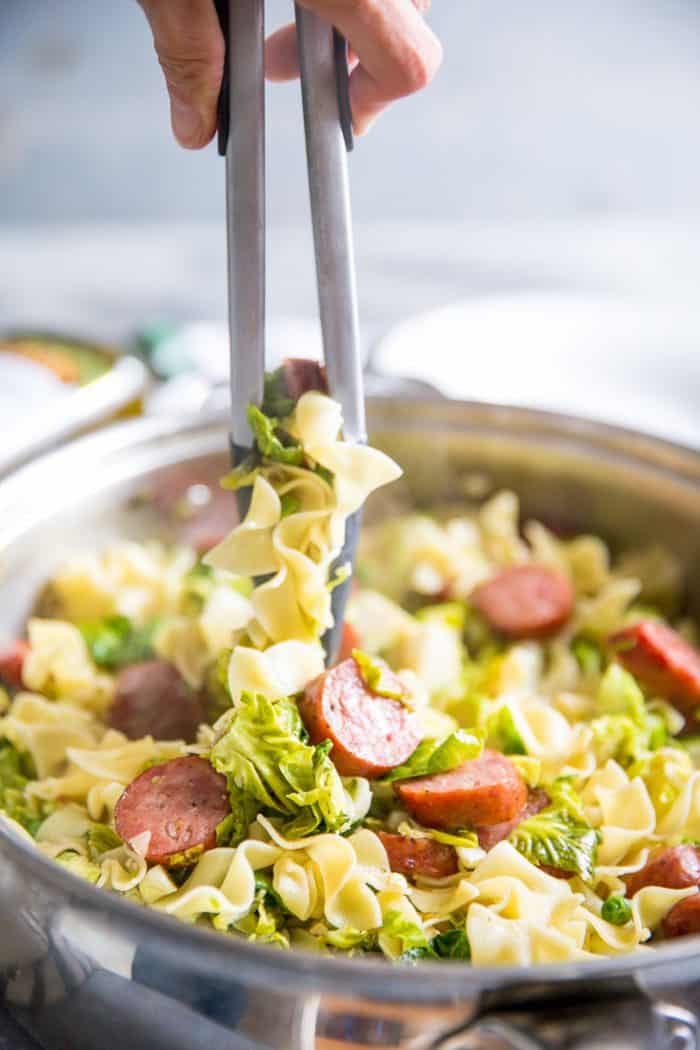 Substitutions for Cabbage and Noodles?
There are certainly substitutions that can be made in this recipe.  I wouldn't mess with the egg noodles, they are the perfect vehicle for this olive oil based dish.  However, you could easily use the traditional head of cabbage for the Brussels sprouts, ham or bacon for the sausage and you could omit the peas if that is your preference.  I highly recommend the olive oil instead of butter in this recipe.  Not only is the olive oil better for you, but the robust flavor of the oil is a natural fit for the pasta and the white vinegar subtly softens the bitter taste of the sprouts and the veggies.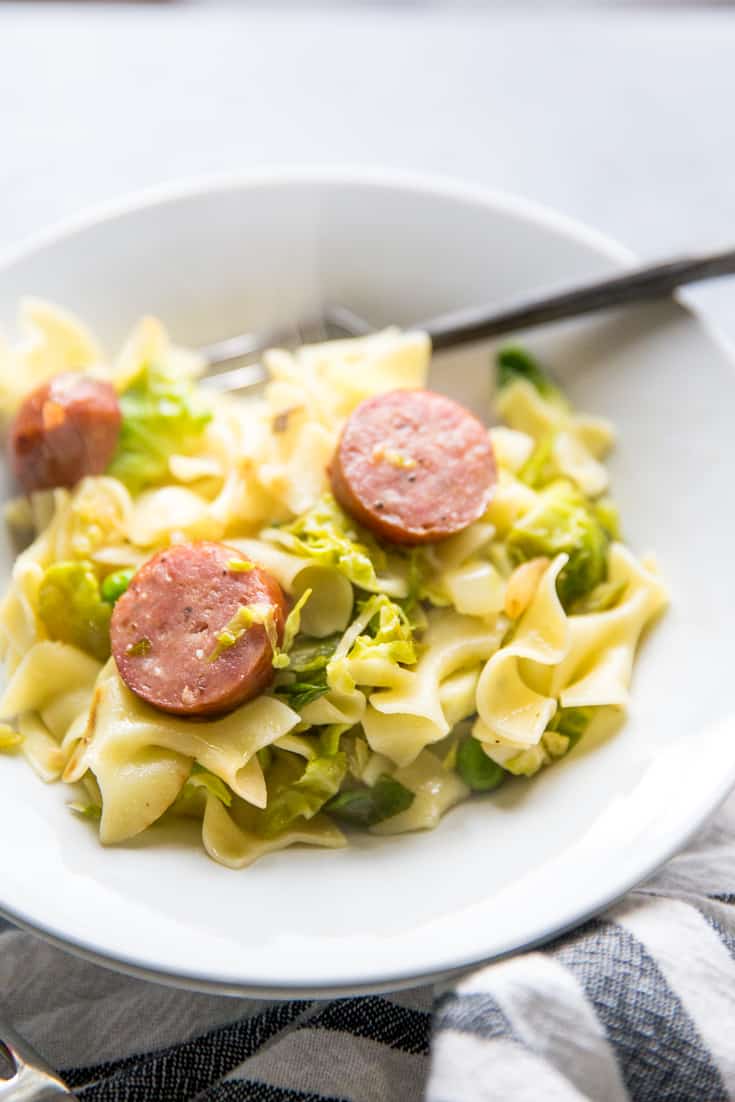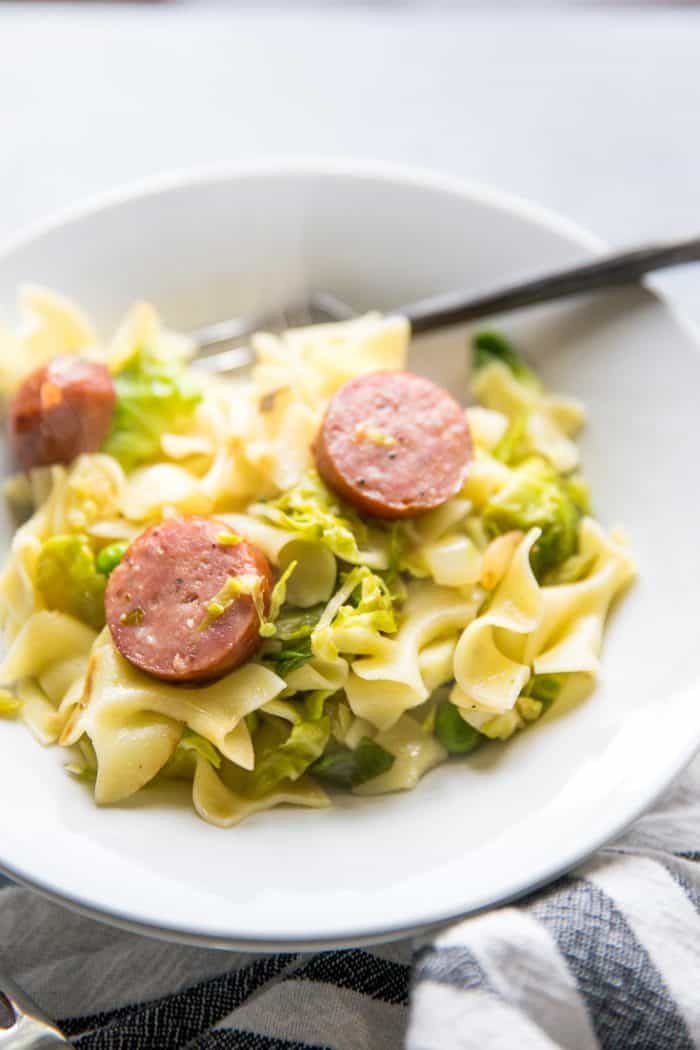 Loving the Brussels Sprouts?  Try Sauteed Brussels Sprouts with Fig Glaze, this recipe for Brussels Sprouts and Farro Salad,  or this Homemade Pizza with Brussels Sprouts and Caramelized Onions.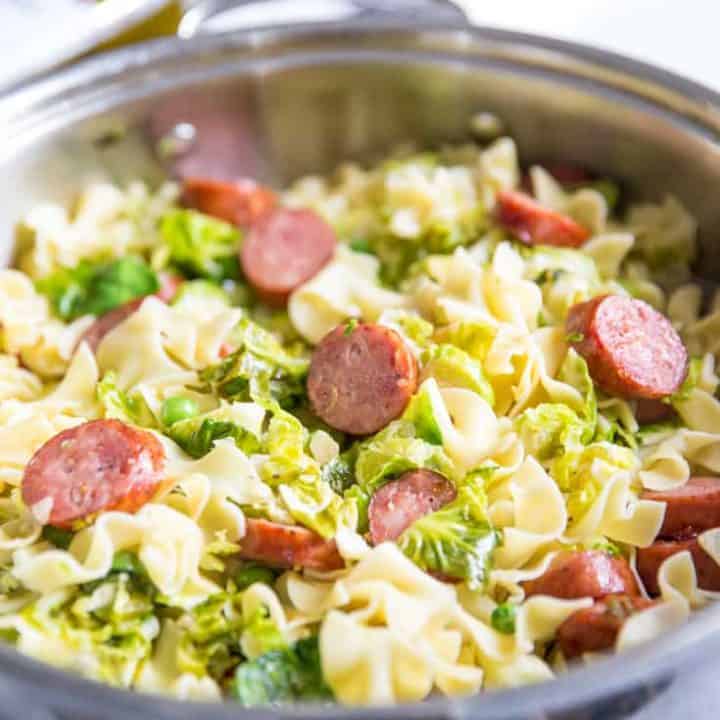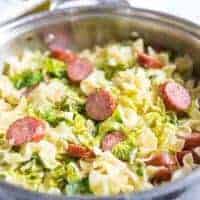 Easy Cabbage and Noodles Recipe
This modern take on cabbage and noodles is a simple family meal.  Brussels sprouts replace traditional cabbage in the German-inspired hearty and satisfying recipe!
Ingredients
1 1lb wide egg noodles
⅓ cup frozen peas
2 tablespoons Pompeian's Organic Extra Virgin Olive Oil
½ cup frozen onion, celery, and peppers
2 cloves garlic
1 lb sliced brussels sprouts
1 teaspoon salt
1 tablespoon Pompeian's White Wine Vinegar
1 12 package kielbasa sliced
1 tablespoon Pompeian's Organic Extra Virgin Olive Oil
Instructions
Prepare egg noodles according to package directions, adding peas during the last few minutes. Drain and set aside.
Heat a large deep skillet with olive oil. Add vegetables and cook veggies for 3 minutes. Add garlic and cook an additional minute. Add brussels sprouts. Cook vegetables an additional 3-5 minutes or until vegetables have softened. Season with salt. Stir in the vinegar, Remove vegetables from the skillet, set aside. Add the sliced sausage to the same skillet and cook until crisp, remove the sausage and set aside. Reduce the heat, add cooked eggs noodles and peas to the skillet, drizzle the pasta with the remaining tablespoon of olive oil turning to coat, stir in veggies and sausage. Season with pepper.
Nutrition Information
Amount Per Serving
Calories

0
Total Fat

0g
Saturated Fat

0g
Cholesterol

0mg
Sodium

0mg
Fiber

0g
Sugar

0g
Protein

0g