You're going to love this chicken tortilla soup crock pot recipe. It's packed with great flavor and taste in every bite!
Made with tortilla chips, Rotel, jalapenos, black beans, corn, and chicken, this crockpot tortilla soup is full of colors, flavors, and deliciousness in every bite. This meal is super easy to prepare and always great in cold weather.
There's nothing better than warming up at dinner with a hearty bowl of crock pot tortilla soup, except to know that it was slow cooked to perfection all day and you didn't have to do much effort to make it. If only cleaning the dishes was as easy as filling them.
What is Tortilla Soup?
This is a Mexican-inspired soup recipe made with a tomato base and then filled with other ingredients often found in Mexican cooking like black beans, corn, garlic, onions, and chilies.
This tasty soup recipe is super easy to prepare, packed with flavor and best serves with crispy tortilla strips or tortilla chips.
Ingredients You'll Need For Crock Pot Chicken Tortilla Soup:
Tortillas Chips
Olive Oil
Onion
Garlic Cloves
Jalapeño
Ground Cumin
Chilli Powder
Crushed Tomatoes
Rotel
Chicken Broth
Black Beans
Corn
Chicken Breast
Cilantro
For the exact amounts needed, please see the recipe card below.
How to Make Crock Pot Chicken Tortilla Soup:
In a skillet on the stove, cook your onion, garlic, and jalapeno together in some olive oil.

Add them to the slow cooker once they are fragrant and softened.
Add in the cumin, chili powder, crushed tomatoes, Rotel, black beans, corn, cilantro, and chicken broth.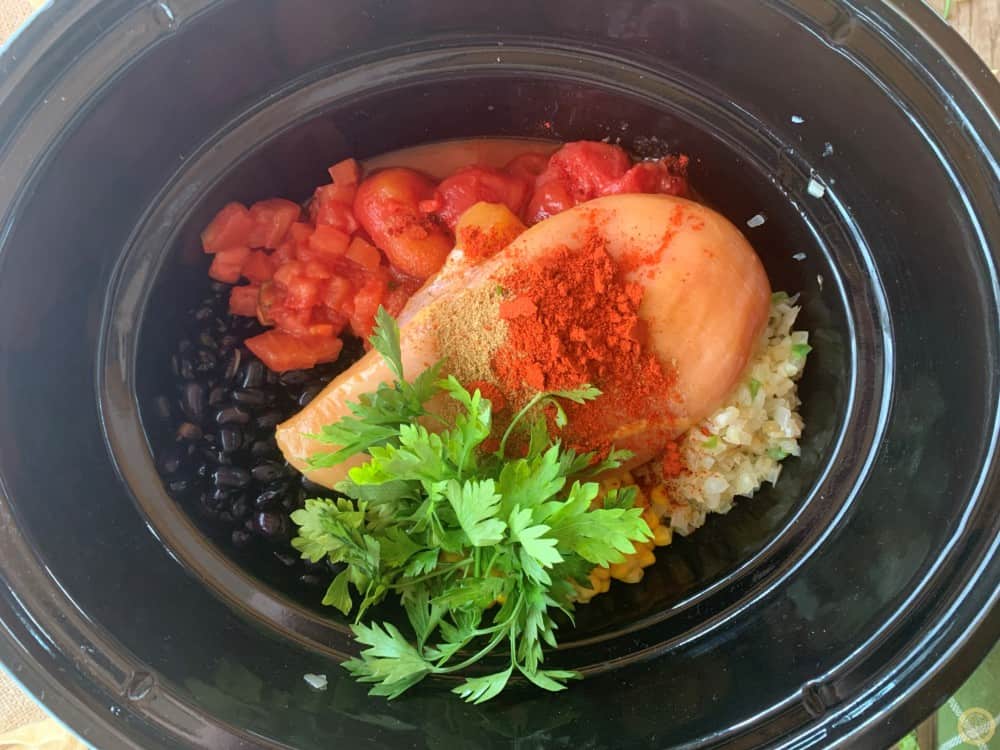 Place the lid on and cook your soup on High for 4 hours.

Remove the chicken from the soup and shred it on a cutting board using two forks.
Stir the shredded chicken back into the soup.
Serve with tortilla strips and enjoy.
Recipe Tips
If desired you can omit the chicken breast entirely or you can use shredded rotisserie chicken instead. Simply add the shredded chicken into the soup at the end to allow it to warm up before serving. Since it's already cooked, it doesn't have to sit in the soup for too long.
You can DIY your own tortilla strips by taking thin floured or corn tortillas (depending on your preferences). Slice them into thin strips. Brush with olive oil on both sides and sprinkle lightly with salt. Place them onto a foil-lined baking sheet and bake at 350 degrees F in the oven for 5-10 minutes or until lightly browned.
FAQs
What to serve with tortilla soup
This soup makes a great meal on its own but if you're looking for some more tasty suggestions to serve up with it then you can't go wrong with cornbread or jalapeno cornbread. Other great options include tacos, burritos, enchiladas, rice, beans, or salads.
What toppings go on chicken tortilla soup?
For tasty fun and garnishes, you can add shredded cheddar cheese, sour cream, guacamole, tortilla strips, and more. Some people enjoy fresh cilantro and lime wedges with their soup too.
How long is leftover soup good for?
Keep the leftovers from this soup in an airtight container in the fridge for up to 5 days. Make sure to reheat again before serving.
For more deliciousness, check out these other great tasting Mexican-inspired recipes.
Crock Pot Chicken Tortilla Soup
Total Time
6 hours
15 minutes
Ingredients
½ Cup Tortillas Chips
1 Tbsp Olive Oil
1 Onion (chopped)
3 Garlic Cloves (minced)
1 Jalapeño (diced)
2 Tsp Ground Cumin
2 Tsp Chilli Powder
½ Cup Crushed Tomatoes
1 Can Rotel
4 Cups Chicken Broth
1 Cup Black Beans (whole and cooked)
1 cup Corn
1 large Chicken Breast
¼ Cup Cilantro
Instructions
Cook onion, garlic, and jalapeño in olive oil.
To the slow cooker add cooked garlic, onion, and jalapeño.
Add cumin, chili powder, chicken, crushed tomatoes, Rotel, black beans, corn, cilantro, and chicken broth.
Cook on high for 4 hours.
Take out the chicken and shred it. Return it to the soup.
Serve with tortilla strips and ENJOY!