Sesame ginger chicken wings and drumsticks are glazed then grilled until golden.
Additional glazed is drizzled on top just before serving!
This sesame ginger chicken recipe is one that the whole family can love and you can certainly appreciate. Made with simple and basic ingredients the sesame ginger sauce for chicken is incredibly simple and easy to whisk together. Smothering the wings in the sauce before grilling helps to create a nice golden crust to seal in the juices and flavors and adding another spread of the sauce just before serving really helps to bring those flavors home for the win!
Grilled Ginger Chicken Recipe
When you have a winning recipe like this ginger sesame oil chicken on hand you will always have the perfect appetizer to serve up at tailgates and events or just a simple weekend BBQ. This tangy sweet sesame ginger chicken is also a perfect main dish to serve along with a side of white rice if you're looking to turn it into a family dinner option instead of a snack! Also, the sauce from this recipe can easily be used on salmon, shrimp, and any other cut of chicken if you want (it tastes great on just about anything!)
Ingredients
Chicken drumsticks
Chicken wing pieces
Brown sugar
Soy sauce
Sesame oil
Garlic cloves
Sesame seeds
Minced fresh ginger
For the exact amounts needed, please see the recipe card below.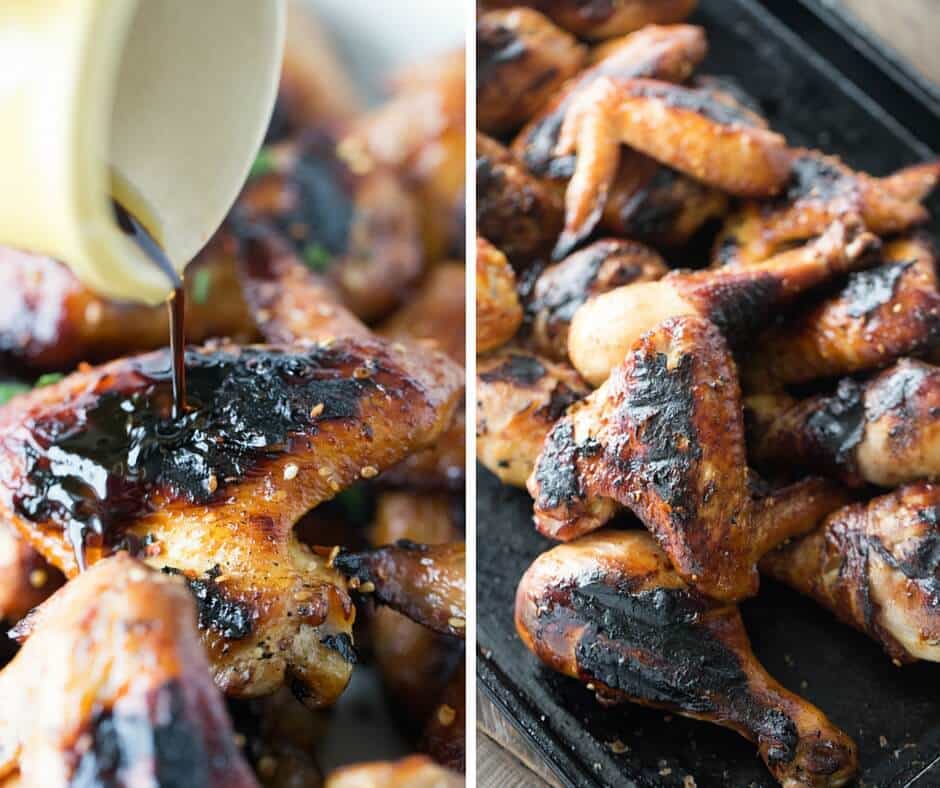 How to Make Sesame Ginger Chicken
Heat your outdoor grill to medium heat and grease the grates with nonstick cooking spray.
In a large bowl combine the brown sugar, soy sauce, sesame oil, garlic, and ginger.
Remove half of the mixture and then set it aside.
Add your chicken pieces to the bowl and turn to coat.
Add your chicken to the hot grill and cook for 25-30 minutes or until the internal temperature reaches 185 degrees F.
Turn the chicken as often as needed because the sugar can burn the chicken quickly.
Drizzle the remaining sauce over the chicken before serving or serve it as a dipping sauce on the side.
Recipe Tips
If desired you can grill your chicken wings without the sauce and simply add the sauce towards the end of the cooking time. To do this, cook the chicken wings on the grill and after about 20-25 minutes, baste them well with the sauce. Then turn them over and continue to grill for another 10 minutes or so until they're finished.
FAQs
How long does it take to grill chicken wings?
When cooking your chicken at medium-high (425F) heat it usually takes about 20-25 minutes or so before the chicken is finished cooking. We are cooking ours at medium heat (350F) for a little longer than that because we don't want our chicken getting too dark or risking it drying out. Also, keep in mind that whether you place the chicken over directed heat or indirect heat will also make a big difference in cooking time. The different sized wings will also cook at different speeds as well so rotate the wings around the grill if needed to get them to cook more evenly and finish at the same time.
How do you know when chicken wings are done on the grill?
Use a meat thermometer to check the internal temperature of the wings before serving. You will know that your wings are finished cooking when they reach at least 170-175 degrees F. Chicken is safe to eat at 165 degrees F but at 170 degrees F, the meat becomes fall off of the bone tender.
Should chicken wings be thawed before grilling?
You can use fresh or frozen chicken wings for this recipe but you should know that if you are using frozen, the sauce may not stick well to the wings while they are frozen so I recommend basting them after they've cooked for about 20-25 minutes. That said there is some good news. You can place your frozen chicken wings directly on the grill with no time spent trying to get them to thaw!
Looking for more tasty chicken wing recipes? Check out these wonderful suggestions:
Yield: 6
Sesame Ginger Chicken
Sesame ginger chicken wings and drumsticks are glazed then grilled until golden. Additional glazed is drizzled on top just before serving!
Ingredients
1 lb chicken drumsticks
1 lb chicken wing pieces
5 tablespoons brown sugar
6 tablespoons soy sauce
3 tablespoons sesame oil
3 cloves garlic, minced
4 teaspoons sesame seeds
3 teaspoons minced fresh ginger
Instructions
Heat an outdoor grill to medium heat (be sure to spray the grates with non-stick spray).
Combine brown sugar through ginger in a large bowl. Remove half of the mixture and set aside. Add chicken pieces to soy mixture in the bowl and turn to coat.
Add chicken to the hot grill. Grill chicken for 25-30 minutes or until an internal temperature reaches 185 degrees. Turn chicken often as the sugar in the sauce can burn quickly.
Drizzle remaining glaze over the chicken before serving or serve the sauce on the side.
* Chicken can be grilled without the sauce. Baste chicken pieces after 20-25 minutes. Grill chicken for an additional 10 minutes, turning pieces once*
Nutrition Information
Yield
6
Serving Size
1
Amount Per Serving
Calories

503
Total Fat

33g
Saturated Fat

9g
Trans Fat

0g
Unsaturated Fat

21g
Cholesterol

158mg
Sodium

1250mg
Carbohydrates

18g
Fiber

1g
Sugar

9g
Protein

33g