This easy baked chicken wings recipe has a succulent sauce that is made with fig jam and stout beer. The sauce is sticky sweet and utterly delicious!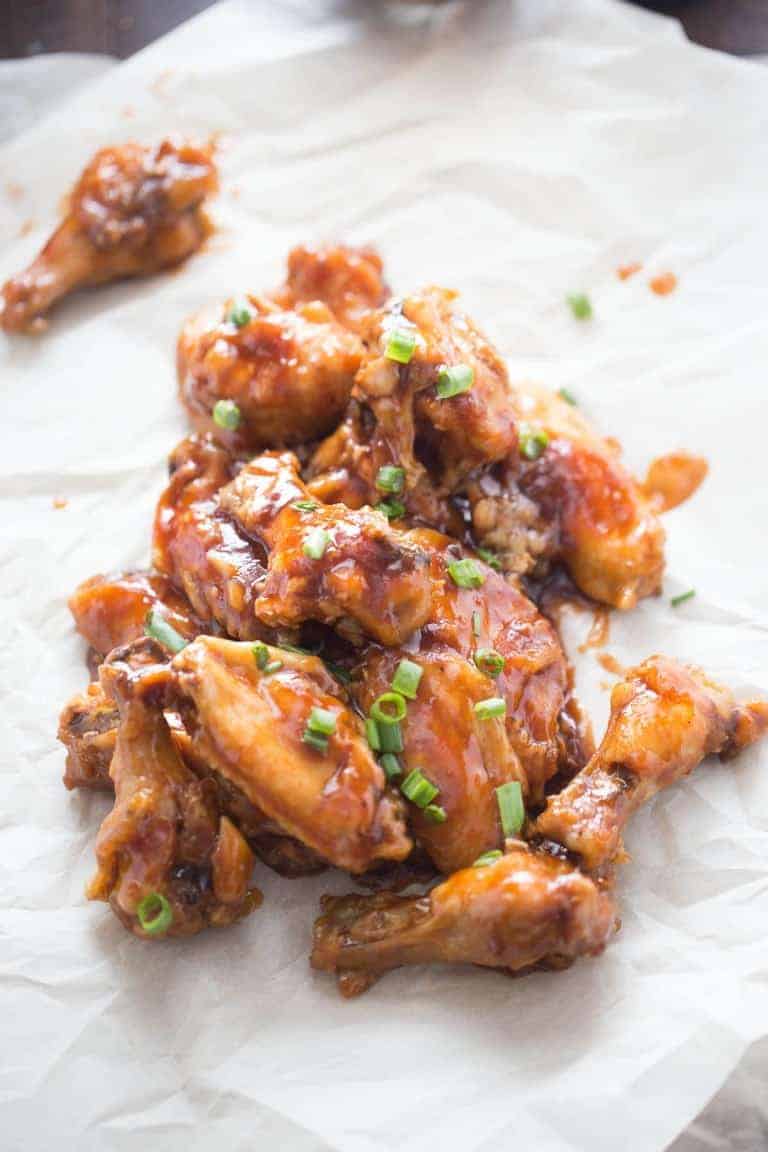 I love chicken wings. If I find wings on any menu, I order them as quickly as possible. The problem with chicken wings is when I look at other people eating chicken wings. Other people eating chicken wings completely gross me out. Watching people gnawing on tiny bones with sauce all over their mouths and fingers is not a pretty sight. Luckily this thought usually escapes my head by the time my wings arrive. When the tangy sauce emanating from the hot wings hit my nostrils, I dig in without hesitation.
Without fail, the waitress will catch me in that one split-second where the saucy wing has just left my mouth, but I haven't had time to use my napkin. So when she asks how everything is, all I can do is nod and smile with my mouth covered in sauce. That's when I am reminded once again that there is nothing dainty about eating chicken wings.
Home Baked Chicken Wings Recipe For The Win
Of course, one sure way to avoid that finger-licking embarrassment is by making my wings at home. Homemade chicken wings are so easy. Often I grill my chicken wings, but this baked chicken wings recipe is a worthy rival! This recipe requires that your wings be tossed with a little seasoning and a little cornstarch then bake them for about 45 minutes. When the wings come out of the oven, immediately toss them in this fig and stout sauce and serve them up!
This fig and stout sauce is like liquid gold; it is so incredible. It has a deep, rich flavor from the stout beer but the fig jam adds a little sticky sweetness that clings perfectly to each little chicken wing. Fig jam is the best. While it is spectacular on its own, on toast or in a sandwich it pairs beautifully with proteins like pork or chicken. Once you taste how the sweet jam works in savory dishes, you will find yourself searching for all sorts of ways to add it to your foods!
This baked chicken wings recipe is a winner. Whether you serve it as an appetizer or a meal, it will definitely bring a (messy) smile to everyone's face!
Sticky Stout Baked Chicken Wings
This easy baked chicken wings recipe has a succulent sauce that is made with fig jam and stout beer. The sauce is sticky sweet and utterly delicious!
Ingredients
1 4 lb bag of chicken wings
1 teaspoon olive oil
1/2 teaspoon salt
1/2 teaspoon pepper
1 tablespoon cornstarch
1/4 cup finely diced onions
2 cloves of garlic, minced
1 cup ketchup
1/4 cup brown sugar
1 cup stout beer ( I used local; Mt. Caramel Stout Beer)
1/3 cup fig jam
2 tablespoons cider vinegar
1 tablespoons Worcestershire sauce
1/2 teaspoon salt
1/4 teaspoon red pepper
Instructions
Preheat the oven to 450 degrees. Toss wings with olive oil, salt, pepper and cornstarch until completely coated. Place a rack over a sheet pan and place the rack with non-stick spray (I used a cooling rack). Place wings on the rack and bake for 45-50 minutes, turning once.
While the wings bake, combine the sauce ingredients in a saucepan. Heat sauce over medium-low heat until it begins to thicken. When the wings have finished baking, toss hot wings into a bowl with the sauce, Serve.
Nutrition Information
Yield

12
Serving Size

1
Amount Per Serving
Calories

584
Total Fat

37g
Saturated Fat

13g
Trans Fat

0g
Unsaturated Fat

21g
Cholesterol

124mg
Sodium

984mg
Carbohydrates

34g
Fiber

1g
Sugar

15g
Protein

26g