Soft gingerbread cookies are studded with loads of butterscotch chips. The combination sounds unusual, but they are perfect partners!
I have a love/hate relationship with play-doh. What I love is the moment you first open a new can of play-doh. That smooth top is just sitting there waiting for you to dive in and create something wonderful!!! I love the vibrant colors too. Now, play-doh comes in a vast array of colors, including neon. And is there anything better than that smell??? Oh I love that smell. I could bottle that up. Yes, each time I open a new can, I'm a kid again! That, my friends, is where the love ends.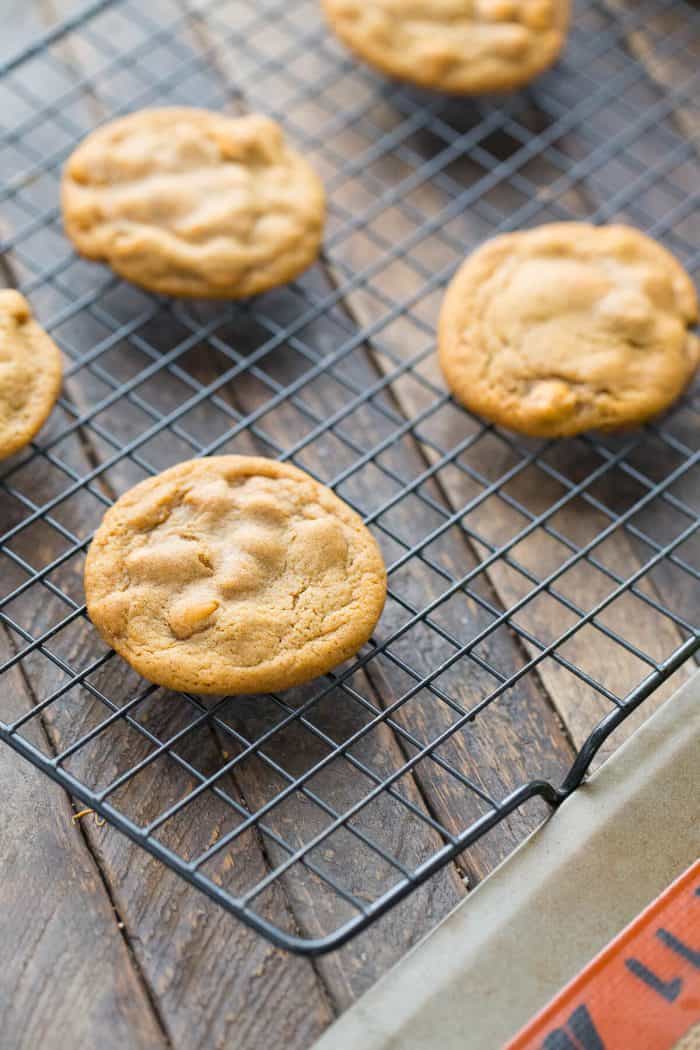 What I hate about play-doh is how you cannot mix colors. Once you do, it's all over! Those pristine individual colors are now a train wreck of colors, never to be separated again! And why does it have to turn that purplish shade of gray??? What color is that anyway? Another thing I hate is how hard play-doh seems to get after only a few minutes of exposure! Ok, it's not literally a few minutes, but never leave your play-doh out of the container or else you'll end up with unintentional sculptures!!! You are happily molding pinch pots one minute, you get up to pee, you come back to hardened clay! No kiln needed. Clearly it's all a conspiracy to get you to buy more play-doh! Those containers aren't that big anyway! Finally, what I hate the most about play-doh is all those crumbly particles that end up all over the table, the dog and the floor! They have a way of imbedding themselves in seat cushions and carpets so that you have eternal butt and shoe imprints. Ugh, I can't stand that. No vacuum seems big enough. My kids have long since vanished at this point. Somehow, it always ends up being just me and play-doh crumbs left to duke it out.
I've decided I'd rather just let my kids play with a little ball of cookie dough while I bake instead. No, they really can't mold it, and shape it. And no it's not usually very colorful, but it is dough. And it's edible! I'm sure my kids are working on dexterity while they roll out their little portion of dough. Plus I figure they are learning math and science while we bake together! And if dough crumbles and falls to the floor, I know my Jack Russell is eager to hoover it up!
The most recent cookie dough we "played with" was butterscotch gingerbread cookie dough! Holy guacamole let me tell you that this combination is spectacular!!! I may have mentioned in previous posts that I'm nuts about ginger and cinnamon together! These cookies are full of both. You get that hit of molasses but then that sweet butterscotch takes over. These are hands down my favorite seasonal cookie! I guarantee you'll find them extremely addicting and satisfying! And if you love gingbread as much as we do then you have to try my Gingerbread Texas Sheet Cake, Gingerbread Latte Cupcakes or Gingerbread Cookie Balls!
Butterscotch Gingerbread Cookies
Molasses meets butterscotch in this delicious cookie!
Ingredients
3 Cups flour
2 t baking soda
1 1/2 t ground cinnamon
1 1/2 t ground ginger
3/4 t ground cloves
1/2 t salt
1 cup butter, softened
1 1/2 cup packed brown sugar
1 egg
1/3 cup molasses
1 11oz package butterscotch chips
Instructions
Preheat oven to 350
In a small bowl, combine flour, baking soda cinnamon, ginger, cloves and salt. Set aside.
In a large bowl, beat butter and sugar until fluffy. Beat in eggs and molasses. Slowly blend in flour mixture until blended. Stir in butterscotch chips.
Drop dough by spoonfuls onto baking sheets. Bake for 9-11 minutes or until lightly browned. Let cool on baking sheet for about 2 minutes before removing to a cool rack.
Nutrition Information
Yield

24
Serving Size

1 cookie
Amount Per Serving
Calories

255
Total Fat

12g
Saturated Fat

8g
Trans Fat

0g
Unsaturated Fat

3g
Cholesterol

28mg
Sodium

234mg
Carbohydrates

36g
Fiber

1g
Sugar

23g
Protein

2g
Recipe adapted from All Recipes