This stove top Pastitsio is a simple and light version
of the very traditional Greek pasta dish.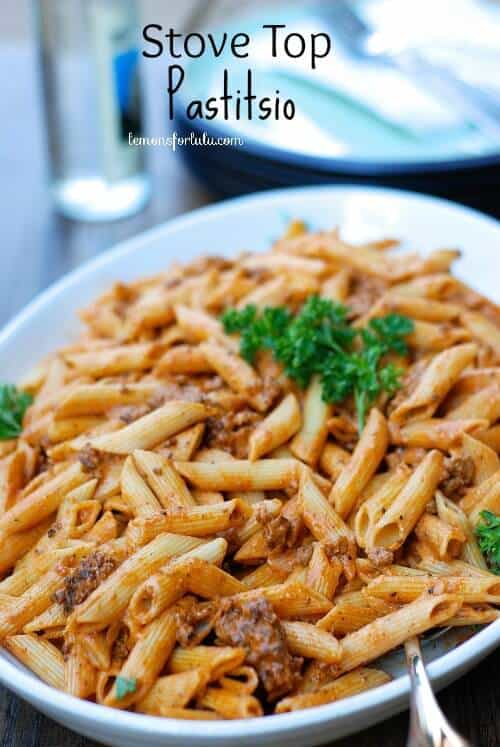 "All in good time", "Good things come to those who wait", "Patience is a virtue", "There will be no wine before it's time", wait that last one is just plain silly! There's ALWAYS time for wine"!! But those previous sayings always get me while I am anxiously waiting for my absolute favorite Greek dinner! I love, love, love pastitsio!! And my mom seriously makes the best Pastitsio!
If you are unfamiliar with this classic Greek pasta dish, then I must enlighten you. The components of this mouth-watering dish is pasta, combined with a hearty, cinnamon infused meat sauce that has simmered for just under an hour. The pasta is then cooled because over top of it will be poured a rich, creamy, egg based bechamel sauce that will rise after an hour in the oven. This dish is heavenly! Don't be fooled by the pillowy top. It is NOT a light dish. But that can be said for a slew of delectable dishes! When you eat them, you enjoy them and forget about calories and fat!
The fat and calories are not the reason I avoid serving my family this traditional delight. It's just that I don't have the time, the patience, or the stamina to conjure up this sort of dinner. However, I'm not the sort to deprive my family of a deliciously savory meal. So I created my own, quick, easy and light stove top version of this Greek pasta dish. The meat sauce comes together quickly while the pasta is boiling. The egg-laden white sauce is omitted and replaced with a bit of heavy cream and plain Greek yogurt. All the flavors of my traditional Pastitsio in a fraction of the time and with minimal effort!
I think this Pastitsio would make my mom proud. I still love her cooking, but this pasta dish may just take the title of best Pastitsio ever! Grab the Ouzo! Opa!
IT'S ALL GREEK TO ME:
NEVER MISS A RECIPE! SUBSCRIBE TO MY EMAIL TODAY!
FOLLOW ME:
FACEBOOK | RSS | TWITTER | GOOGLE + | BLOGLOVIN | INSTAGRAM
Stove Top Pastitsio
This stove top Pastitsio is a simple and light version of the very traditional Greek pasta dish.
Ingredients
1 pound lean ground sirloin
1/4 cup diced onion
2 cloves garlic minced
4 tablespoons tomato paste
1/2 teaspoon ground nutmeg
1 teaspoon McCormick Greek seasoning
Salt, pepper
1/2 cup heavy cream
1/4 cup plain Greek yogurt such as Chobani
1 lb penne pasta
1/4 cup grated Parmesan cheese
Instructions
Prepare pasta according to package direction.
Heat ground beef in a large skillet until browned. Add onions and garlic and cook another 2 minutes or until meat is no longer pink. Stir in tomato paste, salt, pepper, nutmeg and Greek seasoning. Add heavy cream and Greek yogurt stirring until well blended. Reduce heat and cook until thick, about 1 minute.
Drain pasta, reserving 1 cup of cooking liquid. Combine pasta, water and ground beef mixture. Add Parmesan cheese just before serving. Serve immediately
Nutrition Information
Yield

8
Serving Size

1
Amount Per Serving
Calories

316
Total Fat

14g
Saturated Fat

7g
Trans Fat

0g
Unsaturated Fat

5g
Cholesterol

70mg
Sodium

387mg
Carbohydrates

24g
Fiber

2g
Sugar

4g
Protein

24g