Six ingredients stand between you and these sweets! Store bought waffle cones are filled with a simple frozen key lime pie filling. Who needs actual pie when you can have portable pie cones!
Somedays you have enough energy to go all out with dinner. You spend the day preparing a sweet and savory brisket for the family and add easy scalloped potaotes and oven roasted carrots on the side just to be sure your loved ones are full and happy. Those are the days where you finish all the laundry, manage to workout, vacuum, walk the dog and bake cookies.
WATCH HOW TO MAKE THIS RECIPE:
Then there are the days where you never quite make it to the shower, the floors reveal remnants of yesterdays dinner, the dog rolled in poop in the yard so you have to stop everything to bathe her, the kids need rides to their various activities but you don't even have enough gas in the car and you forgot to go to the grocery store so everyone will either have canned soup or cereal for dinner.
Unfortunately, the frantic days happen way more than I care to admit. Despite the craziness, the day can end with a delicious dessert that the whole family will enjoy! These frozen key lime pie waffle cones only require six ingredients and are so incredibly simple to prepare. Aside from the key lime juice, I suspect you have the ingredients somewhere in your kitchen!
A few tips for frozen key lime pie cones:
Place the cones in a glass when filling, then place the glasses in the freezer. This will keep the filling neatly inside the cone.
I found that I had just enough filling for 8 cones if I filled each waffle cone to the very top. My cones were on the large size.
Allow the cones to sit a few minutes before serving so that the filling softens.
No matter what your day is like, it will certainly be improved by frozen key lime pie waffle cones!
Yield: 8
Frozen Key Lime Pie Waffle Cones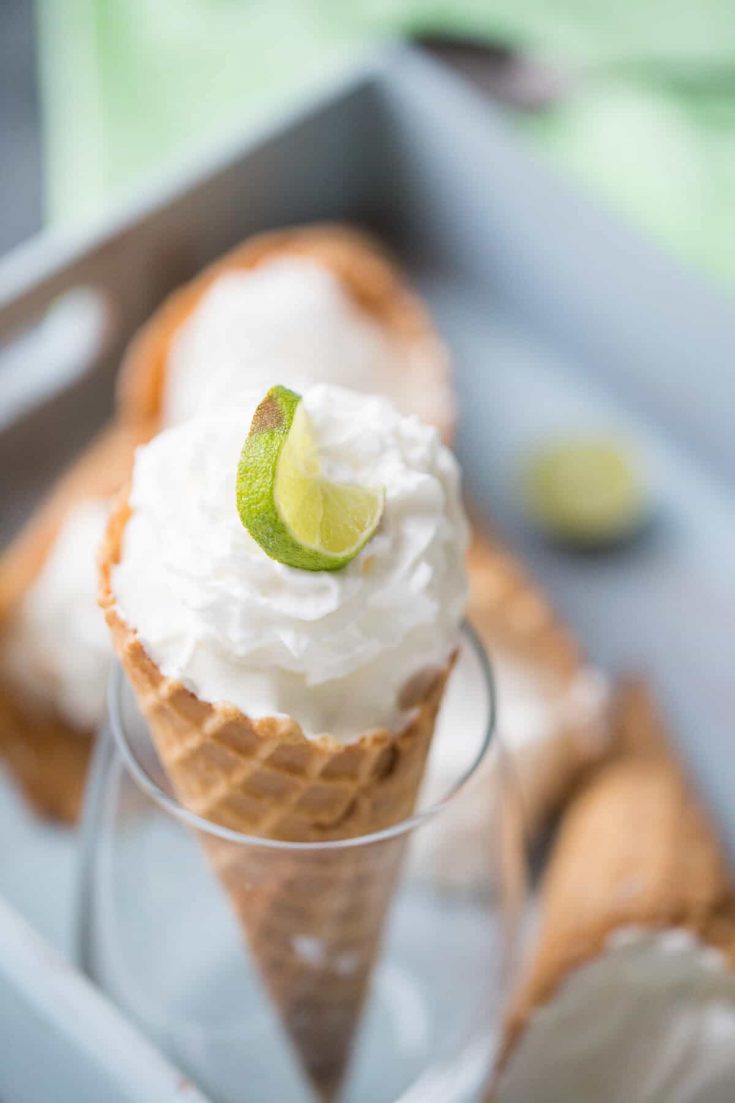 Everything you love about key lime pie can be made into a portable and fun dessert!
Total Time
1 hour
10 minutes
Ingredients
8 waffle cones
8 oz block softened cream cheese
1 14oz can sweetened condensed milk
2 teaspoons key lime zest
3/4 cup key lime juice
1 8oz container frozen whipped topping, thawed
Instructions
In a bowl, beat the cream cheese until smooth. Mix in the sweetened condensed milk, the lime zest, and the key lime juice until blended. Fold in the whipped topping until fully incorporated.
Dived the mixture between each cone and freeze for at least 1 hour.
Top with whipped cream just before serving.
Notes
I used Kroger brand cream cheese, sweetened condensed milk, whipped topping and waffles cones in this recipe.

Nutrition Information
Yield
8
Amount Per Serving
Calories

375
Total Fat

21g
Saturated Fat

12g
Cholesterol

70mg
Sodium

199mg
Fiber

0g
Sugar

33g
Protein

7g
SaveSaveSaveSave