Spinach and artichoke dip with a little heat!  Roasted poblano's and jalapeños add spice
that's tamed by lots of creamy cheese!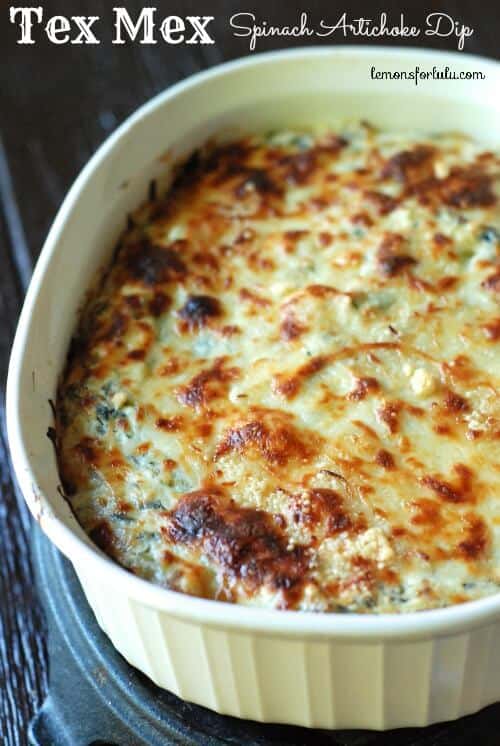 I love eating, but I don't always like following the food pyramid.  I'm a snacker at heart and although I know what food is good for me, I am not always eager to consume them.  If things like fat, calories, cholesterol, and blood pressure didn't exist than I would eat completely differently.
My food pyramid would look something like this:  snacks/appetizers(the spicier the better)  would be at the bottom in the largest portion of the pyramid, followed by cheesy food, third would be cake, 4th would be all other desserts and fruits, veggies and legumes would take their place at the tip of the pyramid.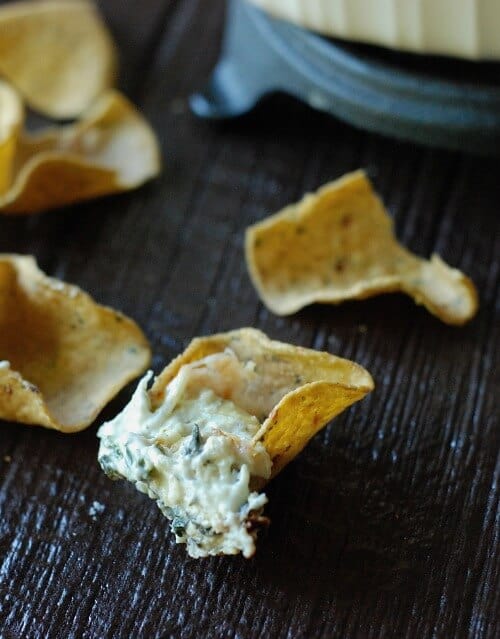 But I am an educated women with a family to feed and care for so I cannot follow my own food pyramid.  Life is so unfair.  Fortunately for me and my cheesy snack food cravings, this month's issue of Cooking Light Magazine supplied me with the most delicious solution!  This spinach and artichoke dip!  It covers a good portion of the "Tanya Food Pyramid".  Appetizer?  Check.  Spicy?  Check.  Cheesy?  Check.  Veggies?  Check!    I made this for company one night knowing that it would be consumed by lots of people!   And consumed it was!  Every last cheesy morsel was scooped up and devoured.   Which was a good thing because I probably would've had the leftovers for lunch the next day!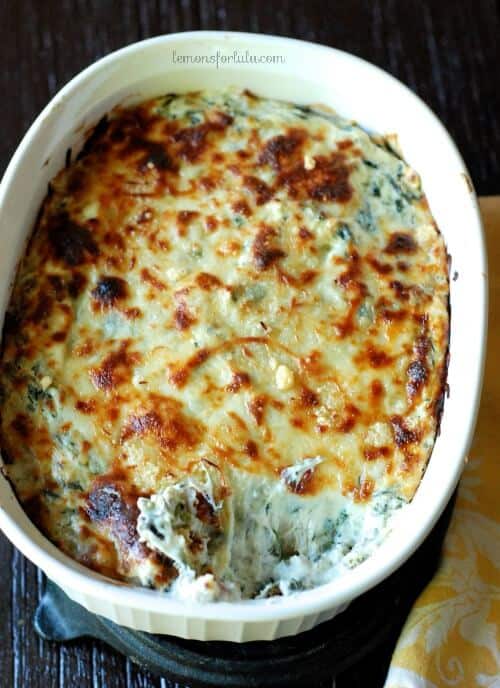 I love this version of spinach and artichoke dip!  It's creamy and cheesy, but remains on the lighter side with fat-free sour cream and with both reduced fat and fat-free cream cheese.  You won't notice it's light!  Since I constantly crave spicy food, I roasted a poblano pepper and a jalapeno pepper.  They give this dip a little heat and a smokey undertone.
While I realize my own food pyramid is a pipe dream (if I want to live a long life that is), at least I know how to indulge the snacker in me!
WHAT A DIP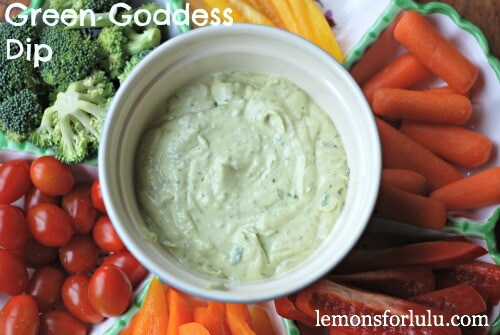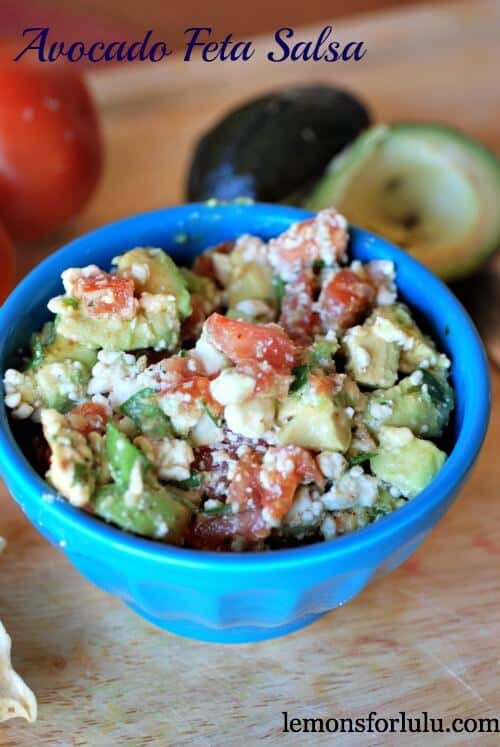 NEVER MISS A RECIPE!  SUBSCRIBE TODAY!
FOLLOW ME:
FACEBOOK | RSS | TWITTER | GOOGLE +| BLOGLOVIN | INSTAGRAM
Tex-Mex Spinach and Artichoke Dip
Ingredients
½ cup fat free sour cream
¼ teaspoon black pepper
3 cloves garlic, minced
1 14oz can artichokes, drained and coarsely chopped
1 10oz package frozen spinach, thawed, drained and squeezed dry
1 8 oz block reduced fat cream cheese, softened
1 8oz block fat free cream cheese, softened
1 poblano, roasted, peeled and chopped
1 jalapeno, roasted, peeled and chopped
1 1/2 shredded mozzarella cheese, divided
¼ cup grated Parmesan cheese, divided
Instructions
Preheat broiler. On a foiled lined baking sheet, broil poblano and jalapeno for about 5-7 minutes or until skin has blackened. Remove to plastic zip top bag. Turn oven to 350.
Combine sour cream through cream cheese in a bowl, stirring until combined. Remove peppers from bag. Peel and discard skin. Chop peppers. Add to cream cheese mixture. Add 1 cup mozzarella and 2 tablespoons Parmesan cheese and spoon mixture into a greased 1 ½ quart-baking dish (broiler proof). Top with remaining cheeses.
Bake for 30 minutes or until bubbly. Preheat broiler and broil dip for 3 minutes or until top is lightly browned.
Adapted from Cooking Light Magazine
http://www.lemonsforlulu.com/tex-mex-spinach-artichoke-dip/
SEE THIS ON MY PINTEREST BOARD!