Simple white chocolate lemon parfaits. They are elegant, creamy and perfectly refreshing!
We reached a big milestone this week. Our littlest one learned to ride a bike. We've been trying to convince her for a year now that there was nothing to fear, but she didn't believe us. I understood her hesitation. I have always been a cautious girl myself. Letting go of that fear can be unsettling.
There's so much uncertainty every time we try something new. The outcome is always a bit of a mystery. I think it took an enormous amount of blind faith on my daughter's part. Faith that my husband wouldn't let go, faith that the bike would stay in motion if she just kept pedaling. That bravery paid off as she felt the blissful freedom that riding a bicycle can deliver.
It goes without saying that I teared up just a bit as I watched my youngest ride away from me. While I know our kids have to leave the proverbial nest at some point, it's bittersweet watching them as they prepare themselves for lift off. A bicycle today; a car tomorrow. Such is life I suppose.
Every celebration calls for dessert. These lemon parfaits were just the treat we needed after a hard day of learning to ride a bike! The best thing about these parfaits, is I already had all the ingredients. Lucky Leaf Lemon Pie Filling, white chocolate, heavy cream and shortbread cookies are all that is needed to whip up this creamy, rich, tart dessert!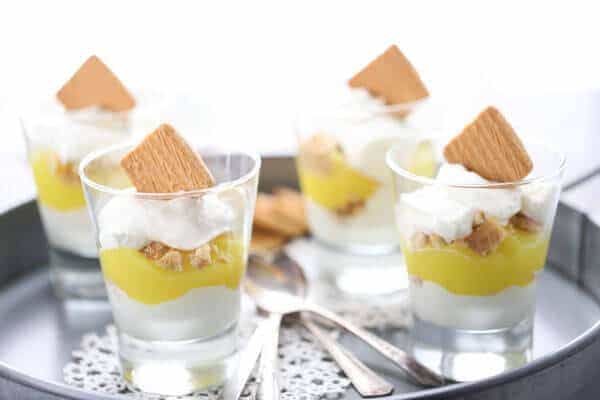 Notes about the recipe:
– Take care when melting your white chocolate in the microwave. Only microwave the mixture in 30 second increments after the first minute. Chocolate scorches quickly.
– Keep your mixing bowl and whisk in the freezer for half an hour or more before you set out to make the whipped cream. Very cold equipment will help your cream set up more quickly.
– Do not stir the mixture after you add the chocolate. Work in a gentle under and over motion so that air does not get into your cream. You want your whipped cream to be light and fluffy. Stirring will deflate your cream and leave you with a soupy mess.
– If you do not have shortbread cookies, Golden Oreos, graham crackers or even gingersnaps would work nicely in this recipe.
White Chocolate & Lemon Parfaits
A quick white chocolate mousse and lemon pie filling make this parfait and easy and delicious dessert!
Ingredients
4 oz white chocolate, chopped
2 tablespoons heavy cream
1 cup chilled heavy cream
1 1/2 cups Lucky Leaf Lemon Pie Filling
8 shortbread cookies, chopped, plus 4 for garnish
Instructions
In a microwave safe bowl, combine chopped chocolate and heavy cream. Microwave for 1 minute, remove and stir. Continue to microwave in 30 second intervals until chocolate has melted, stir and let chocolate cool.
Using your whisk attachment, whisk heavy cream in a chilled bowl on a high speed until thick and stiff peaks begin form, about 2-3 minutes. Remove and carefully fold in cooled white chocolate. Return bowl to mixer and whisk just for 30 seconds.
Place a large tablespoon of white chocolate mixture in the bottoms of four glasses. Crush 4 shortbread cookies and place crumbs on white chocolate layer. Spoon a generous spoonful of lemon pie filling and top with 4 more crushed cookies. Top with remaining white chocolate and garnish each glass with a cookie.
Nutrition Information
Yield

4
Serving Size

1
Amount Per Serving
Calories

730
Total Fat

47g
Saturated Fat

24g
Trans Fat

1g
Unsaturated Fat

19g
Cholesterol

120mg
Sodium

273mg
Carbohydrates

74g
Fiber

1g
Sugar

44g
Protein

6g