Simple white chocolate lemon parfaits.
They are elegant, creamy, and perfectly refreshing!
These lemon parfaits were just the treat we needed after a hard day of learning to ride a bike! The best thing about these parfaits is I already had all the ingredients. Lucky Leaf Lemon Pie Filling, white chocolate, heavy cream, and shortbread cookies are all that is needed to whip up this creamy, rich, tart dessert! you're going to love serving up this summery parfait recipe because it's packed with bright colors and flavors in every glass.
Lemon Pie Parfait
Making this lemon parfait recipe is super fast and simple. You only need a couple of ingredients (5 to be exact) and a couple of moments to prep. Make these desserts in advance and share them with family after dinner or make them smaller by placing them all into shooter glasses and then serve them at a party. There's no wrong time for this tasty recipe and because it's so versatile you can enjoy these tangy rich flavors all year long.
Ingredients
White chocolate
Heavy cream
Chilled heavy cream
Lucky Leaf Lemon Pie Filling
Shortbread cookies
For the exact amounts needed, please see the recipe card below.
How to Make White Chocolate & Lemon Parfaits
In a microwave-safe bowl, combine the chopped chocolate and heavy cream. Microwave for 1 minute, remove and stir. continue microwaving in 3o second intervals, stirring well between each until smooth. allow cooling.
In a chilled stand mixer bowl, use your whisk attachment to whisk the heavy cream on high speed until its thick and stiff peaks have formed. This should take about 2-3 minutes.
Remove and carefully fold in the cooled white chocolate.
Return the bowl to the stand mixer and then whisk for just 30 seconds.
Place a large tablespoon of the white chocolate mixture at the bottom of 4 glasses.
Crush 4 shortbread cookies and place the crumbs on top.
Spoon a generous spoonful of lemon pie filling on top and then add another 4 more crushed cookies.
Top with the remaining white chocolate mix and garnish the glasses with a cookie each.
Serve immediately or keep chilled.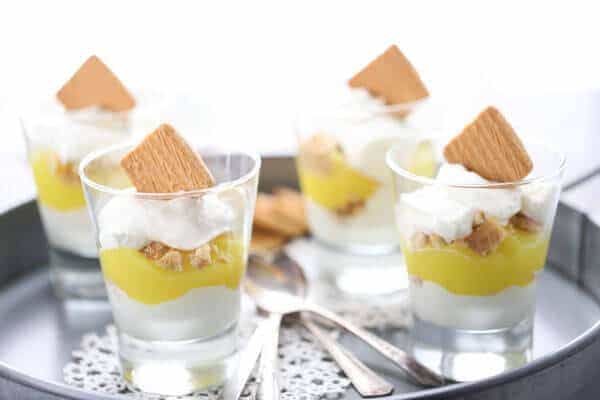 Recipe Tips
Take care when melting your white chocolate in the microwave. Only microwave the mixture in 30-second increments after the first minute. Chocolate scorches quickly.
Keep your mixing bowl and whisk in the freezer for half an hour or more before you set out to make the whipped cream. Very cold equipment will help your cream set up more quickly.
Do not stir the mixture after you add the chocolate. Work in a gentle under and over motion so that air does not get into your cream mixture. You want your whipped cream to be light and fluffy. Stirring will deflate your cream and leave you with a soupy mess.
If you do not have shortbread cookies, Golden Oreos, graham crackers, or even gingersnaps would work nicely in this recipe.
FAQs
How long is white chocolate lemon parfait good for?
This parfait can be kept stored in the fridge for up to 2 days. I recommend covering each glass tightly with plastic wrap before storing. For better results do not add the cookie on top until ready to serve or else the moisture will cause the cookie to become soft stale or mushy.
What's the difference between a trifle and parfait?
A parfait and a trifle have a lot in common as both are layered desserts that use whipped cream, a cookie or cake solid layer and with something fruity. the biggest difference between the two is that parfaits are individual-sized whereas trifles are usually served in large glass bowls and meant to be served to many people.
Can I make parfaits in advance?
You can prepare the different components of this recipe and keep them individually stored. Store the cookie crumbs in a baggie on the counter and the two fillings in individual containers in the fridge. When ready to serve you can assemble and enjoy!
For more great desserts like this check out our parfait recipes and trifle desserts:
Want more lemon desserts? Try this Lemon Crumb Cake, The BEST Lemon Pie, Lemon Frosted Zucchini Cake, Lemon Strawberry Scones, Lemon Zucchini Cookies, Mini Lemon Hand Pies, or Lemon Sugar Donuts!
Yield: 1 dozen
Mini Lemon Hand Pies
Mini lemon hand pies are buttery and flaky pie dough, shaped into a single-sized portions and filled with homemade lemon curd!
Ingredients
For the lemon curd:
1/2 cup sugar
2 eggs
1 lemon zested
1/2 cup lemon juice
1/4 cup melted butter
Also needed:
1 14.1 package refrigerated Pillsbury Pie Crust
1 whole egg
1 tablespoon water
1/3 cup white chocolate chips
1/8 teaspoon vegetable oil
Instructions
In a bowl, combine sugar and eggs. Whisk in lemon zest and lemon juice. Stir in melted butter. Microwave lemon mixture for 1-minute stir. Continue to heat lemon mixture in 1-minute intervals until mixture begins to thicken and easily coats the back of a spoon. Refrigerate to set.
Meanwhile, bring piecrust to room temperature. Unroll one pie crust on a floured surface. Using a 3â?? biscuit cutter cut crust into circles and place dough on a cookie tray. You should get about 10-12 circles. Repeat with remaining piecrust. Place trays of dough in the refrigerator to chill about for 15 minutes.
Preheat oven to 425. Prepare egg wash by lightly beating together the egg and the water. Remove dough from the refrigerator and place a spoonful of lemon curd onto the center of one tray of dough. Brush edges with egg wash and place circles from second tray over each lemon topped pie. Using a fork, crimp the edges to seal the pies. Generously brush the tops of each pie with remaining egg wash. Using a pairing knife, carefully cute 3 slits onto the tops of each pie. Bake pies for 12-15 minutes or until golden. Let cool completely.
In a small bowl, melt chocolate and vegetable oil together. Drizzle white chocolate over pies. Let set completely before storing.
Nutrition Information
Yield
12
Serving Size
1 mini pie
Amount Per Serving
Calories

240
Total Fat

13g
Saturated Fat

7g
Trans Fat

0g
Unsaturated Fat

6g
Cholesterol

85mg
Sodium

152mg
Carbohydrates

28g
Fiber

1g
Sugar

20g
Protein

4g
Yield: 4
White Chocolate & Lemon Parfaits
A quick white chocolate mousse and lemon pie filling make this parfait and easy and delicious dessert!
Ingredients
4 oz white chocolate, chopped
2 tablespoons heavy cream
1 cup chilled heavy cream
1 1/2 cups Lucky Leaf Lemon Pie Filling
8 shortbread cookies, chopped, plus 4 for garnish
Instructions
In a microwave safe bowl, combine chopped chocolate and heavy cream. Microwave for 1 minute, remove and stir. Continue to microwave in 30 second intervals until chocolate has melted, stir and let chocolate cool.
Using your whisk attachment, whisk heavy cream in a chilled bowl on a high speed until thick and stiff peaks begin form, about 2-3 minutes. Remove and carefully fold in cooled white chocolate. Return bowl to mixer and whisk just for 30 seconds.
Place a large tablespoon of white chocolate mixture in the bottoms of four glasses. Crush 4 shortbread cookies and place crumbs on white chocolate layer. Spoon a generous spoonful of lemon pie filling and top with 4 more crushed cookies. Top with remaining white chocolate and garnish each glass with a cookie.
Nutrition Information
Yield
4
Serving Size
1
Amount Per Serving
Calories

730
Total Fat

47g
Saturated Fat

24g
Trans Fat

1g
Unsaturated Fat

19g
Cholesterol

120mg
Sodium

273mg
Carbohydrates

74g
Fiber

1g
Sugar

44g
Protein

6g