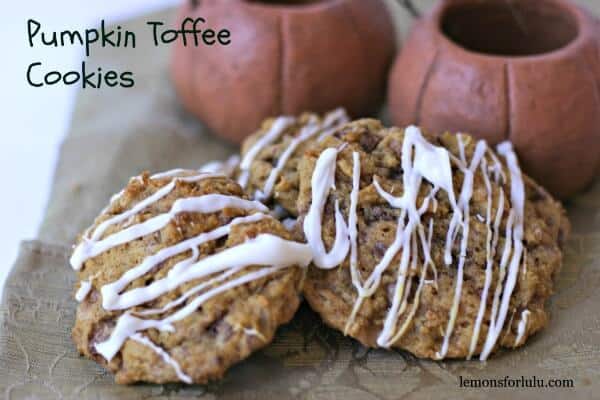 I've had a stressful week.  We have recently put our house on the market.  I cannot believe the emotional highs and lows you experience during this process!  You get so emotionally invested in every showing and equally invested when you go to look at houses!
To calm myself, I baked.  I baked these pumpkin toffee cookies.  I was craving pumpkin, but I didn't want bread-which is my go to for a pumpkin fix!  No.  I wanted cookies, but I didn't want cookies with chocolate chips, another favorite.  I didn't want puffy, cake like cookies either, I wanted soft and chewy.  I searched and searched and finally found Bake Your Day's recipe for white chocolate chip pumpkin cookies!  They appeared to have the exact texture I was wanted!  I added more cinnamon and a little nutmeg in exchange for the pumpkin pie spice.  Mostly because I love both those spices and I wanted them to be pronounced.  I substituted white chocolate chips for toffee bits.  I like the slight chew the toffee gives the cookie.  And just to make it over the top, I drizzled them with white chocolate.   The cookies looked rather underdressed without it.
Making these pumpkin toffee cookies did what I needed, it took my mind of off my  house.  The bonus was all these wonderful tasting cookies!!  Baking can be the most fulfilling stress reliever.  These tasted so fantastic, that I couldn't stop eating them!  I realized  I was eating out of stress.  Funny how that happens.   I decided I needed to exercise to take my mind of off how many cookies I'd eaten.    Took my dog for a long walk which cleared my mind enough to hop on the computer and start looking for houses!
If you've enjoyed this post, please consider subscribing via email, RSS, Facebook or Pinterest.  I love keep in touch with friends!
I've made these cookies too:
White Chocolate Key Lime Cookies
Check out these yummies from Pinterest:
Pumpkin Cookies                                          My Baking Addiction
Iced Pumpkin Cookies                                 Gimme Some Oven
Pumpkin Spice Cookies                                Skinny Taste

A soft chewy pumpkin cookie with toffee chips and a white chocolate drizzle.
Ingredients
2 ¼ cup flour
1 t baking powder
1 t baking soda
2 t cinnamon
1 t nutmeg
½ t salt
½ cup butter
1 cup sugar
½ cup brown sugar
1 cup canned pumpkin puree
1 egg
1 t vanilla
1 8oz package toffee bits
½ cup white chocolate melted (optional)
Instructions
Preheat oven to 350. Combine flour, baking powder, baking soda, cinnamon, nutmeg and salt in a bowl. Set aside.
In a mixer, cream together butter and sugars until creamy. Add the egg, pumpkin and vanilla. Slowly add in the flour mixture, mixing until combine. Add toffee bits. Drop cookies onto lined baking sheet using a tablespoon. Bake about 10 minutes. Let cool on baking sheet for 2-3 minutes before removing to a wire rack. When cookies have cooled completely, drizzle on white chocolate. Let chocolate set before storing.
I'll be linking this post here  and at Jam Hands, DIY Dreamer and