This coconut white hot chocolate recipe is truly comforting.
A simple coconut flavored white hot chocolate that is a delightful change from your everyday hot chocolate.
This isn't just any white hot chocolate, this is coconut-flavored white hot chocolate! This coconut white hot chocolate is made with half and half, coconut milk, Splenda Sugar Substitute, and creamy and sweet chopped white chocolate. A little vanilla and coconut extract bring it all together. The coconut milk brings forth the deep coconut flavor and while the white chocolate adds creaminess, what makes this rich chocolate sweet is the Splenda Sweetener that is whisked right.
Coconut Hot Chocolate
The crowning glory to this coconut milk hot chocolate is the toasted coconut. I made this in advance and sprinkled this right on top upon serving. The end result was a very rich, creamy, WHITE alternative to your traditional hot chocolate. It is sweet without being overly sweet, it is luscious and smooth with a slightly nutty taste. This white hot chocolate recipe is like an irresistible drinkable dessert!
Ingredients
Coconut milk
Half and half
Splenda
White chocolate
Vanilla extract
Coconut extract
Toasted coconut
For the exact amounts needed, please see the recipe card below.
How to Make Coconut White Hot Chocolate Recipe
Place your saucepan over medium heat and whisk in the coconut milk, half and half, and sweetener. When the sweetener has fully dissolved, stir in the white chocolate.
Next, stir in the extracts and heat the pot until the mixture has thickened.
Pour the cocoa into two drinking mugs, dividing evenly between them.
Top with toasted coconut.
Serve immediately.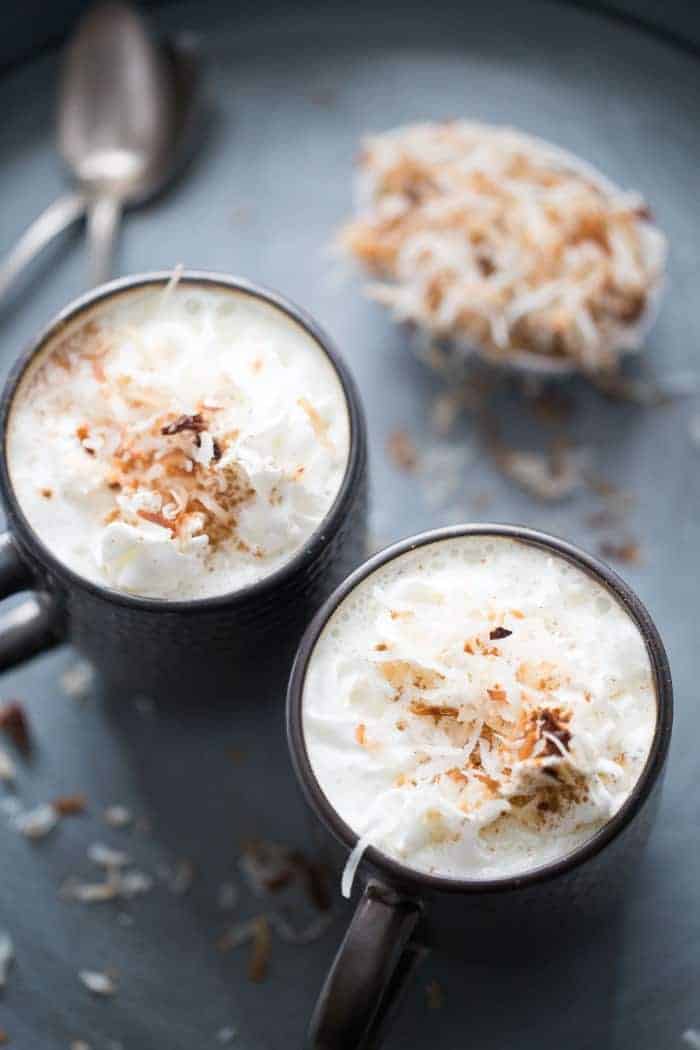 FAQs
Does this recipe use canned coconut milk or a refrigerated carton?
Can you make hot chocolate with coconut milk?
Yes, as you can see here that we have done exactly that. Making this hot chocolate with coconut milk is a great way to add in that subtle coconut flavor and creamy goodness that we want in every mug.
Do you serve hot chocolate with whipped cream or marshmallows?
this cocoa is one that would be better served with a nice whipped cream either from the can or homemade. Not only would it add to the creamy goodness in every sip, but it would also help to prevent the toasted coconut topping from sinking to the bottom of the mug.
If you love hot chocolate then you are going to LOVE these hot cocoa recipes!
Yield: 2
Coconut White Hot Chocolate
Rich and creamy white hot chocolate with a hint of coconut.
Ingredients
1 cup coconut milk
2 cups half and half
2 tablespoons SPLENDA® No Calorie Sweetener, Granulated
8 oz chopped white chocolate
1 teaspoon vanilla
1/2 teaspoon coconut extract
2 tablespoons toasted coconut for garnish
Instructions
Place a saucepan over medium heat. Whisk together the coconut milk, half and half and sweetener. When sweetener has dissolved, stir in white chocolate. Stir in extracts and heat just until mixture thickens.
Pour cocoa into two mugs and top with toasted coconut. Serve immediately.
Nutrition Information
Yield
2
Serving Size
1
Amount Per Serving
Calories

1164
Total Fat

87g
Saturated Fat

62g
Trans Fat

1g
Unsaturated Fat

22g
Cholesterol

109mg
Sodium

281mg
Carbohydrates

85g
Fiber

1g
Sugar

79g
Protein

17g