Chicken gets all dressed up!
This dish pairs chicken with sweet alcohol, grapes, walnuts, and tangy blue cheese!
This is a fancy dinner recipe if I do say so myself. Like something you'd expect from a nice restaurant where the waiters all dress up in black and white. With this wine and grapes chicken recipe you can have that wonderful taste at home and without the need to dress up (unless you want to). Serve these smothered sweetened chicken breasts up to dinner guests at your next get-together or for a nice dinner throughout the week. This meal would be perfect for fancier occasions (like anniversaries, birthdays, or romantic holidays!)
Wine and Chicken
Riesling and other sweet wines make a fantastic cooking ingredient. Riesling pairs especially well with chicken but even just using chicken broth will work well in this recipe if you don't have any on hand or do not wish to use alcohol in your cooking.
This dish is light but has so many wonderful, contrasting flavors and textures. I lightly sauteed the grapes in the wine at the very end so that they'd absorb up the flavor of the sauce. The whole dish is sprinkled with tangy blue cheese and crunchy walnuts. Elegant yet simple!
Ingredients
Chicken breasts
Olive oil
Butter
All-purpose flour
Shallot
Garlic
Riesling
Chicken broth
Fresh Rosemary
Red grapes
Crumbled bleu cheese
Toasted chopped walnuts
For the exact amounts, please see the recipe card below.
How to Make Chicken with Blue Cheese and Grapes
In a large skillet over medium heat add your olive oil and a tablespoon of butter.
Season the chicken with some salt and pepper. Brown in the preheated skillet for 4-5 minutes per side or until browned. Remove the chicken from the skillet and place it onto a plate. Keep warm by covering it with a piece of foil until needed.
Add the remaining butter to the pan and then stir in the shallots and garlic.
Whisk in the flour until blended.
Carefully pour in the wine and the broth, whisking together until smooth.
Return the chicken to the skillet and bring it to a boil. Cover the pan.
Cook the chicken for 10 minutes and remove the cover.
Add in the rosemary and grapes. Cook for an additional 5 minutes.
Serve with walnuts and blue cheese.
Enjoy!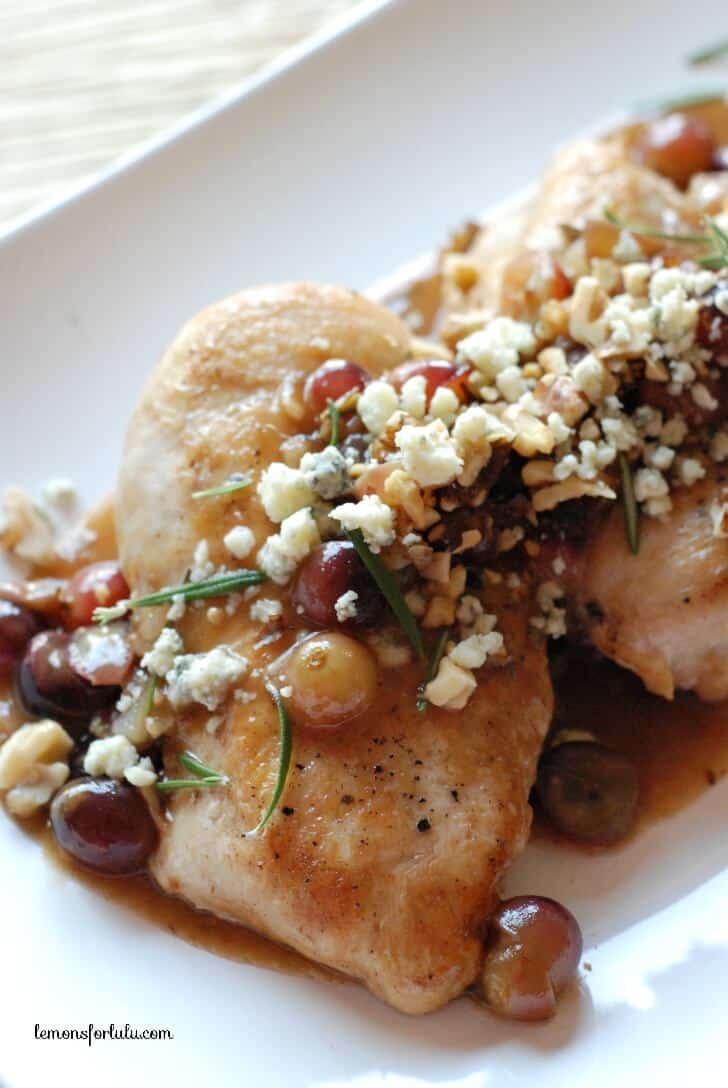 Recipe Tips
Keep in mind that you are initially just browning the outside of your chicken breasts in the first steps and then the chicken doesn't actually become cooked through until later when it's added back into the pot with the sauce. This is because if you cook it all at once in the first steps the chicken will become overcooked. Note that the actual time needed to cook the chicken will depend almost entirely on the size and thickness of the chicken breasts as thicker cuts will take far longer than thinner ones.
FAQs
How long are the leftovers good for?
The leftover chicken and sauce from this recipe can be kept stored in an airtight container in the fridge for up to 3 or 4 days. For best results reheat again before serving.
What goes well with grape chicken?
This chicken dish would be great served alongside some simple and easy basic side dishes like cooked rice or garlic butter pasta. this is one of those dishes that goes great with just about anything but you should keep the side dishes simple and basic in taste so that they don't outshine or take away from this wonderful chicken dish.
Check out these other delicious chicken recipes!
Yield: 4
Chicken with Blue Cheese and Grapes
This dish pairs chicken with sweet alchohol, grapes, walnuts and tangy blue cheese!
Ingredients
4 chicken breasts
1 teaspoon olive oil
2 tablespoon butter, divided
1 tablespoon flour
1 small shallot, chopped
1 teaspoon garlic, minced
1/2 cup Riesling
1/3 cup chicken broth
1 tablespoon fresh Rosemary
2 cup red grapes, halved
1/4 cup crumbled bleu cheese
1 cup chopped walnuts, toasted
Instructions
Heat a large skillet over medium heat. Add olive oil and 1 tablespoon of butter.
Season chicken with salt and pepper and brown in skillet 4-5 minutes per side or until browned. Remove chicken to a plate and keep warm.
Add the remaining tablespoon of butter to skillet.
Stir in shallot and garlic.
Whisk in flour until blended.
Carefully pour in wine and broth, whisking until smooth.
Return chicken to skillet, bring to a boil, and cover.
Cook chicken for 10 minutes.
Remove cover, add rosemary and grapes; cook an additional 5 minutes. Serve with walnuts and blue cheese.
Nutrition Information
Yield
4
Serving Size
1
Amount Per Serving
Calories

578
Total Fat

33g
Saturated Fat

8g
Trans Fat

0g
Unsaturated Fat

23g
Cholesterol

124mg
Sodium

311mg
Carbohydrates

23g
Fiber

3g
Sugar

13g
Protein

45g