This blue cheese ranch dip is creamy and cool! A tangy partner for chips and veggies!
(This post was sponsored by SunChips, but all opinions expressed are completely my own!)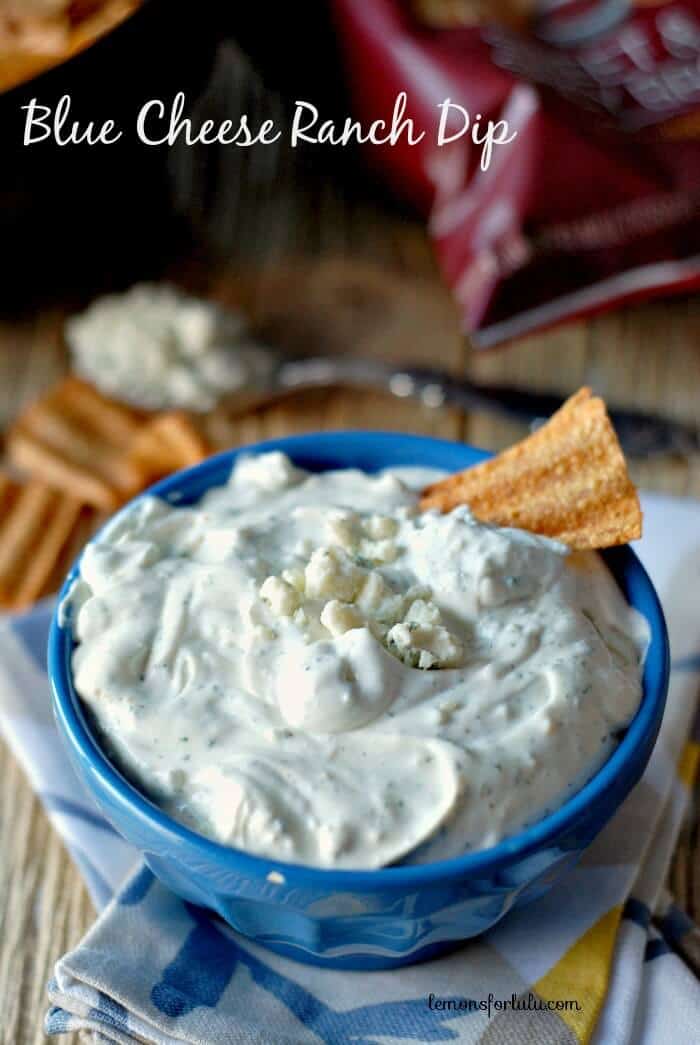 I make a lot of spicy food.  I can't help it.  I love spice.  The spicier the better.  I make spicy sandwiches, and spicy pasta dishes, heck I put spice in fudge!   If I don't add spice while I'm cooking, I drown the food on my plate in hot sauce.  It's become an addiction.
Since I consider myself a snack food connoisseur, I was more than happy to sample SunChips new Sweet and Spicy BBQ Flavor.  I mean, the name says it all!  But it's important to have to the right balance between the sweet and the spicy.  This flavor was with out a doubt, party worthy!  I loved it, my husband loved it!  A complete winner!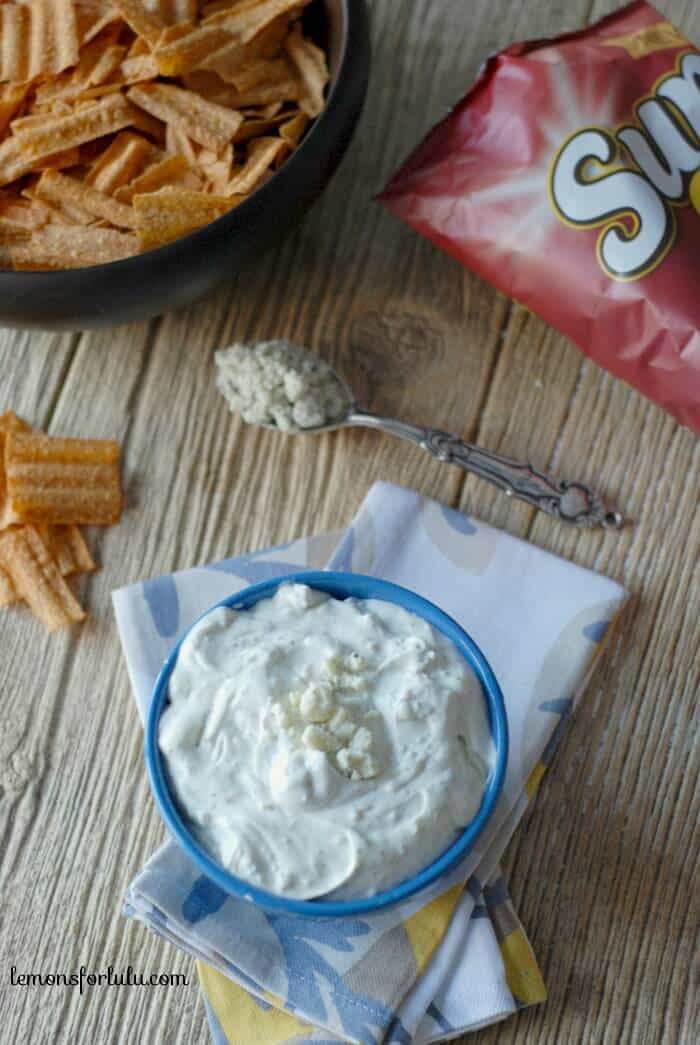 When you bite into the chips you taste the subtly sweet bbq sauce, but give it a minute and the heat gives you a kick!  Bam!  You reach for another chip to sample the sweet bbq sauce once more, but then the heat hits you again.  The cycle repeats until….the bowl is empty.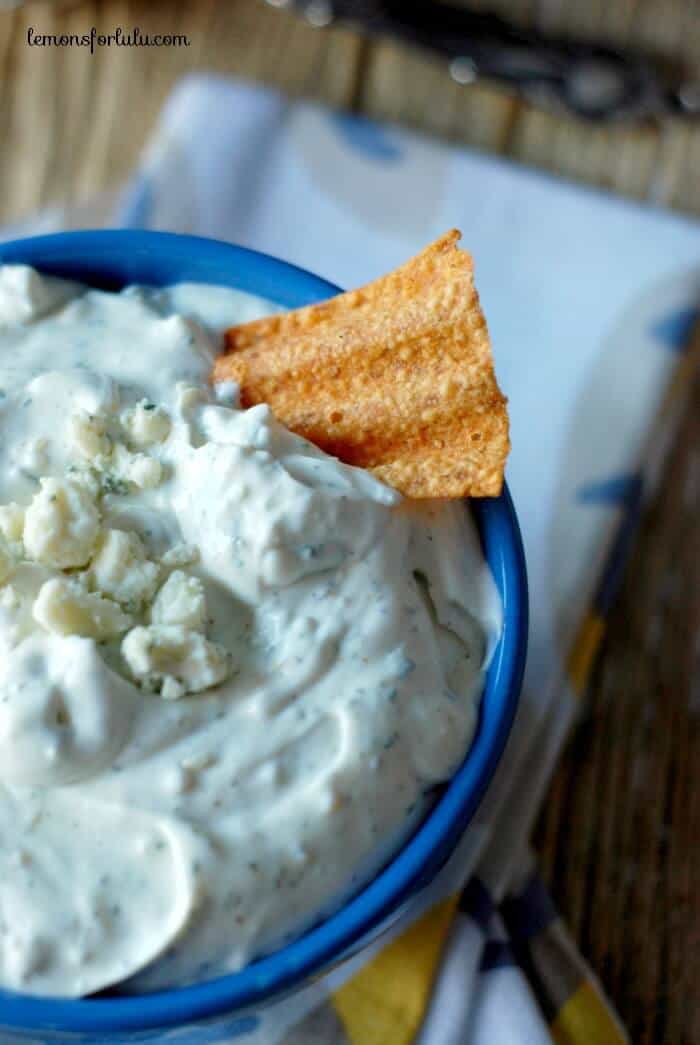 The best way to compliment those spicy sweet chips is with this cool, blue cheese ranch dip!  Creamy sour cream, mixed with ranch seasoning and blue cheese will temper the heat of these SunChips!  The biggest problem I had with these chips was I didn't have enough leftover from my "sampling" to actually dip into my dip!    What can I say, spicy food is my weakness!
Want more SunChips?  Connect with them!  Find them on Facebook and Twitter!
JUST DIP IT!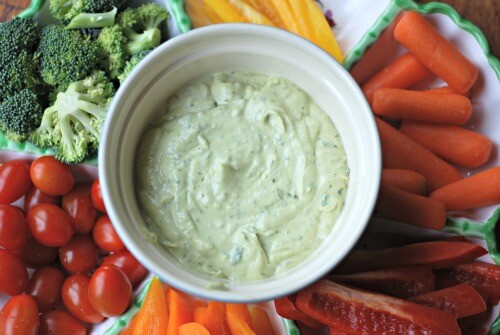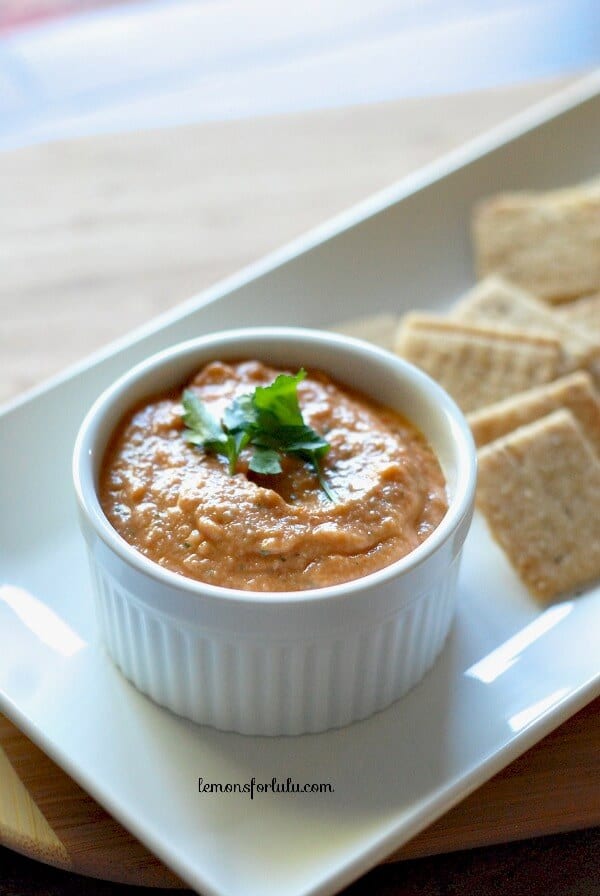 NEVER MISS A RECIPE! SUBSCRIBE TO MY EMAIL TODAY!
FOLLOW ME:
FACEBOOK | TWITTER| GOOGLE +| BLOGLOVIN | INSTAGRAM
Blue Cheese and Ranch Dip
Ingredients
1 ½ cups sour cream
½ cup plain Greek yogurt
1 1oz pouch Ranch seasoning (Such as Hidden Valley)
4 oz crumbled blue cheese.
Instructions
Combine all the ingredients in a bowl. Stir. Refrigerate until ready to serve.
http://www.lemonsforlulu.com/blue-cheese-ranch-dip/