Spicy sausage tempered by creamy and cool blue cheese coleslaw
I've been compensated for this post.  Thank you Produce for Kids for allowing me to create this original recipe.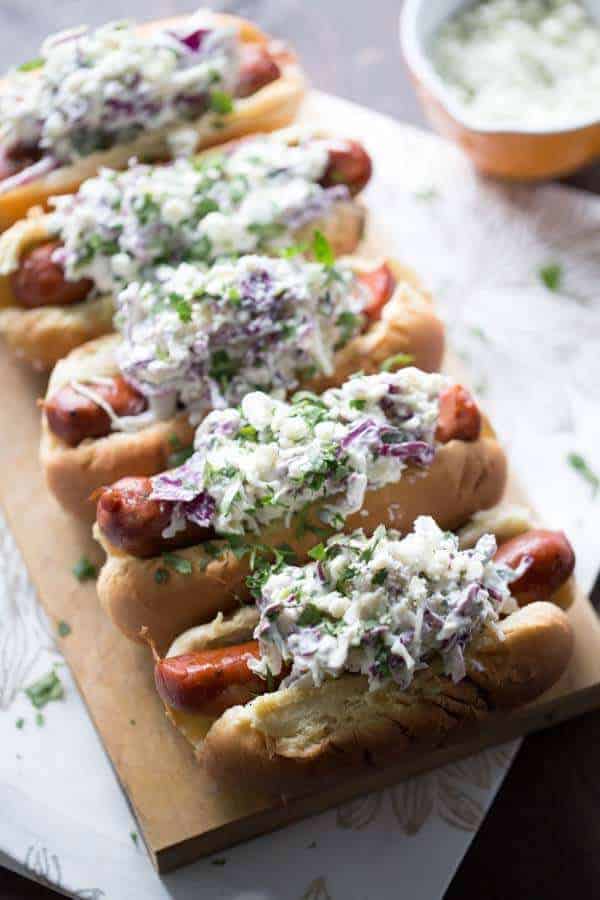 I love a good bbq, but sometime it's more about the sides than what's cooking up on the grill.  Often I can skip the burgers and pile my plate with watermelon, black bean salad, buttery corn, potato salad and macaroni salad.   Yep it isn't a proper bbq unless butter and watermelon juice are dripping down my forearm.
The one thing I am quick to pass over is the coleslaw.   Limp shredded lettuce drenched in mayo isn't really my thing. It tastes so bland to me.  So I made an easy blue cheese coleslaw just for me.  This recipe combines red cabbage, angel hair slaw, Greek yogurt, a bit of mayo, cilantro and of course blue cheese.  Blue cheese is one of my favorites!  It's creamy, piquant and compliments the spice from smoky andouille sausage perfectly!  Blue cheese coleslaw and andouille sausage are a happy bbq pair!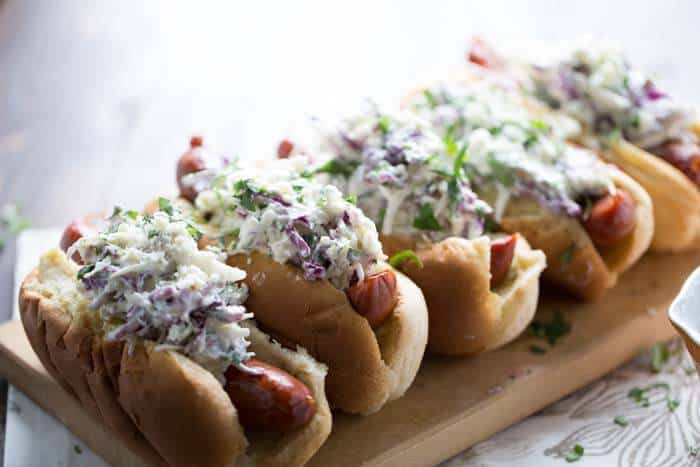 Lemons for Lulu
Yields 5
Andouille Sausage with Blue Cheese Coleslaw
A creamy and tangy blue cheese slaw covering spicy andouille sausage.
5 minPrep Time
5 minCook Time
10 minTotal Time
Ingredients
For the slaw:
1 cup red cabbage
1 cup shredded angel hair slaw
1/4 cup chopped cilantro
1/2 cup plain Greek yogurt
1/2 cup mayo
1 clove garlic
2 tablespoons cider vinegar
1/2 teaspoon lemon juice
1/2 teaspoon salt
1/4 teaspoon pepper
1/4 cup blue cheese crumbled
5 andouille sausage links
5 hot dog buns
Instructions
In a bowl, combine cabbage, slaw and cilantro in a bowl. Stir in yogurt, mayo, garlic, vinegar, lemon juice, salt, pepper and blue cheese. Mix until completely combined. Place in refrigerator until ready to serve.
Grill sausage for 4-6 minutes until cooked through. Top with slaw and serve.
http://www.lemonsforlulu.com/andouille-sausage-with-blue-cheese-coleslaw/
I'm excited to partner with Produce for Kids as they work with retailers like Meijer and sponsors like Dole® Salads and Bolthouse® Farms this spring to encourage shoppers to stock up on fruits and vegetables.  Purchases will benefit Jump for Jill ,  an organization that teaches children about good nutrition and healthy food choices.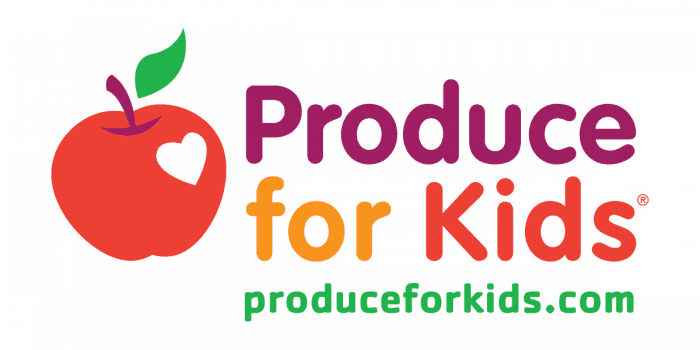 Through partnerships with Produce for Kids, Meijer and fruit and vegetable companies have raised more than $1 million to benefit children's charities. Produce for Kids and Meijer raised more than $60,000 during its fall campaign, which allowed the Jump with Jill program to take place in 27 schools in Michigan, Ohio, Indiana and Kentucky.
To learn more about this campaign, please visit Produce For Kids on their website.  Or connect with them on Twitter, Facebook, Instagram and Pinterest .