Take a trip to the Big Easy with this Easy Gumbo Recipe!  This big pot of love is filled with hearty ingredients that are so filling and satisfying! Bet you can't have just one bowl!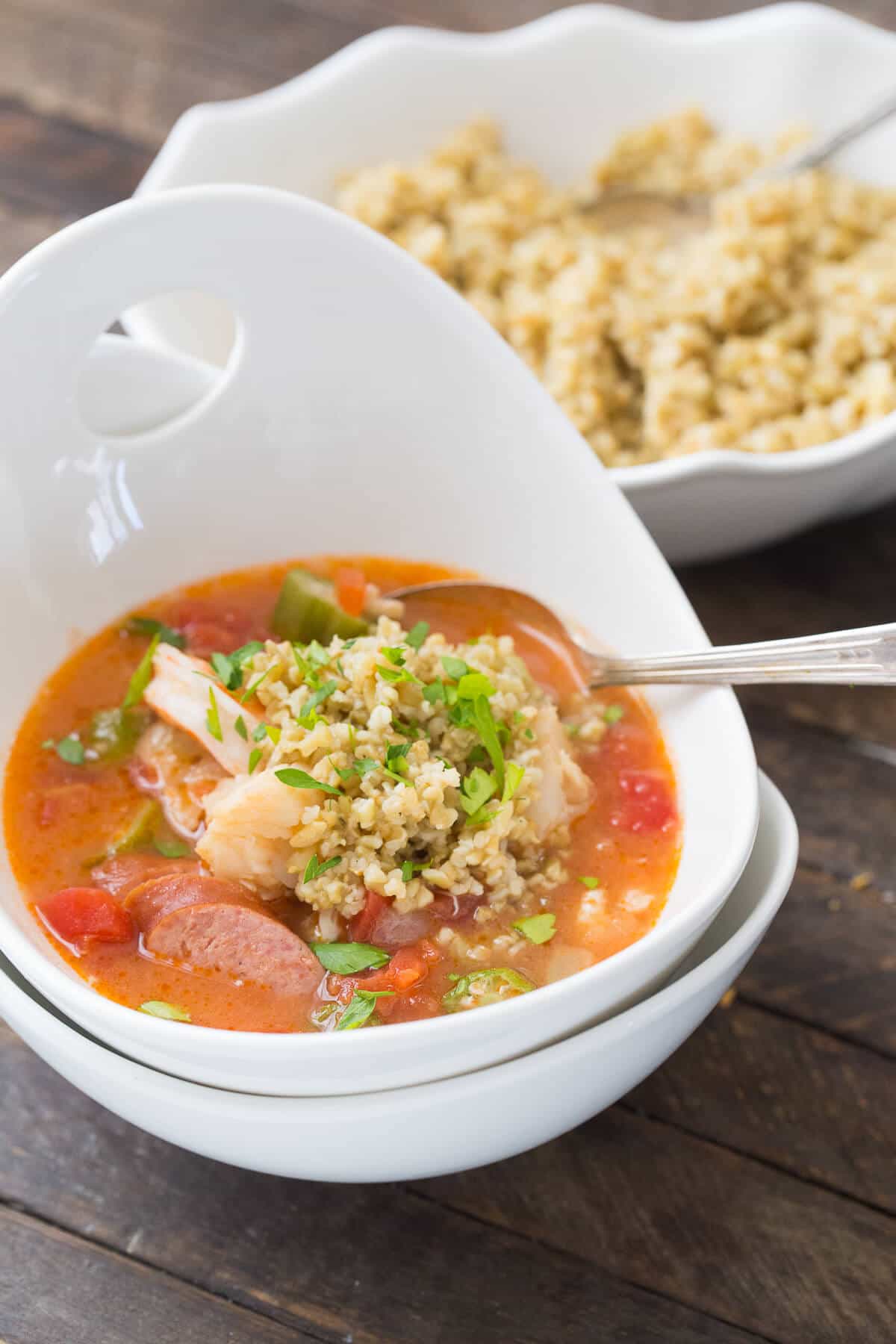 I'm proud to partner with Pompeian Olive Oil to bring you this recipe.
If I asked my mom what we were having for dinner when I was a kid, and she responded with "mangia" I knew it was going to be a bad night.  To my mom, mangia meant whatever she could find in the fridge was simmered together in a large stew pot.  I still shudder when I hear those words.  I never liked my mom's definition of mangia.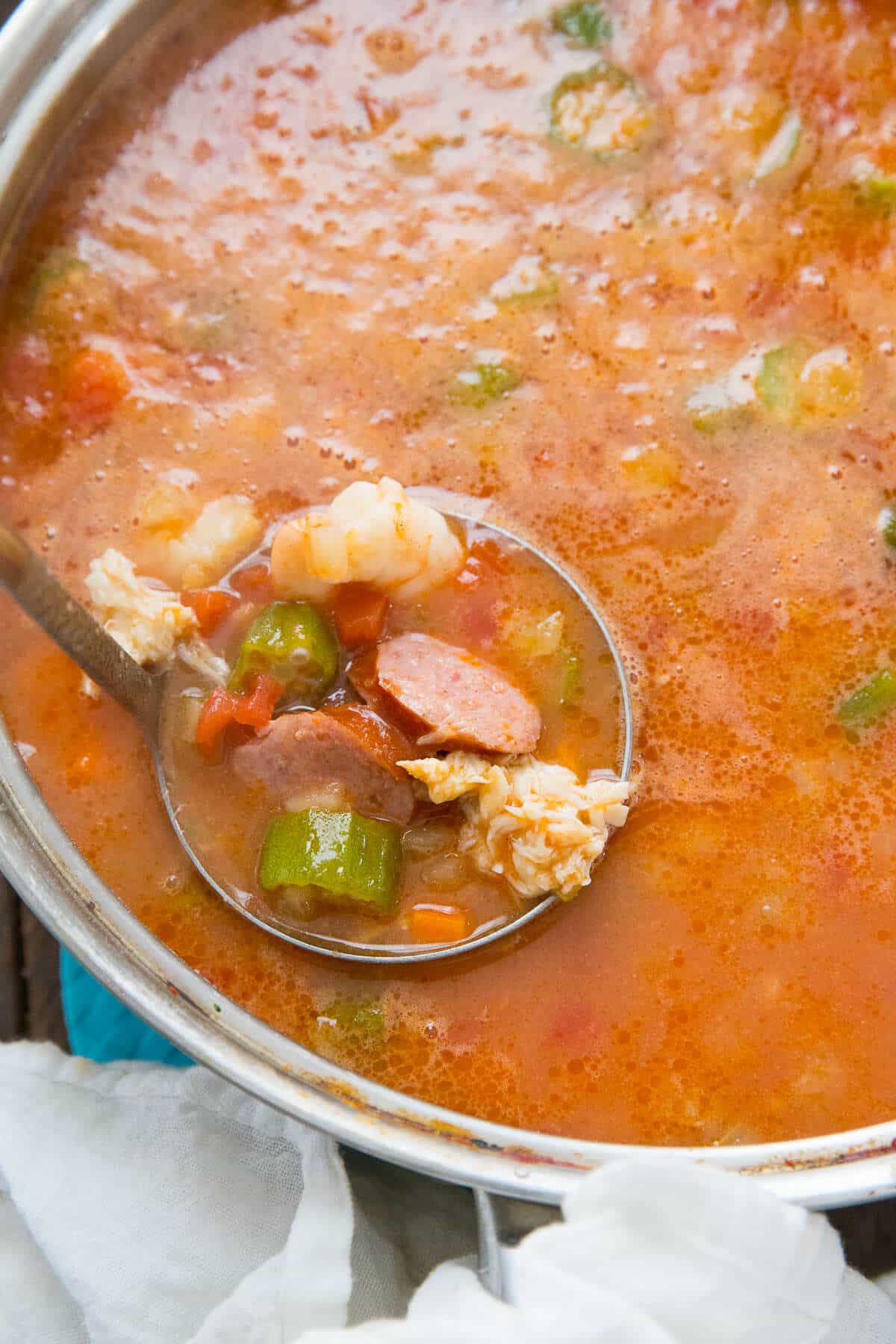 While I believe Gumbo tastes infinitely better, a Gumbo is very similar to the mangia I remembered as a kid.  Gumbo is a hodgepodge of ingredients that work harmoniously together to create a satisfying and flavorful dish. Gumbo is one of those hearty dishes that will hold almost anything.  You can throw in chicken, shrimp, a variety of sausages, crawfish, firm, white fish and a whole bunch of veggies and still call it a gumbo.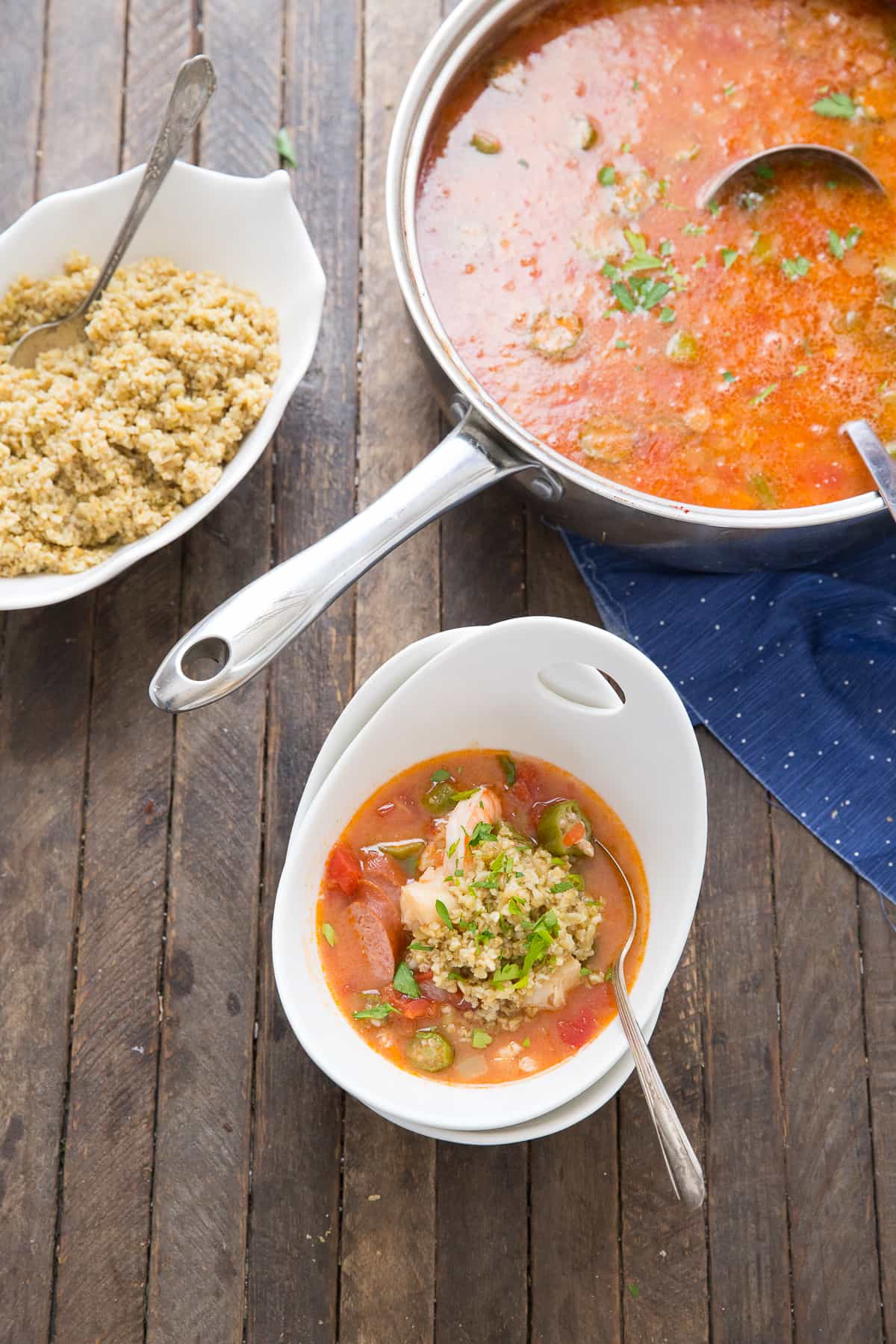 A good gumbo starts with an oil-based roux.  I used Pompeian Robust Extra Virgin Olive Oil that I whisked together with flour to create a deep, rich, ultra-flavorful base for this gumbo recipe. The robust olive oil has a full-bodied flavor that works perfectly as the first layer of this dish. It is low in acidity yet has a spicy, bitter character that works well with the mild okra and seafood in this dish.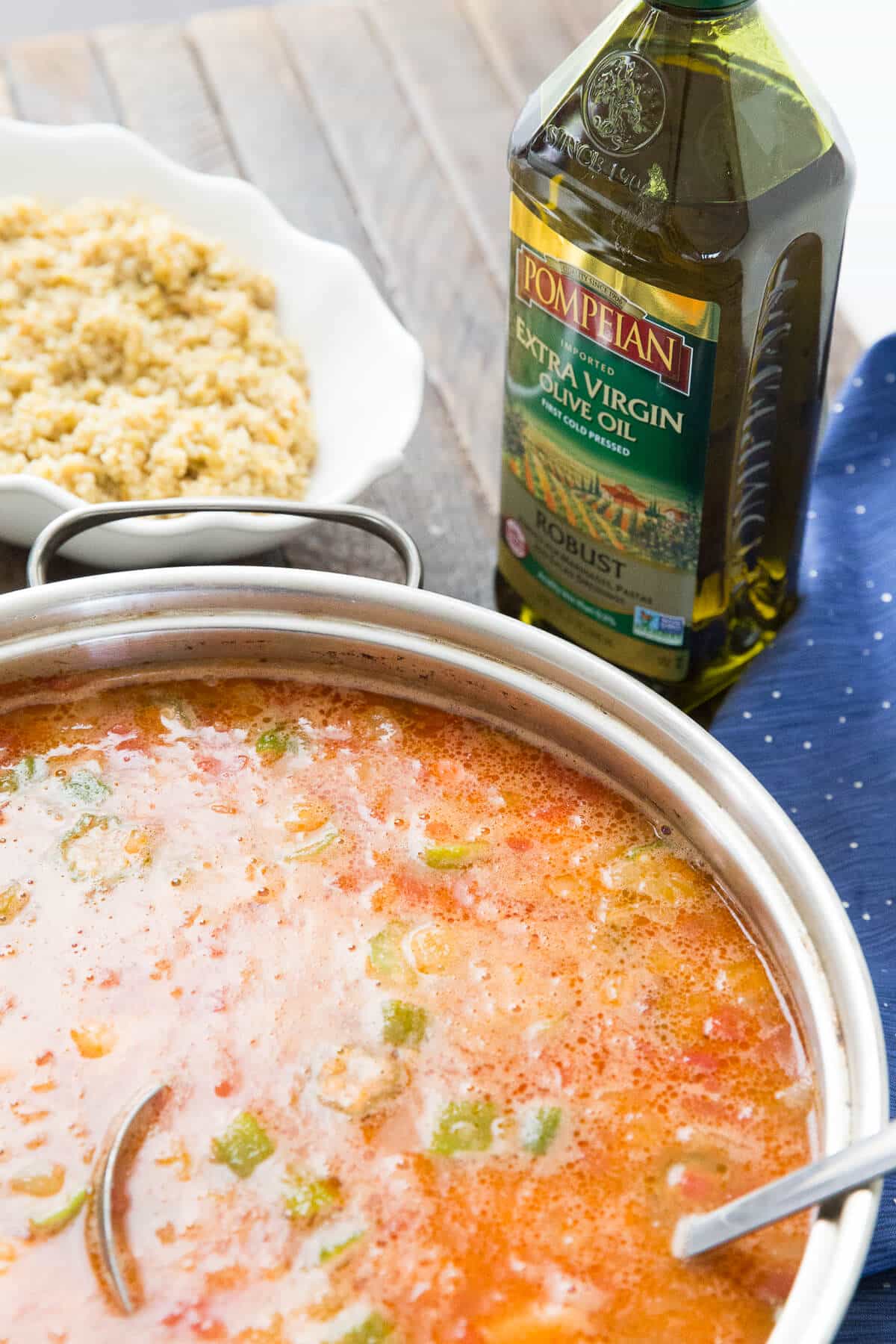 Traditionally, gumbo is served with a heaping spoonful of rice that is stirred into the gumbo upon serving.  Since this is a hearty dish and I love keeping things healthy and light I added Freekeh.  Freekeh is a sturdy, "ancient grain" that is essentially wheat which has been harvested young.  It is a nutritional powerhouse as it is low in fat but high in protein and fiber.  It holds up to the brothy gumbo and all it's abounding seafood.
This gumbo feeds a crowd, no doubt, but everyone in that crowd will walk away full and happy! Love this recipe?  Then you should try my Cajun Shrimp Mac and Cheese or Cajun Chicken and Sausage Cassoulet.
Pompeian is #TrendingInTheKitchen
Pompeian knows that for today's home cooks, mealtime is not just about filling our hungry bellies, it's about experimenting with the latest food trends to create beautiful, shareable dishes.
Thanks to Pompeian's ongoing commitment to quality and innovation, home cooks can depend on Pompeian's high quality olive oils and vinegars as a great-tasting base while exploring new flavors and ingredients.
For tips on how to trend in the kitchen, including recipes, visit Instagram.com/Pompeian. To share your latest on-trend creations using Pompeian, tag your photos with #TrendingintheKitchen.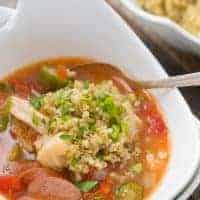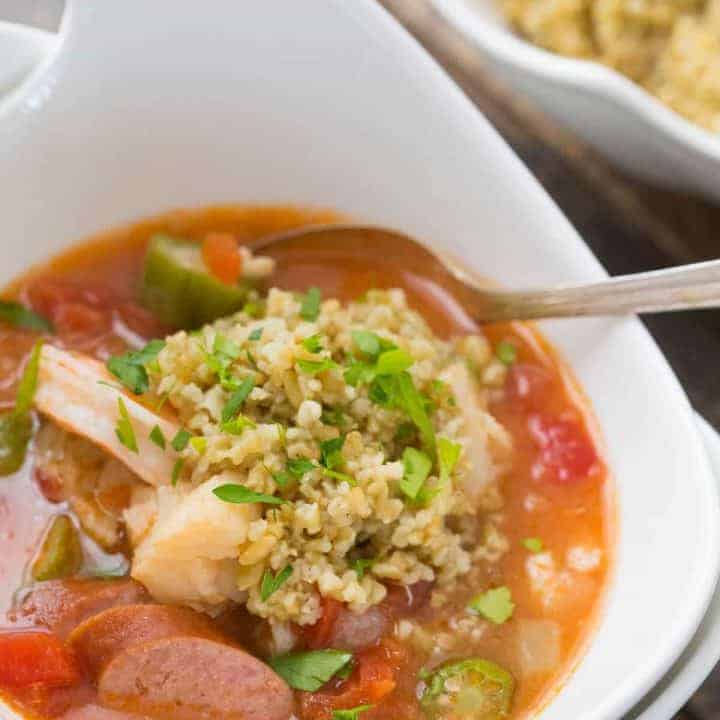 Easy Gumbo Recipe
Prep Time: 10 minutes

Cook Time: 40 minutes

This easy gumbo recipe is filled with veggies and seafood; it's a real crowd pleaser!
Instructions
Heat a stock pot or large deep skillet over medium heat.  Add oil, followed by flour and whisk continuously until mixture is thick and darkens (about the color of peanut butter).

Stir in veggie mix. Season with thyme, cayenne, salt, and pepper. Stir in garlic and tomato paste.

Add chicken broth and tomatoes to the veggie mixture; stir.  Add okra and sausage.

Bring mixture to a low boil.  Allow gumbo to cook for 30 minutes.  Add cod, crabmeat, and shrimp, cook another 5 minutes.  Seve with freekeh.

 

 
Nutrition Information

Amount Per Serving Calories 2330 Total Fat 130g Saturated Fat 32g Cholesterol 973mg Sodium 7934mg Fiber 28g Sugar 50g Protein 171g