Baked pickle chips – Skip the calories but not the flavor!  These oven baked pickle chips are a fun and light appetizer!
Game day snacks that are flavorful AND figure friendly!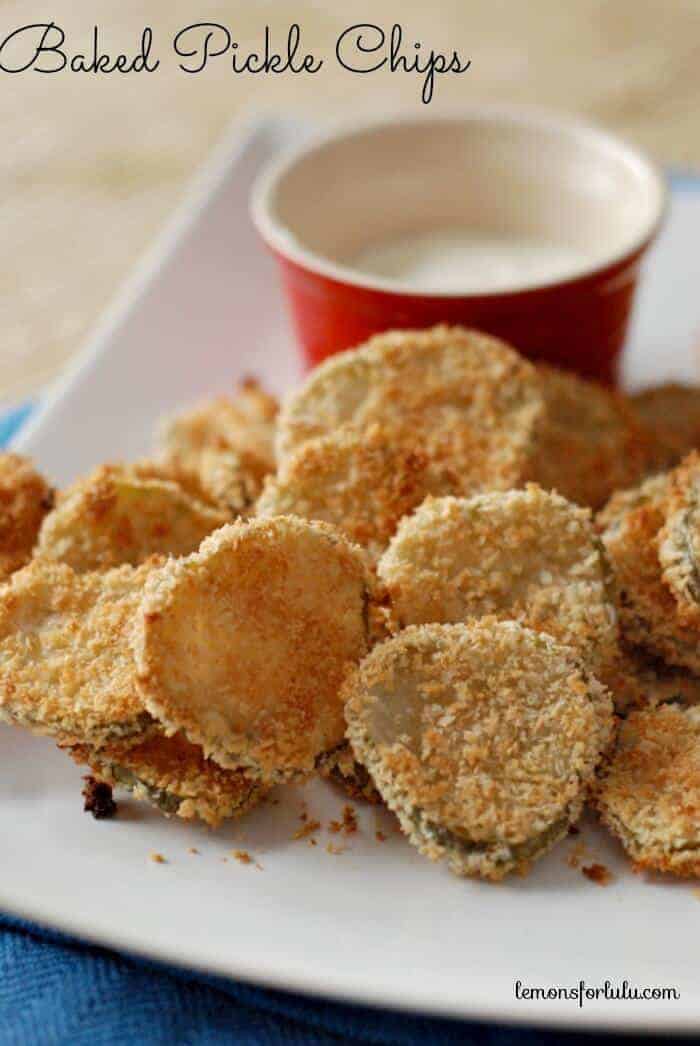 I love German Restaurants.  I won't lie, it's mainly because of the oompah bands.  Who can resist that polka beat?  It's always a party when the accordion is playing "roll out the barrel".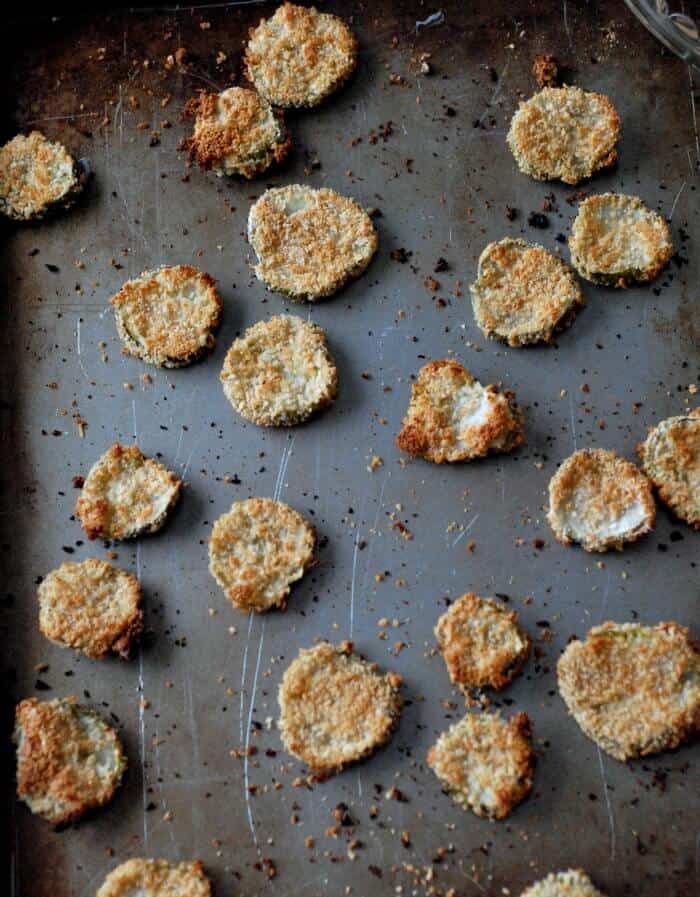 You sit family style along long, dining hall tables and everyone is your friend.  We raise our steins, stomp our feet as we belt out the chorus.  It's a rousing good time.  Good beer, good music and good food.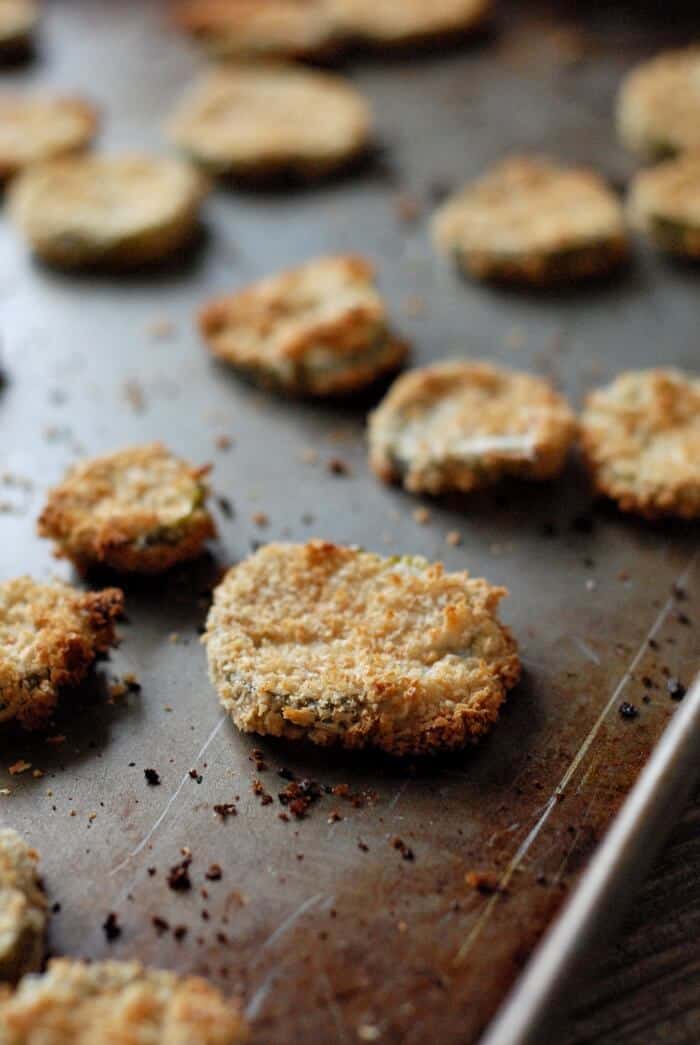 Perfect Baked Pickle Chips
While fried pickles are not necessarily cuisine, some of the best I've ever tasted come from a local German restaurant.   They were tender on the inside and deep fried to perfection on the outside.  My mouth is watering as I type!  But, I don't fry food.  So if I wanted these pickle chips I had to find a baked version.  And thankfully, I was able to do just that!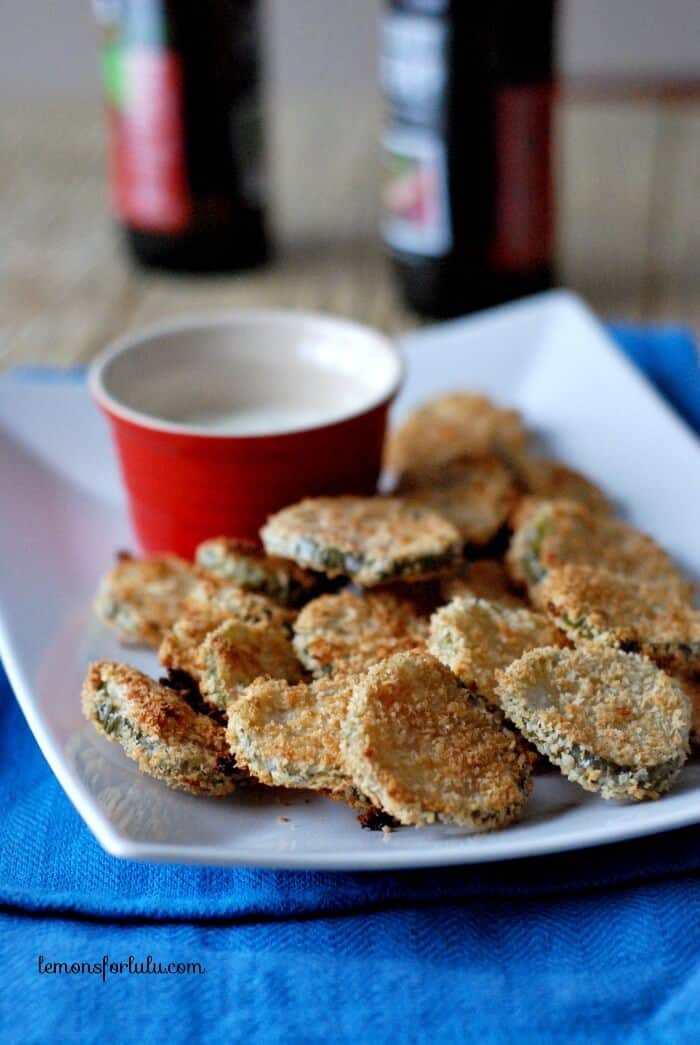 Doing it up for the Super Bowl?  Having a party?  You will want these baked pickle chips!  They are easy, extremely delicious and the best part?  They are light!  Serve up a little ranch dressing on the side and get dipping!
 I'm having my own party.  It's more of a German party.  I have the pickles and the beer.  I need some steins and maybe an accordion player.  Any ideas where I can find one of those?  Preferably one who plays "roll out the barrel".
NEED MORE PARTY IDEAS?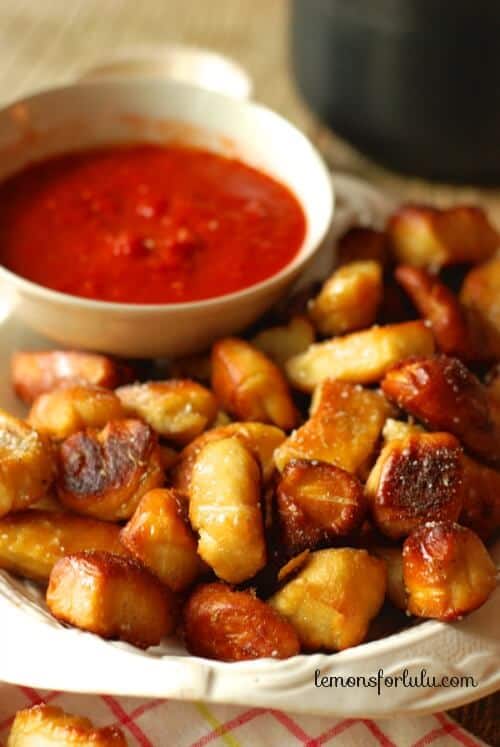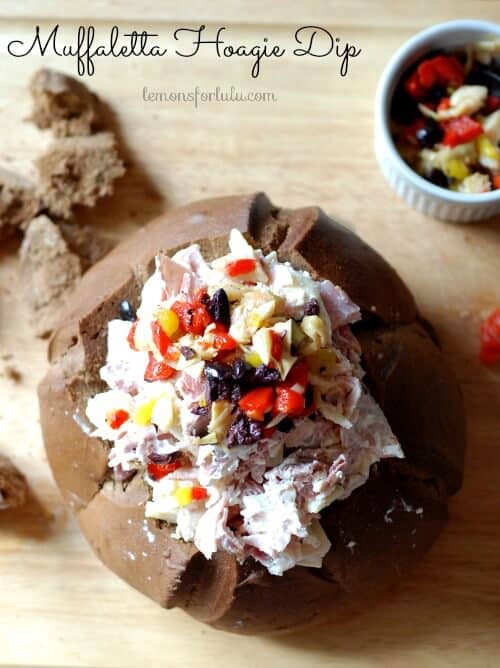 NEVER MISS A RECIPE! SUBSCRIBE TO MY EMAIL TODAY!
FOLLOW ME:
FACEBOOK | TWITTER| GOOGLE +| BLOGLOVIN | INSTAGRAM
Baked Pickle Chips #AppetizerWeek
Ingredients
1/2

cup Panko bread crumbs

2

tablespoons flour

2

egg whites, lightly beaten

32

low sodium kosher dill pickle chips.
Instructions
Preheat oven to 400. Heat a skillet over medium high heat. Add panko and cook until lightly toasted, about 2 minutes-stirring continually.
Place panko in a bowl. Place flour in a second bowl and egg whites in a third bowl. Pat pickle chips dry. Dip pickles in flour, then egg whites and lastly into the panko crumbs. Arrange pickles in a single layer on a baking sheet. Bake for 8 minutes on each side or until crisp.
Recipe Adapted from Cooking Light