I received products for this post, however all opinions are 100% my own.
Get ready for some finger-licking fun!  Shrimp, potatoes, sausage and corn boiled together with lots of spice!
Finger food at it's finest!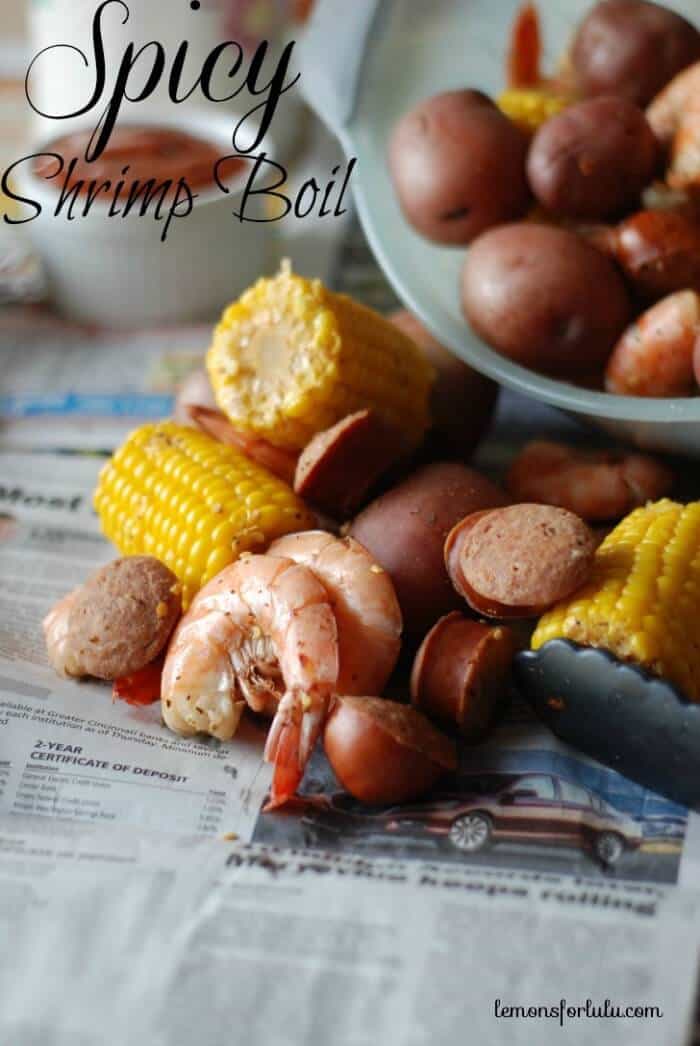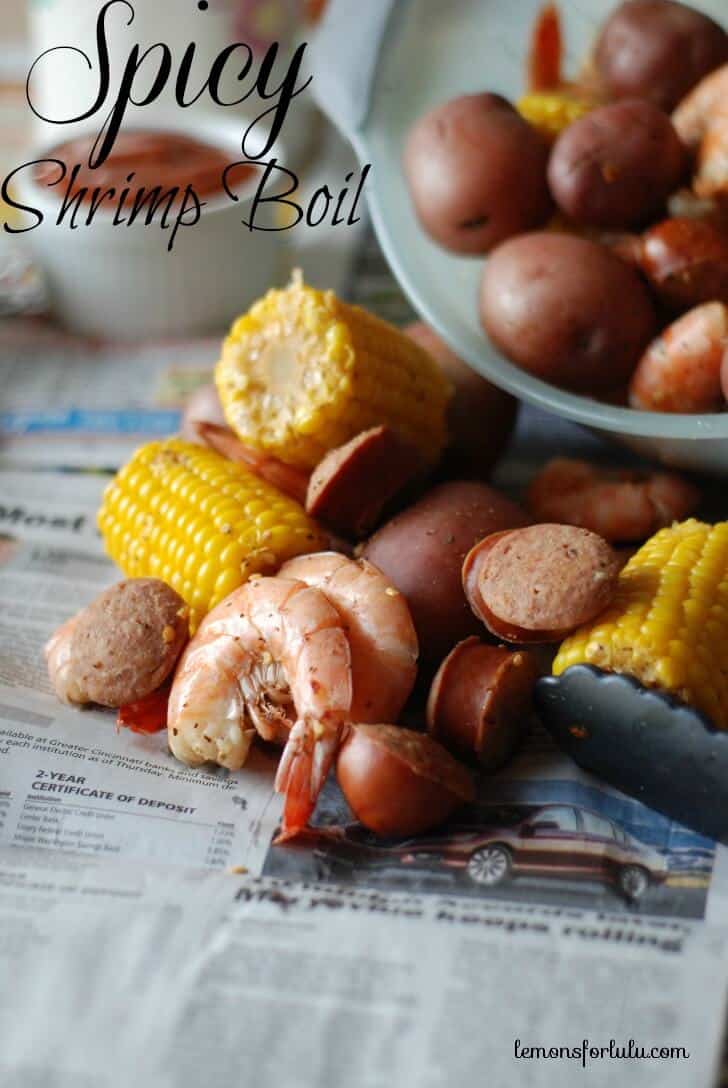 Three years ago, my good friend introduced my family to Frogmore Stew.  Being naive northerners, we had no idea exactly what "Frogmore" was but we were open to trying it.  We never looked back!  That was hands down one of the best meals we ever ate.  There was lots of fresh seafood, potatoes and corn spread out onto the table for all of us to feast upon!  Each one of us had butter dribbling down our chins and covering our fingers.  Our kids were in heaven, here was a meal they were actually encouraged to eat with their hands.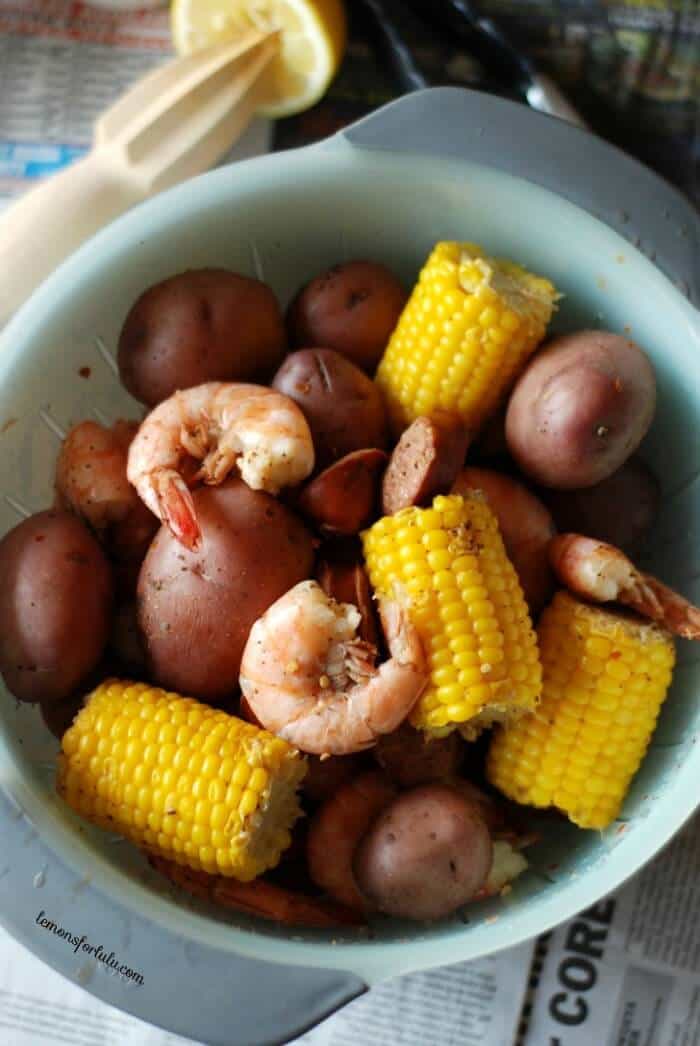 Shrimp boils have now become my go-to meal for any occasion that involves me cooking for a lot of people.  If I'm hosting a party….I make a shrimp boil.  Birthday?  A Shrimp boil.  New Year's eve?  A shrimp boil.  It makes a lot of food, looks impressive and pleases everyone!  Best of all, it requires hardly any work on my part!  So simple.  If you can boil water, you can do a shrimp boil!  I will say that you do need a few good stock pots, but that's about it.  Forks and plates are totally optional.  A big table, paper towels, and newspapers preferred!  Serve with butter and cocktail sauce on the side.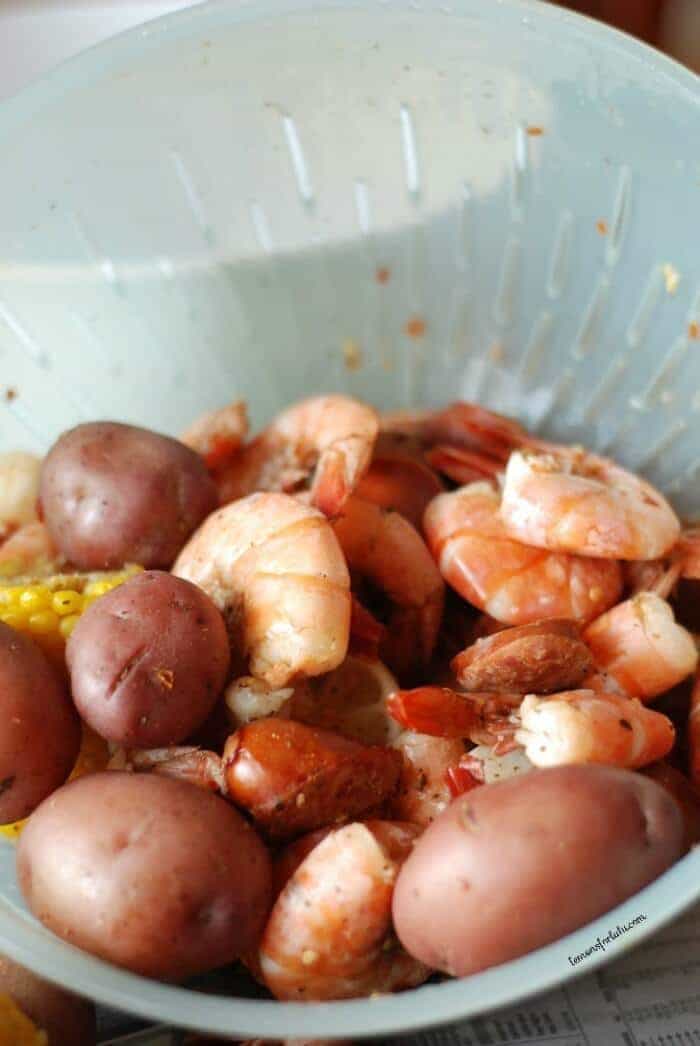 I owe my friend a big thanks for introducing us to a whole new way to eat shrimp.  If I've done my job, hopefully I've introduced you to a whole new way to eat shrimp!  And I hope you love it!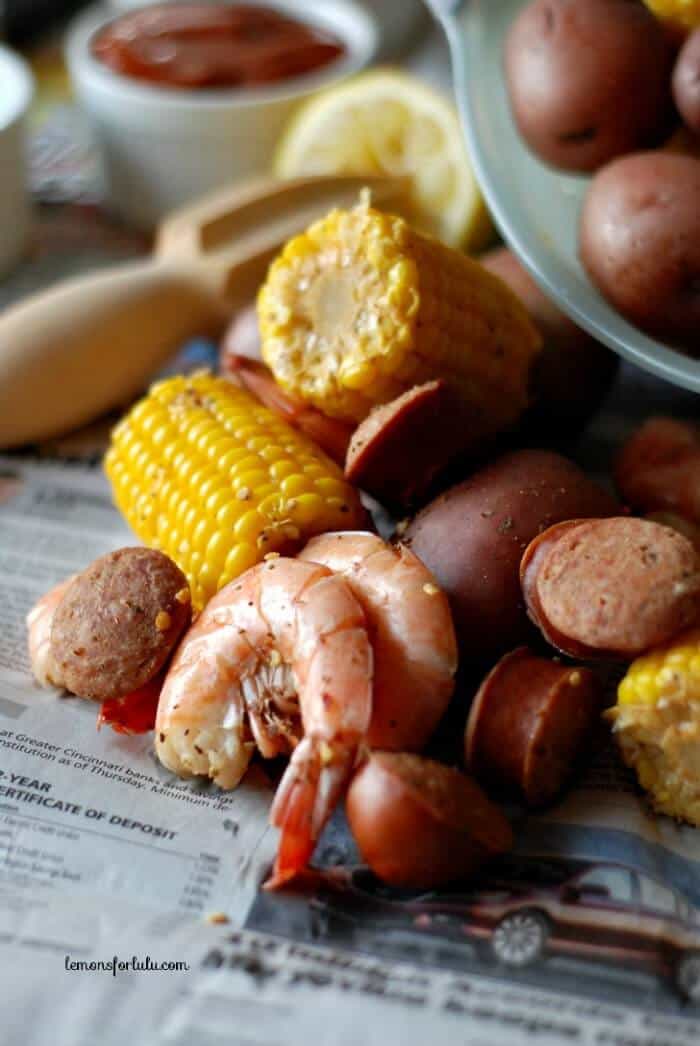 SOMETHING'S FISHY: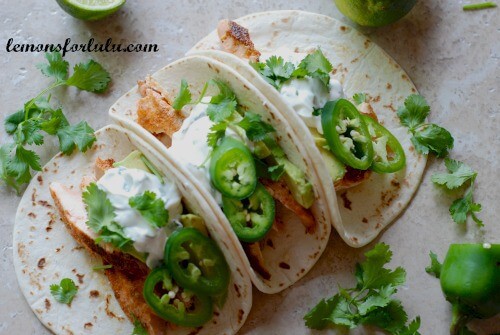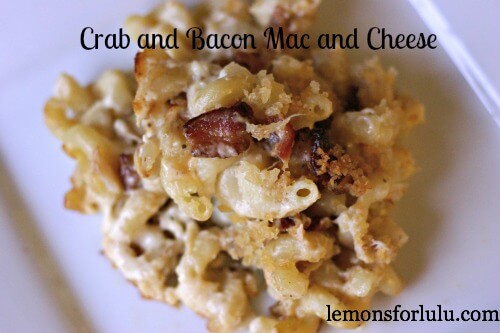 NEVER MISS A RECIPE! SUBSCRIBE TO MY EMAIL TODAY!
FOLLOW ME:
FACEBOOK | TWITTER| GOOGLE +| BLOGLOVIN | INSTAGRAM
Don't forget you can save each of these recipes to your personal recipe box , create your own meal plan, or add ingredients for each recipe to your shopping list! Just use the "Save Recipe" on all my recipes!
Spicy Shrimp Boil #ShrimpShowdown
Ingredients
¾ cup Old Bay Seasoning
3 lbs red potatoes, scrubbed and cleaned
5-6 cloves of garlic
1 lb smoked sausage, cut into chunks
12 oz andouille sausage, cut into chunks
12 min corn on the cobs (frozen and thawed)
5 lbs shell on uncooked shrimp
1 whole lemon, halved
3 tablespoon red pepper flakes
Instructions
Fill a very large stockpot with water (I used two) halfway. Bring to a boil and pour in Old Bay seasoning along with potatoes and garlic. Continue to boil for 15 minutes. Add sausages and boil for 5 minutes. Add in corn and boil another 5 minutes. Finally add shrimp, lemon, and red pepper. Boil another 5 minutes or until shrimp have turned pink. Drain and serve.
Serves 10-12
http://www.lemonsforlulu.com/spicy-shrimp-boil-shrimpshowdown/
SEE THIS ON MY PINTEREST BOARD!
Follow Tanya Schroeder @lemonsforlulu.com's board Lemons for Lulu on Pinterest.


>I may be linking this up to these parties and to The Weekend Potluck!
I am fortunate to be part of The Shrimp Showdown Sponsored by Oxo and The Shrimp Council.   I made this shrimp boil with shrimp provided from the Eastern Fish Company.
Eastern Fish Company, one of the world's largest importers and marketers of shrimp, began in 1974 primarily as a fish and crab trading company sourcing products from Alaska and Canada. By 1982, the company re-directed its focus to the burgeoning farm-raised shrimp industry and began supplying fresh, consistent, premium quality farm-raised and wild-caught shrimp.
Some shrimp facts for you to digest:
A 3-ounce serving of four large shrimp weighs in at less than 85 calories, 1 gram of fat and nearly 20 grams of protein.
Both the U.S. Department of Agriculture and the U.S. Department of Health and Human Services recommend that people consume at least two servings of seafood each week. But, while Americans consume annually more than 80 pounds of beef and 60 pounds of chicken per capita, shrimp – the nation's most-popular seafood – rings in at a mere 3.8 pounds per individual.
Oh and guess what?  Oxo and NFI Shrimp Council want YOU to enjoy some shrimp!  They have put together this fabulous package for YOU to win!  All you have to do is enter below!
What will be included in the giveaway prize ($180 value):
Shrimp Cleaner
Flexible Kitchen & Herb Snips
Silicone Steamer
Wooden Lemon Reamer
3 Piece Bowl and Colander Set 
12″ Tongs with Silicone Heads
$100 Visa Gift Card from the NFI Shrimp Council
Be sure to follow Oxo On Facebook and Pinterest.  Visit the Shrimp Council on Facebook!
Be sure to visit all my friends who are also participating in this Shrimp Showdown!
A Kitchen Addiction
A Zesty Bite
Betsy Life
Bonbon Break
Cherished Bliss
Chocolate Moosey
Coconut and Lime
Cookistry
Created by Diane
Everyday Maven
Foxes Love Lemons
Garnish with Lemon
girlichef
Growing up Gabel
Healthy Delicious
Home Cooking Memories
Jeanette's Healthy Living
Julie's Eats and Treats
Kirbie's Cravings
Lemons for Lulu
My Man's Belly
Natasha's Kitchen
Noble Pig
Peanut Butter and Peppers
Peas and Crayons
Sarah's Cucina Bella
So How's It Taste?
Taste Love and Nourish
That Skinny Chick Can Bake
Wonky Wonderful