Baked spaghetti layered lasagna style!
I've partnered with this American Dairy Association to bring you this fun, family recipe!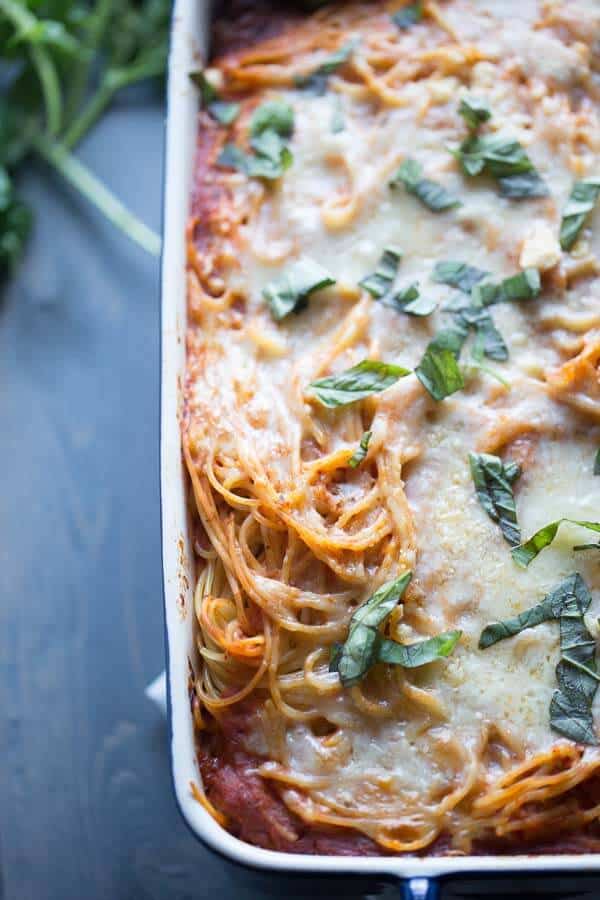 I was one of those kids that got really excited about the first day of school.  School supply shopping was like a holiday for me.  The first thing I had to buy was my Trapper Keeper.   This was where it all started.  I had to find the perfect pattern and the perfect color, that binder would set the tone for the entire school year.  My decision wasn't to be taken lightly.  Once the keeper was established, then it was all about the folders and notebooks.  I tried to match colors to subjects.  Green for science, blue for history, yellow for math (I hated both color and subject), red for reading and so on.  I'd tuck my matching notebooks inside the folder for safe keeping.  All that was left was to purchase was a few sharp pencils, black ball point pens and loose leaf paper. I gathered brown paper bags and set them aside, anticipating all the books I'd soon be covering.  I LOVED the first days of school.   I was nerdy like that.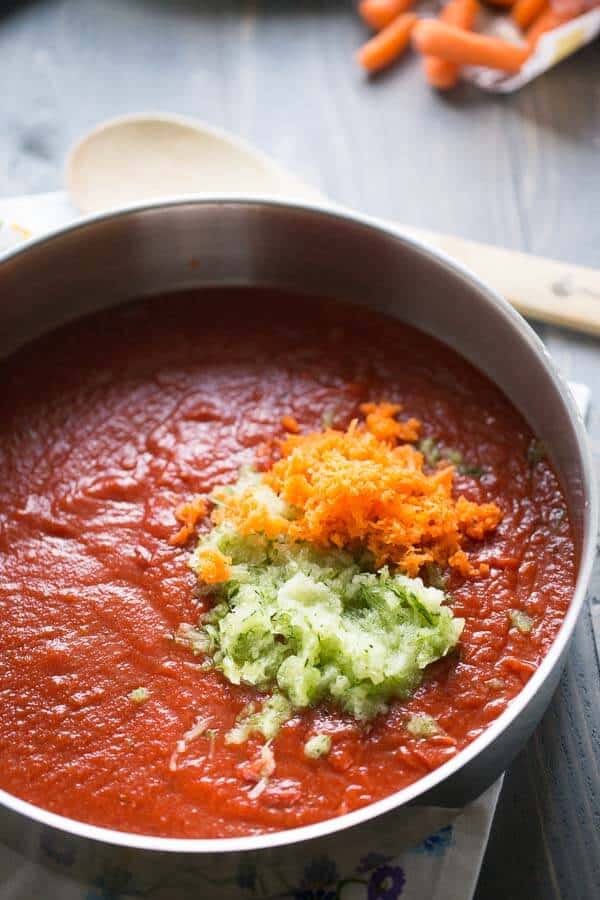 Today I focus less on school supplies and more on the fact that once school starts our lives get crazy quickly.  Schedules fill up and we find ourselves juggling homework with afterschool activities.  In addition to schedule coordinator and chauffeur, my job is to make sure we all eat healthy dinners together as a family as often as possible.  This baked spaghetti lasagna is one of those meals that is perfect for families with busy schedules.  It is easy to prepare and full of ingredients you mostly have on hand,  plus kids love it!   This casserole makes great leftovers too!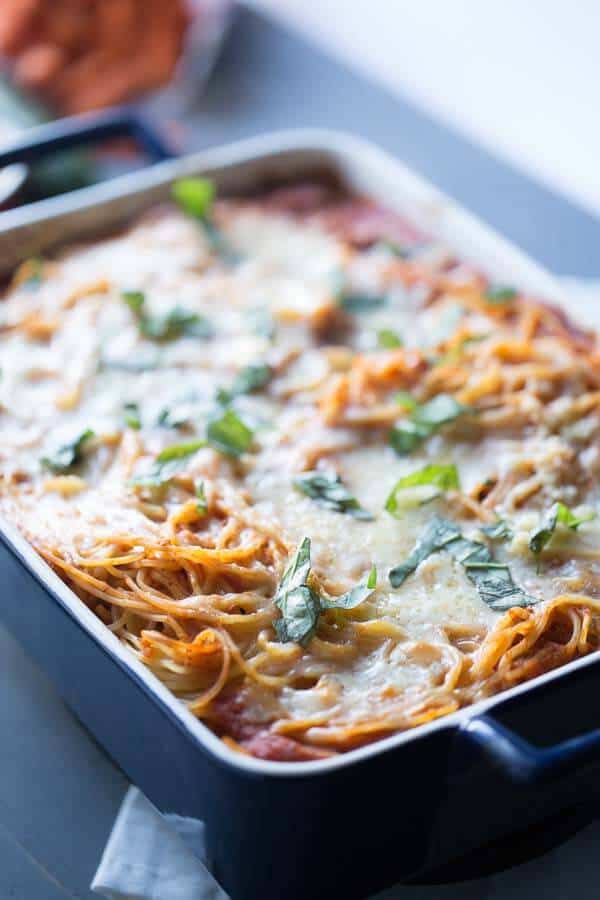 I love sneaking in veggies in my pasta dishes.  Last year I shared these mac and cheese cups that I mixed with one of my favorite veggies.  This time I added both zucchini and carrots to spaghetti sauce!  Use  your favorite jarred spaghetti sauce (or homemade if your prefer).  Stir in finely shredded (finely shredded is key) zucchini and carrots and you've successfully snuck in all sorts of nutrients.  I layered spaghetti with a combination of eggs, Greek yogurt (yay for more protein!), cheeses and Italian sausage.   This spaghetti lasagna tastes rich, cheesy and delicious!   It's filled with veggies and protein and I guarantee everyone will have seconds!
Print this recipe up, and keep it your Trapper Keeper for safe keeping.  That's where I'll be keeping mine.

Lemons for Lulu
Yields 8
Baked Spaghetti Lasagna
Baked spaghetti with layers of sauce, pasta, and cheese!
Ingredients
1 24 oz jar marinara sauce
1 cup finely shredded zucchini
1/2 cup finely shredded carrots
1 lb ground Italian sausage, crumbled
2 cloves garlic, minced
2 eggs
2 1/2 cups shredded mozzarella, divided
1 cup grated Parmesan cheese, divided
1 cup plain low-fat Greek yogurt
2 teaspoons dried oregano
1/2 teaspoon salt
1 lb spaghetti
basil for garnish
Instructions
Prepare pasta according to package information, drain and set aside.
In a large skillet, brown Italian sausage until fully cooked and no longer pink. Set aside
In a bowl, combine eggs, garlic, 1 1/2 cups mozzarella cheese, 1/2 cup Parmesan cheese, yogurt, oregano, and salt. Stir until combined.
Combine pasta sauce with finely shredded zucchini and carrot.
Preheat oven to 350 degrees. Spray a 9 x 13 in baking pan with nonstick spray. Spoon 1/3 cup of pasta sauce over the bottom of the baking pan. Top sauce with 1/3 of the spaghetti, followed by half of the cheese mixture, half of the meat mixture and another 1/3 of the sauce. Repeat layers ending with the remaining pasta sauce. Top lasagna with 1 cup of mozzarella and 1/2 cup Parmesan cheese.
Cover lasagna wit foil and bake for 30 minutes. Remove foil and bake an additional 20 minutes
http://www.lemonsforlulu.com/baked-spaghetti-lasagna/
I'm proud to have partnered with the
American Dairy Association
to talk to you today about
Dairy Fuel for Back to School
.  The ADA Mideast is passionate about education both in and out of the classroom. One example of this is
Fuel Up to Play 60
where children are taught that good nutrition and physical activity are vital for academic success. It has been proven that children who eat breakfast have better attention and memory. Just with 20 minutes of physical activity a day, children's brain activity improves significantly!  You can read more about my experience with Fuel Up to Play 60 
here.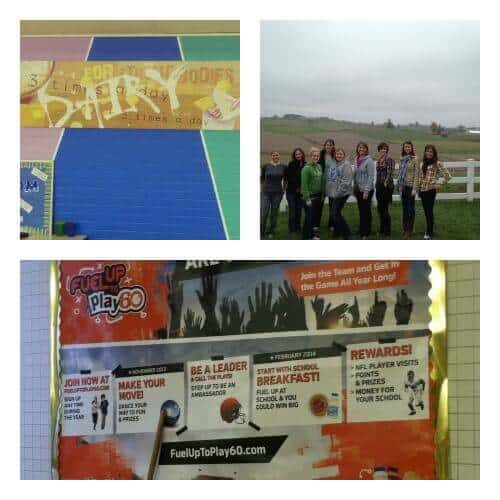 Want to help? The American Dairy Association Mideast will donate $1 to the Great American Milk Drive for every "like," comment or share each of the bloggers' 10 recipes receive on its Facebook page between Aug. 10 and 26, which will be used to give gallons of milk to children and families across the country.
My friends participating in Dairy Fuel for Back to School:
In Katrina's Kitchen, Chocolate Almond Butter Smoothie Bowls
Climbing Grier Mountain, Greek Yogurt Chicken Alfredo Grilled Cheese 
Shugary Sweets, Brown Sugar Latte
Inside BruCrew Life, Turkey Club Pinwheels
Food Faith Fitness, Banana Pancakes Taco Style
Love Grows Wild, Florentine Meatballs
Lemons of Lulu, Baked Spaghetti Lasagna
Eat2Gather, Cheesy Sweet Potato and Kale Strata
Well-Plated, Breakfast Quesadilla
Country Cleaver, Chicken Florentine Flatbread
Connect with ADA Mideast: