This pistachio pudding cake is the moistest cake you've ever tasted!
It is soft and sweet and with an icing to match!
Last week, my 8-year old asked me if Leprechauns were real. I know the status of the Easter Bunny, Santa Claus, and the Tooth Fair since I am all of them, but I don't know anything about Leprechauns. I've always assumed with they were fictitious, but I can't say with any certainty that Leprechauns do not exist. Regardless, I couldn't have her questioning Santa Claus, so for now, Leprechauns are totally real.
That discussion got me thinking that it was about time to do some fun St. Patrick's day baking. Generally, I don't get too into St. Patty's Day. Not that I don't enjoy kicking back a few green beers, but that is the extent of my revelry. Except when it comes to the food. Certain green treats and Irish flavors have to be enjoyed! Hummus Topped Irish Nachos and a Skillet Maple Irish Soda Bread were favorites from last year. But this time around I was ready for some fun, green food, like this super easy pistachio pudding cake.
This is a Texas sheet cake style cake, meaning it isn't very thick and it is baked on a large cookie sheet. This simple cake starts with a boxed white cake mix and obtains it's pastel green hue from a box of pistachio pudding mix. The pudding is responsible for the color as well as the exceptionally tender and soft cake. This cake practically melts right into your mouth. This cake is made dreamier by the creamy frosting that is spread on top. The frosting isn't any more complicated than the cake. It is made from butter, powdered sugar, and enough milk to create a spreadable consistency. Sprinkle pistachios on top to finish it off!
This pistachio pudding cake is the perfect way to celebrate St. Patrick's day or any day you find yourself craving cake!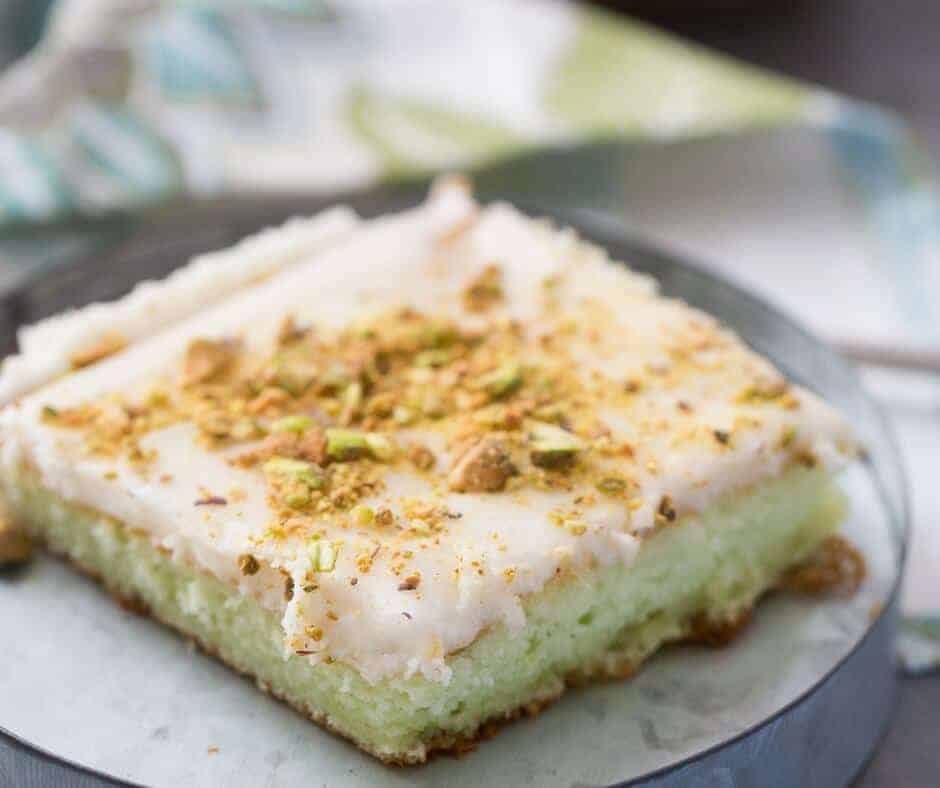 Yield: 24
Pistachio Pudding Cake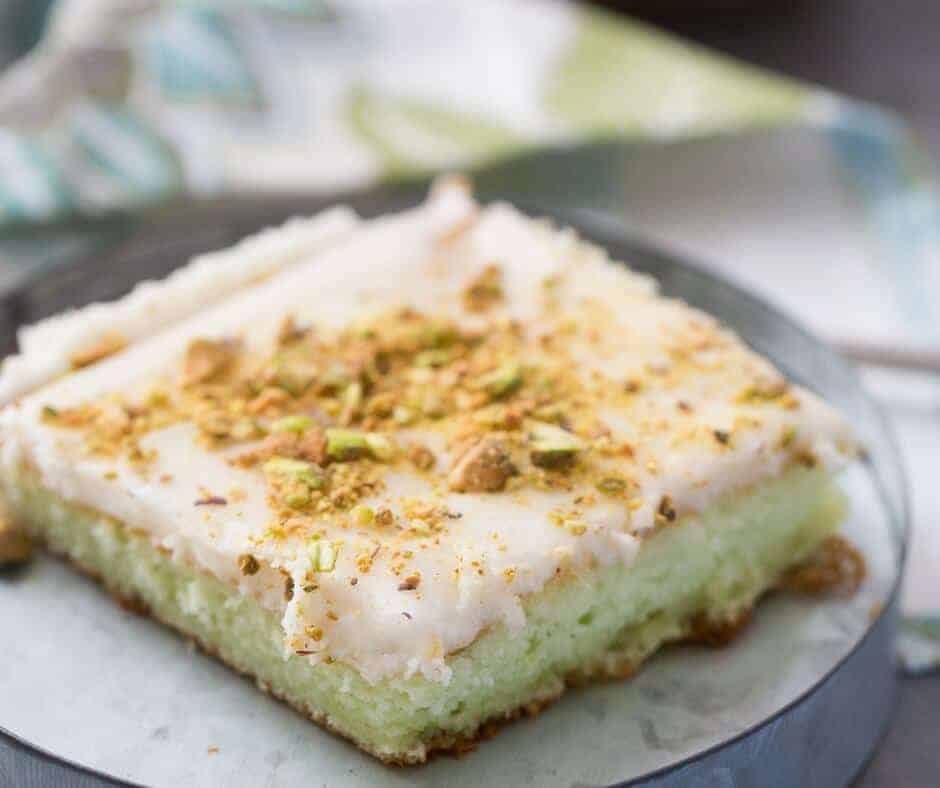 This pistachio pudding cake is the moistest cake you've ever tasted!
It is soft and sweet and with icing to match!
Ingredients
1 box white cake mix
1 3.5 oz box instant pistachio pudding
4 eggs
1 cup sour cream
1/2 cup vegetable oil
1/2 cup water
1/2 cup of butter
1/4 cup of milk
4 cups of powdered sugar
1/2 cup chopped pistahios (unsalted)
Instructions
Preheat oven to 375 degrees.
In a mixing bowl, beat together the cake mix, pudding mix, and eggs. Slowly add in sour cream, oil, and water. Pour batter into a 10 x 15-inch pan that has been coated with non-stick spray.
Bake cake for 20-22 minutes or until cake springs back when touched. Remove the cake and allow it to cool just until slightly warm.
While cake is cooling, heat butter and milk together in a small saucepan over medium heat. Slowly stir in powdered sugar, one cup at a time until mixture is thick and creamy adding more milk if the mixture is not a spreadable consistency.
When the cake is mostly cool, spread frosting over the cake. Top cake with chopped pistachios.
Nutrition Information
Yield
24
Serving Size
1
Amount Per Serving
Calories

195
Total Fat

12g
Saturated Fat

4g
Trans Fat

0g
Unsaturated Fat

7g
Cholesterol

47mg
Sodium

65mg
Carbohydrates

22g
Fiber

0g
Sugar

20g
Protein

2g
More Pistachio Recipes: