These pudding cookies are the perfect texture; soft in the middle and firm around the edges! The white chocolate makes me sweet and delicious!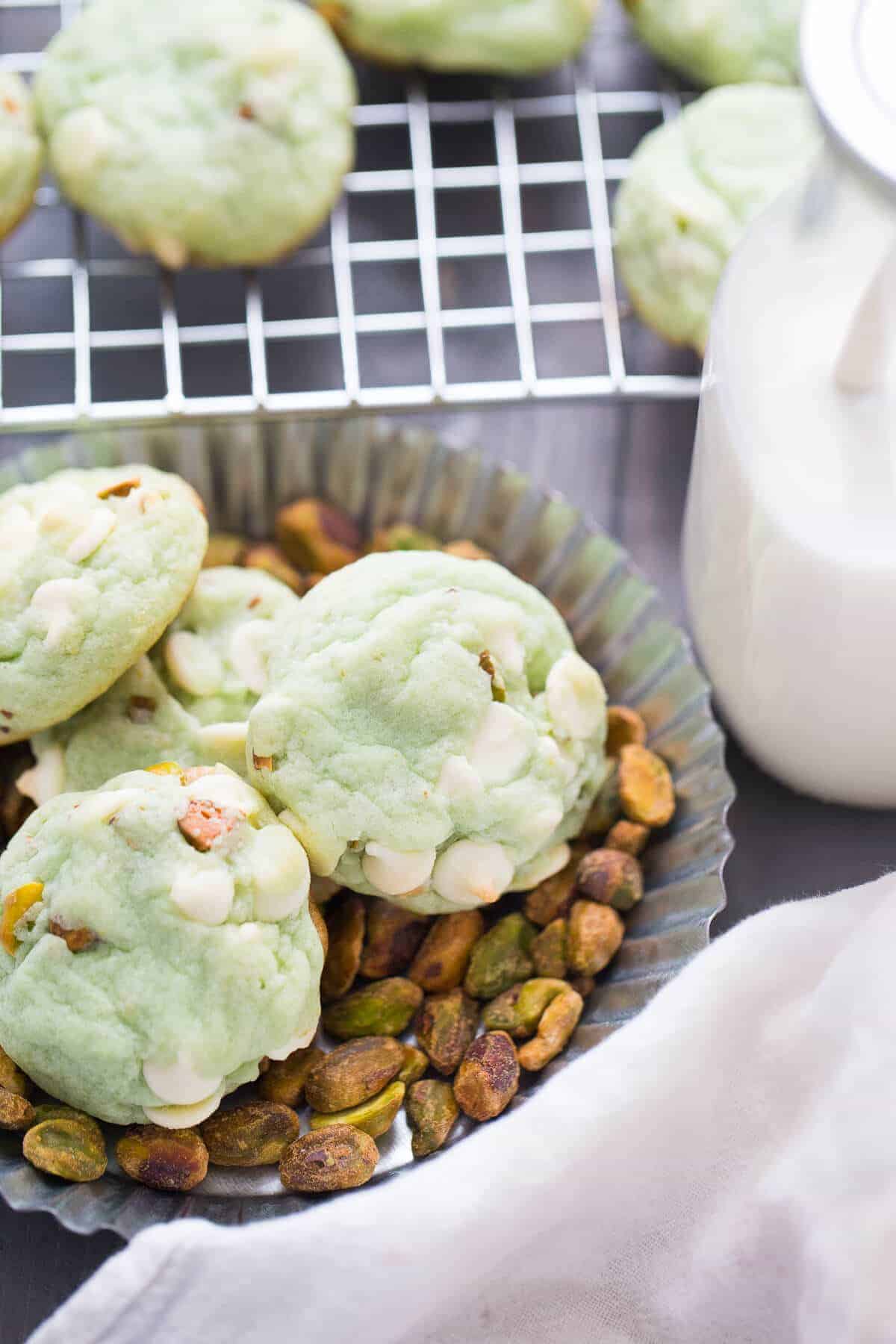 I did it! I finally made pudding cookies!!! Pistachio pudding cookies to be precise! Pistachios are one of my absolute favorite nuts! I've wanted to make a pistachio cookie for a long time. It was only after I bought the ingredients for these cookies that I realized how appropriate they would be for St. Patrick's Day! I have to admit, St. Patty's Day isn't a holiday I get into, but perhaps this year, I'll forget that both my parents are Greek and I'll consider myself Irish! Maybe I'll even bake up Irish Cream Chocolate Brownies!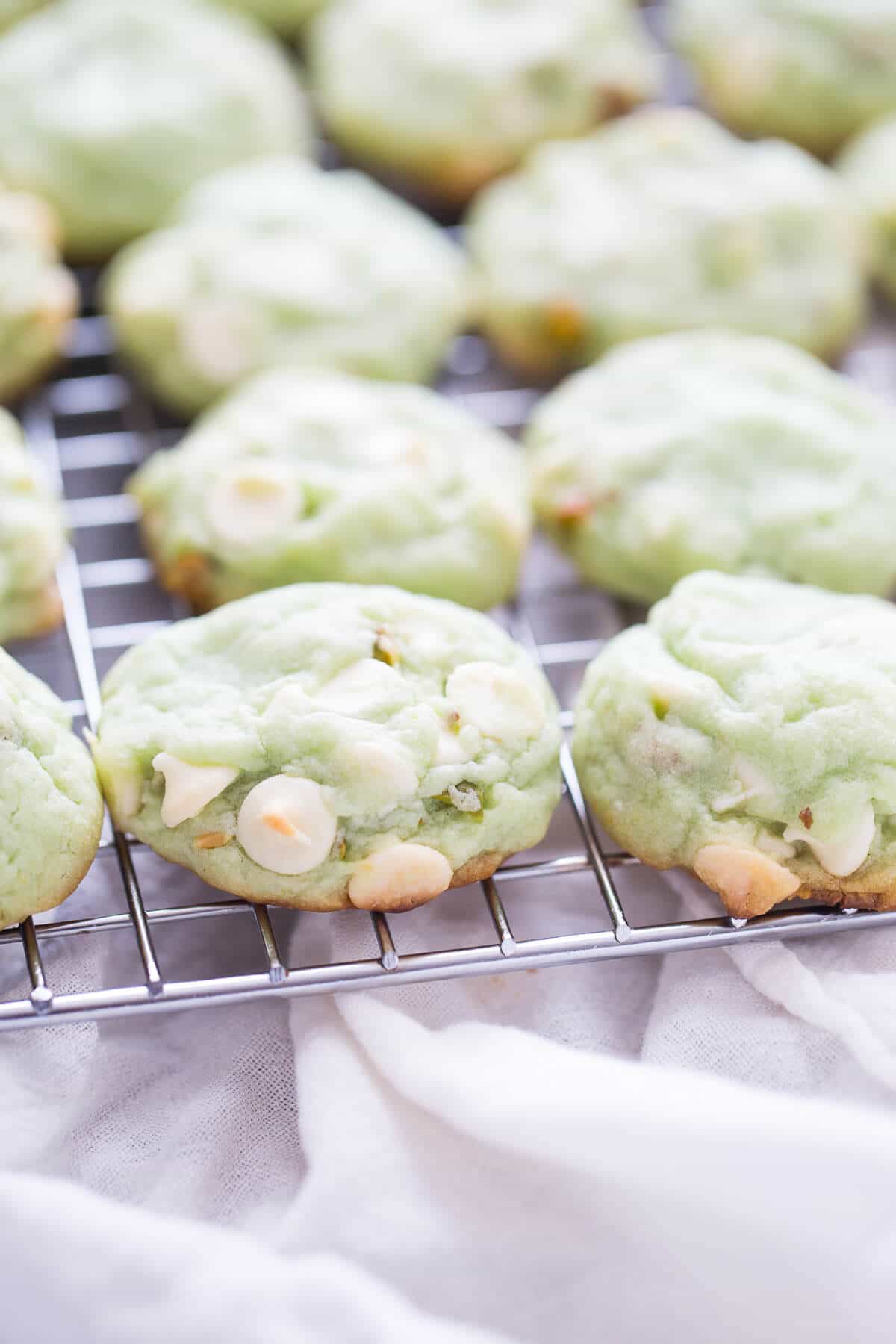 As I was mixing up the batter for these very green pistachio pudding cookies, I was thinking how there was once a time when I wholeheartedly believed that pots of gold really could be found at the end of a rainbow. And where there's a pot of gold, there's a little man dressed in green guarding it! My mind would sort of touch upon the plausibility of it all, but I wanted to believe. After all, I believed that a rotund man slithered down chimneys all over the world in one single night delivering presents. I believed that a giant bunny planted colored eggs in my yard and left me chocolate. And I totally believed that little fairies loved my teeth! Why wouldn't I believe in little leprechauns and giant cauldrons of gold????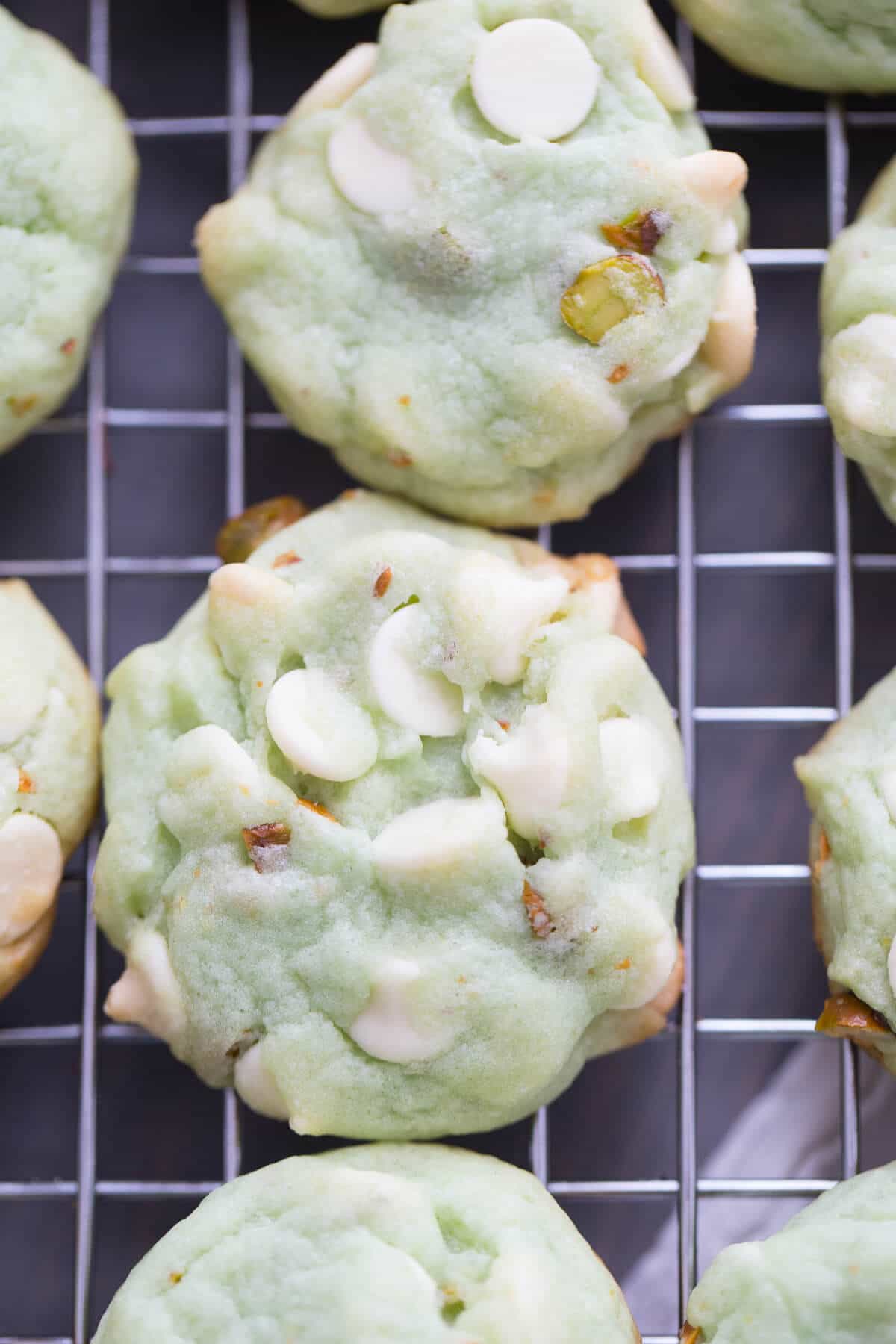 I grew older, wiser, and a bit jaded. I don't believe in pots o' gold anymore (unless I can count the lottery, which is equally unobtainable). I sort of wish I could go back to those days of blind faith. Back to where I didn't have to think about the logic or reasoning behind it all. I just believed.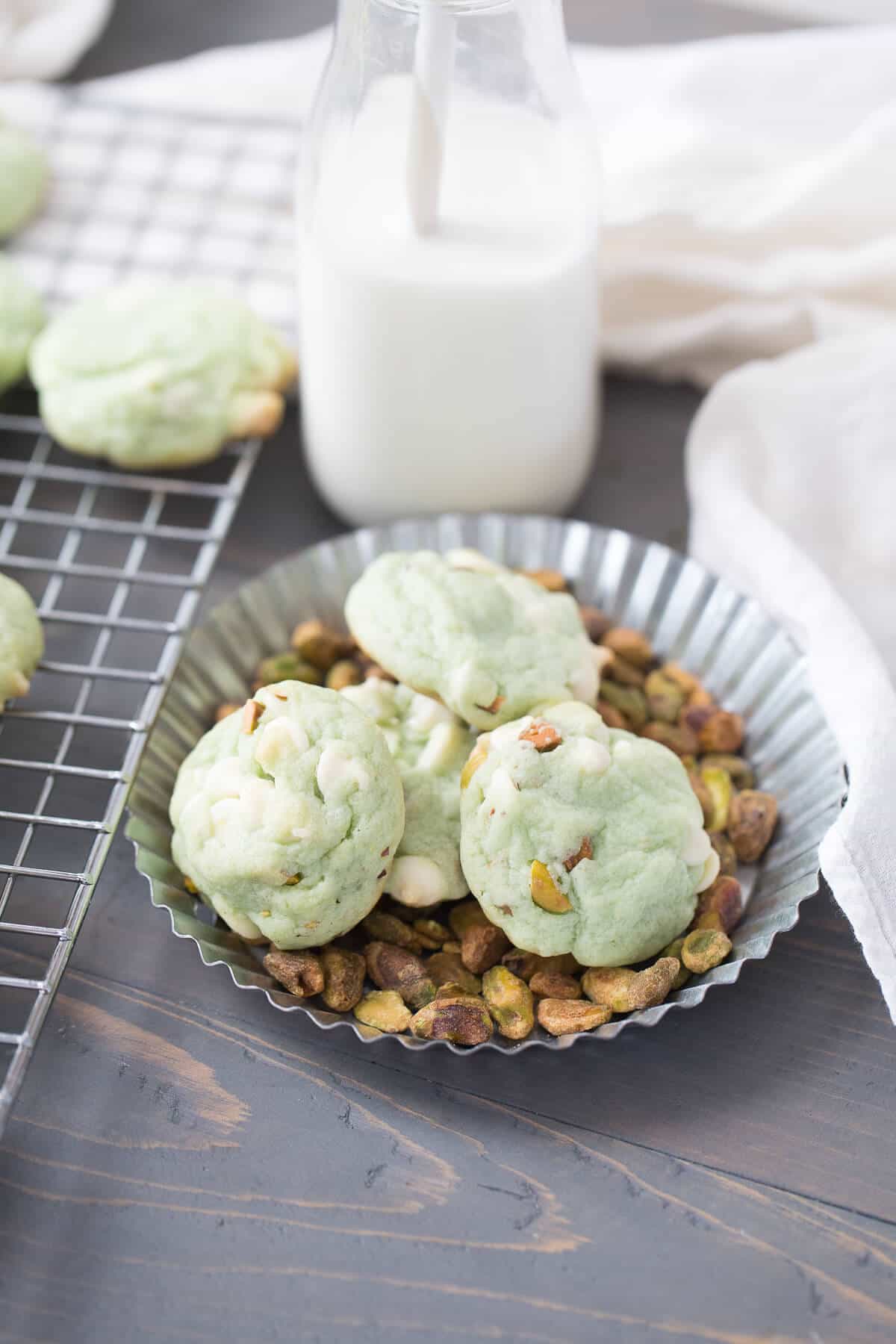 I'll tell you what I do believe. I DO believe that pudding makes the best darn cookies EVER! These pudding cookies are soft and moist. The pudding not only helps out the texture but the flavor too! While I added chopped pistachios to the cookie batter, most of the pistachio flavor comes from the pudding. I love how the pudding turned these little cookies into a lovely, soft shade of green! Just like a pistachio! I drizzled white chocolate over the whole batch because 1. I love white chocolate and 2. I thought the white would be a nice contrast to the green. Tasty and pretty! You know what? Turns our pistachio pudding makes one heck of a Pistachio Pudding Cake too!
There was a time I refused to give jello or pudding a second thought. Those days are over!!!! I'm a convert!
More Pudding Cookies
Soft and Chewy M & M Pudding Cookies
Reese's Peanut Butter Pudding Cookies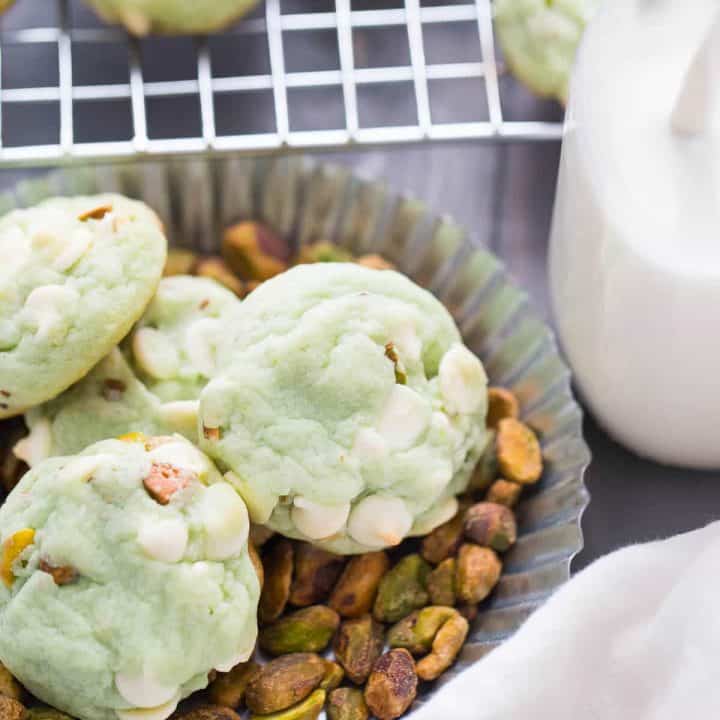 Pistachio Pudding Cookies
I DO believe that pudding makes the best darn cookies EVER! These pudding cookies are soft and moist.
Ingredients
1/2 cup butter softened
1/2 cup sugar
1/4 cup vegetable oil
1/4 cup water
1 egg
2 packages pistachio flavored pudding mix (3.4 oz)
1 teaspoon vanilla
1/2 teaspoon salt
1 teaspoon baking powder
2 cups flour
1/2 cup chopped pistachios
1 10 oz bag white chocolate chips
Instructions
Preheat oven to 350. Line baking sheets and set aside.
In a large bowl cream butter and sugar together. Mix in oil, water, egg, pudding, vanilla, salt and baking powder, stirring until smooth. Add in flour and chopped nuts. Mix in chocolate chips by hand until they are incorporated.
Using a cookie scoop or a spoon, scoop dough and roll into 1 inch sized balls and place on a lined cookie sheet.
Bake for 10-12 minutes, or until edges begin to brown. Remove from oven and allow cookies to rest on the cookie sheet for 1-2 minutes or until set. Move cookies to a cooling rack.
Nutrition Information
Yield

30
Serving Size

1 cookie
Amount Per Serving
Calories

162
Total Fat

9g
Saturated Fat

4g
Trans Fat

0g
Unsaturated Fat

5g
Cholesterol

16mg
Sodium

107mg
Carbohydrates

18g
Fiber

0g
Sugar

10g
Protein

2g