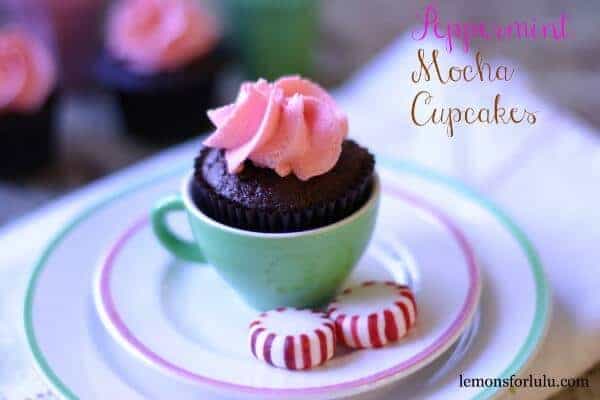 You know the story where the shoemaker has little elves make his shoes for him while he sleeps?  Well I sort of wish I had those elves.
Each year for the holidays, I set out to make gifts for my husband to deliver to his customers.  While I certainly enjoy baking, it's a bit daunting knowing that I have to make  1200 mini cupcakes.  See, this is where my 24 pounds of butter comes in handy!!
Last weekend, I finished 400.  Only a mere 800 to go!   I'm not a neat baker, there was powdered sugar EVERYWHERE!!  I smelled like a cupcake and I had buttercream caked in my hair.  But it was worth it.  Happy customers make a happy husband!
This little cupcake is what will be delivered this year.  I love these coffee infused devils food cupcakes.  Very moist and flavorful!  The mocha flavor is not overwhelming and is a great compliment for the very minty frosting.  I used quite a bit of peppermint extract in the buttercream!  These peppermint mocha cupcakes are very festive cupcakes!  I like making mini cupcakes.  I find people enjoy bite sized treats they can nibble on as opposed to a full size cupcake.  Less commitment, less guilt!  Peppermint mocha cupcakes would make an excellent addition to your holiday cookie tray!
You might enjoy these too:
Spumoni Cupcakes                                         Lemons for Lulu
Cherry Coke Cupcakes                                   Lemons for Lulu
Mocha Mocha Cupcake                                 Java Cupcake
Peppermint Mocha Cupcakes
36
adjust servings
A rich chocolate cupcake infused with coffee and topped with a peppermint buttercream.
Ingredients
1 18.25lb

box Devils food cake

1 5.9

oz box instant chocolate pudding

1

cup sour cream

1

cup oil

4

eggs slightly beaten

1

t vanilla

1/2

cup brewed coffee

1

t instant espresso granules

For the buttercream

1

cup unsalted butter, softened

1

cup shortening

8

cups powdered sugar

1/2

t salt

1

t vanilla

3

t mint extract

1/2

cup water (or milk)

red gel food coloring
Instructions
For the cupcakes, preheat oven to 350. LIne mini muffin tins with paper liners, set aside. In a large bowl, combine cake mix, pudding mix, oil, eggs, water, vanilla. Mix until blended. Slowly pour in coffee and instant coffee. Using a small cookie scoop, fill each cup about 3/4 full. Bake in oven for 15 minutes. Let stand one minute before removing to a cooling rack.
For buttercream:
Cream butter and shortening until creamy. Slowly add in powdered sugar one cup at a time until blended. Add salt and extracts. Add water in intervals. I add water as frosting gets stiff. Continue to mix until frosting is piping consistency. Add gel food coloring until you get the desired shade of red.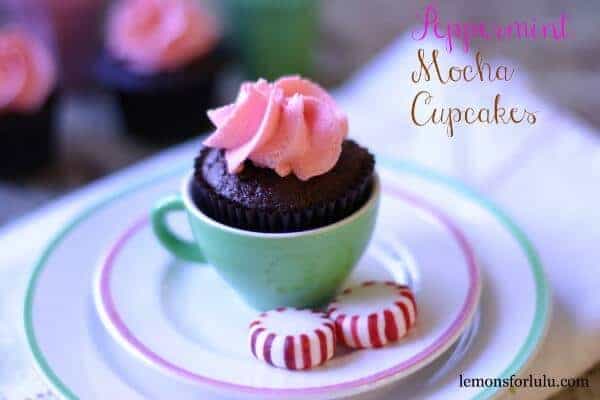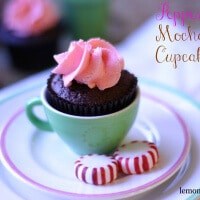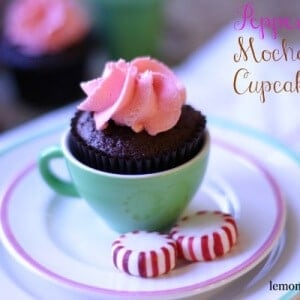 I'll be linking this up to
these
fabulous parties as well as to:
Jam Hands
The DIY Dreamer and