Fudgy chocolate peppermint cookies are filled with a peppermint cream, chocolate, and peppermint kisses. These chocolate peppermint cookies are a great addition to any cookie tray!
I actually made these chocolate peppermint cookies in September. I felt like Hobby Lobby, I was doing Christmas a little too early. The rest of the world was enjoying every last bit of summer by eating ice cream cones, making s'mores and grilling burgers and brats while I was ordering peppermint Hershey Kisses from Amazon. It wasn't normal.
Too Early for Chocolate Peppermint Cookies?
In spite of the seemingly inappropriate timing of these cookies, I will tell you that they disappeared very quickly. I brought them to a gathering of friends, thinking I'd be taking most of the back home (at least I was hoping to anyway). Instead, I left with an empty container. I was disappointed.
Amazon
I learned a couple of things from this experience. First, you can truly by anything on Amazon. I won't tempt fate this year, I'll be buying packages of kisses now to save for next year! And secondly, while we all scoff a little at how early Hobby Lobby displays their Christmas goods, it is completely acceptable to eat chocolate and peppermint all year long. Why not make Peppermint Hot Chocolate Bark in April? Or Peppermint Marshmallow Cream Cups in August (oh my can you imagine how good that would taste in a S'more!)?
How to Make Chocolate Peppermint Cookies
For this recipe, you will essentially be making a brownie cookie. The cookie is soft and fudgy; they have a very rich chocolate flavor. The frosting is a standard buttercream that has peppermint Hershey Kisses mixed in. Be sure to finely chop the candies or else the candies will clog up your piping tip (or baggy opening if that is what you are using). You can always spoon the frosting onto the cookie, especially since it will be covered by a super simple chocolate topping. Once the topping has a second to set, top each cookie with more chopped peppermint candies and then eat as many as you can! I can say from experience, these cookies will go very quickly!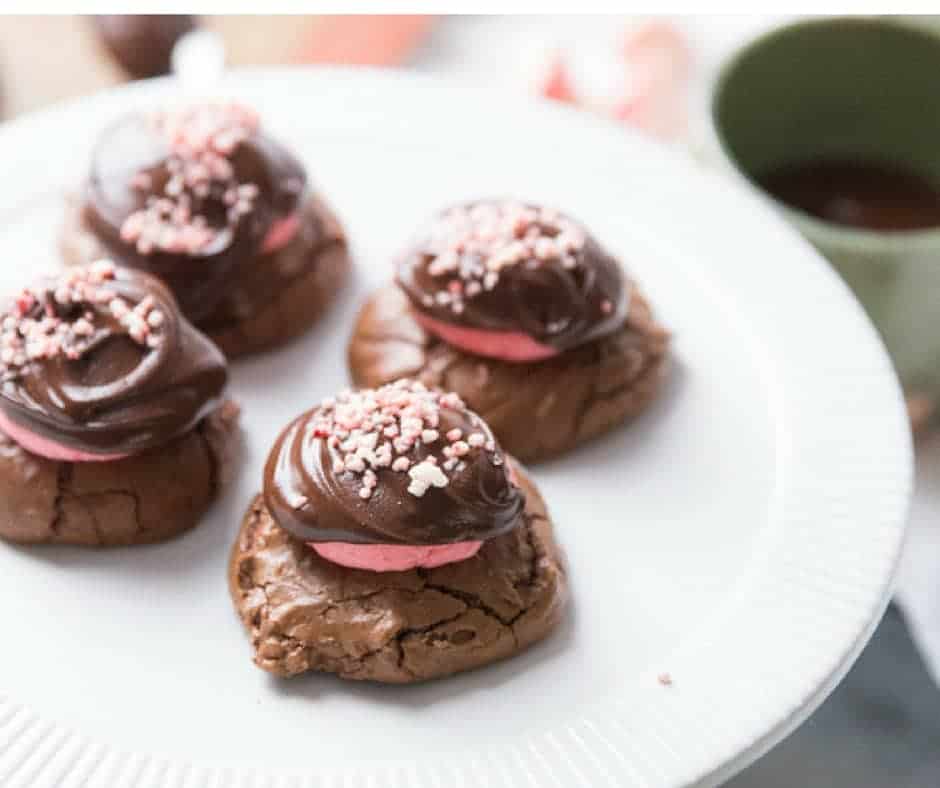 Yield: 48
Chocolate Peppermint Cookies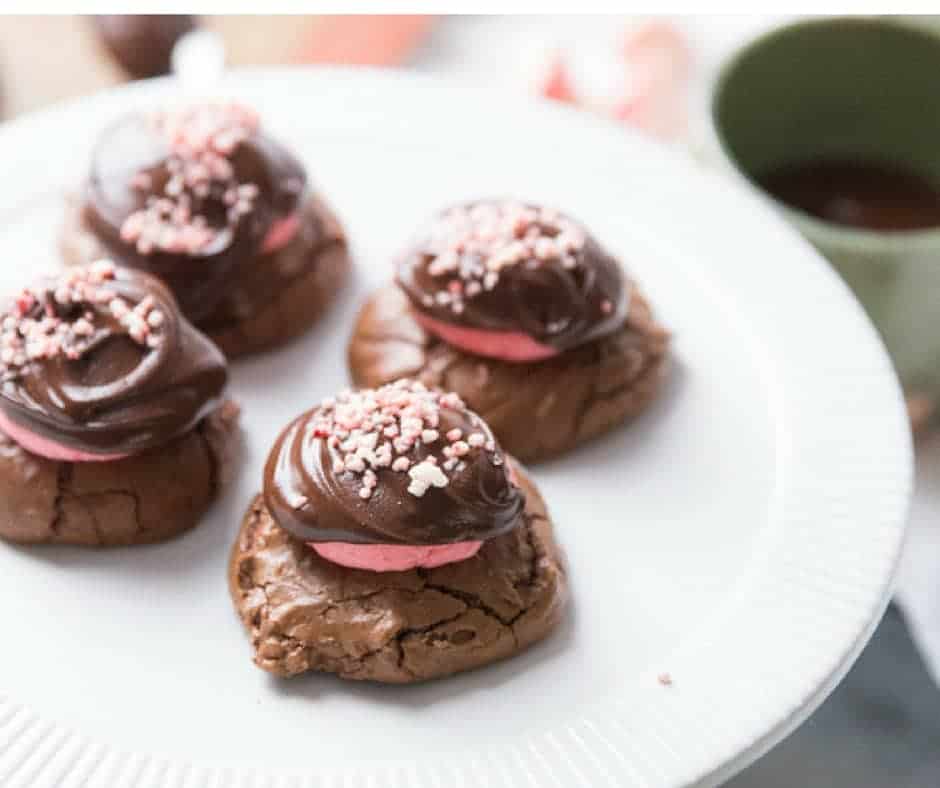 Fudgy chocolate cookies are filled with a peppermint cream, chocolate, and peppermint kisses.  These chocolate peppermint cookies are a great addition to any cookie tray!
Ingredients
1/2 cup butter
4 oz unsweetened chocolate, chopped
1 ½ cups semi sweet chips
1 1/2 cups flour
1/2 teaspoon baking powder
1/2 teaspoon salt
4 large eggs
1 1/2 cups sugar
2 teaspoons vanilla
Filling
½ cup butter
¼ cup shortening
4 cups powdered sugar
2 teaspoon peppermint extract
3 tablespoon heavy cream or milk
red gel food coloring
½ cup chopped peppermint Hershey Kisses
1 cup semi-sweet chips
¼ cup chopped peppermint Hershey Kisses
Instructions
Combine the butter, unsweetened chocolate and 1 1/2 cups of semi-sweet chocolate in a saucepan. Cook over low heat, stirring until butter and chocolate have melted. Stir until smooth, remove from heat and let cool.
Combine flour, baking powder and salt in a small bowl. Set aside.
Beat eggs, sugar, and vanilla in the bowl of a mixer. Carefully beat in flour mixture. Beat well. Add in cooled chocolate. Beat until well combined. Drop dough by 2 tablespoons full onto lined baking sheets.
Bake in a 350-degree oven for 10 minutes. Let cookies cool on baking sheets for 1 minute before removing to a cooling rack.
Prepare the filling by beating together the butter and shortening until creamy and fluffy. Slowly mix in the powdered sugar 1 cup at a time adding the milk to thin the frosting. Stir in the extract. Add the desired amount of red gel food coloring and stir in the kisses. Fill a piping bag and pipe a generous amount of frosting on each cookie.
Melt the chocolate in a microwave until smooth. Spoon chocolate over each cookie; let the chocolate set and then sprinkle cookies with remaining chopped candy. Store cookies in an even layer in an airtight container.
Nutrition Information
Amount Per Serving
Calories

0
Total Fat

0g
Saturated Fat

0g
Cholesterol

0mg
Sodium

0mg
Fiber

0g
Sugar

0g
Protein

0g