These unstuffed peppers are truly a one pot wonder!  Seasoned ground beef gets tossed with tomatoes and rice and a bounty of colorful sliced bell peppers!  This meal is one easy dinner that the whole family will love!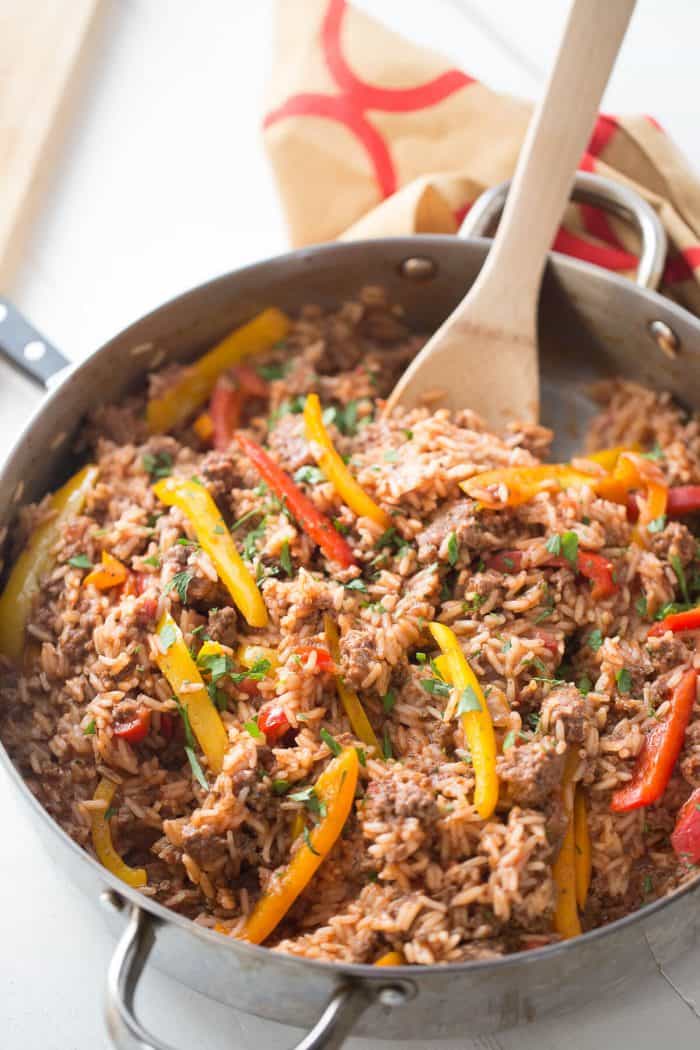 I never used to care for stuffed peppers, probably because the peppers used were always green. I hate green peppers.  I think they are too bitter for my tastes.  Because of my aversion to green peppers; I never bothered stuffing them and serving them to my family.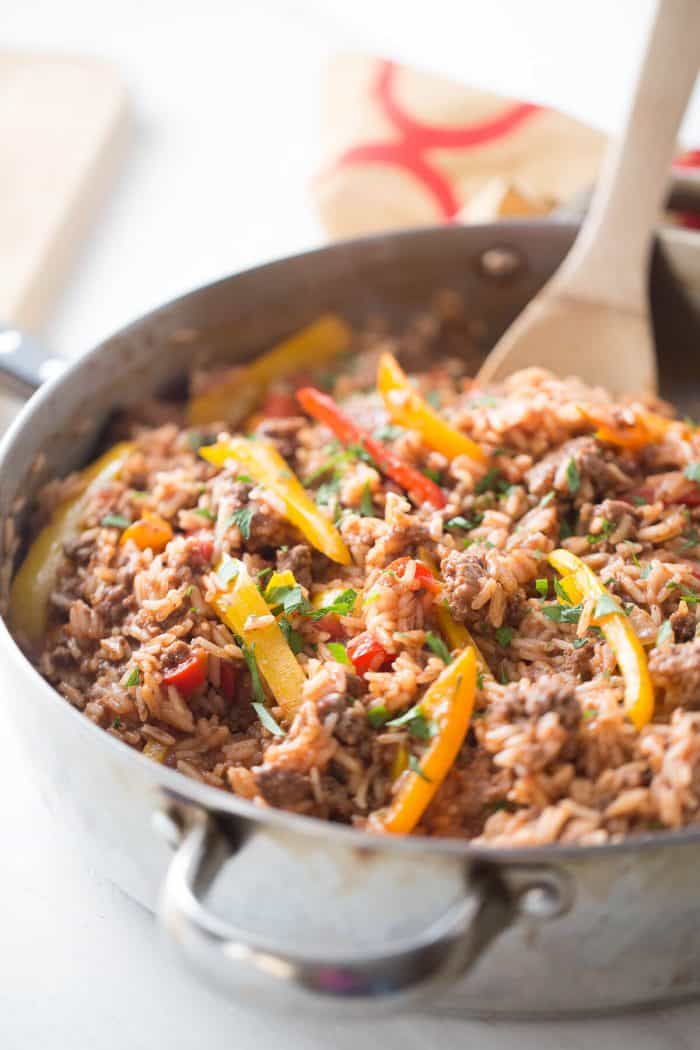 Last year, I had an epiphany, why not use colored bell peppers instead of green?  I used the colored bell peppers in this Italian Stuffed Pepper recipe and this Grilled Stuffed Pepper Recipe.  Those sweet peppers made a huge difference in taste! While myself and my husband gobbled up every last morsel of these meals, I noticed my kids ate just the savory center and left the limp peppers completely untouched.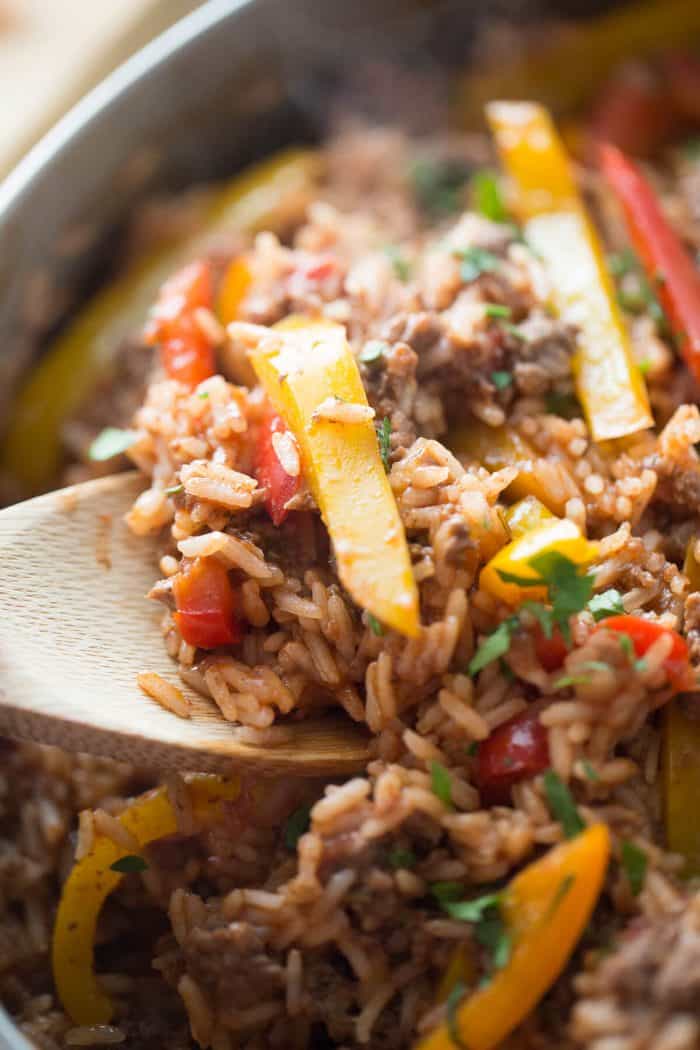 Unstuffed peppers are better
I felt compelled to come up with a meal that tasted so good that every member of the family would eagerly consume each bite!  I am pleased to say; this unstuffed pepper recipe accomplished all of the above!
For this recipe, I used ground beef that I seasoned with a little oregano and basil.  I stirred in beef broth, crushed tomatoes and tomato paste as well as basmati rice.  Unless I am making risotto, I almost exclusively use basmati rice.  I prefer the texture and the taste, but you could use whatever rice you prefer or have on hand.  I prepare this beef mixture first and then I toss in the sliced bell peppers just before serving.  The heat from the meat mixture helps to soften the peppers a bit, but they still have a firm enough texture that my kids found pleasing.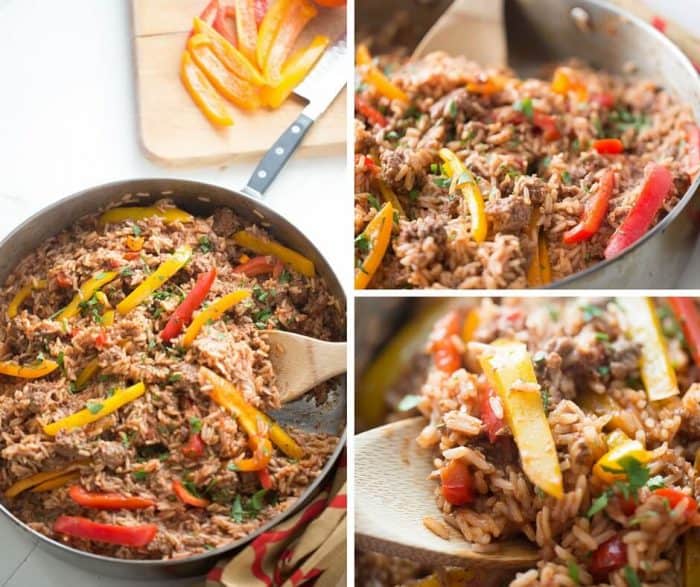 Here are four reasons you need to make this one pot meal. 1. It comes together in about 20 minutes.  2.It's easy  3. It's made with ingredients you probably already have on hand, and 4. It tastes delicious!
One Pot Unstuffed Peppers
6
adjust servings
Ingredients
1

teaspoon olive oil

1/4

cup chopped onions

1

clove garlic, minced

2

lbs ground beef, I used Simple Truth

1

teaspoon salt

1

teaspoon oregano

1

teaspoon basil

1 32

oz carton beef broth, I used Kroger Brand

1 14

oz can crushed tomatoes, I used Simple Truth

2

tablespoons tomato paste, I used Simple Truth

2

cups basmati rice

1/2

red pepper, thinly sliced

1/2

yellow pepper, thinly sliced

1/2

orange pepper, thinly sliced
Instructions
Heat olive oil in a large deep skillet that has been placed over medium heat. Add onions and garlic and sautee until translucent. Add ground beef. Crumble and cook beef until no longer pink. Season beef with salt, pepper, oregano and basil. Stir in beef broth, crushed tomatoes, and tomato paste.
Bring beef mixture to a boil, stir in rice, cover and reduce heat. Cook for 10-15 minutes or until rice has absorbed, adding peppers a few minutes before rice has finished cooking.