Crisp vanilla biscotti cookies with white chocolate chunks
are drizzled with a simple glaze made from pure maple syrup.
Do you find some words are more fun to say than others? I do. There are lots of food words that I like. Let me share some of my favorites: Sriracha, edamame, baklava, couscous, flambé, jalapeño, cognac, tomatillo and biscotti (just to name a few). I love eating those foods too, especially biscotti. You have to admit that is truly a fun word to say. You have to really enunciate the two "t"'s. Then you will feel like a sexy Italian! Or wait, maybe that's just me.
I have recently discovered another fun food word to add to my list: Zulka. I received a bag of Zulka Pure Cane Sugar to test out in my baking. I've never tried substituting my usual simple white sugar for anything else in my baking. I think the natural color of the Zulka sugar instantly made me think of maple syrup and that my friends, is how these biscotti came to be! I loved that I could simply substitute my usual 2/3 cup white sugar for 2/3 cup Zulka and neither taste nor texture were compromised! Zulka sugar has all natural flavor and color with no GMO's.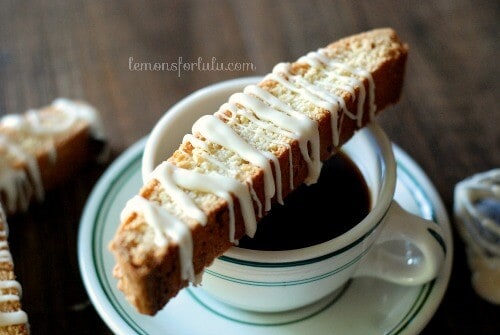 While biscotti is a simple recipe, it does take a bit of time, but it is so worth it! The glaze was very simple to whisk together, but for the best flavor you have to use pure maple syrup! These sweet, crunchy little cookies were perfect for my morning coffee (and my mid morning snack, my after dinner dessert, the kids' lunches, my mid afternoon pick me up, after school snacks….)!
Now that I've tried Zulka pure can sugar in my biscotti, I can't wait to use it in all my fall baking! It's pure, it's real and it's simple.
COOKIE?
NEVER MISS A RECIPE! SUBSCRIBE TO MY EMAIL TODAY!
FOLLOW ME:
FACEBOOK | RSS | TWITTER | GOOGLE +| BLOGLOVIN | INSTAGRAM
Maple Glazed Biscotti
Total Time:
1 hour
20 minutes
Crisp vanilla biscotti cookies with white chocolate chunks are drizzled with a simple glaze made from pure maple syrup.
Ingredients
6 tablespoon unsalted butter
2/3 Zulka sugar
1/4 teaspoon salt
1 teaspoon vanilla
1 1/2 teaspoon baking powder
2 eggs
2 cups flour
4 oz white chocolate, chopped
For the glaze
1 cup powdered sugar
5 tablespoons milk
2 tablespoons pure Maple syrup.
Instructions
Preheat oven to 350. Line a baking sheet with parchment paper and set aside.
In a mixing bowl, combine butter, sugar, salt, vanilla and baking powder until creamy. Beat in eggs one at a time. Carefully stir in flour, beating until mixture is smooth. Stir in chopped chocolate.
Transfer your dough onto your baking sheet and shape dough in a log about 14 inches long and about 2 inches wide.
Bake for 25 minutes. Remove from the oven and let stand for about 15-25 minutes. 5 minutes prior to cutting, gently sprinkle with water, taking care to reach all sides of the biscotti.
Reduce oven temperature to 325. Wait another 5 minutes and slice biscotti into 3/4 inch slices. Stand biscotti upright and bake for 25 more minutes. Remove and let cool on baking sheet.
For the glaze add milk to powdered sugar in a small bowl. Stir with a whisk until smooth. Stir in maple syrup. With a fork, drizzle glaze over cooled biscotti.
Nutrition Information
Yield

18
Serving Size

1
Amount Per Serving
Calories

160
Total Fat

7g
Saturated Fat

4g
Trans Fat

0g
Unsaturated Fat

2g
Cholesterol

33mg
Sodium

87mg
Carbohydrates

22g
Fiber

0g
Sugar

11g
Protein

3g