]This Guinness cheese dip is for all the beer cheese lovers out there! The stout flavor is subtle; it adds a touch of malty sweetness to the sharp white cheddar cheese. This cheese dip can be addictive, consider yourself warned!
One of my character flaws is my indecisive nature. There are times where a making and committing to a decision paralyzes me. My indecision drives my husband nuts, but I think it annoys me even more. I want to make a decision, I do, but I am so fearful of making the wrong decision, and that's just an exhausting way to live.
Nothing feeds my indecisive tendencies quite like a going out to eat. Where things get bad are at restaurants like the Cheesecake Factory where I have a 20-page menu to scour. The waiter will have to come a dozen times before I'm close to ready and I always ask to be the last to order. At that point, I go with the last item I looked at because I'm so tired of it all. And nine times out of ten I hate what I ordered. I should either just order cocktails or guacamole; you can't ever go wrong with either of those.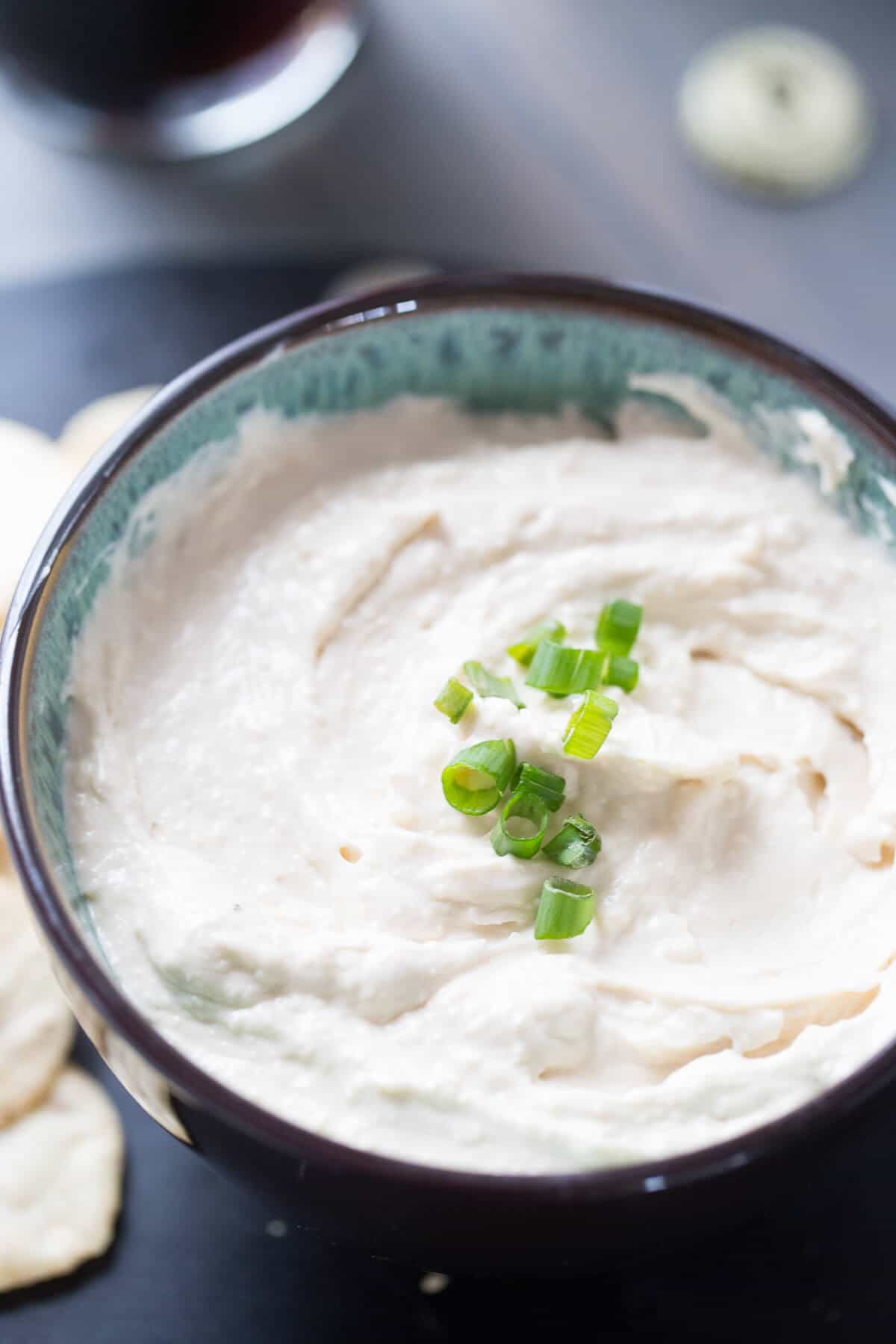 I need to only frequent restaurants with small menus, none of this 20-page business. I need menus that have just a few burgers, maybe a side salad or two and perhaps a few starters. If one of those starters happened to be beer cheese, then I'd never have any trouble deciding what to order. Beer cheese is the best kind of cheese, two of my favorite things all in one bowl.
I make beer cheese for almost every occasion, and I always change it up. Sometimes I make jalapeno popper beer cheese, and sometimes I make Sriracha beer cheese, but today I made Guinness beer cheese! Don't be alarmed, just because Guinness is a stout does not mean that it can't blend well in a beer cheese recipe. The deep malt flavor in the stout beer has a hint of sweetness to it that neutralizes the sharp, tangy Cabot white cheddar cheese. The mixture is creamy and smooth with a well-rounded flavor that pleases the pallet and the belly!
More Beer Cheese Recipes:
Yield: 24
Guinness Cheese Dip
Smoothy and creamy Guinness beer cheese dip!
Ingredients
1 8oz block cream cheese, softened
1 8oz block Vermont Sharp White Cheddar, shredded
2 tablespoons sour cream
1 clove garlic
¼ cup Guinness Stout
Salt and pepper to taste
Instructions
Combine all the ingredients in the bowl of a food processor and mix until well blended. Adjust the amount of stout beer to suite your tastes.
Notes
You can find Cabot cheese in most grocery stores.  In my store it is located in the gourmet cheese section.
Nutrition Information
Yield
24
Serving Size
1
Amount Per Serving
Calories

75
Total Fat

7g
Saturated Fat

4g
Trans Fat

0g
Unsaturated Fat

2g
Cholesterol

20mg
Sodium

104mg
Carbohydrates

1g
Fiber

0g
Sugar

0g
Protein

3g