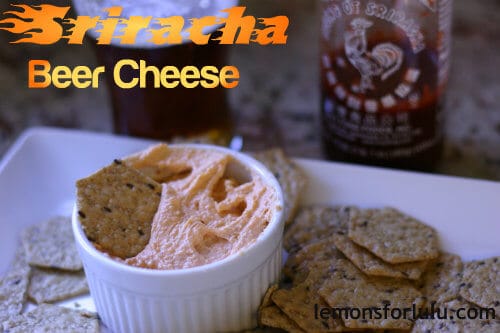 I love spicy food about as much as I love dessert!!!  In fact, the hotter the better!  My proudest moment was eating at an Indian restaurant in college.  I ordered a Vindaloo that was so spicy, the waiter actually hovered to watch me take a bite.  He then admitted that he had never seen a woman eat that dish.  I was beaming!  I was wiping my nose as well, but boy was I pleased with myself.
One of the best days of my life was when I discovered Sriracha.  I use it on everything!  I love putting it right on hummus, in pasta sauce, on pizza and anything else I can imagine! It was a matter of time before I combined it with beer.
Beer cheese is such an easy dip.  It's one of my favorites.  I don't know anyone who doesn't love beer cheese!  You'd be surprised how perfectly the Sriracha blends in with the cream cheese and beer.  It's spicy, but it takes a second before you feel the heat.   This Sriracha beer cheese is so quick and easy.  You probably  already have all the ingredients in your kitchen (assuming you are hooked on Sriracha too!)
The only problem with this Sriracha beer cheese is, it is highly addictive.   And with only 5 ingredients, what's to keep me from making (and eating) it all the time!  Perhaps YOU can make it and then tell me how YOU restrain yourself!
If you would like a little lulu in your life, please subscribe via email, RSS, Facebook or Google +.  I love staying in touch with friends!

24
adjust servings
Spicy Sriracha sauce is tamed by cool cream cheese and beer!
Ingredients
1 8oz

block cream cheese, softened

2/3

cup lager

3

cups sharp cheddar

4

teaspoons Sriracha hot sauce
Instructions
Blend all ingredients in a food processor. Adjust hot sauce to taste. Store in refrigerator until ready to serve.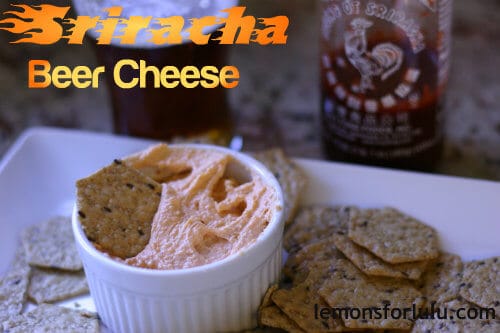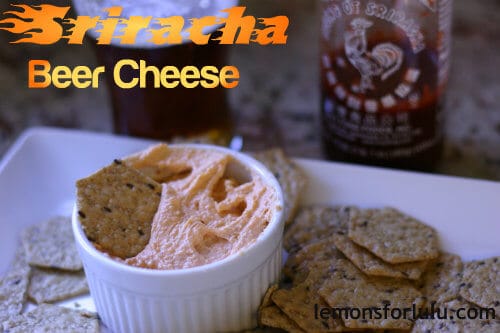 I'll be sharing this recipe at
these
wonderful sites, as well as:
Jam Hands
,
The DIY Dreamer
 and