Apple pie filled peanut butter sandwich just might make you rethink jelly!
In college, I once saw a friend dip his peanut butter toast into his bowl of chili. It wasn't a one dunk just to see how it tastes sort of thing. He was literally scooping up the chili with the peanut butter toast. I looked on in horror and amazement. That's what cornbread is for, not peanut butter! So weird.
Now I watch my husband do something equally disturbing. He puts cheddar cheese on his peanut butter toast. I accept this because I love him. I just look away when he eats. Thankfully the kids are just as repulsed as I am by his way of eating peanut butter toast. I don't think I could handle one more person eating cheesy peanut butter.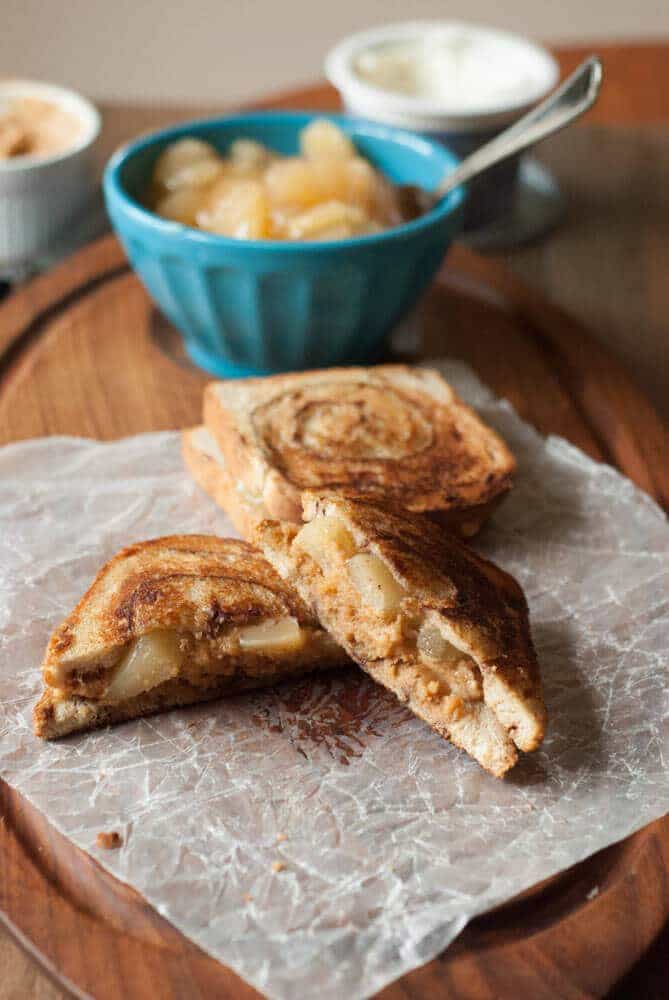 I consider myself a normal peanut butter consumer. I just don't eat it with jelly. Jelly is great on a bagel or with butter on bread, but I prefer to keep it away from my peanut butter. What I DO like with my peanut butter is a spoonful of honey, chopped bananas, sliced apples and now apple pie filling! Yep, p-i-e filling. It is so good! The sweet, cinnamon infused apple pie filling sort of melts right into the peanut butter as it is getting grilled to perfection. The apples become soft and even sweeter. It tastes as if you are eating a piece of apple pie. The heat from the bread makes the peanut butter warm and happy. Mmm, mmm.
My favorite bread to use with this sandwich is cinnamon bread. You could use your favorite of course. I used whipped peanut butter that I mixed with whipped cream cheese (the cream cheese adds a little tang and makes the peanut butter especially creamy). So there you have it. My new favorite peanut butter sandwich. It's a PB & A!
I know this sandwich is a bit unconventional. I personally think it still isn't as unconventional as cheddar and peanut butter! But I am biased. If you haven't tried a grilled peanut butter sandwich, do yourself a favor and go for it! You will love it! And don't forget the apple pie filling!