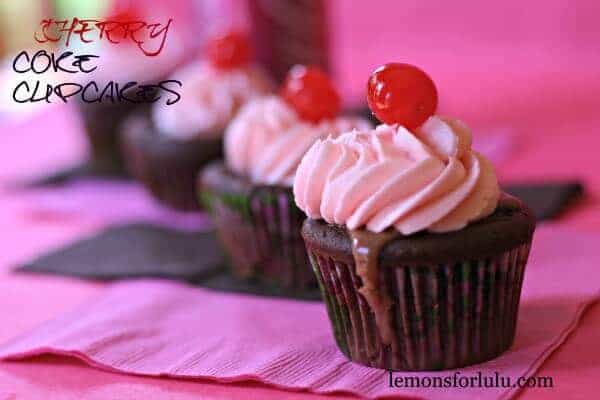 I try to be green.  I really do.  We recycle as much of our household products as we can.  I use reusable shopping bags.  We unplug electronics when not in use.  I use recycled paper products.  I use green cleaning products.  If I remotely enjoyed gardening,  I'm SURE I'd compost.  I consolidate my errands into one trip as much as possible.  We even use biodegradable dog poop bags for goodness sakes!
However, there is one area that I am totally wasteful.  That is in the shower.  I know it's wrong to waste water, I get that, I really do, but is there anything better than a loooooong hot shower???  No.  There isn't.  Wait, these Cherry Coke Cupcakes are pretty darn close, but still I'd take the shower over dessert any day!  The piping hot water, covers me and turns my 4×4 shower stall into a mini spa.  The steam relaxes me completely.  What really makes my morning shower special, is that the sound of the water rushing down drowns out the rest of the household noise!  It's like I'm in my own little cocoon and no one can bother me.  Of course, that is partly due to the fact that the bathroom door is locked.  Minor detail.   See, for those twenty few minutes I am utterly alone.   ALONE PEOPLE!!!!  This is where I do my best thinking!  This is where I am transformed from a simpleton to a genius!  I can tune out everyone and everything and concentrate on the noise in my own brain!  It's glorious!  I rarely have uninterrupted moments to myself.  My morning marathon showers are bliss.  I need them.  Personally, I'd rather pay my water bill than for a therapist!
Yes, the idea for these cupcakes was hatched in the shower.  My daughter wanted Cherry Coke Cupcakes for her birthday.  But I wanted something a little more spectacular.   I thought of all the recipes I had researched and voila, these are the end result!   These Cherry Coke cupcakes have Cherry Coke in the cake themselves, which by magic, makes them super moist.  There is a chocolate glaze made with Cherry Coke that sits daintily between the frosting and the cake!   The frosting gets its hue and an extra dose of sweetness from maraschino cherry juice.  Over the top and ultra delicious!!!!
This is what you should do, go take a long, hot, overindulging shower (or bath if that's your thing),  then treat yourself to one of these splendid cupcakes.  It will be Nirvana!
If you've enjoyed this post, please consider subscribing via email, RSS, Facebook or Pinterest, I love keeping in touch with friends!
I made these too:
Chocolate Cupcakes with Strawberry Buttercream
I found these yummies on Pinterest:
Cherry Coke Cupcakes                                        The Cupcake Project
Cherry Coke Cupcakes                                         Annie Eats
Lemons for Lulu
Yields 24
Cherry Coke meets cupcakes!
30 minPrep Time
18 minCook Time
48 minTotal Time
Ingredients
1 box Devils Food Cake (18.25 oz)
1 box instant chocolate pudding (5.9oz)
1 cup sour cream
1 cup vegetable oil
4 eggs
1/2 cup Cherry Coke
4 T Maraschino Cherry Juice
For the glaze
2 cups powdered sugar
2 T Cherry Coke
2 t cocoa powder
For the frosting
1/2 cup butter, softened
1/2 cup shortening
4 cups powdered sugar
4 T maraschino cherry juice
Instructions
For the cupcakes:
Preheat oven to 350. Prepare cupcakes pans, set aside. For the cupcakes, combine cake mix, pudding mix, sour cream, and oil in your stand mixer. Mix until combines. Add in eggs, coke and cherry juice. Stir until all ingredients are incorporated. Using a large cookie scoop, fill your cupcake liners about 2/3 full. Youâ??ll have enough batter for 24 cupcakes. Bake 18-20 minutes or until a toothpick inserted in the center comes out clean. Let cupcakes stand in the pan for about 5 minutes before removing to a cooking rack.
For the glaze combine sugar and coke in a bowl. Whisk in cocoa powder until glaze is smooth. You may have to add more coke if the consistency is too thick. Spread over the tops of cooled cupcakes. Let glaze set before frosting.
For the frosting, beat butter and shortening until very creamy. Slowly add in powdered sugar one cup at a time. Add cherry juice by tablespoons until you have a good spreading or piping consistency. You may need to add more cherry juice or milk to make frosting creamier.
7.5
329
https://www.lemonsforlulu.com/cherry-coke-cupcakes/
recipe adapted from Annie Eats (recipe linked above)