Baked Chicken and Orzo are tossed with mushrooms then slowly baked for a flavorful dinner your family will love!
This baked chicken recipe is just what you need when you are trying to gather the family around the table. It is satisfying and simple too!
This baked chicken recipe is simple to prepare and the ingredient list is short! The prep doesn't take long, and the oven will do most of the work! This dish is a wonderful comfort meal that brings cooked pasta with soft mushrooms and chicken to every plate. It's a full course meal in one baking dish but would of course taste great with a side of Balsamic Green Beans.
What is Baked Chicken with Orzo?
It's a super simple and easy casserole-style dish that starts in a pan on the stove and ends in a 9×13 pan in the oven. Made with just a few ingredients and steps this dish is really easy to make. The end results are always fabulous. This dish DOES taste as incredible as it looks, so prepare for a yummy dinner the whole family will enjoy!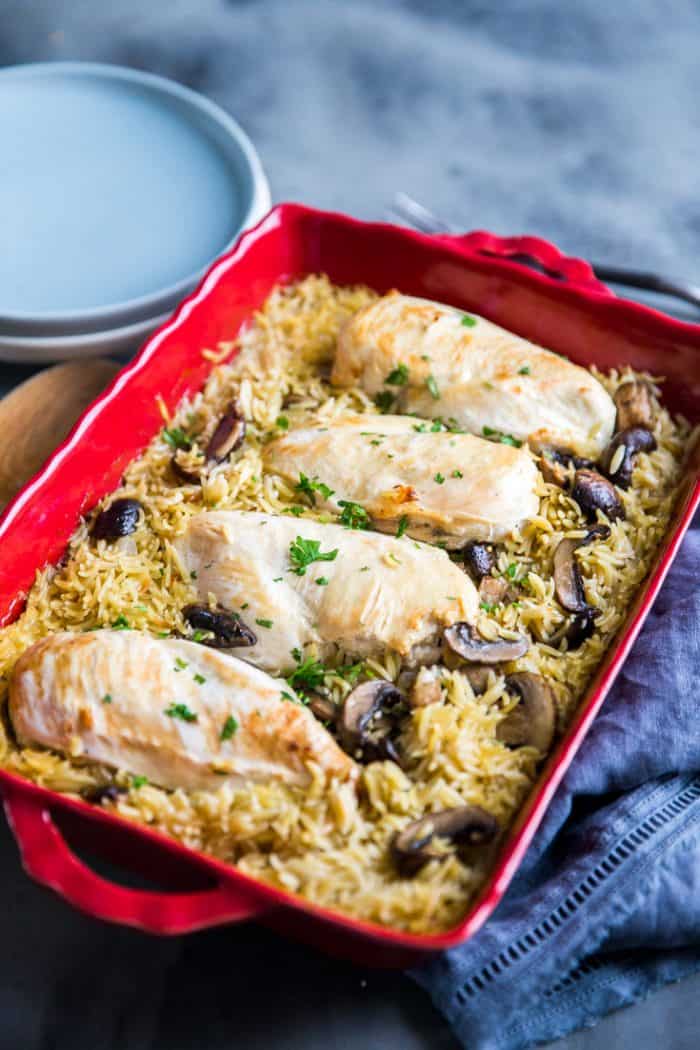 Ingredients
Butter
Salt
Pepper
Olive Oil
Shallot
Garlic
Sliced Mushrooms
Dried Sage
Orzo
Chicken Broth
For the exact measurements needed, please see the recipe card below.
How to Make Baked Chicken and Orzo
This recipe is not complicated but does allow time for baking time. Season chicken breast with salt and pepper and brown them in a large skillet that has been heated to medium heat.
STEP ONE–Melt 2 tablespoons of butter in the skillet and add the chicken to the pan, working in batches. The chicken will need about 3-5 minutes per side depending on the thickness of your chicken breasts. You do not want to cook the chicken all the way through, as the oven will take care of most of the cooking. You just want to brown the outside of the chicken.
When the outside of the chicken breasts are nicely browned, remove the chicken and place them on a plate to keep warm and rest.
STEP TWO–While the chicken is cooking, I heat oil in a small stockpot and add shallots and garlic. These cook just until soft then I add in my dried orzo. I season the orzo with salt and dried sage and cook just until the pasta begins to toast, then I pour it into a greased 9 x 13-inch baking dish.
STEP THREE–In the same skillet that you cooked the chicken breasts, heat 1/2 teaspoon of olive oil and throw some mushrooms into the same skillet and cook them just until softened. Then the mushrooms and the chicken are placed atop the orzo.
STEP FOUR–Pour chicken broth over all the ingredients and place them in the oven. It will seem like a lot of broth, but the orzo WILL soak it all up. The chicken will take about 45 minutes to bake. You'll want to check on the dish from time to time; give the orzo a stir and check the chicken for a temperature of 165 degrees. Stir occasionally.
Recipe Tips
Browning the chicken. I like to use butter to help brown my chicken and add in a little richness to the taste but you can just as easily swap it out for olive oil if preferred.
Add some lemon. Want to add in a little more flavor and tangy freshness? Adding in a little lemon juice or topping with a few sliced lemons before baking can really help to elevate this dish to new heights.
Broth or Stock? You can use either chicken broth or chicken stock for this recipe interchangeably. While the stock has a bit more flavor to it you probably won't notice the difference in taste between the two.
FAQs
Can I Make Baked Chicken With Orzo in a Dutch Oven?
Yes, this recipe can easily be modified to cook in a dutch oven making it perfect for using one less pot for cleanup. Brown the chicken in your dutch oven, remove the chicken once browned, and cook your veggies and orzo in the pot before adding the chicken back in and pouring in the chicken broth. Then bake in the oven as directed.
I love using orzo! Orzo is a rice-shaped pasta that works well in dishes that don't need pasta to hold the sauce. It is good for absorbing the liquid it is cooked in, it becomes plump and flavorful. Some of my favorite orzo recipes are Italian Stuffed Peppers, French Onion Skillet Beef Casserole, Easy Cheeseburger Skillet, and this Easy Chicken Soup.
Yield: 4 servings
Baked Chicken with Orzo
Baked Chicken and Orzo are tossed with mushrooms then slowly baked for a flavorful dinner your family will love!
Total Time
1 hour
5 minutes
Ingredients
2 tablespoons butter
4-6 chicken breasts
1 teaspoon salt, divided
1/4 teaspoon pepper
2 teaspoon olive oil, divided
1 shallot, chopped
2 cloves garlic, minced
1 16 oz package sliced mushrooms
1 teaspoon dried sage
1 16 oz package orzo
32 oz chicken broth
Instructions
Preheat oven to 375. In large skillet, melt 2 tablespoons of butter. Season chicken breast and add to butter in batches adding another 2 tablespoons in between. Brown chicken for 5 minutes, turn and brown the second side for 1-2 minutes. Remove to a plate and keep warm.
Heat 1/2 teaspoon of olive oil in the same skillet. Add sliced mushrooms and cook until slightly soft.
Meanwhile, heat a large stockpot, melt 1/2 teaspoon of olive oil. Add shallots and garlic to the oil, stirring constantly for 1 minute. Add orzo. Stir and cook until orzo is lightly toasted and fragrant. Season orzo with sage and salt.
Pour orzo into a 13 x 9 baking dish. Top with chicken breast and mushrooms. Pour chicken stock over orzo and chicken. Bake for 45-50 minutes or until chicken reaches 165 degrees and liquid has been absorbed, stirring occasionally.
Notes
Bake the dish in the oven UNCOVERED and stir periodically to prevent the pasta from sticking.
Different sized chicken breasts cook at different times so make sure that you're only browning them on the stove and not overcooking them so that they don't turn out dry as the dish bakes.
When you check on the dish during the last 20 minutes of baking, stick a food thermometer into the chicken to check for doneness. The chicken should reach 165 degrees F. If it's cooked through but the pasta is not finished, remove the chicken to a clean plate and cover with foil. Reassemble before serving.
Nutrition Information
Yield
4
Serving Size
1
Amount Per Serving
Calories

904
Total Fat

17g
Saturated Fat

6g
Trans Fat

0g
Unsaturated Fat

8g
Cholesterol

173mg
Sodium

1645mg
Carbohydrates

106g
Fiber

5g
Sugar

6g
Protein

76g