Ground beef, rice, cheese and pickles make this cheeseburger skillet dinner a meal that will please the entire family!
We all look forward to our big Thanksgiving meal and no matter what you serve, be it turkey or ham the leftovers are a big part of the meal. I know in our house, the first leftovers to go are the mashed potatoes, gravy and and stuffing. Nevermind that the potatoes are stiff and lumpy and that the stuffing is a little less moist then when first served; but that's ok with us. We pile the leftovers onto our plate right next to our thick turkey sandwich. We eat the entire plate with just as much excitment as we did during the holiday. It's the next meal where things go south.
The next time we pull out the leftover we find that the turkey meat has been picked over, all that's left is maybe a leg and the dark meat. And the only sides left in the fridge is the sweet potato casserole and the cranberry sauce. The family will scrunch up their faces and quietly place
My secret weapon during these moments are super simple skillet meals like this cheeseburger skillet dinner. They take less than 30 minutes, require only one pot and are usually made with ingredients I already have.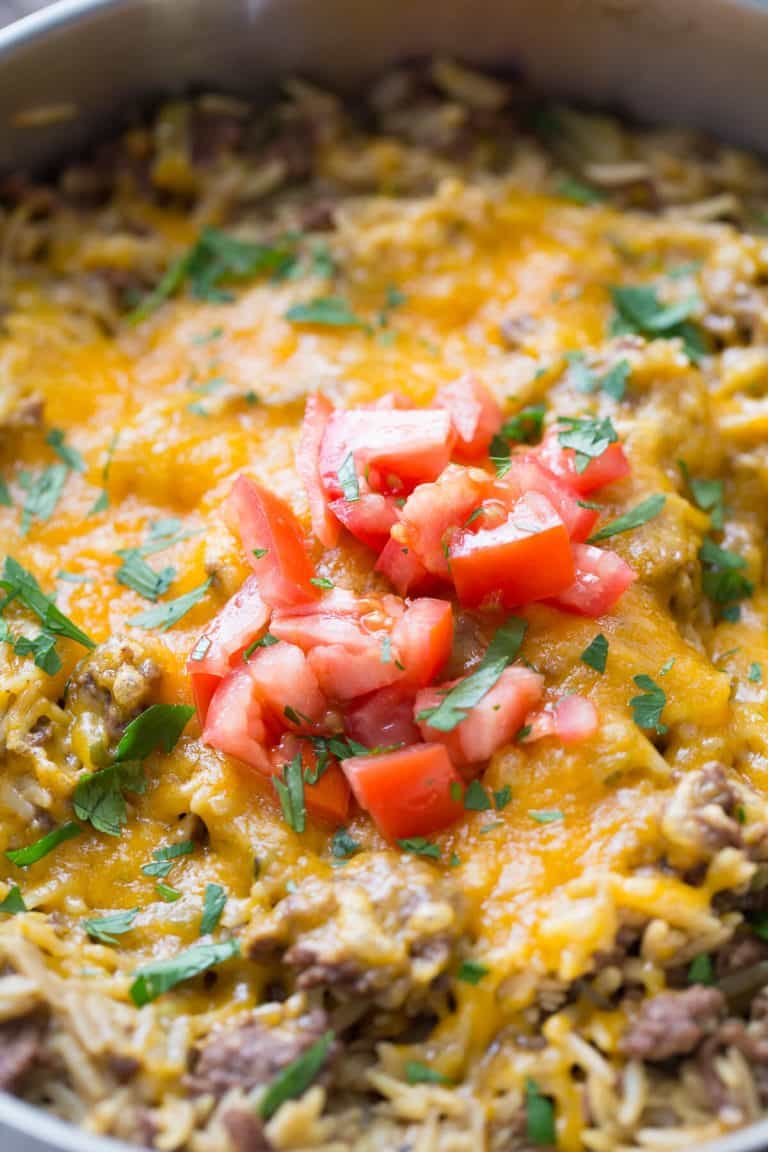 This cheeseburger skillet dinner starts with lean ground beef, onions and seasoning. I add orzo, beef broth and allow the mixture to thicken. I finish off the dish with mustard, tomatoes, pickles and of course cheese! This skillet meal is hearty and flavorful and despite the fact the my family hates mustard and pickles ( they are so weird), they managed to eat it all up! Keep this recipe in your back pocket, when your family is sick of turkey, you'll have just the meal to make!
Try this Philly Cheesesteak Skillet Too!