Coffee cake meets apple cider donuts, and they're transformed into one incredible fall-inspired sweet treat!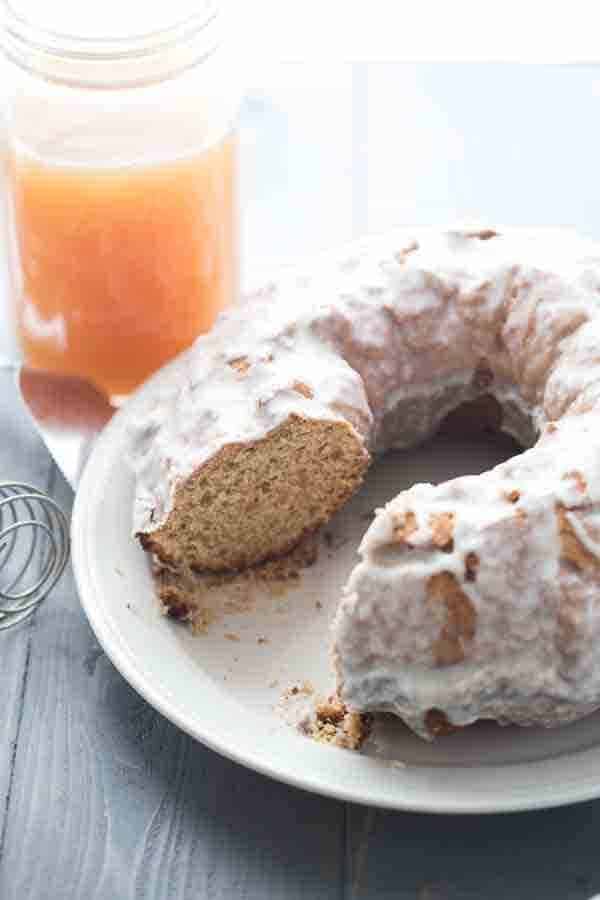 I cannot tell you how much I love donuts. Especially bakery fresh donuts. They are dessert disguised as breakfast. I don't indulge in them too often because they make me feel incredibly guilty. I often make homemade donuts like these Almond Chocolate Donuts or these Toasted Coconut Donuts. To me, homemade is synonymous with "eat all you want".
You know what else makes me over indulge? Coffee cake. Somehow I can convince myself that it is like health food. I think because it tends to be lightly frosted, thick, dense and more filling, it fools me into believing it's wholesome goodness. Oh coffee cake, you are a wily temptress!
This recipe has me in a tizzy. I've turned a typical apple cider donut into an amazingly spiced, dense coffee cake. Real fall flavors permeate throughout this entire coffee cake; from it's tender crumb to its sweet glaze this cake is cinnamon spice and everything nice.
I boiled down apple cider to add to my batter. Doing this, creates a delicious syrup that intensifies the apple flavor of the cake. Buttermilk makes the cake tender and moist, and the spices lend an autumn flair. The cider glaze adds just the right amount of sweet to this coffee cake.
I think I'll just live in denial and just enjoy slice after slice of this glorious coffee cake.
Anything that tastes this good has to be good for me right?
Apple Cider Donut Coffee Cake
A cider infused coffee cake with a simple apple cider glaze.
Ingredients
1 cup granulated sugar
5 tablespoons unsalted butter, at room temperature
2 large eggs, at room temperature
3-cups flour
1-1/4 teaspoons salt
2 teaspoons baking powder
1 teaspoon baking soda
1-1/2 teaspoons ground cinnamon
1/2 teaspoon ground nutmeg
1/2 cup low-fat buttermilk
1/2 cup boiled apple cider ( I used my Kroger brand)*
1 tablespoon vanilla extract
1 teaspoon sugar
1 teaspoon cinnamon
Glaze
3 tablespoons butter softened
1/2 cup apple cider
3 cups powdered sugar
pinch of salt
Instructions
Preheat oven to 350 degrees. Spray a bundt pan with non-stick spray and set aside.
In the bowl of a mixer, combine sugar and butter. Beat until creamy. Mix in eggs until incorporated. Combine flour, salt, baking powder, baking soda, cinnamon and nutmeg in a bowl.
Slowly add flour mixture alternately with buttermilk. Beat in cider and vanilla until well combined.
Combine sugar and cinnamon; sprinkle over the pan; add batter.
Bake cake for 35-40 minutes or until a toothpick inserted into the cake comes out clean. Remove and let cook in the pan for until cake is cool to the touch. Remove cake from pan and allow it to continue to cool on a wire rack.
In a small bowl, whisk together butter, cider, powdered sugar and salt. Stir until smooth. Drizzle over cake. Scoop up any extra glaze and drizzle over the cake once more.
Notes
*For boiled cider, I placed 1 cup of cider in a saucepan and simmered it until reduced to 1/2 a cup.
Nutrition Information
Yield

12
Serving Size

1
Amount Per Serving
Calories

385
Total Fat

9g
Saturated Fat

5g
Trans Fat

0g
Unsaturated Fat

3g
Cholesterol

52mg
Sodium

475mg
Carbohydrates

72g
Fiber

1g
Sugar

47g
Protein

5g
Here are a few more delicious breakfast sweet treats:
Quick Cinnamon Rolls with Blueberries