This is a sponsored post written by me on behalf of Pompeian Olive Oil
Want the perfect summer dinner?  Try a grilled quesadilla with simple veggies tossed with olive oil
and topped with homemade pesto and goat cheese!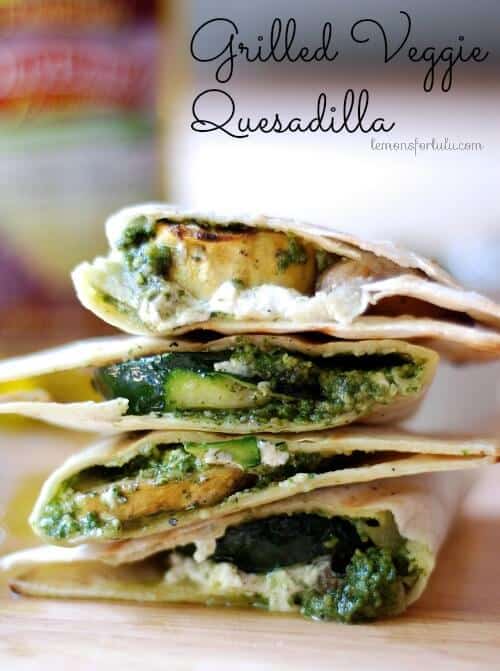 I love summertime for so many reasons, the sunshine, the late nights with the kids catching fireflies and watching the stars, and the FOOD!  I love being able to fire up the grill for dinner each night.  The grill makes everything simpler and more relaxed!  My family loves grilling out.  We sit on the deck in the backyard, listen to the sounds of summer serenade us as we eat.   A perfect way to connect as a family.  The best part, is I have fewer dishes to clean!
I was thrilled to be asked by Pompeian Olive to help them celebrate National Grilling Month by creating a recipe with their Pompeian Grapeseed and OlivExtra Premium Mediterranean Blend Oil.  Actually it was a no brainer for me.  I grew up practically drinking olive oil.  It took me years to realize other oils even existed!  I was fortunate to grow up eating a simple Mediterranean diet.  As a mom, I try to pass that on to my own family.
What better food than grilled veggies?  I used thick slices of zucchini, yellow squash and mushrooms that I tossed with olive oil.  I grilled them until they just became soft but still had a bit of bite to them.  While the veggies were grilling I quickly made a pesto with lots of fresh basil and  more olive oil.  When my veggies were perfectly grilled I combined the veggies, the pesto and tangy goat cheese for a simple yet flavorful quesadilla!
 July is National Grilling Month, and to celebrate, Pompeian, a leader in olive oils and vinegars, is sharing simple tips and recipes to help you get a taste of the Mediterranean without leaving your backyard, such as swapping butter or vegetable oil for Pompeian Grapeseed Oil or OlivExtra Premium Mediterranean blend and combining Pompeian oils and vinegars in place of bottled dressings and marinades.
EAT YOUR VEGGIES: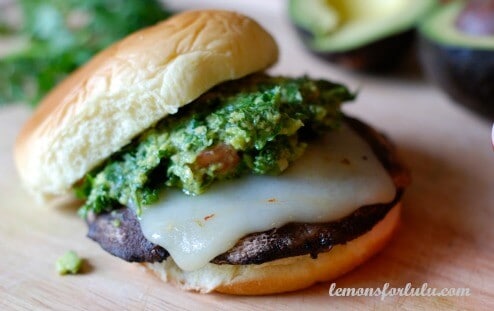 NEVER MISS A RECIPE!  SUBSCRIBE TO MY EMAIL TODAY!
FOLLOW ME:
FACEBOOK | RSS | TWITTER | GOOGLE + | BLOGLOVIN | INSTAGRAM
SEE THIS ON MY PINTEREST BOARD:
Pompeian Olive Oil, a leader in olive oils and vinegars, is here to help you celebrate July for National Grilling Month! Pompeian products give you a taste of the Mediterranean without leaving your backyard.
By using Pompeian Grapeseed Oil and OlivExtra Mediterranean Blend products you can make grilling healthier and more flavorful in a Mediterranean way. For more information about Pompeian Olive Oil, please visit http://pompeian.com/.
And if you are looking for recipe inspiration, be sure you do not miss the below Hungry Girl recipes!
This is a sponsored post written by me on behalf of Pompeian Olive Oil.
I'll be sharing this recipe with these wonderful sites.