This blondies recipe will be a big hit with those of us who love trail mix!
Everyone will love these soft squares that are filled with crunchy sweet ingredients!
I am in competition mode. I'm not running any races or talking about anything athletic. Instead, I am in the kitchen with my game face on determined to outdo the school cafeteria cookies.
Apparently, the school cafeteria has " the BEST" cookies, whatever. I'm not bitter or anything. Just annoyed. Annoyed that my kids are hooked on school cookies and that I am spending a small fortune on said cookies.
I'm going to have to step up my baking game and I think this trail mix blondie recipe is just the recipe I need to knock out those school cookies.
What Are Blondies?
Blondies are essentially brownies without the cocoa powder. Instead, they are flavored with vanilla and brown sugar but are just as delicious and sweet.
These Browned Butter Blondies, Carrot Cake Blondie Brownies, and Cherry M & M Blondies are some of my family's favorite brownies bars! No one ever miss the cocoa powder.
How to Make Blondies From Scratch
Just like any brownie, most of this recipe takes place in the bowl of a mixer.
Cream together butter and brown sugar until smooth and creamy. Add eggs one at a time until the eggs have been fully incorporated, then stir in vanilla.
Combine flour, baking powder and salt; slowly combine the dry ingredients and the wet ingredients.
I used a combination of all-purpose flour and ivory whole wheat flour. I like the textures that both flours lend this recipe and the added fiber from the whole grain flour.
Once the batter is smooth and combined, it is time for the extras!
Trail mix is usually a combination of ingredients like nuts, dried fruit, candy pieces coconut flakes, oats, and seeds. To simplify my life I used a combination of Bob's Red Mill Coconut Spice Pan-Baked Granola, and Bob's Red Mill Cranberry Almond Pan-Baked Granola.
The coconut granola has a nice warm spice flavor to it as well as the nutty taste of coconut while the cranberry almond granola has the tangy cranberries, lots of nuts and seeds and the hint of maple syrup. Together, they make up a bulk of my trail mix needs.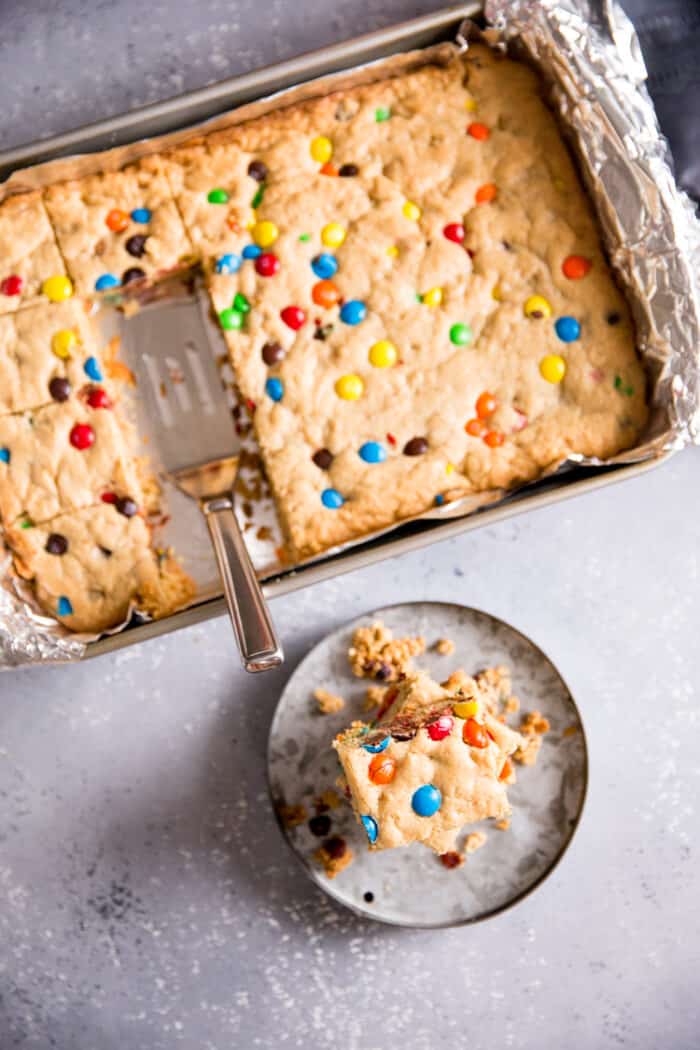 Pan baked granola is golden brown and tastes like homemade and it is the perfect addition to these trail mix blondies! Fold in your favorite candy pieces and pour the batter into a lined 9 x 13-inch baking dish.
The blondies will take about 35 minutes to bake up.
The blondies are ready to come out of the oven when the tops are shiny and the edges begin to pull away. A toothpick inserted in the center should come out clean.
Allow the blondies to cool in the pan on a wire rack.
Blondies Recipe Tips and Substitutions
Make sure you line your baking dish with aluminum foil or parchment paper (then spray the foil or the paper with nonstick spray). You want a little overhang on the ends so that it is easier to remove the blondies from the baking pan.
I used 1 ½ cups of brown sugar for this recipe. If you are going to add in a lot of sweet ingredients into the batter then you can adjust the amount of sugar you use. You can also use part dark brown sugar if desired.
You can stir in chopped nuts, extra dried fruit, peanut butter chips, chocolate chips, or candy-coated sunflower seeds.
These bars have a nutty and crunchy surprise hidden in each soft and chewy bite! These are a great change from ordinary brownies. They are hearty, slightly sweet, filling and satisfying!
Are Blondies Meant To Be Gooey In The Middle?
You will find that many blondie recipes show off a gooey center and that is fine if that is what you like. If you like a more cake-like brownie, then you may want a more cake-like blondie. This is all a matter of preference!
If you want a gooey blondie, once the blondies are golden, check for doneness. If they are a bit underdone, go ahead and take the blondies out of the oven. They will continue to bake in the pan.
How To Freeze Blondies
I like to keep the uncut blondies in the baking pan and wrap the in both plastic wrap and foil to ensure that they are airtight.
Blondies can be frozen for up to 3 months.
Yield: 24
Trail Mix Blondies
Trail mix blondies are soft chewy bars that have a nutty texture and a sweet taste! These bars are quick and simple and have ingredients you will love!
Ingredients
1 cup butter, softened
1 1/2 cups brown sugar
3 eggs
1 tablespoon vanilla
1 cup all-purpose​ flour (I used Bob's Red Mill Organic​ Unbleached All-Purpose Flour)
1 cup (Bob's Red Mill Organic Ivory Whole Wheat Flour)
2 1/2 teaspoons baking powder
1 teaspoon salt
1 cup Bob's Red Mill Coconut Spice Pan Baked Granola
1 cup Bob's Red Mill Cranberry Almond Pan Baked Granola
1 1/2 cup candy coated pieces ( M & M's)
Instructions
Preheat the oven to 350 degrees
Spray a 9 x 13 inc pan with baking spray. Cover the pan with aluminum foil allowing the side to overhang. Spray the foil and set aside
In a bowl, cream together the butter and sugar until creamy.
Add the eggs one at a time beating well after each additition. Add the vanilla.
In a bowl combine the flour, baking powder and salt.
Add the dry ingredients to the wet stirring until combined.
Fold in the granola and 1 cup of the candy.
Spread the batter into the prepared pan.
Top the blondies with the remaining 1/2 cup of the candy pieces
Bake the blondies for 30-35 minute or until a toothpick inserted comes out clean.
Allow the blondies to cool in the pan on a wire rack
Nutrition Information
Yield
24
Serving Size
1
Amount Per Serving
Calories

240
Total Fat

11g
Saturated Fat

6g
Trans Fat

0g
Unsaturated Fat

4g
Cholesterol

44mg
Sodium

229mg
Carbohydrates

34g
Fiber

1g
Sugar

23g
Protein

2g